Bye Weeks: N/A

Carson enters the season as the Seahawks 1a back, fresh off a quietly solid 2018. Rushing for over 1,100 yards and 9 touchdowns, the former 7th round pick was one of the best values in fantasy football last year. While still expected to split time with last yearís 1st rounder Rashaad Penny, Carson figures to be a featured part of the offense this week against the Bengals. Losing Doug Baldwin to retirement and several potential starters to preseason injuries, leaves the Seattle passing game very thin. I expect Carson to exceed 20 touches with a great chance at a score against a Cincinnati defense that yielded the 2nd most fantasy points per game to running backs last season.
Ingram was a huge get for Baltimore this offseason, as they manufacture their new version of exotic smashmouth football. The direct beneficiaries of running threat quarterbacks are always the tailbacks, and if he can stay healthy, Ingram could have a career year. No longer sharing the load with Alvin Kamara, Ingram should be a three-down back for the Ravens. I expect the offense to keep it simple against a very beatable Dolphins team, and for Ingram to have a big 2nd half as he leans on a tired defense. Baltimore should have the ball a ton in this game, and as long as Lamar Jackson doesnít vulture too many scores, fire up Ingram as a RB1.
Cookís 85-yard touchdown run two weeks ago showed you all you need to know about his health and readiness for the season. Locked into a workhorse role on a team that wants to run a ton, look for the Vikings to play keep-away from a potent Atlanta offense. Minnesota has added some beef to their offensive line and the Atlanta defense was one to target in running back matchups last season. The Viking passing game looked out of sorts this preseason, and Coach Zimmer knows this is an important conference matchup. With passing game chops to go with his role in the game plan, fire up Cook in the first of what should be several RB1 matchups this season.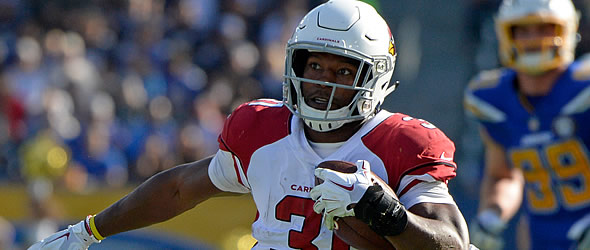 Grab Some Pine

Shady McCoy being cut last week certainly shook this backfield up a ton! While not totally unexpected, the Bills now field the oldest back in the league (Frank Gore) and one of the youngest to lean on for the running game. Clearly the Bills were confident enough in Singletary this preseason (despite him not really standing out) to let McCoy go. I have to go with my gut here and believe that the Bills are going to make this a true committee with Gore as the lead, at least to start the season. Yeah, Singletary has more season-long upside, but heís a small guy in the mold of Tarik Cohen, but he lacks the deep speed of the Bears electric runner. His game is predicated on making guys miss, but thatís a lot harder in the NFL than it is in Conference USA.
While I expect the running backs on this Texans offense to eventually be fantasy assets, Week 1 wonít be that time. Carlos Hyde joined the team a few days ago, and Duke Johnson has hardly been on the field since coming over in a trade this summer. Throw in the fact that Laremy Tunsil is causing a shift across the line and you have a dangerous mix. This OíBrien offense is notoriously difficult to learn and I can see some struggles this week in their season opener on the road in the Superdome. Itís hard to gauge just how these guys are going to be used, but it might be a near even 50-50 split this week, making it incredibly difficult to trust them as anything more than a FLEX.
I try not to make it a habit of putting top 5 drafted running backs in this part of the column often, but Iím just not sure about this Arizona offense. Yes the preseason was atrocious, but itís more than that. While I do think the Air Raid offense can be effective in todayís NFL, I just donít think the Cardinal offense has the personnel to make it work right away. This is a very similar offensive line that Johnson struggled with last season, and I donít think defenses are going to respect Murray until he beats them with his arm. Detroit's d-line is greatly improved from last year, and while Johnson is going to see plenty of volume to be a RB1, I think he struggles with efficiency in this one, leaving him to underperform his draft pedigree.


Quarterbacks | Running Backs | Wide Receivers