Bye Weeks: Atlanta, Cincinnati, Los Angeles Rams, New Orleans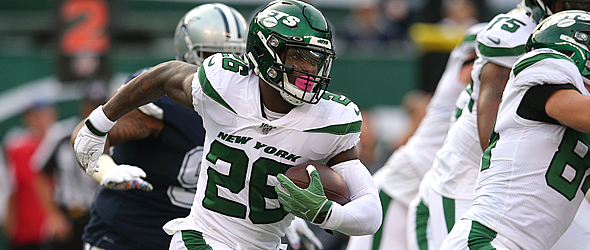 Grab a Helmet

What a tragic collapse for a franchise that had lofty expectations this season. Following up on two embarrassing losses to the Pats and Jags, the Jets fielded offers for most of their players during the deadline, upsetting some of them in the process. But oddly, LeíVeon Bell, he of the year long holdout, was the voice of reason. He understands the business of the NFL all too well, and took nothing personally. Iím assuming (itís dangerous to assume the obvious with this team) the Jets watched tape of the Monday night game, and realize that Bell, the former Steeler running back, should be a big part of the game plan this week. James Conner, the current Steeler running back, was the latest runner to grind the Dolphins. If the Jets have a shred of respect theyíll simplify the game plan and give Bell upwards of two dozen touches.
In a defensive slugfest give me some shares of the hammer. Despite a strong pass rush, the Panther defense has been an attackable unit this season, yielding the 5th most fantasy points to running backs. Ryan Tannehill has made the passing attack respectable, and that should open up some opportunities for Henry to gash the Carolina front. As a one-dimensional back there's always a risky floor with Henry, but I think he reaches 20 carries in this one, and finds the endzone. With 70+ yards or a touchdown in 7 of 8 games this year, Henry has been consistent if not spectacular. A breakout game is on the horizon, and this could be it.
I know heís undersized, and will likely not handle a starterís workload this year, but boy is Singletary an explosive play waiting to happen. I know he hasn't produced much since returning from his hamstring injury two games ago (14 touches, 75 yards and a touchdown) but Frank Gore is only going to carry this offense so far. The Bills offense hasnít gotten much receiving production outside of John Brown and Cole Beasley, and itís imperative they get the ball to Singletary more in space. The Washington defense is ripe for such an attack, as the 52 receptions theyíve given up to running backs leads the NFL. Singletary is an upside FLEX play this week, with a good shot at 12+ touches with a big play amongst them. Game flow should be on the side of the Buffalo run game, so take advantage.



Grab Some Pine

Forget RBBC, this whole Chiefs offense is a committee. The touch/target split between the Kansas CIty backs last week against Green Bay was McCoy 11, Damien Williams 9 and Darrell Willams 8. Thatís a legit three-way headache thatís frustrating for all involved. Besides the unpredictable nature of this backfield, the Vikings defense has been dominant against the run, allowing only a single 100-yard rusher this season, and holding all running backs under 53 yards since Week 2. Even if McCoy seems to be the de facto starter, none of these guys have a defined role, and itís too scary to rely on any of them when they are healthy.

Lions RBs @ OAK
Unable to upgrade at the trade deadline following the loss of Kerryon Johnson, the Lions seem content to try out Ty Johnson and a bunch of castoffs in his place. A big bucks waiver add for many teams last week, Johnson was a near no-show, ceding carries to Tra Carson, Paul Perkins, and J.D. McKissic. With none of the runners able to muster much against the lowly Giants maybe they rethink this strategy, but until the Lions provide some clarity to the pecking order, none of these guys are worth the ďspin the wheelĒ gamble you would be taking by starting one, even as a FLEX.
Fantasy owners have come to expect wide receivers to be a boom or bust position. But can you expect the same from running backs and still have success? If you plan on starting Miles Sanders for the foreseeable future you might find out! Despite a severely limited set of touches, Sanders has produced half a dozen dynamic plays, the most recent coming last week in a 65-yard touchdown run to open up a tight game against the Bills. But whether it's coaching stubbornness, or some unknown limitation, Sanders only saw 6 touches last week, and a miniscule 18 total the three games prior. During that time Jordan Howard, who seems to have emerged as the clear-cut No.1 back in this committee, has touch totals of 13, 13, 13, and 24 over his last four games. Philly seems content to sprinkle in touches for Sanders rather than make him the focal point, and even though he's spinning yarn into gold, he's a very risky bet against a Chicago defense that's trapped in a corner. An upside FLEX is all I would trust Sanders to be right now.

Quarterbacks | Running Backs | Wide Receivers