Grab a Helmet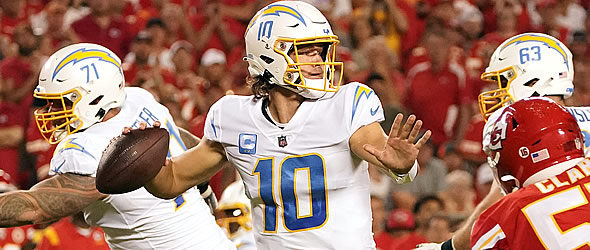 Fully healthy after an early season rib injury that likely lingered longer than he will admit, Herbert also took advantage of having both Keenen Allen and Mike Williams on the field at once in Week 14. His 367 yards were a season high, and he should stay hot against a Titan defense that has fallen off dramatically and given up the second-most passing TDs in the league.
Watson showed vast improvement in his 2nd game in the last two seasons throwing for 276 yards and a score against a stout Bengal defense. With 54 yards rushing in two games, Watson is good to pick up a few weekly points on the ground, in addition to facing a Raven secondary that hasnít consistently stopped the pass all season. As Watson and his receivers get more comfortable with each other, look for them to hit on some of the big plays they barely missed in Week 14.
Update: Mike White is out. Zach Wilson will start for NYJ.
After getting nearly beaten to death in a loss to the Bills, White looks to be ready to roll against the surging Lions. While the Lions have made a marked improvement since their bye week, their secondary has a tough time holding up, as theyíve yielded the 6th most passing yards in the league over the last three games. The volume should be there, as the Jets have the 3rd most pass attempts since White has become the starter.

Grab a Headset
Goff has enjoyed a resurgent season, as the Lions have climbed out of a 1-6 start, to a team in control of their playoff destiny. Despite a stalwart offensive line, the Lions havenít faced a defense as strong as the Jets all season. Few teams clamp down on the passing game like Gang Green as theyíve yielded less than 200 yards passing a game at home this season. The Meadowlands will be colder and more hostile than Detroitís trip there a few weeks ago and Goff has been miserable in cold weather in his career.
Itís taken the better part of two decades, but I think weíve finally seen the limits of what Brady can accomplish at this late stage of his career. Now more than ever heís dependent on a line that canít seem to consistently protect him, and his utter lack of ability to extend plays with his legs has doomed this pass offense. Tampa is barely scraping together 17 points a game so itís tough to count on anyone in this offense against Cinci.
Two rough weeks against some of the league's top defenses have left this Miami offense reeling. Now Tua has to hit the road against a division rival in the incredibly hostile environment of Orchard Park in December. Miami hasn't been able to muster anything on the ground since losing two starters on the line, and the weather, and an angry Buffalo defense might be too much to overcome.

Quarterbacks | Running Backs | Wide Receivers