MyFantasyLeague.com Users...
Check out the most popular waiver wire pickups this week across thousands of MFL leagues. Also, quickly see who's available on your waiver wire this week by using the MFL Power feature at FF Today. Just input your league's 5-digit ID number away you go!

Targeting weekly waiver picks is a completely subjective business, but this column hopes to point out some obvious and not-so-obvious selections to help your team from week to week while you strive to collect fantasy wins, reach your league playoffs and win the elusive title that your friends say is out of your grasp. While I'm a big proponent of making trades to bolster your roster, the waiver wire can be an almost limitless resource when it comes to discovering fantasy value in strange places. Each week, I'll target both offensive and defensive players — sometimes breakout stars that eluded your team's draft — as well as players who can help your squad that may still be lurking in deeper leagues. I'll also provide an occasional daily fantasy recommendation, as I'm hopelessly addicted to DFS sites.



Off the Top -

Includes my premier recommendations. These are sometimes players available only in more shallow leagues, and occasionally guys who are more ready but are thrust into the fantasy spotlight because of opportunity or exceptional production. Usually, they are available in at least 25 percent of public leagues.



Digging Deeper -

Covers the next tier of quality waiver wire specimens, usually players available in a majority of online leagues. There are a lot of gems in this range who can be plucked rather easily. Usually, these players are available in at least 50 percent of public leagues.



Scouring the Barrel -

Chronicles the deepest of fantasy adds — and sometimes highlights players being tacked onto fantasy squads who I don't have much confidence in. Make sure you read the fine print because I don't always love them. For the most part, you'll find these players available in about 75-100 percent of fantasy leagues

Each week, I'll also provide a brief update on the players I covered the previous week. It's the most accurate, comprehensive one-stop waiver-wire column available on the Internet, and it's only available here at fftoday.com. Let's get to some of the players who could be still out there on the waiver wire and in the free agent pool as you prepare for Week 1!


Feedback is always welcome, appreciated and encouraged. I'll get to as many e-mails as I can.


---
Note:
Each player's next four matchups are listed in parentheses ( ). Since IDP league composition is so varied, I'll just list defensive players per position and use their Yahoo ownership rates – which due to site ranking anomalies and the high rate of variance in availability, are often much lower than actual ownerships rates.
Quarterbacks
Off The Top
Robert Griffin III, WAS (TB, @SF, @IND, STL) – Of the quarterbacks available in over 50 percent of Yahoo leagues, Griffin probably has the best chance to post big numbers in Week 11. Despite all the drama in D.C., he was okay a Minnesota and is a viable fantasy quarterback who just needs to get back in the game flow.

Digging Deeper
Brian Hoyer, CLE (HOU, @ATL, @BUF, IND) – The only thing making me skittish about Hoyer's Week 11 matchup is J.J. Watt, but the Browns capable offensive line will utilize double teams to neutralize the veteran DE. Still, consider Hoyer only in two-QB leagues and DFS.

Josh McCown, TB (@WAS, @CHI, CIN, @DET) – From a fantasy perspective, McCown (14 percent owned on Yahoo) was solid taking over for Glennon on Sunday (301-2-2, 39 rushing yards) and makes a decent bye week fill-in in Week 11.

Teddy Bridgewater, MIN (@CHI, GB, CAR, NYJ) – UPDATE: Bridgewater stands to benefit from a matchup against the Bears – a defense that was shredded by Aaron Rodgers in Week 10. Granted, he's still a moderate risk because of inexperience and inefficiency, but if the Vikings can get Kyle Rudolph back and Cordarrelle Patterson involved, he'll be worth a look.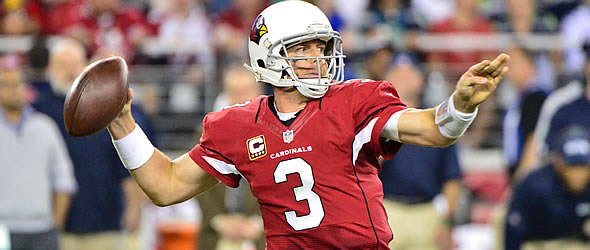 Palmer's ACL injury opens the door for Stanton who's been less than impressive in 3 games this season.
Scouring The Barrel
Zach Mettenberger, TEN (PIT, @PHI, @HOU, NYG) – Starting Mettenberger is a big risk in any league, but he's got some weapons and has some favorable matchups coming. He's worth a look in tournament play for DFS, especially.

Drew Stanton, ARI (DET, @SEA, @ATL, KC) – Stanton takes over (once again) for the injured Carson Palmer (torn ACL) and should put up 70-75 percent of the veteran's numbers given his skill set and familiarity with the offense. He's not quite as valuable, but he atop the bottom third of NFL starting quarterbacks in fantasy value and will be useful in two-QB leagues.


Updates
Andy Dalton, CIN (@NO, @HOU, @TB, PIT) – After a series of less-than stellar games the past several weeks, Dalton was comically bad on Thursday, continually missing open receivers and passing for just 86 yards (10-for-33) and three INTs. It appears my pre-Week 10 stance on Dalton will be our shared fantasy Waterloo.

Ryan Tannehill, MIA (BUF, @DEN, @NYJ, BAL) – As expected, Tannehill had some difficulty with the Lions, passing for just 207-1-1. He still has plenty of value in his upcoming matchups in weeks 12 and 13.

UPDATE: Tannehill (ankle, shoulder) was limited in Monday's practice but is fully expected to play Thursday night against the Bills. However, he's not a recommended start this week.

Austin Davis, STL (DEN, @SD, OAK, @WAS) – Davis finished with 216-1-1 and a lost fumble Sunday and remains a marginal, medium upside option in two-QB leagues and DFS.

UPDATE: Jeff Fisher confirmed early this week that Davis will remain the starting quarterback against the Broncos where he could get some opportunities to pad his yardage in garbage time.

Blake Bortles, JAC (BYE, @IND, NYG, HOU) – Bortles passed for 290 yards and threw an INT but failed to reach paydirt in the loss to Dallas.

Mike Glennon, TB (@WAS, @CHI, CIN, @DET) – Glennon was benched in advance of the Week 10 loss to Atlanta.

Mark Sanchez, PHI (@GB, TEN, @DAL, SEA) – Update coming Tuesday.

UPDATE: Sanchez only completed 54 percent of his passes but the volume and weapons, along with a penchant for big target Jordan Matthews, make him a must add after a 332-2-0 performance in his first start since 2012. It was his best fantasy performance since Week 1 of that season. He's still available in over 50 percent of Yahoo leagues, so he might still be available in yours.
Running Backs
Off The Top
Fred Jackson, BUF (@MIA, NYJ, CLE, @DEN) – Jackson (65 percent owned in Yahoo leagues) was eased back into action Sunday in his first game back from a groin injury (three carries for 10 yards; 4-39-0) but he'll likely shoulder a heavier workload in Miami, where the Bills will likely try to grind out a victory in Week 11 against a tough defense. His PPR value makes him a solid RB3/flex.

UPDATE: Jackson (knee) was practicing in full on Tuesday in preparation for Thursday night's matchup at Miami. He's probably going to be the lead back in a three-headed committee and makes for a limited-upside, high-floor flex option.

Tre Mason, STL (DEN, @SD, OAK, @WAS) UPDATE: (46 percent owned on Yahoo) is the lead back for St. Louis and was even utilized in the passing game (4-33-0 on six targets) in Week 10. He's worth consideration as an RB3/flex play despite just one TD on the season.
Digging Deeper
C.J. Anderson, DEN (@STL, MIA, @KC, BUF) – With Ronnie Hillman (mid-foot sprain, out two weeks) banged up and Montee Ball still recovering from a groin injury, Anderson should be the bell cow once again in Week 11 against the Rams. He'll be the top add this week after rushing for 90 yards on 13 carries and adding 4-73-1 in the win over Oakland.

Isaiah Crowell, CLE (HOU, @ATL, @BUF, IND) – The Browns are using the hot hand approach but Crowell remains effective and has been getting carries. He's a risk, for sure, but the guy is just 15 percent owned in Yahoo leagues and has 297 yards and five rushing TDs this season.


Scouring The Barrel
Jonas Gray, NE (@IND, DET, @GB, @SD) – If the Pats use a ball-control strategy against the Colts, Gray could be surprise breakout in Week 11. He's on my DFS radar given the number of chances he's getting and the fact that he hasn't fumbled yet.

Theo Riddick, DET (@ARI, @NE, CCHI, TB) – Reggie Bush tweaked his ankle again and Riddick (who caught the game-winner from Matthew Stafford) has been effective when utilized in the passing game. He's worth a look in DFS and deep-league PPR formats.


Updates
Jeremy Hill, CIN (@NO, @HOU, @TB, PIT) – The Bengals pitiful Week 10 performance manifested itself in Hill's stat line (61 total yards, lost fumble). He's likely going back to the lesser half of a timeshare once Giovani Bernard returns.

UPDATE: Bernard (hip) could be out additional time, leaving Hill as the lead dog in Cincinnati.

Bobby Rainey, TB (@WAS, @CHI, CIN, @DET) – Rainey was an overall disappointment in the RB committee Sunday (14 rushing yards, 4-42-0 receiving) but should have more opportunities against Washington in Week 11.

UPDATE: Charles Sims lost a fumble in Week 10 but should still get carries, as the staff wants to see what they have in the former Mountaineer. Doug Martin might not be back for Week 11.

Matt Asiata, MIN (@CHI, GB, CAR, NYJ) – Adrian Peterson isn't back yet and Asiata will likely continue to get goal line carries and see PPR value when he returns from his Week 10 bye against the hapless Bears.

Terrance West, CLE (HOU, @ATL, @BUF, IND) – West had a solid Week 10 (94 rushing yards, TD) and remains a worthwhile RB2 option in 12-team leagues.

Anthony Dixon, BUF (@MIA, NYJ, CLE, @DEN) – Boobie had 62 rushing yards against the Chiefs but will see his workload decrease in Week 11 as Jackson gets more touches.

Daniel Thomas, MIA (BUF, @DEN, @NYJ, BAL) – Thomas carried five times for 14 yards and lost a fumble in the loss to Detroit. With Lamar Miller healthy enough to start and not suffering any setbacks with his injured shoulder, Thomas is off the fantasy radar.

Chris Polk, PHI (@GB, TEN, @DAL, SEA) – Update coming Tuesday.

UPDATE: Polk had 11 yards on five carries but was a fantasy non-factor as the Eagles kept passing with a big lead to give Sanchez some more time to get familiar with the offense. He's safe to drop to acquire higher-upside options at running back.
Wide Receivers/Tight Ends
Off The Top
Brandon LaFell, NE (@IND, DET, @B, @SD) – He's just 73 percent owned on Yahoo and may have been dropped in your shallow league by an owner confronted with bye week issues. Don't overlook him in a relatively favorable matchup in Week 11.

Justin Hunter, TEN (PIT, @PHI, @HOU, NYG) – Hunter (46 percent owned) remain a boom-or-bust WR3/4 with plenty of upside. The Titans don't have much of a running game to rely on and will take some shots against the Steelers – making both Hunter and Kendall Wright (67 percent owned) interesting Week 11 plays.


Digging Deeper
Malcom Floyd, SD (OAK, STL, @BAL, NE) – The Chargers could come out firing on Sunday and use the lanky Floyd in the red zone and against the undersized Raiders DBs. He makes an interesting risk/reward DFS play at such a low salary.

Jordan Matthews, PHI (@GB, TEN, @DAL, SEA) – UPDATE: Matthews (27 percent owned on Yahoo) had another big game Monday night, hauling in 7-138-2 and establishing an exciting connection with Sanchez, who targeted the rookie nine times. He won't necessarily supplant Jeremy Maclin as the wide receiver to own in Philly, but he's definitely going to take some of Maclin's targets away.

John Brown, ARI (DET, @SEA, @ATL, KC) – He seems to have replaced Michael Floyd as the WR3/4 to own in Arizona and added 5-73-1 on Sunday. The Cards will have to get creative to score against the Lions and the diminutive, shifty Brown fits the bill.


Scouring The Barrel
Preston Parker, NYG (SF, DAL, @JAC, @TEN) – Parker exploited the slot against the Seahawks for 7-79-1 but makes a far less favorable option facing the 49ers in Week 11. Be cautious expecting too much from this relatively underwhelming wide receiver going forward.


Updates
Mike Evans, TB (@WAS, @CHI, CIN, @DET) – Evans had his second consecutive solid week, hauling in 7-125-1 in the loss to Atlanta. With Vincent Jackson still attracting most of the attention from opposing DB coverage, Evans is surpassing V-Jax's fantasy value.

Allen Hurns, JAC (BYE, @IND, NYG, HOU) – Hurns suffered a concussion early in Week 10 after making one catch for 9 yards (two targets). On a bye in Week 11, he's droppable in 12-team redraft leagues.

Jarvis Landry, MIA (BUF, @DEN, @NYJ, BAL) – Landry had 7-53-0 on 10 targets and has been solid as a WR4 in PPR leagues.

Kenny Britt, STL (DEN, @SD, OAK, @WAS) – Britt was a dud in Week 10 (3-31-0) despite a favorable matchup. He should be better against the Broncos in Week 11, where the Rams will definitely find some garbage time for him to rack up numbers.

Harry Douglas, ATL (@CAR, CLE, ARI, @GB) – Douglas failed to make a catch on two targets but scored on a two-point conversion.

Taylor Gabriel, CLE (HOU, @ATL, @BUF, IND) – Gabriel had 3-31-0 on Thursday and might have some value next week with Andrew Hawkins (thigh, knee) still hurting.


IDP
Linebackers
Mason Foster, TB (@WAS, @CHI, CIN, @DET) – Foster had another nine tackles in Week 10, giving him 30 over his past four games since returning from injury. He flies under the radar as the "other" LB in Tampa Bay.

Ramon Humber, NO (CIN, BAL, @PIT, CAR) – Humber had a monster Week 10 against San Fran (12 total tackles, sack) and has effectively replaced David Hawthorne (hand) as the No.2 LB in New Orleans. He's got another solid matchup in Week 11.


Defensive Backs
James Ihedigbo, DET (@ARI, @NE, CHI, TB) – In six games this season, Ihedibgo has posted some impressive stats, with 36 total tackles, 2.0 sacks, an INT and two PD. He's a solid DB2.

Buster Skrine, CLE (HOU, @ATL, @BUF, IND) – Skrine is an overlooked high-upside DB who had a great game against the Bengals (three total tackles, two INT, three PD). Keep him on your radar as a DB3.


Defensive Lineman
DL Marcell Dareus, BUF (@MIA, NYJ, CLE, @DEN) – Wow. Dareus had seven total tackles and 3.0 sacks on Sunday against the Chiefs. He's a DL1 with plenty of upside when healthy.

DL Ziggy Ansah, DET (@ARI, @NE, CHI, TB) – Ansah is heating up (six solos, sack, two TFL, FF in Week 10) and has some favorable matchups on the way. He's a solid DL2.


Updates
LB Mychal Kendricks, PHI (@GB, TEN, @DAL, SEA) – Update coming Tuesday.

UPDATE: Kendricks stepped up with MLB DeMeco Ryans out for the rest of the year and had another solid game, making eight solo tackles and notching a sack in the win over Carolina.

LB Chris Borland, SF (@NYG, WAS, SEA, @OAK) – Borland had another amazing game in place of the injured Patrick Willis, racking up 17 total tackles (11 solos) and a FR in the win over New Orleans.

UPDATE: Borland is now the LB to own (and an LB1 in IDP) in San Fran with Navarro Bowman still dealing with pain in his surgically repaired knee and Willis (toe) done for the season.

DB Antoine Bethea, SF (@NYG, WAS, SEA, @OAK) – Bethea now has picks in consecutive weeks. He finished Sunday's win with eight total tackles and the accompanying PD/INT.

DB Major Wright, TB (@WAS, @CHI, CIN, @DET) – Wright tallied a disappointing four total tackles on Sunday in a starting role. He'll continue to get his chances, but he's not as good as Mark Barron, who he replaced.

DL Gerald McCoy, TB (@WAS, @CHI, CIN, @DET) – McCoy practically disappeared this week, getting just one solo stop in the loss to Atlanta. He's a marginal DL2/3 at this point in his career.

DL Dontari Poe, KC (SEA, @OAK, DEN, @ARI) – Poe had a solid stat line (four tackles and a sack) and continues to be one of the better DT-eligible lineman in IDP.