MyFantasyLeague.com Users...
Check out the most popular waiver wire pickups this week across thousands of MFL leagues. Also, quickly see who's available on your waiver wire this week by using the MFL Power feature at FF Today. Just input your league's 5-digit ID number away you go!

Targeting weekly waiver picks is a completely subjective business, but this column hopes to point out some obvious and not-so-obvious selections to help your team from week to week while you strive to collect fantasy wins, reach your league playoffs and win the elusive title that your friends say is out of your grasp. While I'm a big proponent of making trades to bolster your roster, the waiver wire can be an almost limitless resource when it comes to discovering fantasy value in strange places. Each week, I'll target both offensive and defensive players — sometimes breakout stars that eluded your team's draft — as well as players who can help your squad that may still be lurking in deeper leagues. I'll also provide an occasional daily fantasy recommendation, as I'm hopelessly addicted to DFS sites.



Off the Top -

Includes my premier recommendations. These are sometimes players available only in more shallow leagues, and occasionally guys who are more ready but are thrust into the fantasy spotlight because of opportunity or exceptional production. Usually, they are available in at least 25 percent of public leagues.



Digging Deeper -

Covers the next tier of quality waiver wire specimens, usually players available in a majority of online leagues. There are a lot of gems in this range who can be plucked rather easily. Usually, these players are available in at least 50 percent of public leagues.



Scouring the Barrel -

Chronicles the deepest of fantasy adds — and sometimes highlights players being tacked onto fantasy squads who I don't have much confidence in. Make sure you read the fine print because I don't always love them. For the most part, you'll find these players available in about 75-100 percent of fantasy leagues

Each week, I'll also provide a brief update on the players I covered the previous week. It's the most accurate, comprehensive one-stop waiver-wire column available on the Internet, and it's only available here at fftoday.com. Let's get to some of the players who could be still out there on the waiver wire and in the free agent pool as you prepare for Week 1!


Feedback is always welcome, appreciated and encouraged. I'll get to as many e-mails as I can.


---
Note:
Each player's next four matchups are listed in parentheses ( ). Since IDP league composition is so varied, I'll just list defensive players per position and use their Yahoo ownership rates – which due to site ranking anomalies and the high rate of variance in availability, are often much lower than actual ownerships rates.
Quarterbacks
Off The Top
Joe Flacco, BAL (@CLE, CAR, @IND, @TB) – Flacco is worth a look in two-QB leagues and as a spot starter for owners who are dealing with quarterback injuries (Robert Griffin III, Carson Palmer). He faces the Browns in Week 3 but I'd be wary about rolling him out versus the solid Panthers-D in Week 4.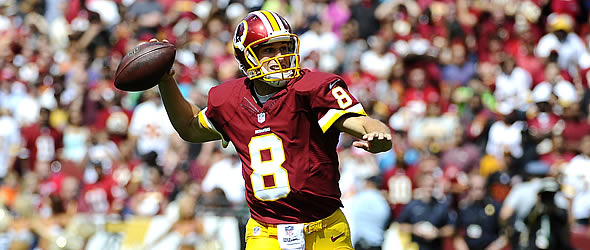 Cousins will get at least a few weeks to cement his spot atop the Redskins quarterback depth chart.
Digging Deeper
Kirk Cousins, WAS (@PHI, NYG, SEA, @ARI) – With RGIII injured for at least the foreseeable future, Cousins (22-for-33, 250-2-0 on Sunday in relief of Griffin) jumps right in and gets a couple tasty divisional matchups before facing the Seahawks in Week 5, when he's not a recommended start. HC Jay Gruden has been reported to prefer Cousins as a pocket passer in this offense.

UPDATE: RGII doesn't have a fracture and although there is no set timetable for his return it appears he will miss multiple weeks, opening the door for Cousins to get comfortable.
Scouring The Barrel
Blake Bortles, JAC (IND, @SD, PIT, @TEN) – Chad Henne is terrible, and it's only a matter of time before Bortles gets his shot. As a relative fantasy unknown, it's not a bad idea to take a flier on the youngster and see what happens in what should be a better offense this season.

UPDATE: Jags head coach Gus Bradley did not rule out starting Bortles next week against the Colts, and the general consensus among scouts is that Bortles gives Jacksonville a better chance than Henne. Stay tuned.

Drew Stanton, ARI (SF, BYE, @DEN, WAS) – Carson Palmer's throwing shoulder is really barking, and there's an issue with the nerve. This can't be good for the Cards offense. For now, there's no timetable for his return; it could be next week – or we could see Stanton lead the offense for many weeks to come.
Updates
Eli Manning, NYG (ARI, HOU, @WAS, ATL) – Manning rebounded with 277-2-2 in the loss to Arizona but remains a fantasy backup with some matchup-specific upside.
Geno Smith, NYJ (@GB, CHI, DET, @SD) – Geno improved from his Week 1 numbers, throwing for 176-1-1 and adding 26 rushing yards and a score, but the Jets fell short against the Packers. He also threw a late TD to Jeremy Kerley that was negated because the Jets called time out.
Derek Carr, OAK (HOU, @NE, MIA, BYE) – Carr finished with 263-1-2 and seems to have some rapport with James Jones, if no one else. He might be off the redraft radar for now aside from two-quarterback leagues.
Matt Cassel, MIN (NE, @NO, ATL, @GB) – Cassel had an epically bad Week 2 performance (202-1-4) and may not be the quarterback when Christian Ponder is healthy.

UPDATE: Teddy Bridgewater is now penciled in as the No. 2 in Minnesota, but Mike Zimmer confirmed Sunday that Cassel will remain the starter despite a four-INT game in Week 2.
Running Backs
Off The Top
UPDATE: Ahmad Bradshaw, IND (@JAC, TEN, BAL, @HOU) - Bradshaw looked rejuvenated and incredibly sharp running behind an unbalanced line on Monday night (13 carries, 70 rushing yards; 5-26-2 receiving). His effectiveness as a receiver and ability to make people miss has never been in question - it's always been a matter of health and opportunity. He's available in roughly 50 percent of Yahoo leagues, and while he's in a time share with Trent Richardson, there's plenty of value in this high-powered offense.

Matt Asiata, MIN (@NO, ATL, @GB, DET) – Asiata got off to an excellent start Sunday filling in for Adrian Peterson – catching a 25-yard TD pass in the game's opening minutes – but was quiet afterwards as the Patriots defense clamped down. With Peterson expected to play in Week 3, Asiata is a hold in case the league intervenes with discipline of their own.

UPDATE: Peterson has been reinstated and is expected to play Sunday at New Orleans unless the NFL hands down discipline as the case is under review by the league. This is a nightmare of a situation, and bad for both the NFL and Minnesota. Fantasy owners appear to have their first-round pick back in uniform for Week 3, but everyone should hold Asiata until the fog clears.

Darren McFadden, OAK (@NE, MIA, BYE, SD) – I listed McFadden prior to the Week 1 games and I'm glad to see he got plenty of work filling in as the starter Sunday with Maurice Jones-Drew injured. He grabbed a TD and remains the likely lead back should MJD miss any more time.


Digging Deeper
Knile Davis, KC (@MIA, NE, @SF, BYE) – Jamaal Charles may have eluded a serious injury, but he didn't return to action after spraining his ankle. Like McFadden, Davis made my Week 1 column and remains a must-own in all formats heading into Week 3.

UPDATE: Andy Reid said Davis will step right into Jamaal's role if the stud back is forced to miss any time, giving the second-year back possible RB1 status for the time being.

UPDATE: Devonta Freeman, ATL (TB, @MIN, @NYG, CHI) – Freeman caught both passes thrown to him (22 yards) but didn't have a single carry on Sunday. Still, he deserves a bigger role in this offense and could be a great lottery ticket stash in 12-14 team leagues.

Jonathan Dwyer, ARI (SF, BYE, @DEN, WAS) – Dwyer isn't a prodigious talent, but he's a capable fill-in and will likely continue to get red zone touches spelling Andre Ellington, who isn't a great goaline back.


Scouring The Barrel
Donald Brown, SD (@BUF, JAC, NYJ, @OAK) – With Ryan Mathews (MRI scheduled) out for a few weeks, Brown appears to be in a much more productive situation alongside Danny Woodhead in San Diego. He should be owned in all 12-team leagues.

UPDATE: Mike McCoy seems smitten with Brown, who's an experienced back with plenty of career snaps in this type of offense. He will be a hot commodity this week.

Alfred Blue, HOU (@NYG, BUF, @DAL, IND) – Blue got a lot of work with the game out of reach – and while that may not be a common theme every week, it's clear the Texans want to get him touches over the pedestrian Jonathan Grimes. Blue had 40 rushing yards on 11 carries Sunday and should be owned in deeper formats and as the primary Arian Foster handcuff.


Updates
Mark Ingram, NO (MIN, @DAL, TB, BYE) – Ingram had his second straight productive week, tallying 83 rushing yards and a TD on just 11 carries and adding 3-21-0 on four targets. He's almost universally owned now (75-95 percent of leagues), a big change since Week 1. Bad news is he's expected to miss a month with a broken hand.

UPDATE: The broken hand will force Ingram to miss at least a month.

Chris Ivory, NYJ (CHI, DET, @SD, DEN) – Like Ingram, Ivory has two straight weeks with a rushing TD. He also had 43 rushing yards on 13 carries and caught one pass for 3 yards in Week 2. He and Chris Johnson are likely to keep the time share going all season.

Terrance West, CLE (BAL, BYE, @TEN, PIT) – With Ben Tate out, West filled in admirably with 68 rushing yards and a TD on 19 carries, adding 2-22-0 receiving. As long as he's the starter, West is a low-end RB2.

Khiry Robinson, NO (MIN, @DAL, TB, BYE) – Robinson ran for 31 yards on eight carries but lost a fumble. The injury to Mark Ingram (hand) gives life to Robinson's fantasy value as both he and Pierre Thomas should have their roles increased.

UPDATE: Robinson now gets a huge opportunity with Ingram injured. He's slated to get goaline carries and do some of the power running, while Pierre Thomas is more the passing component back.

Bobby Rainey, TB (@ATL, @PIT, @NO, BAL) – Rainey went for Doug Martin in Week 2 and had himself a solid game (144 rushing yards, 3-30-0 receiving). He didn't find the endzone (quarterback Josh McCown scrambled for two scores) but he's a good runner who'll put up points if he continues to get opportunities.

James Starks, GB (@DET, @CHI, MIN, @MIA) – With Eddie Lacy (concussion) healthy enough o play, Starks was a non-factor against the Jets.

Justin Forsett, BAL (@CLE, CAR, @IND, @TB) – Forsett had eight carries for 56 yards and 4-16-0 receiving. He'll be the change of pace back to Bernard Pierce if nothing more changes in the Ravens backfield.

Isaiah Crowell, CLE (BAL, BYE, @TEN, PIT) – Crowell stole a few touches from West (11 carries for 54 yards, 1-3-0 receiving) and could be worth a look in deeper formats.


Wide Receivers/Tight Ends
Off The Top
TE Delanie Walker, TEN (@CIN, @IND, CLE, JAC) – Walker (now 63 percent owned in Yahoo leagues) made my list of Week 1 recommendations and he really exploited the Cowboys poor LB pass coverage in Week 2, finishing with 10-142-1 in the loss to Dallas. He's a low-end TE1 in most matchups, but has the ability to go off – as we saw this week.

Andrew Hawkins, CLE (BAL, BYE, @TEN, PIT) – Hawkins (6-70-0 on Sunday) saw double-digit targets for the second straight week. He's the Browns' number one receiving option with Jordan Cameron injured and Josh Gordon suspended.

James Jones, OAK (@NE, MIA, BYE, SD) – Two weeks, two TDs. Jones went for 9-112-1 but lost a fumble Sunday in the loss to Houston. He's the No. 1 receiver in Oakland despite concerns about his durability.


Digging Deeper
TE Owen Daniels, BAL (@CLE, CAR, @IND, @TB) – Daniels caught two TD passes (5-28-2) on Thursday and appears to be taking some of the red zone looks that were supposed to go to Dennis Pitta. While he's not an every-week option, Daniels might make sense as a low-cost option in specific matchups on DFS sites.

Mohamed Sanu, CIN (TEN, BYE, @NE, CAR) – With A.J. Green sidelined with turf toe, Sanu stepped up on Sunday (3-84-1), catching a long TD pass and even passing for 50 yards in the win over Atlanta. He's still available in about 75-90 percent of fantasy leagues.

UPDATE: Upon closer inspection, Green has a strained ligament in his foot, not turf toe. Expected to return after the Week 4 bye, the star receiver will yield some of his would-be targets to Sanu.

Miles Austin, CLE (BAL, BYE, @TEN, PIT) – Until Gordon comes back, expect the veteran receiver (6-44-1 on Sunday) to get some looks. He'll be inconsistent, but what else is new with the fragile Austin?


Scouring The Barrel
UPDATE: Davante Adams, GB (@DET, @CHI, MIN, @MIA) – Adams got more attention (seven targets, 5-50-0) and snaps than Jarrett Boykin on Sunday and could be a high-upside stash in deeper leagues. If you're near the end of the waiver wire list and all the hot RBs are gone, Adams could be sneaky add that pays dividends down the stretch.

Andre Roberts, WAS (@PHI, NYG, SEA, @ARI) – If DeSean Jackson misses a significant amount of time, Roberts looks to be the guy that fills his offensive role. The former Cardinal had 4-57-0 on five targets and added 19 rushing yards Sunday.

UPDATE: Jackson is day-to-day with a shoulder strain but there's no word on his availability for Sunday. At least he appears to have avoided major injury.

TE Niles Paul, WAS (@PHI, NYG, SEA, @ARI) – Paul is the Washington tight end until Jordan Reed is healthy enough to return, and he capitalized with 8-99-1 on Sunday in the win over Jacksonville. He's a solid deep-league add and could provide some matchup-specific value in 12-team leagues.


Updates
Josh Gordon, CLE (BAL, BYE, @TEN, PIT) – With the new drug policy agreement in place, Gordon's suspension has been reduced to 10 games. He'll be back for your playoff run – now you just have to work around that roster slot and make sure you stash him. He's definitely worth it.

Steve Smith, BAL (@CLE, CAR, @IND, @TB) – Smith caught six passes for 71 yards and was targeted 10 times in the win over Pittsburgh. He's a WR4 with upside.

Greg Jennings, MIN (@NO, ATL, @GB, DET) – Jennings was shadowed by Darrelle Revis Sunday and was quiet, catching just one pass for 4 yards in the loss to New England. The offense was out of sync without Adrian Peterson – but they'll be forced to look for ways to get the veteran receiver involved in the future.

TE Dwayne Allen, IND (@JAC, TEN, BAL, @HOU) – UPDATE: Allen didn't have a catch on Monday night, as the Colts focused on short cuts and dump-offs to Bradshaw and their slot receivers.

Rod Streater, OAK (@NE, MIA, BYE, SD) – Streater (1-6-0) was quiet on Sunday and has limited fantasy value in standard leagues. Streater left Sunday's game with a hip injury. He's a candidate for the free agent pool this week.

Allen Hurns, JAC (IND, @SD, PIT, @TEN) – Hurns had two catches for 13 yards but left Sunday's game with an ankle injury. Stay tuned.

UPDATE: Hurns is considered day-to-day and was on crutches after the Week 2 tilt with Washington.

Brian Quick, STL (DAL, BYE, @PHI, SF) – For the second straight week, Quick caught seven of the nine balls thrown his way, this time going for 745 yards. He's a solid WR4/5 addition in PPR leagues.

TE Marcedes Lewis, JAC (IND, @SD, PIT, @TEN) – The Jaguars quarterback situation and receiving corps is a muddled mess right now. He totaled 2-71-1 on Sunday, the big 63-yard TD bomb supplying most of his fantasy production for the day. However, Lewis is out 6-8 weeks with an ankle injury. He's safe to drop.


IDP
Linebackers
LB Brandon Marshall, DEN (@SEA, BYE, ARI, @NYJ) – No, not that Brandon Marshall. The Broncos will eventually get Danny Trevathan back, but in the meantime, Marshall has filled in admirably and has 18 total tackles (14 solos) and a sack this season.

LB Rolando McClain, DAL (@STL, NO, HOU, @SEA) – McClain has played surprisingly well so far, even making a spectacular INT Sunday. He's a talented athlete who could provide some decent numbers this season. So far, he's tallied 15 tackles and a sack to go along with his INT.


Defensive Backs
DB Antoine Cason, CAR (PIT, @BAL, CHI, @CIN) – Cason is the top IDP performer through the first two weeks, as he's made 19 total tackles (16 solo), and has added an INT, two forced fumbles, two PD and a fumble recovery.

DB D.J. Swearinger, HOU (@NYG, BUF, @DAL, IND) – Swearinger remains the top IDP option in the Houston secondary and should make close to 100 tackles this season.


Defensive Lineman
DL Chandler Jones, NE (OAK, @KC, CIN, @BUF) – A few owners in shallow leagues may have dropped Jones after a humdrum Week 1, but he notched two sacks and totaled eight tackles in Week 2. He's the third best DL in IDP.

DL Calais Campbell, ARI (SF, BYE, @DEN, WAS) – Campbell is a solid veteran run defender and pass rusher with lots of upside in fantasy. He had a monster Week 2 with 10 solo tackles and a sack.


Updates
LB Emmanuel Lamur, CIN (TEN, BYE, @NE) – Though Vontaze Burfict suited up, Lamur still got his with six solos, three assists and a PD. He's a decent LB3 with upside.

LB Sio Moore, OAK (@NE, MIA, BYE) – Moore had six total tackles Sunday but failed to meet the lofty expectations after a breakout Week 1.

DB Leodis McKelvin, BUF (SD, @HOU, @DET) – McKelvin boosted his fantasy numbers with a late-game INT (against me in one league!). He's a decent CB to own in leagues where that specific position is required.

DB Donte Whitner, CLE (BAL, BYE, @TEN) – Whitner had a quiet game (five total tackles) but remains a quality DB in IDP formats.

DL Linval Joseph, MIN (@NO, ATL, @GB) – Joseph had a measly two assist in the loss to New England. The Vikings defensive line had trouble stopping the Pats backs all day.

DL Willie Young, CHI (@NYJ, GB, @CAR) – Young played quite well in his situational role, tallying four tackles and 2.0 sacks in the win over San Fran Sunday night.