MyFantasyLeague.com Users...
Check out the most popular waiver wire pickups this week across thousands of MFL leagues. Also, quickly see who's available on your waiver wire this week by using the MFL Power feature at FF Today. Just input your league's 5-digit ID number away you go!

Targeting weekly waiver picks is a completely subjective business, but this column hopes to point out some obvious and not-so-obvious selections to help your team from week to week while you strive to collect fantasy wins, reach your league playoffs and win the elusive title that your friends say is out of your grasp. While I'm a big proponent of making trades to bolster your roster, the waiver wire can be an almost limitless resource when it comes to discovering fantasy value in strange places. Each week, I'll highlight some of the popular (and not-so-popular) players who can help your squad and may still be available in your league.

Feedback is always welcome, appreciated and encouraged. I'll get to as many e-mails as I can.


---
Quarterbacks
Jay Cutler, CHI – Despite the comparison to Jesus by the "Black Unicorn" Martellus Bennett, Cutler (40-50 percent owned) is not the fantasy messiah you're looking for. But he may be a decent QB2 or bye week fill-in with the right matchup. He threw for 281-2-1 in the comeback win over the Raiders and should have Alshon Jeffery back soon.
Sam Bradford, PHI – The Eagles QB is still available in about 20-30 percent of leagues and had an impressive stat line Sunday despite the loss to Washington, throwing for 270-3-0 with no turnovers. He's got a good matchup next week vs. NO.
Kirk Cousins, WAS – Cousins is capable of good numbers, as he's a much better fantasy QB than real-life signal caller. He turned in a 290-1-0 passing performance and added a rushing TD in the win over Philly, but faces a tough Atlanta secondary next week. The Falcons have been scoring in bunches so it's possible Cousins gets caught up in a shootout and throws from behind in the second half. He's only 10-15 percent owned but worth considering for Week 5.
Nick Foles, STL – I can't figure this guy out. Foles excelled (from a fantasy perspective) against a solid Cardinals secondary this week (171-3-0) but looked terrible last week in a prime matchup. Having Todd Gurley obviously helps, so expect him to be closer to 50 percent ownership after this week.
Josh McCown, CLE – I'm not going to analyze this more than I have to, because McCown threw the ball 41 times on Sunday, but 356-2-0 (lost fumble) is not a bad fantasy day. I can see having him on deeper rosters and plugging him in the right matchup.

UPDATE: Blake Bortles, JAC – Perhaps it's time to consider Bortles as a viable QB2 with upside as a bye week fill-in/DFS plug-n-play. He's just 30-35 percent owned and the Jags are throwing a lot with their best athletes at the WR position. He's the 14th ranked fantasy QB through four weeks and faces the Bucs in Week 5 – a favorable matchup.
QB Updates
Andy Dalton, CIN – The Bengals QB compiled 321-1-0 with 16 rushing yards in the Week 4 win over the Chiefs, moving his team to 4-0 on the season. Dalton boasts an embarrassment of riches as receiving weapons and should be one of the top-scoring QBs this season.
Marcus Mariota, TEN – Mariota was on a Week 4 bye and returns this week to face Buffalo in Tennessee. It'll be a test, for sure.
Tyrod Taylor, BUF – Taylor could have salvaged a nice fantasy day if a late-game TD pass to Charles Clay had held up, but the Buffalo penalties killed any chance the Bills had to win against the Giants. He and Mariota could be poised for a shootout this week, though the Titans have played well versus opposing QBs thus far this season.
Michael Vick, PIT – Vick had a mixed performance on Thursday. On more than one occasion he seemed ready to deliver a pass or sprint for some yardage, but hesitation cost him. Don't give up on him yet, as the Ravens defense was a difficult first test and he could have some big games coming.

Running Backs
C.J. Spiller, NO – His big play came on the second play of overtime – an 80-yard TD reception that won the game – but Spiller (60-70 percent owned) had four other catches for 19 yards. He'll never be a ball-hog, workhorse-type back or consistent fantasy option, but he should be owned in all formats and could always get more work with an injury to either Mark Ingram or Khiry Robinson.
Ronnie Hillman, DEN – Hillman still looks sharper than C.J. Anderson and turned in a nice game on Sunday with 103 rushing yards and a TD on 11 carries. He's got a similar ownership level as Spiller, but with the opportunity for higher usage, and maybe without some of the big play upside.
Duke Johnson, CLE – The rookie (about 50 percent owned) hadn't shown much for fantasy owners to get excited about until his big Week 4 output of 31 rushing yards (eight carries) and 9-85-1 receiving. He's a nice passing down complement to Isaiah Crowell, even off he doesn't supplant him as the primary ball carrier.
Terron Ward, ATL – Ward got most of his carries (19 for 72 yards, 1 TD) in garbage time after the Falcons jumped out a huge lead, but could play a larger role if Tevin Coleman takes longer than anticipated in his return. Devonta Freeman, meanwhile, has a stronghold on primary duties after another three-TD game.

UPDATE: Anthony Dixon, BUF – Dixon would likely assume the bulk of carries versus Tennessee, with Cierre Wood as the backup if Karlos Williams (concussion; see below) can't play in Week 5. Bryce Brown could also be re-added to the roster, after being released last month. Dixon is a smart, capable back, though he's not as talented as either LeSean McCoy or Williams, making him an RB2 at best.
UPDATE: Josh Robinson, IND – Frank Gore (foot, DTD) did not practice on Monday, which means Robinson could be in line for an increased workload Thursday night versus the Texans. Andrew Luck (shoulder) is expected to play in that game, so the Colts may not need Robinson to do much more than block if Gore doesn't go. Still, the ball security issues continue for Robinson, and while there's a possibility he's a contributor, we expect Gore to push through and get the start. RBs Tyler Varga and Zurlon Tipton round out the Colts depth chart.
UPDATE: Darren McFadden, DAL – The Lance Dunbar injury moves McFadden back into fantasy relevance, as he's always been a solid pass catcher and runner in open space – something the Cowboys need badly in the absence of talented playmakers. He's still about 50-60 percent owned despite limited usage the first few weeks, but if there's a silver lining to the Dunbar injury, it's that Run-DMC might finally be used effectively.
RB Updates
Karlos Williams, BUF – Williams scored for the fourth straight game, but fantasy owners who took a shot on the rookie (and DFS competitors intrigued by the low price) probably expected more with a full workload. Williams had just 40 rushing yards on 18 carries but still projects as a workhorse for the Bills with LeSean McCoy out an additional 3-4 weeks.

UPDATE: Williams is in the concussion protocol, though this news didn't come to light until Monday night, according to general manager Doug Whaley, who revealed the situation on WGR 550 SportsRadio Tuesday morning.
Darren Sproles, PHI – Sproles had 17 rushing yards on four carries but literally dropped the ball on three targets, finishing with no receiving stats.
Chris Johnson, ARI – Andre Ellington was inactive Week 4 and Johnson had 83 yards on 16 carries, adding 3-11-0 receiving. He may continue to start for the Cards, but his fantasy appeal is waning, especially with Ellington due back and David Johnson looking good in the passing game.
Ryan Mathews, PHI – DeMarco Murray returned and Mathews was a total bust, finishing with 20 yards on five carries and losing a costly fumble.
Antonio Andrews, TEN – Andrews was on a bye Week 4, and could be a big part of the mix facing the Bills next week.
Andre Williams, NYG – Just when it looks like Williams will supplant Rashad Jennings, the veteran turns in a good performance. Williams had 35 rushing yards on 11 carries but isn't getting much work as a receiver and could be limited to usage as a TD-dependent flex option.
Thomas Rawls, SEA – Update coming Tuesday.

UPDATE: Rawls ran for 48 yards on 17 carries, and while he's been compared to Lynch since college, he doesn't have quite the same upside. The Seahawks can't wait to get Beast Mode 1.0 back.
Lance Dunbar, DAL – The hits just keep on coming for the Cowboys, who appear to have lost Dunbar for the season with a torn ACL.

UPDATE: The torn ACL has been confirmed, so it looks like McFadden will likely assume Dunbar's role in the offense while Christine Michael continues to get reps as he builds up to a more significant role.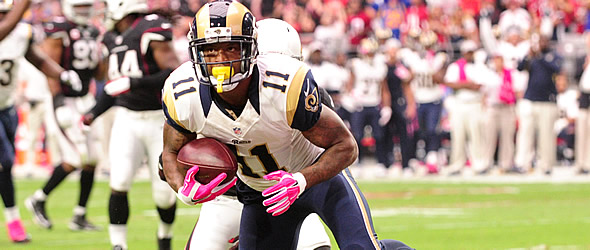 Inconsistent at best, we need to see more from Tavon Austin before he can be trusted as a WR3.
Wide Receivers / Tight Ends
Tavon Austin, STL – I had Austin (about 20-25 percent owned) in a boatload of DFS contests… in Week 3. The electric flanker finished with 6-96-2 receiving and 20 yards on two carries in the win over Arizona Sunday. There's no doubting his talent, but if the Rams can use Austin to his full potential there's a chance he has a breakout season.
Allen Hurns, JAC – Hurns had 11-116-1 (15 targets) in the loss to Indy on Sunday, with most of the coverage leaning toward Allen Robinson. About 20-30 percent owned, Hurns could be a solid sleeper play in the right matchup throughout the season.
Mike Wallace, MIN – Wallace finally saw a decent target total (10) and turned it into 8-83-1 for the Vikings in a losing effort vs. DEN. If Charles Johnson (ribs, inactive) remains sidelined, he could continue to see double-digit targets from Teddy Bridgewater.
Kamar Aiken, BAL – It's obvious that the Ravens will need to throw the ball to win games, since teams are stacking the line, guarding the flats and daring Joe Flacco to throw it deep. Aiken (5-77-1 on Thursday) could be the deeper threat the Ravens are seeking and rookie Breshad Perriman's (knee) continued absence means Aiken will continue to see targets.
Eddie Royal, CHI – Royal snagged 7-54-1 on 10 targets Sunday. He's never been a consistent option but is Cutler's only healthy receiving option right now outside of Bennett and Matt Forte.
Dwayne Harris, NYG – Harris is cementing himself as the Giants third WR with Victor Cruz out, andhad 5-51-1 in the win over Buffalo Sunday. He's universally available, has some big-play allure (he was always involved in the red zone and on special teams in Dallas) and could help take some of the pressure off Odell Beckham Jr. inside the 20.

UPDATE: Willie Snead, NO – The young wideout caught all six of his targets for 89 yards in the overtime win versus Dallas on Sunday night, and now has 16-240-1 on 22 targets this season. With Brandon Cooks relatively quiet and Drew Brees searching for viable receivers, Snead (0-5 percent owned) makes an interesting PPR pickup with some upside against the Eagles in Week 5.
UPDATE: Jamison Crowder, WAS – Largely unheralded heading into 2015 fantasy drafts, Crowder is getting more work in the Washington offense and had 7-65-0 on 12 targets Sunday. As long as DeSean Jackson remains out, the rookie will see a significant snap count and could be a decent sleeper in Week 5 facing the Falcons, as Desmond Trufant will likely lock down Pierre Garcon.
TE Coby Fleener, IND – Fleener (50-60 percent owned) had a big Week 4 with Dwayne Allen and Andrew Luck inactive and 147-year-old Matt Hasselbeck under center, hauling in 9-83-1. You can't expect too many days like this, as the game plan was wildly different from the Colts' norm.
TE Richard Rodgers, GB – It's time I start paying attention to Rodgers (20 percent owned) since the second-year TE (5-45-1 on Sunday) now has a couple TD receptions on the season and is getting red zone looks from his stud QB.
TE Owen Daniels, DEN – Though he had just 2-9-1 against the Vikings, expect a big day from Daniels (19 targets over the last three weeks) next week facing the Raiders, who simply can't cover TEs. Daniels is just 40-45 percent owned, so he could still be out there in your league.

WR/TE Updates
Kendall Wright, TEN – Wright was on a bye in Week 4 and returns this week to face the Bills. He's a marginal WR3/Flex play.
Rueben Randle, NYG – Randle had 3-31-1, a decent outing against a tough Bills defense.
Kenny Britt, STL – Britt was limited in practice this week with a shoulder injury and saw just one target and no catches Sunday.
Marvin Jones, CIN – As usual, Jones disappeared after a big week, hauling in just one catch for 4 yards on two targets from Dalton.
Ty Montgomery, GB – Montgomery has 3-15-0 and two carries for 10 yards Sunday in the win over San Fran. He's a longshot WR4 with some upside in a potent offense.
TE Gary Barnidge, CLE – For the second straight week, Barnidge scored, turning in 6-75-1. McCown loves this guy, so he's worth adding as a TE1 going forward.
TE Charles Clay, BUF – In the absence of Sammy Watkins, Clay (9-111-0) was Taylor's most popular target, seeing 13 looks from the dynamic QB. Unfortunately, he had a late-game TD taken away by a silly penalty, the story of the day in Buffalo.