Last Week's Question - 3rd Quick Quarterly Quiz
My column for Week 13 featured a 10-question quiz we've revisited after each quarter of the season so far. Participants simply name which of the top 5 performers at QB, RB, WR, TE, and defense are most likely remain in the top 5 at the end of the fantasy season (Week 16) and which are the least likely to remain.
Although the quiz only requires 10 short answers, it can be surprisingly challenging--especially when one isn't allowed to repeat the answers from a previous quarter. I embedded my own answers within each quiz, but I've also been delighted to receive answers with commentary from 2 readers (David and Bruce) all season long. We'll all find out how we did after the Week 16 games, but here's where David landed after the first three-quarters of the 2019 season:
Odd numbers list a top-5 performer who will remain in the top 5; even numbers list a top-5 performer who will drop to 6 or lower after Week 16.

[QB]
1) Lamar Jackson (Q1: Patrick Mahomes, Q2: Russell Wison)
2) Kyler Murray (Q1: Dak Prescott, Q2: Aaron Rodgers)

My Q2 text - "Russell has a couple of "pass funnel" defenses coming up with games against the Bucs, Eagles, and Vikings so I think he'll keep making plays. The recent run Rodgers is on seems largely fueled by the 6-TD outburst against the Raiders' facsimile of a secondary (who aren't in the NFC North, so he won't see them again) so he drops out." *takes victory lap* Lamar is a layup for Q3, and I'll reluctantly take Murray - matchups with the Steelers and Seahawks (the homefield more than the defense) might depress his numbers.

[RB]
3) Leonard Fournette (Q1: Christian McCaffrey, Q2: Dalvin Cook)
4) Aaron Jones (Q1: Austin Ekeler, Q2: Leonard Fournette)

I'm not sure if my Fournette selection is "legal" since I *begrudgingly* picked him to drop out after Q2. The Aaron Jones "drop out" selection is a necessity (CMC/Cook stay, Ekeler/Fournette already picked) but the Packers have looked "off" of late and Jones' pass-game usage has evaporated with Devante Adams back.

[WR]
5) Chris Godwin (Q1: Julio Jones, Q2: Michael Thomas)
6) DeAndre Hopkins (Q1: Mike Evans, Q2: D.J. Chark)

I actually *hope* I'm wrong about Hopkins (he's THAT good and I've got him in my primary season-long league) but this week's Patriots matchup might "set him back" enough to not creep back into the top 5. It's amazing (and somewhat justifiable, since nobody knows what to make of him as a real-life QB) that Winston doesn't get any credit as a fantasy QB despite supporting a pair of top-5 WRs - Godwin stays.

[TE]
7) Zach Ertz (Q1: Travis Kelce, Q2: Austin Hooper)
8) Darren Waller (Q1: Mark Andrews, Q2: Evan Engram)

I *thought* Engram's "drop out" would be attributed to Shepard/Slayton/Tate, but the mid-foot sprain had other ideas. Ertz is gobbling up targets as Wentz either can't throw outside, is throwing outside to unfamiliar targets, or isn't who we thought he was. Waller probably stays but it feels like he hasn't scored a TD in forever - maybe Henry catches fire down the stretch and pushes him out.

[Defense]
9) Patriots (Q1: Bears, Q2: 49ers)
10) Jets (Q1: Steelers, Q2: Giants)

Time to cash in on the Patriots - maybe they're the layup and Lamar was an alley-oop earlier for the first question. The Packers' pass rush could heat back up or another D/ST possibly get a few return TDs to take the Jets out - the other 4 teams look like they're scoring with personnel and scheme whereas the Jets have cashed in on cushy matchups (and the all-around brilliance of Jamal Adams).

This one actually felt less difficult that Q2 since I was "forced" into a few picks and purposely "saved" a few others.
I hope readers will take time to appreciate how well David was able to analyze his own thinking just by looking back over the same 10 (simple!) questions at three different points in the season. His choice to rank Fournette as a top-5 finisher after 3 quarters (despite having named him to finish at 6 or lower halfway through the season) demonstrates a clear shift in perspective. It's easy to contradict yourself thoughtlessly when you don't keep track of your predictions. When you do keep track of them, it's hard to contradict yourself without mulling over what you got wrong earlier.
I also enjoyed David's insight on Winston (who is underrated for a QB supporting 2 top-5 WRs) and his admission that Week 13 answers were in some ways easier to produce than the ones in Week 9 because the options were so limited.
Bruce stuck to his signature series of succinct sentence fragments. Verbs? He don't need no stinking verbs:
1) Q1: Mahomes bc Chiefs' running game isn't as reliable as Seahawks'. Q2: Wilson bc he's my MVP prediction. Q3: Watson by process of elimination given my answer in #2.

2) Q1: Jackson bc he's the least experienced of the non-Mahomeses. Q2: Prescott bc as a Bills fan predicting bad things for a Cowboy is one of life's most satisfying actions. Q3: Murray b/c rookie.

3) Q1: McCaffrey bc Carolina needs the offense to run through him. Q2: Cook bc he'd better stay healthy for me. Q3: Jones by process of elimination given my answers in #4.

4) Q1: Ekeler bc of Gordon. Q2: Fournette by process of elimination. Q3: None bc no nonrepeating options left.

5) Q1: Kupp bc Goff looks to him. Q2: Thomas bc he can do no wrong. Q3: Hopkins bc I need him to help Houston beat NE and give the Bills a chance to win the AFC East!

6) Q1: Evans bc the Winston-Godwin connection seems more lasting. Q2: Godwin bc he and Evans are likely to finish 6-7 or 7-6. Q3: Chark by process of elimination.

7) Q1: Waller bc Oakland needs him week in and week out while Kelce is one weapon of, like, 50. Q2: Hooper for a similar reason as for Waller over Kelce. Q3: Ertz for similar reasons as my first 2 over Kelce.

8) Q1: Engram bc he's on the Giants. Q2: Andrews bc I can't pick Engram twice. Q3: Kelce bc I painted myself into a corner in #7.

9) Q1: Patriots bc they play so many bad teams this year. Q2: 49ers bc their offense will keep their defense rested. Q3: Steelers bc they are fighting for their lives.

10) Q1: Jets bc they're like the Bills D used to be and are bound to burn out from being on the field so much. Q2: Giants bc it has to be a typo that they're in the top 5 at all. Q3: Ravens by process of elimination.
Bruce sent his picks in before the games on Sunday, so allow me to congratulate him (and his beloved Bills) on Houston's victory over New England. I like Bruce's logic about Evans and Godwin finishing at 6 & 7 rather than with either one in the top 5, but I'm frankly not ready to rule out the possibility that they'll both end up as top 5 WRs (which is exactly what I said couldn't possibly happen back in the first quiz).
I'm eager to see whose picks turn out to be most accurate after Week 16. And I'm far more interested in what I'll end up being wrong about than in what I'll get right. My thanks to David and Bruce for their sustained participation.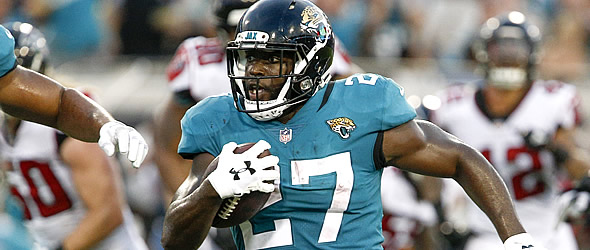 This Week's Question: Does your commissioner provide weekly commentary in your league?
The question for Week 14 grew out of this note from JR:
As a first time commissioner (9 years in the same league) I chose to become an active commissioner after previous ones did little to nothing after the draft. Below are examples of some "League Messages" showing weekly reviews which I hope that you're able to use to inspire more commissioners to become increasingly active in the future.

Week 9 Review

I don't know whether this week's title should start with UPSET or BLOWOUT.
Considering Upsets occur rarely, we'll go with that! Besides, blowing out a QUITTER isn't really newsworthy, is it?

1st place COWBOYS COMEBACK gets UPSET by 6th place DaBoysrBack (who should change his name to UnderDog, after his 4th UPSET win this year).
2nd place BRIAN'S BOLD TEAM got UPSET by... LBJ (that's right, a QUITTER). He also drops into a tie for 2nd place with BUSTIN YO BALLZ.
Which brings us to "Licking his Chops", 3rd place BUSTIN YO BALLZ and his surprising (NOT) blowout of a QUITTER, Romo. He'll also be licking again, all week long, as he's facing LBJ (who BRIAN'S definitely going to be rooting for) in week 10.
7th place EYES OF TEXAS has a huge BLOWOUT win over 9th place ATL COWBOYS, one of the hardest working teams who can't catch a break.
That leads to the BEST matchup this weekend between 4th place TROJAN COWBOYS and 5th place TUFF TACKLERS which will appropriately be decided by tonight's Cowboys @ Giants game. Good luck to both!
Thanks to JR for sharing this glimpse into his league.

Does your commissioner (or anyone else) send out weekly updates in your league? If so, please consider sending a sample my way (by posting in the comment section below or emailing me). I'm especially interested in seeing examples of notes that reference odd league traditions or impenetrable inside jokes.

If you prefer, please let me know what you think about weekly write-ups. In my experience, they're becoming a bit of a lost art. Do I have that right? If your league has discontinued them, do you miss them?
Survivor Pool Picks
#3 Texans over Broncos (11-2; PHI, BAL, SF, lar, NE, WAS, GB, NO, SEA, ind, MIN, BUF, KC)

Despite the 9-point spread, this could be a let-down game for a Houston team that took the air out of the high-flying Patriots in Week 13. The Texans are just 1 game ahead of the Titans in the AFC South and will be traveling to Tennessee in Week 15. Do you think they might be tempted (especially in the wake of an emotional win over New England) to look past the 4-8 Broncos in Week 14? I canít rule that out, so I would be reluctant to use Houston this week. But the Texans are clearly the superior team; theyíre playing at home; and (with the Titans breathing down their necks) they have something at stake. So Iíll take Ďem in a pinch.

#2 Packers over Redskins (7-6; HOU, BAL, NE, ind, kc, lac, SF, MIN, BUF, no, car, CHI, phi)

Even though I was wrong to pick against the Redskins last week, it seemed like a good idea at the time. And it seems like a good idea once again--especially with lowly Washington having to travel to Green Bay. If Aaron Rodgers canít keep the Packers ahead in this one, then the Redskinsí surprisingly strong running game could have its way with Green Bayís surprisingly vulnerable rush defense. But why wouldnít Rodgers (especially with Davante Adams in fine form) be able to keep the Packers ahead? This is my favorite pick of the week (though Iím forced by my previous choices to use the Vikings in my top slot).

#1 Vikings over Lions (11-2: NE, SEA, DAL, LAC, PHI, dal, BUF, SF, BAL, OAK, CLE, car)

Minnesota will almost certainly have to win the easy games (like this home match-up against the Lions) to snatch the NFC North from the Packers. With Kirk Cousins playing well (he has the second-best passer rating in the NFL despite having come up short vs. Russell Wilson and the Seahawks on Monday night), the Vikings should have little trouble outpacing a Lion offense led not by Matthew Stafford (back) or even Jeff Driskel (hamstring), but rookie third-string QB David Blough. Blough showed promise for a rookie in his debut against Chicago on Thanksgiving. But a third-string rookie QB capable of losing to an inconsistent Bears team in Detroit is probably capable of losing to a playoff-worthy Vikings team in Minnesota. Much as I hate to pick an intradivisional matchup this late in the season, gimme the Vikes.
---
Mike Davis has been writing about fantasy football since 1999--and playing video games even longer than that. His latest novel (concerning a gamer who gets trapped inside Nethack after eating too many shrooms) can be found here.