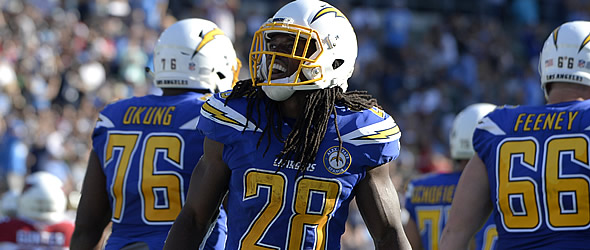 RB Holdouts - An Update
After Le'Veon Bell's season-long holdout in 2018, the fantasy world paid close attention to the holdouts of Ezekiel Elliott and Melvin Gordon this preseason. To their credit, many fantasy analysts predicted early that Gordon would never get the sort of deal he wanted from San Diego and that, of the two holdouts, his was more likely to drag into the season (probably not beyond Week 10), whereas Elliott seemed likely to get something worked out.

There are lots of important differences between Elliott's situation & Gordon's, ranging from where they stood within their existing contracts when the holdouts began to the management philosophies of their teams to their own relative talent (Gordon is certainly one of the best RBs in the NFL, but Elliott is arguably the best of all).

Now that you've spent months hearing about their differences, allow me to point out a couple of glaring similarities: They play one of the most brutal and unforgiving positions in the world of professional sports, and they really do have to take care of themselves financially while they can. As I heard David Dodds put it in an interview, "These kids play their hearts out in college to land a rookie contract. Then they get a fifth-year extension, a franchise tag, and they're done." That may not apply to Elliott, but it does apply to most running backs.

Dodds' timeline should help us understand what motivates players like Bell and Gordon and Elliott to stand up for themselves in their youth--because that's the only period during which the NFL values them. They are talented athletes in a sport that sees its gaudiest paydays go to veteran players on their 2nd, 3rd, or even 4th contracts. It's not unusual to see quarterbacks, linemen, linebackers, safeties, and even speedsters such as wide receivers and cornerbacks playing well into their 30s (remember Darrell Green, who retired at 42?), but running backs have generally reached the end of their NFL productivity by their late 20s. After they've played four years as a rookie, a fifth on an extension exercised at the team's discretion, and a sixth under a franchise tag, most RBs don't get the big payday that awaits veterans at other positions. Instead they get cast aside because the 21-year-olds with legs fresh out of college are better than they are.

So congratulations to Elliott for beating the system, and best of luck to Gordon on finding as satisfactory a resolution at this point as is possible. As for the fantasy implications here, I consider Zeke the top RB for 2019 even though his role in the Cowboys' season opener is likely to be limited (after missing so much practice). If you gambled on Tony Pollard in your draft, you might want to squeeze a flex performance out of him in Week 1 before cutting him, as that will likely be his best showing of the season. With Gordon, just remember that anything is possible. RBs do have limited shelf lives in the NFL, so each game check that Gordon misses (even if it is an underpayment for his services) will put pressure on him to return to action. There's too much uncertainty for me to have a sense of the true value of Gordon, Austin Ekeler, and Justin Jackson. But Ekeler seems poised for a very productive first few weeks at a minimum.

This Week's Subject: Trading Draft Slots Already Burnt on Keepers
Nathan's keeper league has run into an ethical question that Nathan does a great job of explaining:
Our league's draft order is the reverse order of the prior year's standings. So, last place team drafts first. The draft doesn't snake. Last place is .01 in every round.

In this league, if I want to keep my 4th rounder from last year, I have to give up a 4th rd pick.
So, the last place team has to give up 4.01, while the first place team is only gives up 4.14 for a 4th rd keeper.

So the question has come up recently whether last place should be able to trade down in rd 4. If I have the 4.01, I can trade with 4.14, who does not have a keeper in rd 4. He can have my 4.01 and I can use the 4.14 for a keeper. The original 4.14 manager can give me a pick upgrade elsewhere in the draft. Maybe he gives 4.14 and 5.14 for my 4.01 and 7.01.

Does a trade like this sound shady? Or is it savvy? Is it a normal/customary type of trade in keeper leagues?

Some members are calling it a travesty to allow this type of draft pick swap and others consider it as the last place team's right to leverage their picks to improve their draft position wherever they can.
I love this question for calling attention to the specific value of picks within rounds vs. the general value of picks by round. If the Chargers really could trade Melvin Gordon for a first-round pick in 2020 to either the Dolphins or the Patriots, don't you think they would trade him to Miami? There's a big difference between picking at the beginning of Round 1 and the end.

I don't think there's anything confusing about Nathan's question except the bizarre emphasis on the last place team. The last paragraph in particular seems to suggest that while the last place team should have some special right to trade the 4.01 + X for the 4.14 + Y, the next-to-last place team wouldn't be entitled to do something similar with the 4.02. I think the argument is stronger without dragging any special consideration for the last place team into it.

In any case, I suspect the tendency of keeper leagues to value players by round must have created similar situations elsewhere, and I hope to hear from readers about whether they consider Nathan's proposal shady or savvy. Please post your feedback in the comments below or email me with your response.

One reason I hope to hear from longtime keeper participants is because I know a few of them are still reading this column after all these years.

Earlier this month, for example, it was a treat to hear from Gary, who let me know that as his 16-team league begins its 31st year of fantasy competition, he has the awesome running tandem of James Conner and Damien Williams as his keepers. Well done, Gary--and congrats to your league on its longevity.
Survivor Pool Picks (Courtesy of Matthew Schiff)
Although our beloved Survivor Pool consultant Matthew Schiff may not have time to provide picks every week this season, he managed to put together some thoughts for Week 1 that I'm delighted to share:

Trap Game: Giants at Cowboys

This is a divisional game featuring 2 teams that may know each other better than they know themselves. The Giants have yet to realize how bad they are going to be without OBJ, and thanks to the Elliott holdout, the Cowboys don't really know how good Kellen Moore's new approach to offense will be for the team. With Week 1 jitters and divisional familiarity thrown into the mix, this one could easily go off script from the first quarter. Stay away.

#3: Eagles over Redskins

Having just warned you away from one NFC East divisional matchup, I'll steer you towards the other because the Eagles probably are as good as they seem, whereas the Redskins will probably struggle as much as everyone expects. The Redskins will be missing perennial Pro Bowl left tackle Trent Williams, which means that Case Keenum is in for a long day on a short leash (with most Redskin fans more interested in the question of when Dwayne Haskins will start than in debating whether the team can win a game against the more talented and better coached Eagles).

#2: Ravens over Dolphins

The Dolphins are probably the worst team in the NFL, but they're playing at home in this one, which is why the visiting Ravens are my second pick instead of my first. Baltimore is a young team with a number of weapons, a solid defense, and a ball control game plan that will wear on a Dolphins team that has been accused of throwing in the towel before the season starts. Lamar Jackson has a power back in Mark Ingram and a coaching staff that insists on making the passing game more relevant to the offense in 2019. But the passing game won't need to be much improved (or improved at all, to be honest) for the Ravens to trounce the feckless Fins,

#1: Seahawks over Bengals

This is my top pick because it's an inter-divisional (inter-conference is even better) game with the better team playing at home. As if Seattle's 12th man wouldn't be hard enough for Cincinnati to overcome, the Seahawks just acquired Jadeveon Clowney. In other words, Seattle should be able to shut down the Bengal offense even if A.J. Green were healthy. But he isn't, so gimme those Hawks.


---
Mike Davis has been writing about fantasy football since 1999--and playing video games even longer than that. His latest novel (concerning a gamer who gets trapped inside Nethack after eating too many shrooms) can be found here.