Last week's question: What Sets Your League Apart?
My column for Week 15 featured 2 proposals from Jeremy for setting his league apart. The first was a "Hindsight is 20/20" rule that would permit each owner in the league to substitute one bench player for a starter retroactively once per season. If Jeremy implements this rule, I'm very eager to hear how it works out for his league. The only feedback I received on it came from Glen, who wrote:
Imagine a regular fantasy league with "best ball bonus points" awarded each week to the team that would have scored the highest total points according to best ball rules. If the bonus is just 1 point, it wouldn't impact my selection of players at all. If it's 50 points, it would completely change my roster to a bunch of boom/bust backups. Either way, I would know what I was trying to do. With the random mulligans outlined in your article, I would have to wait until everyone else was out of their do-overs to know what I was trying to achieve with my bench. I would be happier joining a best ball league in addition to my regular league.
Although I appreciated Glen's feedback, I can also see how Jeremy might find the uncertainty of when his competitors will use their mulligans to be part of the fun of his proposal (YMMV).
Jeremy's second proposal (randomly selecting a keeper as a "holdout" for an extra fee) drew predictable feedback from the luck-over-skill crowd. Their response can be boiled down to the critique that since there are plenty of unpredictable events in the actual NFL (including real holdouts that take fantasy owners by surprise), there's no need to inject imaginary holdouts into the mix. I hope their critique won't stop Jeremy's league from trying the change if they're genuinely curious about it.
Jeremy also wanted to know about other unique rules that set leagues apart, and the best response to that request came from Wayne, whose Armchair Quarterback League was founded way back in 1979:
We have one "rule" that does make our league somewhat different. Our draft consists of 15 "normal" rounds plus two "bonus" rounds where teams can spend an additional $5.00 to make another couple of picks if they so choose. And rather than a "waiver" wire, we have a blind bid pool that starts week 2 where teams can submit bids for additional players as well ($10 minimum bid; no max limit). Roster limits are set from weeks 2-4 at 18 players. However, prior to week 5 each team's roster must be cut to 13 total players with specific maximum roster position limits--i.e. a maximum 2 quarterbacks, 3 running backs, 3 receivers (including tight ends who we do not have to start in our weekly league), 2 kickers, 2 defensive/special teams, and 1 flex player at any position.

Players that are "cut" are put back into the free agent bid pool and available to be bid on the following week, where roster limits again change to a maximum of 15, but with no specific position limits. The "cut down" with specific position limits does a couple of things. First, it prevents hoarding and puts some fantasy relevant players back into the mix for teams that may have suffered a Barkley type injury early in the season. Second, it promotes participation, as there are conversations resulting in flurries of trades or players being sold to other teams. All the money generated by our "bid pool" rather than a waiver process is added to our pot and split various ways. For the past several years, this amounts to a couple thousand dollars added to our playoffs, etc.

One other thing we do that is slightly different is our league is set up with 12 teams split into 4 divisions of 3 teams each. In order to get a 13-game "regular season" schedule in where you play each team in your own division twice and the remaining 9 teams once and a 4 week "playoff season" and fit it into the first 16 weeks of the NFL schedule, we have one week (week 3) in our regular season where you play two games...against two different teams i.e. team A will play team B and team C...Team B will play team A and team D...etc. etc. Getting the full 13 game regular season games in the first 12 weeks of the NFL schedule allows us to have 4 weeks of playoffs and not have to schedule anything for the NFL's notoriously problematic week 17.
Before we get into the particulars of Wayne's response, let's start with some props for any league that has been around for 41 years.
As for what makes Wayne's league unique, the most stunning thing about that first paragraph to me is how easy it is for anyone familiar with fantasy to follow all the rules and jargon en route to understanding how the formula Wayne's league follows should produce exactly the outcomes he describes. As for his second paragraph, I have also played in leagues with occasional "doubleheader weeks" (like the one Wayne describes in Week 3). I think it's fun to have 3 such doubleheaders in a 13-week season so that fantasy teams can mimic the 16-game slate of NFL. The good thing about having just one doubleheader in Week 3 is that there usually aren't any byes that early in the season. Doubleheaders can be excruciating (and downright lopsided) during bye weeks.
My thanks to Wayne for his detailed description of the Armchair Quarterback League and to everyone else who wrote in.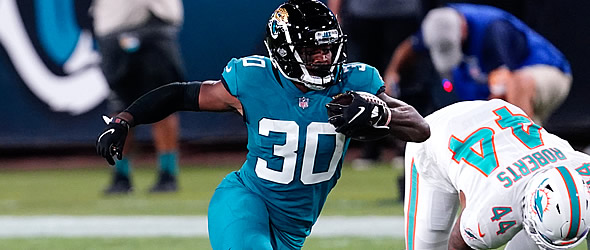 This Week's Question: Which waiver wire addition led to the most fantasy championships in 2020?
It seems to me that the answer should be James Robinson. But is it?
Who are the most notable waiver wire additions on the 2 teams playing in your league's championship? Please share your answer in the comment section below or by emailing me.
Survivor Pool Pick (Courtesy of Matthew Schiff)
[Editor's note: My apologies for jinxing Matthew Schiff's top pick last week by pointing out how reliable it has been this season…]

3: Cleveland over NY Jets: 9-6 (BAL, KC, az, sf, LAR, min, was, PHI, PIT, GB, mia, NYG, LV, no, TN)

The Browns are in the playoffs for the first time in over a decade, and the Jets won their first game of the season on the road against the Rams. Think the Browns will sleep on this one? Nope. The Jets will lose both of their remaining games. The one-two punch of Nick Chubb and Kareem Hunt in Week 16 will be more than enough for Cleveland to win--even if the Browns defense plays better than the Rams did last week.

#2: Buffalo over New England: 9-6 (ind, AZ, TB, BAL, sf, MIA, LAC, KC, NE, CLE, min, sf, sea, GB, lar)

Itís been 12 years since the Patriots missed the playoffs--and more than twice that long since the Bills won the AFC (think Jim Kelly in 1995). Josh Allen has already launched the Bills of 2020 into the postseason, but his favorite target (Stefon Diggs) may not be available in Week 16 due to an ankle injury. Even without Diggs, the Bills have too much talent and spirit to lose to a Patriots team that is limping to the finish line. Itís been a tough year for Pats fans (who have to watch Belichickís team wrap up the season as their former franchise QB leads the Bucs to the playoffs); this week wonít be any better.

#1: Chicago at Jacksonville: 13-2 (KC, GB, IND, LAR, BAL, ne, BUF, TB, HOU, LV, LAC, CLE, MIN, SEA, pit)

The Bears are still in the hunt for one of the NFC wildcard spots, and the schedule has been kind enough to deal them a soft matchup against the 1-13 Jaguars. Unfortunately for Chicago, this is an away game--in a stadium where fans actually can cheer for their team. But since the Jetsí unexpected win in Week 15 now has Jacksonville poised for the #1 pick in the draft, the fans in Jacksonville may be too busy cheering for Trevor Lawrence to disrupt the cadence of Mitch Trubisky, whose play has been improving and who wants to take his team to the playoffs almost as much as the Jaguar front office and coaching staff want to lose (though none of them will say so).

---
Mike Davis has been writing about fantasy football since 1999--and playing video games even longer than that. His latest novel (concerning a gamer who gets trapped inside Nethack after eating too many shrooms) can be found here.