Last week's question: What's the biggest hit, miss, hope, & fear of your draft?
I shared my takes on my own biggest hit, miss, hope, & fear for my team in the FFToday Staff League last week before Doug Orth crushed me in Week 1. (That defeat made my hopes for Tyrod Taylor seem very misplaced indeed.)
However, I was pleased to receive feedback from readers who had greater cause for celebration than I. Let's start with David's response, if only to direct our collective jealousy at a guy who picked up Jonathan Taylor at 6.09 (vs. 3.09 in FFTSL), Robert Woods at 7.02 (vs. 4.01 in FFTSL).
Who was the biggest hit of your draft?

Either Robert Woods at 7.02 or Tyler Boyd at 10.09. WR is a definite strength of my team (also have Julio Jones and Allen Robinson rostered) and one of the non-Julio trio might turn into an upgrade at RB at some point during the season (Jonathan Taylor is currently slated as my RB2).

Who was the biggest miss of your draft?

I was really happy with my draft in my primary league (provider gave me an A+), so this "miss" doesn't hurt much, but taking Aaron Rodgers at 11.02 instead of Stafford or Roethlisberger will probably be a regret. I plan on rolling with Kyler Murray every week except his bye, but Rodgers has the least to work with in terms of pass catchers among the three.

Which of your draft choices gives you the greatest hope?

George Kittle at 3.02 - it's a very "out of character" selection for me, but I really think (with Sanders in New Orleans and some injuries at WR) the 49ers are going to lean on Kittle even more in the passing game this year, and he's a matchup nightmare for all but the fastest of LBs or strongest of DBs.

Which of your draft choices causes you the most fear?

Probably Jonathan Taylor at 6.09. I LOVE the setup and the talent, but Marlon Mack isn't going to just "lay down" and hand over the role. With the overwhelming abundance of committees league-wide it feels even more important than usual to get some "guaranteed touches" at RB. I've insulated the Taylor selection with 3 other "chances" in Zack Moss, Jordan Howard and James White, but it does worry me a bit that he won't be the RB1/RB2 his environment suggests he should be.
Great job, David. I was sorry to see Kittle hurt in Week 1, but I still think he'll finish the season worthy of the 3.02 pick.
I must also feature Hugh's response because he moved heaven & earth to land Clyde Edwards-Helaire--and rightly so by the look of things. He starts by taking a victory lap that I would ordinarily cut, but I figure he deserves it in light of the CEH decision:
Last year was a banner year for me and my squad. I was able to run the table and post the 1st 16-0 season in league history. The target on my back is HUGE!

In any case my answer to this week's biggest hit question is Clyde Edwards-Helaire. I think he is going to be my biggest hit of our Rookie Draft, and I certainly paid a king's ransom to get him. During the offseason I traded away QB R Wilson and my 2nd round rookie pick to acquire RB D. Montgomery. I followed that up with a trade of Montgomery and my 1st round pick to acquire the 1st rookie pick overall. That team owner is a huge Bears fanatic. Naturally I had my eyes on CEH both because of where he landed in the NFL and also because of how incredible he was at LSU. I mean we all know how special an Andy Reid back can be. (See K Hunt, J Charles, B Westbrook, S McCoy, and several more.) After I made the trade, D Williams opted out of the season, and I giggled and grinned quite a bit.

Now I must admit that CEH is also my biggest fear. As described above, I certainly gave up a stud QB (MVP?), a productive RB, and both of my end-of-round draft picks to get the player I wanted/desired. I'm going into this year with Big Ben and Danny Dimes at QB and have a well-rounded but somewhat questionable team around them. I worry due to the uniqueness of this Covid year that my player isn't going to be all that and the bag of chips I paid for. I'm worried that a Super Bowl hangover may occur, an injury to Mahomes, and countless other issues may arise.
The most impressive thing to me about Hugh's biggest hit is that he put that much effort into acquiring CEH before he even knew that Damien Williams would opt out. I didn't start seriously kicking myself about passing over Edwards-Helaire in multiple drafts until that development.
And while we're on the subject of RBs, I want to share this note from Brian (who contacted me over the summer about my anti-zero-RB stance in 2020):
I've been reading A LOT of WR-heavy articles this year that actually have me wondering if I should move away from heavy RB to maybe 1 top RB or zero-RB strategy. Enjoyed your article re-centering my faith in the early RBs. Especially like your take on it being 'too important to get pass-catching RBs in the early rounds to justify taking any No. 2 WR.'
I do wonder how many people were able to dawdle on RBs in their leagues and still end up with a viable week in & week out starter (especially in PPR leagues). I hope to hear from readers who were able to pull this off, but that's not my featured question for Week 2.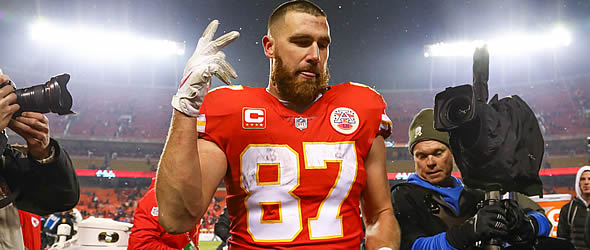 This Week's Question: Do you get "peace of mind" by avoiding streaming?
In Week 1, we saw one elite TE (George Kittle) and another upside consensus pick (Blake Jarwin) get injured. We can hope that Kittle will be active for Week 2, but Jarwin is gone for the season.
Kittle owners will probably want insurance, & Jarwin owners will need a replacement, so we can all reasonably expect more movement than usual on the TE waiver wire for Week 2. As a veteran streamer, that doesn't bother me--though it increases the amount of FAAB I must be willing to expend on any TEs I target for Week 2.
However, some folks find this whole process exasperating. I suspect a few of them are thinking, "That's why I avoided the streaming headache entirely by investing in Travis Kelce." But there's only 1 Kelce--and what if Kelce had been the one to sprain his knee instead of Kittle?
Look, I don't mind paying up for an elite TE under the right circumstances, but I sense an increasing willingness on the part of fantasy owners to overpay for elite players so as to enjoy "peace of mind" that can never really be guaranteed. Mahomes has been great for his whole career, but he's also missed games. No amount of draft capital invested in a player can ensure that you won't have to work the waiver wire for a replacement when supply may just happen to be extremely limited.
If anything, it feels to me like always being on the lookout for QBs & TEs with advantageous matchups & being cognizant of how many other teams are likely to compete with me for those players in a given week gives me an advantage for working the wire when I happen to have an injury during an unexpected shortage of players at a position.
What are your thoughts on the streaming habit? Does it really ruin your "peace of mind"? Do you have any examples of how going all out for that rock solid workhorse saved your bacon (or backfired miserably)? You can answer in the comment section below or by emailing me.
Survivor Pool Pick (Courtesy of Matthew Schiff)
Trap Game (Tampa over Carolina)

Every year, there are "gimmes" in Week 1 that blow up many a survivor pool. That's why I warned readers against San Francisco--expected by many to coast to an easy victory over a Cardinal team with no proven chemistry between Kyler Murray and DeAndre Hopkins. Their chemistry (to the tune of 151 yards on 14 receptions by Nuk) is now proven, & those who rolled with the 49ers were eliminated out of the gate.

This week, I say stay away from Tennessee hosting Jacksonville, which is traditionally a very tight game, but especially after the Jags upset Indy at home.

The second game that you might wish to avoid is Cleveland hosting Cincinnati. Joe Burrow looked pretty solid under center in his debut, and this is a rivalry game between the Ohio teams that never plays out according to expectations. Baker Mayfield is all over the place, and the Cincinnati defense may only need 1 turnover to steal this game.

Avoid Tennessee and the Ohio teams even if you don't like any of the three choices below. You'll likely be better off with Pittsburgh at home or Buffalo in Miami.

#3: KC over LAC (1-0; BAL)

If you used KC last week, this option won't be available to you, but everyone else should be able to ride the wave of Patrick Mahomes and Clyde Edwards-Helaire. If there's a defense in the NFL that can slow down Andy Reid's juggernaut, it doesn't appear to be wearing a Chargers uniform, even if playing at home. Take the Chiefs and give the points.

#2: Cardinals over Washington (0-1; ind)

The Cardinals went into the Bay Area and outplayed the NFC Champion 49ers on their own field. This week, Kyler Murray and his dynamic (Hopkins), savvy (Larry Fitzgerald), & versatile (Kenyan Drake) supporting cast should be more than enough to handle a Washington Football team that surprised the Eagles last week. Don't expect Dwayne Haskins to win in Week 2 with 178 yards and a single TD (as in Week 1, when his defense supplied 2 TDs to supplement 2 more from Peyton Barber, also unlikely to repeat his performance--except for his 1.7 ypc average, which is about what we should expect).

#1: Packers over Lions (1-0; KC)

Aaron Rodgers looked great in the first game of the season with a QB rating of 93.0, 386 yards, and 4 touchdowns. This is more like the Rodgers of young, in part because the offensive line prevented a Minnesota pass rush from pressuring him. His supporting cast is underrated because of a persistent belief that Davante Adams is a 1-man show in the receiving corps, but Marquez Valdes-Scantling and Allen Lazard chipped in 150+ yards between them and a touchdown each. Perhaps more importantly, Aaron Jones remains a versatile backfield threat. The Detroit backfield, by contrast, remains a carousel of confusion--with rookie D'Andre Swift having dropped an easy game-winning catch in his debut. Even if Adrian Peterson manages to rush for another 93 yards (as in Week 1), it won't be enough to stanch the bleeding from Detroit's secondary, which was slashed into ribbons by Mitchell Trubisky last week and is almost certain to be slashed into ribbons cut with surgical precision by Rodgers in Week 2. If so, Matthew Stafford and company will most definitely end up on the short end of this one at Lambeau. Look for the Pack to prevail - although late.

---
Mike Davis has been writing about fantasy football since 1999--and playing video games even longer than that. His latest novel (concerning a gamer who gets trapped inside Nethack after eating too many shrooms) can be found here.