QB Matthew Stafford
(2021 QB Rank - No.9, 24.3 FPts/G)
Imprisoned in the NFL's version of Siberia, Stafford cobbled together some impressive seasons with the Lions on teams that never won a playoff game during his 12 years in Motown. In what was doubtless a tough scene for the "wins are a quarterback stat" crowd, Stafford helped guide the Rams to a Super Bowl championship in his first season in LA, quieting all the nonsensical talk that he wasn't clutch or talented enough to win come January.
Along the way the veteran formed a special relationship with Cooper Kupp, rivaling anything he and Calvin Johnson did during their time together. That combination helped Stafford to the second-best statistical showing of his career as he passed for 4,886 yards and 41 touchdowns; his 17 interceptions did tie then-rookie Trevor Lawrence for most in the NFL, but remember he was playing in Sean McVay's system for the first time and then also had to transition from Robert Woods, who blew out his knee, to Odell Beckham Jr. midway through the season.
Entering his second season in the McVay offense could be a boon for Stafford -- look at the leap Aaron Rodgers made under Matt LaFleur's similar attack in Year 2 -- though it's debatable if it'll be nearly as pass happy if Cam Akers can stay healthy in 2022. At 34, the former Bulldog should have some good years left. The problem with Stafford for fantasy owners, though, is that his modest running ability has dwindled to almost nothing (he ran for 43 yards and 0 TDs last year). Like Tom Brady, all of Stafford's fantasy value comes from his arm, leaving him along that QB1/QB2 borderline.
RB Cam Akers
(2021 RB Rank – N/A)
When Akers suffered a torn Achilles' tendon last July it was announced that he would miss the entirety of the 2021 season. In the words of Lee Corso, however, not so fast my friends! Akers would be cleared to return six months later and wound up serving as the team's primary back during their Super Bowl run. Granted, Akers wasn't very effective -- 75 combined touches, 248 yards, 0 TDs -- but the fact that he was even on the field was an impressive feat of perseverance.

With a full offseason to get right, and last year's leading rusher Sony Michel in Miami, Akers is in line to be the bell cow for the Rams in 2022. We haven't seen a lot of the third-year back in that role, but in the six games he filled it when healthy as a rookie he averaged 93.5 rushing yards per outing and made a trio of visits to the end zone. Outside of a 40-yard grab against the Cardinals during the Wild Card round last year, Akers has done next to nothing as a receiver out the backfield.

Whether that's a deficiency or just happenstance is hard to know for certain, but Michel and Darrel Henderson combined for 50 catches, 304 yards and 4 TDs last year, which doesn't make you think that McVay is looking for the second coming of Todd Gurley anytime soon. Obviously, there's some level of injury risk with Akers, but he still holds mid-range RB2 appeal.

RB Darrell Henderson
(2021 RB Rank – No.21, 13.6 FPts/G)
Entering the final year of his rookie deal, Henderson feels like someone with one foot out of the door. The former third-round pick has run effectively for the most part, averaging 4.5 YPC for his career, and is a decent receiver as well. He just can't seem to stay healthy. Given every chance to be the primary back following Akers' injury, Henderson essentially broke down after a half-season of moderate usage where he averaged just a shade over 15 carries a game. He managed 28 rushing attempts combined after Nov. 7 and finished well behind Michel in carries and yards.
He'll enter 2022 as the backup to Akers, a role he saw very little action in at the end of 2020. While he'd be a viable handcuff selection for anyone investing an early-round pick on Akers, Henderson's value as a standalone player is as an RB5.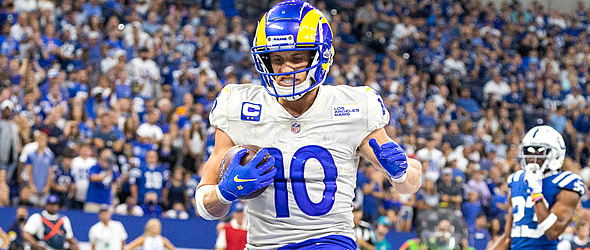 WR Cooper Kupp
(2021 WR Rank – No.1, 25.7 FPts/G)
Considered a capable receiver but nowhere near a superstar entering last season, Kupp immediately clicked with Stafford en route to a monster campaign, comfortably leading the NFL in receptions (145), targets (191), yards (1,947), and touchdowns (16). He was also the only player to average more than 100 receiving yards per game. Kupp's true dominance emerged on the biggest stage where he caught the game-winning TD in the Super Bowl at a point where everyone on the Bengals knew the ball was going to him... and they still couldn't stop it.
About the only negatives you can lay on Kupp right now relate to his age and history. Already 29, the reigning NFL Offensive Player of the Year has only one other 1,000-yard season on his resume, and last year was just the second time he's appeared in every game. Those feel like trivial concerns, though, given how dominant he was in his first season working with Stafford. In fact, a year together might make that duo even more formidable (if possible).
If you're completely stuck on longevity, you could make a case for Davante Adams as the top receiver off the board, though going from Rodgers to Derek Carr creates questions of its own. After that, you're probably looking at guys like Justin Jefferson or Jamarr Chase, neither of whom has done more than Kupp at this point. Don't overthink it, Kupp should be the No. 1 receiver drafted in 2022.
WR Allen Robinson
(2021 WR Rank – No.94, 7.1 FPts/G)
At least one person in Chicago wasn't happy to see Mitchell Trubisky replaced by Justin Fields. Robinson went from 200 receptions, 2,397 yards, and 13 TDs over the previous two years primarily with Trubisky under center to a miserable 38-410-1 line in Fields' rookie year. For whatever reason the two of them could never seem to get on the same page as Darnell Mooney became Fields' go-to receiver while A-Rob rode out a year under the franchise tag.
With the Bears ushering a new regime and what appears to be a full-scale rebuild, Robinson was allowed to walk in free agency, inking a deal with the Rams to essentially replace Robert Woods, who was later traded to the Titans. Entering his age-29 season, Robinson should still have something left in the tank, and it's important to remember that the three-time 1,000-yard receiver has never played in an offense even remotely as dangerous as what LA looks to put on the field in 2022.
That doesn't mean he's a sure bet to deliver starting fantasy value, however, as he'll be filling, at best, a secondary role behind Kupp. That could change if the Rams decide to bring back Beckham, or if there's continued development from Van Jefferson, who brings a different skill set to the table. Woods never put up huge numbers in the 1b role, and that was before Kupp established himself as a star. Robinson could be an interesting WR4 with borderline WR2 upside.
WR Van Jefferson
(2021 WR Rank – No.56, 9.9 FPts/G)
With Woods and Beckham only playing partial seasons for the Rams last year it was Jefferson that finished second on the club in receiving yards (802) and touchdowns (six). Although that didn't stop LA from signing Robinson (and maybe bringing back OBJ as well), Jefferson has one thing working for him: he can stretch the field vertically in a way neither Kupp nor Robinson can. That should keep Jefferson in the mix throughout the season, though if Beckham is re-signed it could get dicey in the later months.

Tutu Atwell, a second-round pick last year who was nearly invisible, could also push for an expanded role, though he's much more of a slot player. Jefferson is a tough valuation because it feels like his role could rise and fall from one week to the next, which makes him little more than late-round fodder.
TE Tyler Higbee
(2021 TE Rank – No.15, 9.8 FPts/G)
Wherever fantasy football owners gather, Higbee's performance in December 2019 (when he posted a 43-522-2 line over the final five games) is discussed in hushed tones of reverence. The tight end has managed very similar production in each of the last two seasons, but that was over 16- and 17-game slates instead of five.
Higbee has the talent to be a TE1, but in LA's offense he tends to get lost in the shuffle amid other higher-profile options needing the ball. If you play in a league large enough to carry a reserve tight end, Higbee is a decent choice, but he'd be a stretch to target in most formats.