QB Drew Lock
(2021 QB Rank – No.49, 10.8 FPts/G)
As of now, Geno Smith is listed as QB1 in Seattle ahead of Lock. I don't care. One of two things are going to happen. Either Smith is going to hold onto the job, rendering it useless for fantasy purposes since we all know the veteran is a prototypical game manager. Or the team is just making Lock "earn" the top job, allowing them to get a look at a quarterback that's six years younger and has the kind of athleticism to at least approximate some of what Russell Wilson did over the past decade.
In a division that features three playoff teams, including both clubs in last year's NFC Championship Game and eventual Super Bowl champion, the Seahawks are in a rebuild, whether they want to say it on the record or not. So, even if Smith emerges from camp as QB1, it's hard to see a scenario where the offense isn't turned over the Lock at some point.
Lock has flashed some potential in three years with the Broncos, but he made too many mistakes, and it was clear Denver's coaching staff had lost confidence in him last season given how they played an injured Teddy Bridgewater rather than turn the keys to the offense over to Lock. There's a lot to like about Lock's raw talent, and as noted he has the kind of athleticism that could supplement a run-heavy approach with read options and designed runs.
Seattle has Lock under contract for one more year, and it behooves them to see if he has an NFL future. There's no reason to draft Lock, but he's someone that could be stuck on watch lists to see what a change of scenery does for him.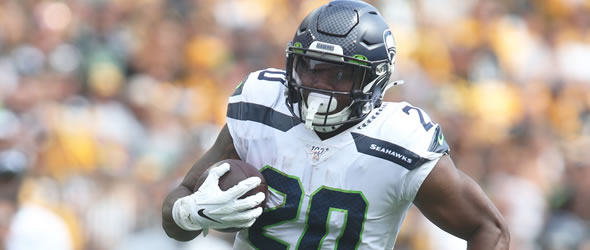 RB Rashaad Penny
(2021 RB Rank – No.27, 12.2 FPts/G)
For the vast majority of his first four years in the NFL, Penny looked every bit the prototypical bust. He dealt with injuries at inopportune times, which included a torn ACL in 2019 that happened just when it looked like he might be turning the corner, and only displayed the talent that led to him being the 27th overall pick in 2018 in extremely limited doses. Until last winter that is, when over the final five games of 2021, Penny ran 92 times for 671 yards and five TDs -- that is a ridiculous 7.3 YPC.
Although those are monster numbers, they come with some major caveats. First, Penny was fresh as a daisy, entering play on Dec. 12 last season with just 27 carries on the year to that point. Second, he was running against generally poor defenses on teams that had already kissed any postseason aspirations goodbye -- Houston, Chicago, Detroit, and the freefalling Cardinals. Third, his one game against a good defense during that closing run was an 11-carry, 39-yard outing against the Rams.
So, the question becomes how much do we read into his success? Did something finally click? Or was Penny just the beneficiary of facing the right opponents at the right time? The fact that Seattle only handed him a one-year deal indicates they want to see more before committing long term, and that's something fantasy owners should follow suit on. Consider Penny a borderline RB3/RB4 with a low floor and a potentially high ceiling.
At first blush, it seemed to be a bit surprising to see Seattle, which on paper had several more pressing needs, select Walker in the second round of this year's draft. When you think about Pete Carroll's long-time love affair with running the ball, even at the expense of marginalizing a perennial Pro Bowl QB, it begins to make more sense. The former Spartan enters the NFL with the kind of burst and breakaway speed to be an immediate big-play threat; that's something the Seahawks need with its passing game in a state of flux. The rookie is also considered a physical back and a tough runner.
Where Walker still needs to show improvement is in the passing game where scouting reports refer to him as unreliable in pass protection and inexperienced catching passes out of the backfield. While he's capable of making things happen with the ball in space, he may operate as an early-down option in the opening stages of his career. Look for him and Penny to split time in the backfield, if both are healthy.
Bear in mind that the Seahawks have Walker under team control for the next four years, while Penny will be a free agent at the end of this one. That means they're likely to favor the rookie's development in what figures to be a down year in Seattle, making Walker a low-end RB3.
WR DK Metcalf
(2021 WR Rank – No.25, 14.4 FPts/G)
Through three seasons, Metcalf has averaged 72 receptions, 1,057 yards, and 9.7 TDs per year -- though it's worth noting that he's only topped 1,000 yards in a season once (2020). Physically, there may not be another player at the position that can match what the 6-foot-4, 235-pounder brings to the table. He has blazing speed and is a threat every time he gets the ball in his hands regardless of what kind of route he's running. Metcalf is also able to shrug off tackles from smaller defensive backs, and his height makes him a tough cover in the red zone. He's the total package.
In the three-plus games that Smith played last year, Metcalf compiled 23 receptions, 295 yards, and 5 TDs; over a 17-game schedule, that pace would produce a 98-1,254-21 line. While no one should expect that kind of production in 2022, the fact that the fourth-year pro was able to produce despite the loss of Wilson last season is a great sign for what he'll be able to do with Smith or Lock under center. Metcalf is the kind of player that doesn't need great quarterback play to deliver for fantasy owners, and he should function as a solid WR2 this year.
WR Tyler Lockett
(2021 WR Rank – No.20, 15.0 FPts/G)
Despite leading the team in receiving last year with 1,175 yards on 73 receptions, Lockett doesn't have the same rosy post-Wilson outlook as Metcalf. At just 5-foot-10, 182 pounds, the veteran has long been a downfield threat that parlayed a handful of excellent games into solid year-end production. Such was the case during the three and a half games helmed by Smith with Lockett producing 9 catches, 104 yards, and 0 TDs in the first two-plus games before going off for a 12-142-0 line in Smith's final start.

Yes, that pattern was seen during Lockett's days with Wilson as well, but the thing about Wilson is that he throws one of the game's best deep balls, so he and Lockett were always a threat to go off for a big game. Smith and Lock both have plenty to prove in that department. Plus, entering his age-30 season, Lockett is unlikely to dramatically alter the way he plays the game. Still, you can't summarily dismiss a receiver that has posted three consecutive 1,000-plus-yard seasons and scored 26 times during that stretch. If you can nab Lockett as a midrange WR3 that feels about right.
TE Noah Fant
(2021 TE Rank – No.12, 9.9 FPts/G)
Acquired from Denver in the Wilson trade, Fant replaces Gerald Everett as the primary tight end for the Seahawks where the University of Iowa product should be an upgrade. Entering his fourth season, Fant has had to endure subpar quarterback play since entering the NFL, which unfortunately is unlikely to change in 2022 with either Lock, who is from the same draft class as Fant, or Smith, who went nearly four years between starts, set to deliver the pigskin.
On the plus side, being a steady underneath target is attractive to the type of risk-averse approach that Carroll will want to see from his signal-caller this year. Fant has topped 60 catches and 650 yards in each of the past two seasons, and there's no reason to think he can't replicate those kinds of numbers in the Emerald City. While not the most exciting option, Fant is still a borderline TE1 selection.