The purpose of the Shot Caller's Report is to identify players who I expect to perform like quality fantasy starters for the given week and, on the flip side, to expose some of the more highly-regarded players who just may disappoint. Each week I will take into consideration not only the individuals mentioned, but also the state of their teams and their opponents, team schedules, historical performance, inclement weather (when applicable), and of course injuries. In my years of involvement with fantasy sports, I've found that playing probabilities often leads to success, but that does not necessarily mean that a journeyman RB cannot gain 100-plus rushing yards against the top-ranked rush defense or that Tom Brady is a lock for 350 yards and 3 TDs against the worst pass defense. Anything can happen.

With this dynamic, stat-driven article layered with insight and opinion, however, I aim to assist you in making the right roster decisions for your fantasy squad. Got a specific roster question or something interesting to say? Send me an email. I may not be able to get to all of your questions or comments, but I will do my best to respond accordingly.

Quarterbacks
Start 'Em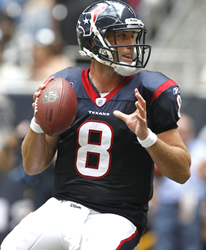 It's Schaub's turn to pick on the Miami secondary.
Matt Schaub @ Mia
Schaub irritated many fantasy owners against the Colts last week, despite completing 71% of his passes. His line of 220 yards, 1 TD and 2 INTs was muted by the Texans big halftime lead (34-0) - which also led to only 24 pass attempts and 38 rushing attempts. The Colts perennial inability to shut down the run was another big factor. During the course of the season, Houston is expected to employ a more balanced offensive attack than we saw here, and while he is not Tom Brady, he faces a Dolphins team that just surrendered 516 passing yards and 4 TDs, including 10 plays over 20 yards.
Rex Grossman vs. Ari
The first and last time that Grossman had any semblance of a decent fantasy QB was 2006, but my lasting impression from him that year was the 2 or 3 games in which he put up negative fantasy points (see 2006, Week 13 vs. Min: 6 of 19 for 34 yards; 0 TD, 3 INT; 4 rushes for -9 yards; 1.3 QB rating - yes it can happen!) For whatever the reasons, Rex is relevant in Week 2 with a matchup against a Cardinals pass defense that gave up 403 yards and 2 scores to Cam Newton and the Panthers last week. Dating to the end of last season, Grossman has actually thrown for at least 305 yards in 3 of his last 4 starts with 9 TDs and 4 INTs in that span. He is as hot as he will ever be.
Matthew Stafford vs. KC
Stafford put up an impressive 265 yards and 2 TDs in the first half alone in Week 1 (finished with 305 yards and 3 TDs) before the Lions moved to more of a ball control offense in the second half. He continues to get better and it seems that injury is the only thing that can stop Stafford's ascension to the upper echelon of fantasy QBs. In his last 3 starts he has thrown 9 TDs with just 2 INTs. The Kansas City defense should put forth a better effort than last week, but it's impossible to forget the 4 passing TDs they surrendered to Ryan Fitzpatrick. Start Stafford with confidence.

Jay Cutler @ NO
Despite getting sacked 5 times, Cutler was on point versus the Falcons last week, completing 69% of his passes for 312 yards, 2 TDs and 1 INT. Jay remains a higher risk to turn the ball over, but this week's matchup in New Orleans cannot be ignored. While trying to keep pace with the high-powered Saint's offense, expect Cutler and the Bears to throw at least 35 passes, spreading the ball to all of his targets. He connected with 8 different receivers in Week 1.

Bench 'Em

Cam Newton vs. GB
Cam is getting lots of attention in fantasy circles after a stellar NFL debut, but it is too early to expect that type of performance every week from the rookie QB. The Arizona pass defense is highly suspect, and while it is undeniable that the Packers have given up more aerial TDs than the Cards (3-2) and are nearly identical in passing yards allowed (396; 403), the numbers are more a product of Drew Brees' ability than a shoddy defense. Newton is a nice player to own as a quality QB2, but I think he comes back to earth against the Pack.
Matt Ryan vs. Phi
The numbers weren't terrible for Ryan last week in Chicago (319 yards, 1 INT), but his string of 15 consecutive games with at least 1 TD pass came to an end. I don't see him getting shut out against the Eagles, as only once in his career (2008, Weeks 11 & 12) has Ryan been held without throwing a TD pass in back-to-back games, but Philadelphia's vulnerability against the run was exploited by Steven Jackson (for 2 plays) and Cadillac Williams last week. Falcons RB Michael Turner has to figure heavily into their game plan. Let Ryan work out the kinks if you have a more appealing option.
Matt Hasselbeck vs. Bal
The former Seahawk and current Titan threw for 263 yards, 2 TDs and 1 INT last week against Jacksonville; certainly not a bad debut with his new team - but the Ravens will be bringing a lot of intensity to LP Field. Last week, QB Ben Roethlisberger was sacked 4 times, intercepted 3 times and lost 2 fumbles to the Baltimore defense. Be realistic and stay away.
Kevin Kolb @ Was
Kolb was another QB who had a positive debut with his new team, throwing for 309 yards and 2 TDs in Arizona last week. I'm not a huge believer in the Redskins - Eli Manning and the Giants may not be a great measuring stick - but the Washington traditionally defends the pass well. Heading into this matchup they are 1 of 5 NFL teams that did not allow a TD pass in Week 1. At this point he is a safe QB2 with upside but not worth a Week 2 start in most formats.

Running Backs