One of the most difficult tasks in drafting a fantasy football team is trying to decide between two players you feel have nearly identical value. Knowing how to break such a "tie" can be important, as often a pick comes down to a dilemma between Player A and Player B. The purpose of this article is to not only identify players of similar value in 2019, but also take a look at the process of solving those dilemmas. We'll start with a couple of high-end QBs.

If you took a dozen fantasy football enthusiasts and asked them which of these quarterbacks they would choose in a redraft league, you would likely get six votes for each guy. Along with Aaron Rodgers, both Deshaun Watson and Andrew Luck are considered the best possible options at the position once Patrick Mahomes has been selected. So, who has the upper hand? Let's dive in: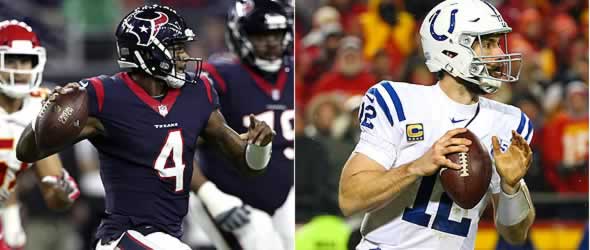 ADP shows Luck is favored over Watson at the end of July. Will that be the case in late August?
The Strengths
Watson stormed out of the gate as a rookie in 2017 with eye-popping numbers both passing and rushing. A knee injury then de-railed his season. As with Luck (as will be discussed momentarily), Watson was undervalued in 2018 coming off injury. But, last season Watson reminded those who passed on him why he was the hottest QB on the fantasy market as a rookie. He is a true dual-threat. Last season, he was the only quarterback in the NFL to throw for 4,000+ yards and rush for 500+ yards. In fact, no other QB throwing for 4,000+ had even half as many rushing yards as Watson did. Only Lamar Jackson and Josh Allen ran for more total yards, and neither of those QBs can hold a candle to what Watson can do through the air.
In addition, Watson boasts arguably the best wide receiver in football as his top target. DeAndre Hopkins possesses a very special skill set and if Will Fuller can stay healthy this season (that's definitely an 'if'), Watson should be able to stretch the field with his attempts allowing Hopkins to feast on underneath routes. Keke Coutee is also an intriguing young talent who shined in a couple of mid-season game last year before too getting hurt. In short, the well above average speed of Watson's receiving corps makes him a threat to increase yardage totals through the air. So, while he runs and scores TDs on the ground (5 last season), his primary weapon remains his arm… and his primary weapons are those on the other end of his passes.

Andrew Luck's injury history is more complex, but like Watson, he enjoyed a huge comeback from injury season in 2018 to the tune of nearly 40 touchdowns and over 4,500 passing yards. Further, for those whose leagues offer yardage bonuses for 300-yard games, Luck hit that number a grand total of 7 times with one of those being a 400-yard game (vs. Watson's Texans ironically). Luck is a pocket passer in the traditional sense, but can also extend plays with his legs. He had the fewest rushing yards in 2018 of any season in his career, but made up for it by his proficiency in the red zone where he amassed a 19:0 TD-to-INT ratio and led the league in red-zone completion percentage. In short, Luck's red zone play may be his greatest strength… just as it is Watson's primary weakness. All in all, Luck is capable of both leading the NFL in passing yards and touchdowns. Of the two QBs, only he can say that. He's also got the deepest set of tight ends in the league whereas Houston is searching for answers at that position and has been for some time.
The Weaknesses
Returning to red-zone efficiency, there's a reason Ka'imi Fairbairn kicked all those field goals last season (a league-high 37). Watson struggled to engineer touchdown drives. Contrast that with Adam Vinatieri's 23 field goals and the disparity is obvious. In addition, no QB in the NFL absorbed more sacks (62) than Watson did. That's a lot of punishment for a QB that also gets hit a lot running the football.

On the flip side, Andrew Luck ran the ball less effectively in 2018 than ever before. In fact, he ran for fewer yards in 2018 than he did in 2015 when he only played in 7 games. And, he didn't rush for a single touchdown. That means that if you grant QBs 1 point for every rushing yard and 6 points for every rushing TD, Watson out-paced him 91-14. Again, that's disparity in its plainest form.

The Verdict
Luck proved last season that his shoulder is healed. Statistically, it was the second best season of his career (behind 2014) and this off-season, additional reinforcements were brought in via the drafting of Parris Campbell and the free agent addition of Devin Funchess. Yes, Watson offers two ways to produce big fantasy numbers, but he brings more risk in terms of his own vulnerability health-wise and the tendency of receivers not named Hopkins to miss significant playing time during the season. The edge here, goes to Luck who is likely to challenge Patrick Mahomes for top fantasy QB to own on Sundays. Watson should produce numbers that keep him in the top 5-7 at the position, but his overall TD numbers keep him a tier below Luck from my perspective. If Luck falls to late fourth/early fifth status in a redraft leagues, he's worth every bit of that value if not more.