One of the most difficult tasks in drafting a fantasy football team is trying to decide between two players you essentially see as having identical value. Knowing how to break such a tie can be important as often a pick comes down to a dilemma between Player A and Player B. The purpose of this article is to not only identify pairs of players that are considered of nearly equal value in 2021, but also take a look at the process of solving those dilemmas. Our first installment of this feature examines two dynamic young QBs who are likely to be the first QBs considered once Patrick Mahomes and Josh Allen are off the board.

Lamar Jackson has played in the NFL one more year than Kyler Murray and while many would consider his 2020 season a disappointment, Jackson did account for a respectable 33 TDs (passing, rushing) and also rushed for 1,000+ yards for a second straight season.

Murray, meanwhile, improved from his rookie year in all major categories including passing yards, passing TDs, rushing yards, rushing TDs, and completion percentage.

I think it is fair to say that both QBs are coming into their prime as fantasy producers even if Jackson never fully duplicates his sophomore season (2019). So, who is the better choice? If you're wondering, you've come to the right place.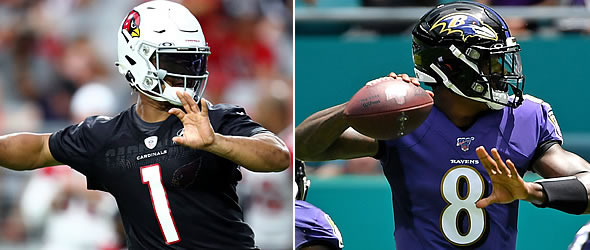 The Strengths
For one, Murray is a much more natural thrower of the football than Jackson and is almost certainly headed for his first 4,000+ yard season this year after topping 3,900 yards last season. As noted above, however, it was his bump in rushing stats that got fantasy managers most excited. Murray added 7 rushing TDs to his total from 2019 and netted nearly 300 more yards on the ground in his second season including 8 games in which he ran for 60 yards or more. For those scoring at home, 60 yards rushing is the equivalent of 120-150 yards of passing depending on how many yards it takes in your league to accumulate a point. The rushing doesn't set him apart from Jackson who is even more dynamic in that department. But, it keeps him in the same league and that combined with his clear passing superiority makes him a more authentic dual threat in the true sense of the word.

Lamar Jackson may not have a 4,000-yard season like Murray is poised to have, but the Ravens went to great lengths in the NFL Draft to insure that he'll have upgraded targets this season. Rashod Bateman and Tylan Wallace were both highly touted coming out of college and possess skill sets that should fit with Jackson's game. The Ravens pounced on both and while their contributions in September may be minimal, both could shine when it matters most late in the season. Much of the reason Lamar lost ground in 2020 in terms of yardage, completion percentage, and touchdowns can be attributed to the de facto WR2 and WR3 being Willie Snead and Miles Boykin. The two combined for only 52 catches, which would be well below average for a WR2 alone. Perhaps the addition of Sammy Watkins can help in that regard. Jackson's tremendous rushing prowess is an obvious strength and as such, doesn't warrant additional commentary. But, the increase in firepower on the offensive side of the ball in Baltimore warrants plenty of consideration and then some.

The Weaknesses
183.8 yards passing per game. That's what Jackson averaged in 2020 over the span of the 15 games he played in. Only Tua Tagovailoa and Cam Newton averaged fewer yards per game. It is easy to see the path to improved passing numbers, but the paltry nature of the number 183.8 stands out like a sore thumb. In leagues that give yardage bonuses for 300-yard passing games, Jackson will rarely grant you a day in which his passing yardage yields significant totals. Consider that Patrick Mahomes averaged 316 yards per game passing last season. That's over 132 yards more or the equivalent of 6.6 fantasy points per game in passing yards alone. Jackson's game simply isn't built for explosive passing numbers and even the improved receiving corps won't likely change that drastically.
In the end, Jackson's value primarily lies in his incredible ability to gain yards rushing and score TDs on the ground. And, defensive coordinators have had another year to scheme for that.

Murray, meanwhile, threw for 248.2 yards per game in 2020 and matched Jackson's TD total from a passing standpoint. He even bested Jackson in the rushing department with respect to touchdowns scored. But, he also fumbled the ball eight times after Week 6 after only fumbling once prior. Murray often tries to do too hard to extend plays and makes himself vulnerable for turnovers. If your league penalizes fumbles heavily, it is something to keep in mind.

Additionally, Murray plays the Rams and 49er defenses FOUR times in 2021 and every year for that matter that he's the Cardinal signal caller. In the four divisional clashes in 2020 against both defenses, Murray averaged 184.2 passing yards and 1 TD in those games. This season, all four games with those two foes fall within the "regular season" of fantasy football. Including the bye week, that means that five times between weeks 1-14, Murray might not be your best option at the position. While matchups are an issue for every player, Murray (and Russell Wilson who is affected in an identical way) bears the weight of that a little differently given the strength of those particular defenses.
The Verdict
While all of Murray's statistics improved in Year Two of his career, Jackson's fell in Year Three. The simplistic approach would be to suggest that Murray's career arc in terms of fantasy production is still very much on its way up while Jackson peaked two years ago. But, Jackson isn't a running back who just hit age-30. He's a 24 year-old superstar who is highly motivated to bounce back in a big way this season and prove that he can be a more complete QB. That means taking advantage of new receivers. That means utilizing one of the top tight ends in the league more, particularly in the red zone. And, that still means another 1,000 yard rushing season most likely as he's too talented not to use his legs to make things happen as plays break down. All of that means Jackson's floor is quite high- something fantasy managers pay attention to at a position that matters more than most tend to admit.

It is reasonable, to assume that Murray's numbers ARE going to improve yet again. Why not? He's got skill set players lined out wide that Jackson can only dream about. And, he'smore likely to try to have to win games in the fourth quarter when the Ravens are generally just trying to grind out the clock. Murray will likely rush for fewer yards as the Cardinals look to cut down on his fumbles, but he's still a lock for 600 yards and a half dozen scores. He too has a high floor with a high ceiling to boot.

While he does have a tougher schedule than Jackson, weeks 15-17 include Detroit, Indianapolis, and Dallas. If you are still playing at that juncture of the season, you'll want him in your lineup.

This is a close call as the projected stats below show, but Jackson may need most of the season to gel with his receivers, so Murray and his better passing numbers plus better closing schedule gets the nod. Either way, both will make for high-end QB1s and give your team stability and then some at the QB position.

Projected 2021 Statistics:

Kyler Murray- 4,250 passing yards, 28 TDs; 700 rushing yards, 7 TDs
Lamar Jackson- 3,400 passing yards, 27 TDs; 1,050 rushing yards, 8 TDs

Next up: Tale of the Tape, wide receiver style. Until then…