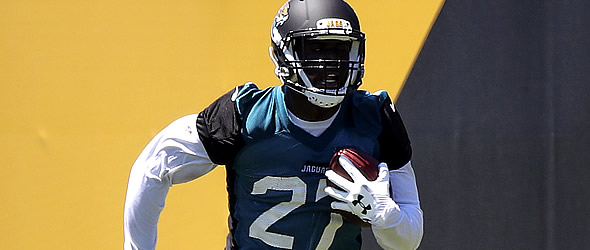 A defensive improvement by Jacksonville is key to Leonard Fournette's fantasy success.


The fantasy community is very reactionary. It's been that way for years. After the quarterback boom of 2011, there were four or five quarterbacks going in the first round in 2012. After the rookie wide receiver boom of 2014, there were many rookies overdrafted in 2015. After the running back failure of 2015, there were more wide receivers than running backs taken in the first round of 2016 drafts. The Cowboys selected Ezekiel Elliott with the fourth overall pick in 2016 and he managed to exceed expectations and was worthy of his first round draft slot. It is not surprising that after the Jaguars selected Leonard Fournette with the fourth overall pick in this year's draft that comparisons began to pop up between Fournette and Elliott. Leonard Fournette is not Ezekiel Elliott. But, that's okay and you should still draft him anyway.

Fournette and Elliott were both taken fourth overall by teams in need of a running back. They're also both 6'0. That's where the similarities end. Fournette is an elite talent in a decent situation. Elliott is a very good talent in an optimal situation. Fournette is about 15 pounds heavier and a better straight line runner. Elliott is a superior pass blocker. Ultimately, the reason Fournette will not come close to Elliott's numbers from last season is based on where he was drafted.

According to Pro Football Focus, in 2016, the Cowboys offensive line graded out as the second best line in the league. The Jaguars o-line ranked 22nd. The Cowboys have one of the best offenses in the league. The Jaguars have Blake Bortles. It's extremely unlikely that the 2017 Jaguars offense is anywhere near as potent as the 2016 Cowboys. Less ball control means fewer opportunities for Fournette and most importantly, fewer touchdowns. Elliott performed so well as a rookie that it's going to be near impossible for Fournette to match.

That's the thing though – Fournette doesn't have to be Zeke in order to be worth an early-round fantasy pick. Last year, Elliott was the third running back taken in most drafts at eighth overall. Clearly, early mock drafters realize that despite Fournette's immense talent, expectations should be tempered, as Fournette is currently the 12th running back taken with a current ADP of 22 overall. Elliott averaged 21.7 points per game in PPR leagues last season. To put things in perspective, the 12th running back, Carlos Hyde, averaged 14.8 FPts/G in PPR last season. When deciding whether to draft Fournette, you shouldn't be comparing him to Elliott, but rather to the average weekly point total of the running backs that finished 2016 around where Fournette ends up being drafted in 2017.

Devonta Freeman was the seventh best running back last year with 17.8 FPts/G. If Fournette's ADP creeps up towards the top seven, then perhaps it might be prudent to reconsider how realistic it is for Fournette to reach that level of production. Right now though, Fournette is being drafted at a spot where he can exceed expectations without having a transcendent season like Elliott's.

There are certainly reasons for optimism. The Jaguars have made some improvements this off-season and their offensive line is currently ranked 13th heading into 2017. They've also improved their defense through the draft and by signing elite shutdown corner A.J. Bouye, who, paired with Jalen Ramsey, could wind up being the top corner duo in the league. The Jaguars could very well have an elite level defense, which would create favorable game scripts and allow them to not have Bortles throw the ball repeatedly. The Jaguars had the fourth most pass attempts last year at 626. For comparison purposes, the Cowboys were third from the bottom with just 483 pass attempts. Unsurprisingly, the Cowboys, who led the league in rush attempts, ran the ball 107 more times than the Jaguars. The Jaguars' run – pass split should certainly normalize this year.

The Jaguars red zone numbers were particularly egregious. The Jaguars threw the ball 78 times in the red zone last season. Not counting scrambles by Blake Bortles, they ran the ball just 25 times. That split is absolutely ridiculous and I can confidently say there is no chance the disparity is anywhere near that great again. Fournette should see just about all of the red zone carries. If we give him the bare minimum of the 23 carries that Chris Ivory and T.J. Yeldon saw last year, that alone is likely enough to net him 8-10 touchdowns. He won't see the 36 red zone carries Elliott received, but 25-30 is not out of reach. Even if Yeldon takes most of the passing down work, there should be enough opportunity for Fournette to reach RB1 status.

Based on last year's running back numbers (which were actually quite high so Fournette actually shouldn't need to do as much) a season of 1,200 yards rushing, 30 receptions, 300 receiving yards and 8 touchdowns would likely put him on the RB1/2 border. Those are not lofty estimates. If Fournette were to manage 1,500 rushing yards and double digit touchdowns, his other stats wouldn't even matter – he would almost certainly outperform his current ADP.

Leonard Fournette is not going to be Ezekiel Elliott 2.0, but you should not have any fears about drafting him beginning in the middle of the second round.