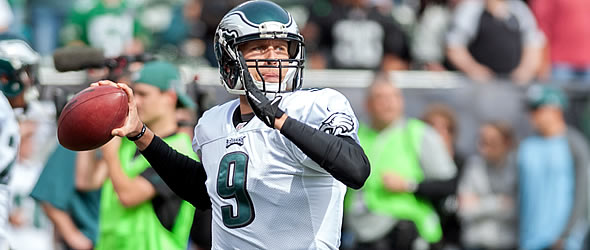 New QB in Jacksonville: Nick Foles gets a starting job but will he have enough weapons to be a QB1?


If there's one thing Nick Foles has proven over his career, it's that he is a winner. Now entering his eighth season, Foles is hoping 2019 is the first season where he starts a full 16 games.

The Jaguars are Foles' fourth team, but certainly far from the best offense he's enjoyed. They were footballoutsiders' 30th ranked offense in 2018, but a lot of the blame falls on Blake Bortles, who has no business being a backup quarterback in the NFL, let alone a starter.

Who Foles is throwing to remains uncertain. Keelan Cole and Dede Westbrook opened last season as the team's two best receivers, but by the end of the year, Cole barely saw the field. Marqise Lee should be fully recovered from his preseason ACL tear and the team may look to add a receiver either in free agency or through the draft. If not, perhaps sophomore D.J. Chark can take a step forward after seeing just 32 targets as a rookie.

We've seen Foles make some truly impressive throws. We've also seen him make some bonehead decisions. In 2018, he took over for an injured Carson Wentz and led the Eagles back to the postseason, even picking up a road win against the league's best defense. Foles finished fourth in true completion percentage at 75.4% and was excellent under pressure, leading the league with an astounding 62.5 completion percentage while under duress. I stand firmly in the "Nick Foles is good" camp and am excited to see what he can do when a team truly gives him the keys to the offense.

Unfortunately, for fantasy purposes, it's hard to envision Foles as anything other than a streaming option in favorable matchups. The quarterback position is so deep and even in a clearly superior Eagles offense, Foles was never a reliable fantasy asset.

Westbrook is the only Jaguars receiver likely to be drafted in fantasy leagues and he is nothing more than a late-round flier. Surprisingly, Bortles actually threw Westbrook a catchable target 84.2% of the time, 17th in the league. While the Jaguars offense should be better under Foles, increasing Westbrook's touchdown potential, his numbers are unlikely to improve all that much.

As for Lee, Chark, and Cole, if they are the next four on the depth chart as of August, it is doubtful any of them will be draftable. Perhaps one emerges as a useful option during the season, but outside of 16+ team leagues and dynasty formats, none of them should be owned to start the season.

With uncertainty surrounding the Jaguars receivers and no one truly locked into a high target role, this passing offense remains one to avoid entering the 2019 season.