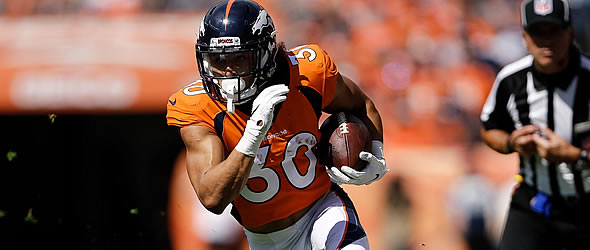 Third-down back Phillip Lindsay scored an ealy touchdown that paved the way to more reps in Week 1.




1. Josh Gordon limited? Not so much



We heard media reports early Sunday morning that Gordon would be playing roughly 20 snaps in Week 1. In reality, Gordon was on the field for 78 percent of the Browns' offensive snaps an according to ProFootballFocus, he ran 44 routes but saw just 3 targets resulting in 1 reception, 17 yards and 1 TD. Not to mention, Gordon actually started the game against head coach(?) Hue Jackson's wishes. Cleveland has loads of NFL talent and while their inept organization and dysfunctional coaching staff makes them a must watch every week, it can also lead to fantasy owners pulling their hair out.



2. Taywan Taylor buried on the depth chart

Taylor flashed during preseason game number two with 4 catches, 95 yards and 2 TDs. He quickly became a late-round flier favorite around the fantasy community. However, in Week 1, Taylor was a non-factor (9 snaps) playing behind Tajae Sharpe (58-of-69 snaps) and Rishard Matthews (36 snaps) who missed most of the pre-season with a knee injury. Taylor can be dropped in the majority of redraft leagues.

3. Who is Phillip Lindsay?

All off-season we closely watched and dissected the Broncos running back battle between rookie Royce Freeman and Devontae Booker. Week 1 rolls around and UDFA Phillip Lindsay carves out a role matching Freeman's output with 15 carries and 71 yards on the ground. Lindsay tossed in 2 catches, 31 yards and 1 TD through the air making him the most profitable fantasy RB in the Denver backfield for Week 1. Booker was an afterthought, notching only 4 touches. Head coach Vance Joseph admitted he was riding the hot-hand and suggested he might take the same approach in the future. Great.

4. Eagles RB rotation

Jay Ajayi naysayers were in full force on Twitter last Thursday night as Darren Sproles received the bulk of work in the first half while Ajayi saw a grand total of 9 snaps. The second half rolled round and Ajayi became the back with the hot-hand, playing twice as much as both Sproles (11 snaps) and Clement (10 snaps). According to head coach Doug Pederson that was the plan along; to ease Ajayi into the game as the former Dolphin had been dealing with a foot issue for the last few weeks. The Eagles are not going to abandon their committee approach but Pederson did say when referring to Ajayi: "we'll see him more" moving forward. If you believe the coach, Ajayi still a reasonable shot at RB2 numbers by season's end.

5. D.J. Moore is not a thing

Carolina's rookie wideout was fourth in-line for playing time (17 of 67 snaps) on Sunday behind Devin Funchess, Torrey Smith and Jarius Wright. There may better days down the road for Moore but even with the expected loss of TE Greg Olsen (foot), Moore isn't worth holding in 12-team redraft leagues with McCaffrey and Funchess expected to dominate targets.

6. Is David Johnson still a workhorse?

The Cardinals struggled offensively against the Redskins on Sunday which led to a grand total of 53 offensive snaps so we probably shouldn't be jumping to conclusions here but it's worth noting that backup RB Chase Edmunds saw a good chunk of playing time (17 snaps), in the second half. DJ, did see 9 targets on the day but this dink and dunk display we typically see from Bradford may weigh on Johnson's fantasy output throughout the season.

7. Patriots keep Hopkins in check… again

I got a bit of blowback for my No.20 ranking of DeAndre Hopkins this week which I ultimately adjusted up to No.13 after we learned Will Fuller would miss with a hamstring injury. I should've stuck with my initial feeling, relying on the history that Bill Belichick has for the most part has kept Hopkins from any blow-up performances. Here are results of Hopkins' last five games against the Pats…

2018: 8-78-0
2017: 7-76-0
2016: 6-65-0 (playoffs)
2016: 4-56-0
2015: 3-52-0

Hopkins finished as the WR26 in Week 1.

8. King Henry plays second fiddle to Lewis

It was odd day for the Titans that included two game delays due to lighting, the loss of tight end Delanie Walker (dislocated ankle) and Marcus Mariota leaving early with an elbow injury. The Titans got down early in the fourth quarter so it shouldn't be a surprise that Dion Lewis saw the bulk of the playing time at running back over Derrick Henry. Lewis capitalized in catch-up mode, playing on 70 percent of offensive snaps posting a 16-75-1 line on the ground adding 5-35 through the air on 8 targets. Henry did have a long TD run called back on a holding penalty. If the Titans continue to be on the wrong side of game script, Henry is going to have a tough time being a trustworthy RB2. The Titans upcoming schedule (HOU, @JAX, PHI, @BUF) seems to indicate Henry might be a good bet in Weeks 2 and 5.

9. Inefficient Chiefs

Tyreek Hill doing his Tyfreak thing (2 more 50+ yard TDs) overshadowed the fact that Kareem Hunt (16-49, 1 target) and Travis Kelce (1 catch, 6 yds, 6 targets) had subpar performances despite team racking up 38 points. The Chiefs had trouble sustaining drives and never really got the running game going. Add in a defense that allowed Philip Rivers to rack up 424 yards passing and 123 yards on the ground and that left few opportunities for fantasy success for KC's other fantasy studs. While Hunt and Kelce owners can certainly be disappointed at the Week 1 output, their usage remains intact and better days are certainly ahead.

10. Two pass-catching RBs in Chicago?

Jordan Howard made an effort this off-season to work on his receiving skills. His work paid off Sunday night as he notched 5 catches for 25 yards on 5 targets in the passing game. This is encouraging for his fantasy prospects especially in PPR leagues and should allow the Bears coaching staff to feel comfortable with Howard playing on third downs instead tapping the shoulder of Tarik Cohen (4 targets, 5 carries in Week 1). The Bears largely kept Cohen off the field during the pre-season (1 rec, 10 yards) and while his role in the offense is secure, he shouldn't eat into Howard's value. Based on what we saw in Week 1, Howard owners should feel comfortable with him as an RB2 in any format with RB1 upside regardless of game script.

11. Regression outliers

Fantasy analysts (myself included) talked a lot this off-season about regression for Alvin Kamara and Tyreek Hill. Their insane efficiency last season surely would come back towards the mean, right? Sometimes we as analysts have to learn to accept the data outliers and not let regression thoughts creep into our forecasting of certain players. If you've watched football for any length of time, you can tell Hill is just simply faster and quicker than anyone on the field. So, it shouldn't be a surprise that Hill blasted out of the gate with 7-169-2 receiving to along with a 91-yd punt return TD and it won't (and shouldn't) be a surprise if he sustains his outlier efficiency through the entire season.

For his part, Kamara had 17 touches in Week 1 and produced 41.1 PPR fantasy points. I'll save you the calculation and let know that's 2.41 FPts per touch. Kamara's historic efficiency from last year netted him 1.56 FPts per touch. Forget regression with these two. They're playing on another level.