Pick 1.04




6/23/12



The past few years FF Toolbox has organized a monthly mock draft series, pitting various fantasy football websites to draft against one another for the purpose of showcasing player analysis, draft strategy, and trending of picks from the early summer to near the start of the NFL season.

Once again I was asked to participate on behalf of FFToday, and we recently kicked off the first in the 2012 series with our June mock. The league format is 12 team, standard performance scoring plus 1 point per reception. Lineups start 1 QB, 2 RB, 3 WR, 1 TE, 1 K, 1 DEF and 1 Flex RB/WR.

The leagues are played out in a best-ball format to see who displayed the best drafting skill, although there is some discrepancy between whether owners approach the draft with best-ball in mind, or if they choose to draft as if it were a typical head-to-head fantasy league. I tend to lean toward the latter.

Regardless, the draft results should be a good gauge of how picks might fall in similar drafts and provide some interesting insight to how you might approach your draft.

I was tagged with the fourth pick in the draft for this mock, resulting in a big decision in the very first round that impacted many of the later picks to form the core of my team.


You can review the entire draft report and join the ongoing discussion in our forums about the mock. I benefited from some great discussion and opinions from our forum members during the draft. Here are the first baker's dozen of picks with comments on each player.

The benefit of a mock draft is to buck your instincts and try different things. In a real draft, I would absolutely go with that Decepticon fellow (a.k.a. Megatron, a.k.a. Calvin Johnson) as the first WR off the board at this pick in a PPR league.* Given that we have pretty high projections for one Ryan Mathews at FFToday (ranked behind only Arian Foster and Ray Rice), and mostly because I want to see how starting with an RB plays out in the subsequent rounds, Mathews is the pick. Go Chargers! And just when I was coming around to unsubscribing from their fan club, they pulled me back in.

* Or would I? After seeing the way this draft played out, which I'm pretty happy with overall, I may have overcome my automatic instinct to take Johnson at fourth overall. I think I now prefer the Mathews scenario.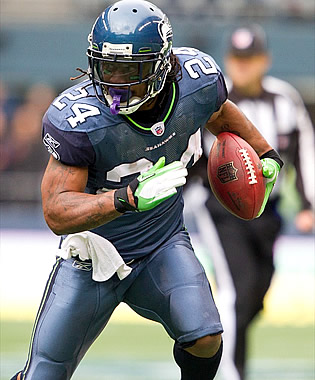 There's nothing wrong with Lynch as your RB2.
Here is something I haven't done in a while: double up at RB to start a draft. If Tom Brady were available here he would be tempting, but I'd probably still pass on him, and the WRs are fairly interchangeable at this point. Lynch looks like the last of the expected workhorse RBs who... uh... find the end zone once in a while (sorry Steven Jackson). Not much flash to the Seahawks, but I do like their commitment to the run. Lynch tore it up the second half of last season. Skittles power!
It's unfortunate that Greg Jennings got nabbed, because I think he was the easy choice among the WR options when I looked ahead to this pick. I'm not a true believer in Victor Cruz. He's the highest projected WR on the FFToday board (per Mike Krueger's projections), but only by a point over Marques Colston. A.J. Green is conservatively projected 30 points behind those guys, but I do agree with the consensus from our FFToday Forums crew that he is the pick here. He won't make it back to us if we wait, and he is a rare talent. Guess we need to cross two sets of fingers to ward off the sophomore slump for him and Andy Dalton, who is key to Green's production.
Way back during our third-round pick, we already had our fourth-round target in mind—Percy Harvin. With about six picks to go, I pre-drafted just Harvin, Colston, and Steve Smith. Smith went quickly, then Colston, and then nervousness set in waiting to see if Harvin made it to us, and thankfully he did. Once Minnesota figured out how to properly use this guy last year, he had a huge second half, including scoring a touchdown in five of six straight games, a pair of 10-reception games, plus a pair of 8-reception games. Let's not forget the rushing. He rushed 51 times last year, and 32 times in the second half of the season. At five yards a pop, that adds approximately 250 yards to his total plus a touchdown or two. We've got Harvin projected comfortably inside the top 10 WRs, which is huge return for a fourth-round pick.
From a pure numbers standpoint, Antonio Gates is not the ideal value pick here. He is part of a pretty crowded group of similarly projected TEs like Jason Witten, Aaron Hernandez and Jermichael Finley, among others. However, no player at any position was really standing out for us at this point—the most significant being wide receiver Antonio Brown. I'm expecting a big bounce-back year from this former stud. He's another year away from the foot problems that slowed him the last two seasons, and the departure of Vincent Jackson and Mike Tolbert should persuade Philip Rivers to use his primary security blanket even more than he otherwise would. I'll be happier letting Brown go to someone else and settling for a lower-ranked WR, than I would letting Gates pass me by.
Wayne makes a great, late-drafted WR3, the 30th WR off the board in this draft. He's got a rookie quarterback, but one that couldn't be more highly touted as a passer coming into the league. Targets should be plentiful for Wayne. Even with modest touchdown expectations, he is going to make up a lot of points on receptions. There were some extremely good WR options in the last half dozen off the board, such as Steve Johnson, Antonio Brown, Torrey Smith and Eric Decker.
Manning was the 10th QB off the board. I'll take a shot on him at that point. Matt Ryan—the only available QB projected higher by FFToday than Peyton—was still on the board, but I'm lukewarm on Ryan in respect to his talent. He's got a pair of great receivers, but a new offense and his prior two seasons of improved fantasy stats came on a ton of pass attempts, which I'm not sure is sustainable with their new offensive coordinator. Peyton has health issues— maybe. We won't truly know until he hits the field again and we see him play. The Broncos have the faith though, and I'll show the same faith in this once-in-a-generation talent.
It took some convincing from FFToday Forums member "stonewall" to get me to draft Hillis, as he really wasn't on my radar, but I am now connecting the dots on the choice as a solid upside pick. Hillis moves to the Chiefs off a clearly bad year with the Browns. He has something to prove to redeem himself. The Chiefs' Jamaal Charles is rehabbing from a serious knee injury, suffered early in the 2011 season, and he is not built for a ton of carries even at full health. Hillis has a nice opportunity to show his 2010 numbers weren't a flash-in-the-pan performance.
While I want to draft a backup QB earlier than I perhaps normally would, I feel we can wait until the next pair of picks for that. There are a few half-decent choices for our first backup WR, but DHB gets the nod because of his steady improvement from year two to year three of his NFL career, in hopes it continues this season. With Carson Palmer on board, there is less uncertainty about the Raiders' young receivers developing than we are typically used to with this team.
I was planning to take Ronnie Hillman but he was nabbed from us with the pick right before ours. Gerhart's value relies entirely on how much opportunity he gets this season, which ties directly to Adrian Peterson's rehab and return from a torn ACL. Gerhart performed admirably last season in Peterson's absence. If there are any bumps in the road to Peterson's comeback, this tenth-round pick could end up looking like a bargain. If AP returns quickly with no issues, this pick could be a waste.
Palmer stepped in last year mid-season with a brand new team and, frankly speaking, performed a lot better than I expected from him. With a proper offseason, more rapport with his teammates, and the development of his young receivers, Palmer is a decent bet for starter-quality fantasy numbers. The somewhat risky Peyton Manning pick provided incentive to take a QB earlier than I might have otherwise.
Once again we got sniped on our targeted pick in an even round; this time twice, as I was targeting Laurent Robinson first, but would have settled for the first defense off the board, the San Francisco 49ers, second. Both were taken in consecutive picks right before ours. If I was a conspiracy theorist (okay, no "if" about it, I am), I'd say the other drafters are onto me discussing the picks in our forums.
Anyway, Cobb is a young, flashy, high-risk but high-upside pick that makes for a decent (not great, just decent) flier at this point, particularly thanks to the potent offense he plays in. More than likely, it will be a year or two before we see a worthwhile fantasy return from Cobb, but when you're picking receivers late in a typical league, go for young with upside over older and consistently average. If the pick doesn't pan out, then you can always toss the player back on waivers and try again.
Keller is projected for a career year at FFToday, resulting in a TE6 ranking, which would really be something considering his ADP (currently undrafted) in the first 200 picks, courtesy of Fantasy Football Calculator. One can certainly see the main reason for being bullish on Keller though. The Jets cast off Plaxico Burress and replaced him with a rookie, and Santonio Holmes has never been a big reception guy. LaDainian Tomlinson is gone, and Shonn Greene is considered just an average pass catcher out of the backfield. Where do all the receptions go? Keller has to see more targets, and this after coming off a pretty good 65-815-5 line from 2011.