4/9/12



As we have learned in recent years, there is no such thing as "down time" in the NFL. If any group of people in the fantasy world can relate to that sentiment, it is probably dynasty- and keeper-league owners. Despite the fact the NFL season runs a shorter season than any other major sport, it is next to impossible to take a long vacation from football. Once the regular season is over, we have a five-week postseason. Shortly after the Super Bowl, there is the NFL Combine and a host of results from individual workouts to track leading up to the draft. You get the picture…

It should stand to reason then if the NFL is constantly in motion, then fantasy owners should be too. The irony of participating in dynasty and keeper leagues is that owners are fans of football – a subset of people typically considered to be impulsive with a win-now mindset. One of many key characteristics in winning in non-redraft leagues is channeling the passion for immediate positive results and combining that with the knowledge that setting your team up for success in the future is every bit as important – if not more so – than winning this season.

In all honesty, everything I have said up to this point should not be new information to the veteran dynasty or keeper league owner. In order to help each of you begin the process of starting your league year – just as the NFL does around this time – on the right foot, I would like to present my thoughts as to what players should appeal to those of us who need to look at each of these players as a long-term investment as opposed to a one-year stock.

We started this journey last week at the quarterback position. After breaking down running backs this week, I will dissect wide receivers and tight ends over the final two weeks leading up to the NFL Draft. My purpose: take each offensive position and rank the players in the order I would value them as long-term assets. In an effort to be as transparent as possible, I will list the different criteria (which will change based on the position being discussed that week) that I most strongly considered in the ranking process. I will attempt to provide some perspective regarding their past performance by attaching a percentage value that corresponds to the number of times that player finished in the top 12 and top 24 at their position when they have been in their current role. I will also provide the player's three-year consistency score in order to shed some light on how good he has been recently.

Notes:

In these rankings, I am using a full-point PPR league scoring format where 10 rushing or receiving yards equals one point. All touchdowns are worth six points and turnovers are -2.


The "% Yrs Top 12" and "% Yrs in Top 24" columns simply provide a percentage as to how often that player has enjoyed a finish in that area in his current situation simply because I didn't see a great deal of value in putting significant weight into Marshawn Lynch's time in Buffalo or Reggie Bush's career in New Orleans, for example, due to any number of reasons.


The age listed will be the player's age on September 1, 2012.


An "*" in any column simply means the player is a rookie, did not play in the NFL last year or is in a "new" situation this season and therefore has no input to be listed.


Because I feel reasonably good about where the top rookies are headed, I have chosen to include them in the rankings. (Their names and ages will be bolded and italicized.) Rest assured I will be profiling the rookies following the draft, so I will relay any substantial changes of opinion in those columns.
The Criteria

1) Elite production for at least three more years
2) Age (will penalize over 29) – While a few backs have been productive into their early 30s, it has been fairly well established that RBs pushing 30 years of age are in the final stages of their career. One notable exception on this list will be 29-year-old Darren Sproles, whose 242 touches (rushing/receiving/returns) in 2011 marked only the second time in his career he has eclipsed 200 touches in a season.
3) Scheme
4) Durability/long-term job stability
5) Proven consistency

The Elite
Rk
Player
Tm
Age
Pos Rk '11
% Yrs Top 12
% Yrs Top 24
Three-Year
Consistency Score
1.
Arian Foster
HOU
26
4
100 (2/2)
100 (2/2)
83.07
2.
Ray Rice
BAL
25
1
100 (3/3)
100 (3/3)
67.67
3.
LeSean McCoy
PHI
24
2
100 (2/2)
100 (2/2)
44.72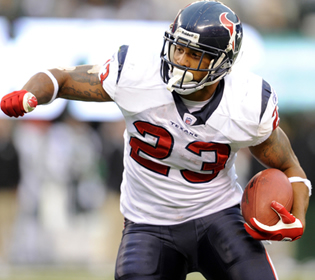 Arian Foster remains atop the dynasty mountain.
At the end of the 2009 season, Foster was considered a fluke. When 2010 came to a close, Foster was no longer a fluke, but a "system back". Hopefully, after yet another dominant season in 2011, the former undrafted free agent has finally answered the questions regarding the legitimacy of his early career. And it's a good thing because his job just got a bit tougher with the losses of RG Mike Brisiel and RT Eric Winston this offseason. Nevertheless, Foster remains atop of the dynasty RB mountain for now as Houston has quality depth to replace its losses up front, but would be wise to draft a couple of reinforcements to protect itself. Like the other elite backs here, Foster sees enough work in the passing game that he is nearly matchup-proof in PPR leagues. Also, Foster inked a huge five-year contract in early March that locks him in as the offensive centerpiece for the foreseeable future. And for those wondering about Ben Tate, Foster's new contract pretty much guarantees that one of the NFL's best backup RBs will be allowed to hit free agency following the 2012 season.
While Rice can disappoint in fantasy from time to time, it has rarely ever occurred because of a failure on his own end. More often than not, when Rice puts up a single-digit fantasy-point effort, it is because OC Cam Cameron completely abandoned the run in that game. In the three seasons since he became the regular starter in Baltimore, three of the six regular-season games in which Rice has scored less than 10 fantasy points have come when he saw less than 10 carries. Thankfully, Cameron showed a dogged determination during the second half of 2011 to make sure Rice got his touches, which resulted in a 6-1 record to close out the regular season. And with Willis McGahee no longer around to steal regular goal-line scoring opportunities, about the only person that can stop Rice from being a fantasy standout each week is Cameron. Any veteran or rookie RB that joins the team this offseason won't be asked to do anything more than to serve in the same role Ricky Williams had last season, so about the only other reason to downgrade Rice long-term (unless you really don't trust Cameron) is the loss of G Ben Grubbs.
Talk about irony…Michael Vick signs a six-year, $100 M contract in August 2011 only to watch McCoy have a season for the ages. Although HC Andy Reid makes no bones about his love for the passing game, McCoy appears to be the fantasy reincarnation of Brian Westbrook – minus the long list of injuries – which is about how he should be treated from a fantasy standpoint. To that end, "Shady" probably just finished what will go down as the best season of his career, so even though he is entering a contract year in 2012, look for the Eagles to do what it takes to make sure he doesn't exceed 300 touches again – meaning a repeat of 2010 (and not 2011) is the most likely outcome for next season. In addition to workload concerns, McCoy's owners also now have to deal with another issue – the void left behind on the offensive line after LT Jason Peters was lost for the season with an Achilles'' injury. (To that end, the Eagles did well to land ex-Bill LT Demetress Bell to replace Peters.) Much like the two runners ahead of him on this list, the offensive line questions shouldn't keep any of the three from top-five finishes in 2012, but it could certainly stymie their ability to meet their recent lofty standards.

It's hard to recall the last time a RB doing as much as Jones-Drew did last season with so little working in his favor. Before we go too far, though, let's give credit where it is due. MJD is an incredible player who is incredibly underrated. Also, how good of a run-blocking unit does Jacksonville have in order to help MJD average 4.7 YPC on an offense whose best options in the passing game often alternated between Jason Hill and Mike Thomas? (By comparison, Laurent Robinson and a first- or second-day draft pick at WR should give MJD actual running lanes!) The Jags also will be undergoing a philosophical change with HC Mike Mularkey and OC Bob Bratkowski taking over, but given the disaster that was Blaine Gabbert's rookie season and Mularkey's track record, MJD owners have very little to worry about from a workload standpoint. However, as long as Jacksonville struggles to field a league-average passing game, it will be very hard for Jones-Drew to relive the days when he regularly scored 14-16 times a season.
Very few players can hold out for most of the preseason and just step back into the starting lineup without a hiccup. For Chris Johnson in 2011, let's just say his case should serve as damning evidence to that end. But let's take a second because a supremely talented RB coming off a down year sounds like the recipe for a buy-low opportunity. There are already many in the fantasy community who are panicking and suggesting Johnson may already be on the decline at a time he is entering what should be his prime athletic years. While another 2,000-yard rushing season is highly unlikely, I believe last season was largely a function of the interior of the Titans' offensive line being overmatched as much as it was Johnson simply not being ready. To that end, I expect new LG Steve Hutchinson to be a short-term upgrade while I expect Tennessee to use an early first- or second-day pick on one of the draft's top centers. Add in the boost that fleet-footed Jake Locker should provide and Johnson could easily experience a huge rebound season with a full offseason, a QB to hold the backside LB with his scrambling ability and an improved offensive line. With the questions each of the top four RBs on this list face, Johnson could easily reclaim his place as the best fantasy back this season.
Although it seemed like he was injuring a different body part almost every other week in 2011, Mathews used the second half of last season to prove to the Chargers' brass he was ready to be the featured back in San Diego. Now, with Mike Tolbert moving onto Carolina, he'll get his chance. But with his injury history, is that such a good thing? Only time will tell. Like the top three players on this list, Mathews is an incredible talent. Unlike the terrific aforementioned trio, his offensive line was already a concern before the start of the offseason, meaning the team needs to add a high-level blocker or two up front just to approach the talent Rice, Foster and McCoy have in front of them. Furthermore, while RB/FB Le'Ron McClain is certainly bigger than his predecessor at FB (Jacob Hester), is he a better blocker? For a coach who likes to run the ball at the goal line as much as HC Norv Turner does, that is a legitimate question. Last but not least, Mathews' injury history is well-documented. After Turner was none too pleased about how his second-year back showed up to training camp last season, will Mathews take his conditioning seriously this offseason in order to stay healthy and join the fantasy elite?
For the first time in his NFL career, Peterson faces more questions than answers. Whereas someone like Chris Johnson enters this season healthy and with the potential for an above-average offensive line in front of him and the hope of a solid passing game to take the pressure off of him, AP is unlikely to have any of those feathers in his hat. Additionally, Peterson is stuck with an OC in Bill Musgrave who is among the worst play-callers in the game, in my opinion. Still, there is reason for hope. Minnesota will likely select USC LT Matt Kalil, who should be a day-one starter and one of the best at his position in short order. Another likely starter, free agent RG Geoff Schwartz, is a very good run blocker assuming he can make it all the way back from the hip surgery that sidelined him all of last season. And, of course, there is the devastating knee injury Peterson suffered towards the end of 2011, but if there was ever a player that could still be moderately productive less than one year after such a gruesome setback, it is Peterson. Assuming his long-term owners can cope with the 75-80% version of AP for one year, the Vikings may just have enough going their way by the time Peterson makes it all the way back in 2013 to enjoy 2-3 more incredible seasons before he begins his inevitable decline.
For a team that went so long without an impact running back, it is hard to believe Chicago shows such a lack of appreciation for Forte. Few observers will question the need to have a talented backup RB in case of injury, but in four years as a Bear, one could easily question why the team has put so many resources into a reserve runner and so few into a receiver. (Admittedly, much of the blame there goes to former GM Jerry Angelo.) Thus, the move to sign the best RB in free agency (Michael Bush) while Forte is waiting for his big deal seemed more like a personal attack and less of a way to gain leverage in contract talks or secure a capable short-yardage hammer. As a result of the Bush signing – and the length of his contract – it is almost inevitable that Forte will forever be cast as a running back who could do just about everything on the football field except serve as his team's goal-line back. At a point in his career where he should be receiving more work, Chicago has a convenient excuse now to give him less – as it has for three straight seasons - although his 2011 injury helped in that regard. As a result, Forte's ceiling is probably about 250 touches for as long as he remains a Bear – a number that allows him to remain a low-end RB1 in PPR, but puts a damper on his hopes of joining the fantasy elite.
If you haven't been able to tell by now, healthy top-shelf running backs are in short supply this season – Charles is the second RB in my top nine coming off an ACL injury. Like Peterson, he should not be expected to regain his trademark explosion at any point this season, but he does have the benefit of having about 2-3 month head start on his recovery on a less serious injury than the one AP suffered. And there is also the issue of Kansas City adding Peyton Hillis, which may curb Charles' fantasy appeal more than Thomas Jones ever did. But Hillis is on a one-year deal, which would seem to indicate the Chiefs wanted one-year insurance for Charles since Hillis will likely try again to cash in as a free agent in 2013. Thankfully, new OC Brian Daboll showed he knew how to use Reggie Bush in Miami last season. It's not a big stretch to suggest a completely healthy Charles is a superior back to Bush, so owners who can accept slightly less production from him this season should be rewarded in the near future. Charles' long-term fantasy stock should be up once again, especially after the upgrades Kansas City has already made to its offense this offseason. There is also little doubt in my mind that the move to a zone-blocking run system, which should fit Charles' strengths to a tee, is also a positive development for Charles.
Dubbed by several draft analysts as the best running prospect in the draft since Peterson, Richardson is one of the rare running backs worth a top 10 overall selection in April. While Richardson is a high-level prospect, let's consider more of a Ryan Mathews kind of prospect for now without the obvious durability concerns. Two of Richardson's best traits as a runner are that he rarely ever goes down on first contact and possesses incredible vision – aspects that make the AP comparisons somewhat appropriate. What does seem certain now is that Richardson will land in a reasonably fantasy-friendly situation, be it as the feature back in Cleveland or Tampa Bay. For now, the former looks the most likely. While Richardson isn't exactly an accomplished receiver, he is more than capable and should be able to post at least 30 receptions in his rookie season. As for the rushing attack in Cleveland, the Browns are one left guard away from having one of the better left sides in the NFL. While Cleveland would be a good landing spot for Richardson, his fantasy stock would shoot through the roof if he winds up with the Bucs. The addition of LG Carl Nicks to an already solid run-blocking line would be a wonderful fit for a physical runner like Richardson in what promises to be a run-heavy offensive attack under new HC Greg Schiano. As high as I have Richardson ranked here, I'm very confident I will be moving him up in 2013.
Even though he is only going into his age-25 season, the book on McFadden reads a lot like the one on Michael Vick: enter the season knowing that you (the fantasy owner) will lose him at some point and pray that it isn't more than 2-3 games. Like Vick, McFadden is among the best in fantasy at his position when his bod cooperates with him, but he has yet to put together anything more than a 13-game system after four years in the league. Now, new OC Greg Knapp will install a zone-blocking system and move away from ex-HC Hue Jackson's power-based scheme, which seemed to suit his running style better. On the bright side, it would seem that McFadden has more fantasy-scoring potential now that Michael Bush is no longer around, so if this is the year McFadden can put together a 16-game season, he could finally score more than the career-high 10 touchdowns he did in 2010. But as we have already discussed, that's a pretty big IF. In the end, if you choose to ride McFadden in a dynasty league, understand the frustration that will come with the decision.
Sometimes for a runner, it's not as much about his height/weight as it is about it is distributed and how he chooses to use it. Such is the case for Murray, who showed significantly more physicality as a Cowboy than I ever saw from him in college. Even Dallas thought it was getting a hybrid RB when it drafted him, suggesting the team would use him as a part-time runner and part-time receiver. But that all changed when Felix Jones suffered a high-ankle sprain that essentially cost him his starting job. And now, all that really stands between Murray and a regular top-five or top-10 selection in fantasy drafts going forward is his ability to stay healthy – which has long been in question – and the interior of the Cowboys' offensive line, which got a bit of a facelift in free agency (likely LG Nate Livings and RG Mackenzy Bernadeau). New OL coach Bill Callahan is one of the league's most highly respected offensive line coaches, so perhaps he can get something more out of the two new guards and center Phil Costa than the team got from its three-man interior in 2011. If Callahan can fix the Cowboys' line flaws, Dallas has enough weapons in the passing game that defenses shouldn't be loading up the box. But as is the case with selecting McFadden in a dynasty league, choosing Murray is a high-risk, high-reward proposition.
Although Bradshaw's owners have long anticipated the day when he would no longer need to fight Brandon Jacobs for goal-line work, they probably didn't expect it to come at the same time the Giants would become a more effective passing team. As long as HC Tom Coughlin remains in charge, there is no chance New York will lose its offensive balance, but last year did prove the Giants do not need to lean on their running game every week. But whereas that information would serve to diminish the fantasy appeal of most of the running backs ahead of him on this list, Bradshaw has only been a high-volume RB once in his five-year career. He is more than capable as a receiver and should exceed 200 carries for just the second time in his career with Jacobs in San Francisco now, meaning his stock should be on the rise despite durability concerns. In short, he's a less durable version of Matt Forte in fantasy with a better supporting cast and less current in-house competition for backfield touches.
If owners want to take a chance on an older running back in dynasty league, it is preferred that player have as much tread on his tires as possible. It also helps if that same player's running style doesn't open himself up to a lot of direct shots. Sproles just happens to meet both criteria. Despite entering his age-29 season, he has a total of 568 offensive touches in six seasons, essentially making his age a relative non-factor. Even if we add in his 441 special teams touches, Sproles has roughly half the number of touches of the typical 29-year-old running back who is a fantasy asset. Thankfully, Sproles is in an ideal situation for his skill set as Mark Ingram and Pierre Thomas do most of the heavy lifting while the ex-Charger is a featured player on screens, tosses and swing passes – plays designed to get him outside and in open space quickly. In New Orleans' offensive attack, it is highly likely Sproles has at least three more quality years left in him.
If rankings could be done solely on how a player has performed recently, Lynch could easily be a top 10 RB, if not top five. However, the problem with the former Buffalo Bill is a lack of efficiency and his reputation as a less-than-interested party when he is not playing for a contract. Whether or not his "Beast Mode" playoff run against the Saints triggered something inside of Lynch remains to be seen, but he had established himself as an underachiever prior to that point of his career. And even with his personal-best season in 2011, he still only averaged a career-high 4.2 YPC – a mark that is just above the usual league average. The good news going forward is that Lynch has no immediate threat to his job in an offense that is being built around him and his supporting cast is continuing to improve. Therefore, Lynch figures to be a very good option in all formats (better in non-PPR though) simply because he will continue to be a high-volume ball carrier for the foreseeable future.

Age/Injury Concerns and Committee Backs with Significant Obstacles
Rk
Player
Tm
Age
Pos Rk '11
% Yrs Top 12
% Yrs Top 24
Three-Year
Consistency Score
16
Jonathan Stewart
CAR
25
17
0 (0/4)
50 (2/4)
9.34
17
Beanie Wells
ARI
24
23
0 (0/3)
0 (0/3)
4.56
18
Mark Ingram
NO
22
47
0 (0/1)
0 (0/1)
-1.82
19
Ben Tate
HOU
24
32
0 (0/1)
0 (0/1)
5.4
20
Steven Jackson
STL
29
10
71 (5/7)
100 (7/7)
36.91
21
Roy Helu
WAS
23
24
0 (0/1)
100 (1/1)
10.26
22
Frank Gore
SF
29
18
50 (3/6)
100 (6/6)
43.34
23
Rashard Mendenhall
PIT
25
22
33 (1/3)
100 (3/3)
24.44
24
Daniel Thomas
MIA
24
51
0 (0/1)
0 (0/1)
-3.37
25
Reggie Bush
MIA
27
13
0 (0/1)
100 (1/1)
14.37
26
Doug Martin
TBD
23
*
*
*
*
27
BenJarvus Green-Ellis
CIN
27
28
*
*
8.48
At some point, the Panthers will stop putting obstacles in Stewart's way as he makes a move towards fantasy stardom. Last year when it looked like he would have the backfield to himself, Carolina handed DeAngelo Williams a contract that few outside the team thought he deserved. Then, early in the 2011 season, Cam Newton basically took over as the team's goal-line back, ostensibly making Stewart an afterthought. So Stewart did what he could to make himself relevant, posting career highs in YPC (5.4) and receptions (47) after entering the season with 34 catches over his first three seasons combined. This season, the Panthers added Mike Tolbert, who the team swears they will use as a fullback. More than likely, he will begin as a fullback and move into a same kind of role he had in San Diego once Carolina is ready to part ways with Williams. So, the question becomes: when will that happen? Perhaps as early as 2013, which is why Stewart is ranked this high. Much like Matt Forte, Stewart's fantasy ceiling is going to be limited by the presence of at least one – if not two – players who could steal rushing scores from him at any time. But as time goes on, I have to believe Carolina will not expose Newton in goal-line situations nearly as much as it did in 2011, meaning the door should be open for Stewart to be a high-upside fantasy RB2 in fantasy as early as 2013. Until then, he'll probably remain a solid flex play in fantasy.
It goes without saying that Wells did his career a huge favor in 2011 by playing in pain and overcoming poor line play in order to post his first 1,000-yard season (not to mention his first 10-TD campaign). In doing so, Wells proved to HC Ken Whisenhunt that he could be the featured RB the team thought it was getting at the end of the first round in 2009. Of course, the major reason he got that chance was because Ryan Williams – who was a serious threat to take his starting job at some point last season had he stayed healthy – ruptured his patellar tendon. That development alone may very well give Wells an indefinite amount of time to solidify his role since Williams' injury is the same one Cadillac Williams, Eagles FS Nate Allen and ex-Rams WR Mark Clayton have all had trouble coming back from in recent years. The reasons that Wells ranks relatively low on this list are twofold: 1) he contributes very little in the passing game and 2) he has trouble staying healthy. No matter the format, that combination spells inconsistency in fantasy, which probably means he will never be anything more than a capable fantasy RB2.
By all accounts, Ingram's rookie season was a disappointment. After all, when a team trades multiple picks – including the following year's first-round pick (which, in retrospect, may have been a bit visionary as the Saints could have easily lost that pick as punishment for the bounty investigation) – to select a running back, the expectation is that he will be featured at some point. As it turns out, New Orleans was just that desperate to make sure it had enough healthy RBs to avoid the onslaught of injuries it suffered at the position in 2010. However, it is probably a bit premature to think Ingram will simply be trapped in a committee backfield long term. Pierre Thomas will be 28 before the end of the season and has put together just one 16-game season in his five-year career. Darren Sproles will turn 29 this summer and will likely be limited to no more than 150 offensive touches per year for the rest of his career. In short, Ingram is closer to lead back status than the casual observer may believe. It goes without saying that at long as Drew Brees is under center, New Orleans will remain a pass-heavy team. But just remember one other nugget before deciding on Ingram: although the Saints broke all kinds of passing marks in 2011, they still did rush for 16 TDs. Sooner or later, it will be Ingram getting the bulk of those scores. As he enters his age-22 season, he has a long bright career ahead of him.
It's rare that a true backup RB could ever be considered a top 20 player at his position in a dynasty league. But for owners who don't mind biting the bullet with a good flex option this season, Tate could easily be a top 12 RB this time next season. And while he continues to pick up 7-10 carries per game behind Arian Foster, remember that Houston is also doing him a favor long-term by saving him a lot of wear and tear. Tate is a free agent after the season, so with the Texans coming to a rich long-term agreement with Foster, there's a pretty good chance that Tate should be the best young available running back on the market. Two teams that may have a need at that spot in 2013 that come immediately to mind are Pittsburgh (where Rashard Mendenhall will be a free agent) and Denver (Willis McGahee will be 31 by then). Until then, view Tate as Larry Johnson to Foster's Priest Holmes – a must-have handcuff that can dominate if Foster is forced to miss any time, like he was last season.
It should say something about Jackson that he is the oldest but highest-ranked "regular" back on this list. While he has been the beacon of light on a long-suffering Rams' team for most of his career, it's a pretty fair bet he'll be a big part of their renaissance under new HC Jeff Fisher. With over 2,000 carries and 2,507 regular-season offensive touches in his career, Jackson is already well past the point where most backs begin to break down, so the end is near. Still, at 6-2 and 240 pounds with freakish athletic ability, it is not impossible to think he could post two more serviceable years. And given that St. Louis has yet to find a serviceable backup for him – much less a back to share carries with – he may not have much of a choice. Despite his offense and advanced age, Jackson is still a top-level dynasty RB because he is one of the few backs left that has virtually no competition for carries and the kind of durability to justify this position over younger committee backs that may be locked into time-shares over the next year or two and/or may never emerge as a true lead/feature back.
At some point in any fantasy RB ranking list, a person has to decide how much he can trust Mike Shanahan. After all, the Redskins' head coach has certainly earned his reputation for pulling his runners at a moment's notice and ruining the best-laid plans of thousands of fantasy owners. At this point, though, most owners would just be happy if he just stopped bringing in more competition and, after landing rookies Helu and Evan Royster in the 2011 draft, he may finally have found two backs that he can "rotate" for the next year or two. In regards to Helu, he could easily be the best Shanahan RB "fit" since Clinton Portis, who the coach compared his acceleration to upon drafting him last April. And were it not for Shanahan's notoriously quick trigger finger, Helu would be much higher on this list because he wasted little time proving that he is an exceptional all-around player. Therefore, if there is a RB up to this point in the rankings that I feel could skyrocket into the top 10 by next season, it is Helu.
Much like a number of running backs listed ahead of him, fantasy owners often find themselves holding their breath each time Gore touches the ball. Despite being one of the league's best all-around RBs for several years now, Gore just turned in his second 16-game season in seven seasons. Even though HC Jim Harbaugh did a fine job at working in rookie Kendall Hunter in 2011, Gore still experienced a fairly sizeable drop-off in terms of production over the second half of the season. Now heading into his age-29 season, Gore's owners must now face the likelihood that he will continue to lose more snaps to Hunter while also giving up red-zone opportunities to free agent Brandon Jacobs. Worse yet, his 17 receptions last season was his lowest total since his rookie year and not a number that should be expected to increase much in 2012. Like a number of RBs coming up on this list, the most we can realistically expect going forward is two respectable – but far from elite – seasons before he enters the twilight of his career.
Without question, Mendenhall faces an uncertain future. Although some of his year-end totals have made him a solid fantasy RB2, Mendenhall wasn't exactly an elite running back before his Week 17 ACL tear. Now, as he enters the final year of his contract, he does so amid rumors this will be his final season in Pittsburgh, which obviously assumes he is able to take the field at all since his injury occurred so late last season. Thus, dynasty owners must decide if the reward of owning a RB on one of the few teams willing to feature a runner is worth the risk of him not playing another snap as a Steeler or, at the very least, watch him spend the first half of the season on the PUP list. If Pittsburgh does eventually decide to extend his contract, then Mendenhall probably moves right below Marshawn Lynch on this list.
Sometimes, despite the success of a number of rookie RBs throughout the years, not all of them hit the ground running, so to speak. While Thomas admitted he was tentative going into last season, the truth is that his future is longer and probably brighter than that of his backfield mate, Reggie Bush. Thomas was one of the few backs in the 2011 draft capable of becoming a workhorse – like he was at K-State – with next to no experience in all the different facets of the passing game. So the fact that GM Jeff Ireland praised Thomas for his rapid development in that area speaks well to his ability to earn more of an even split of the backfield touches this year. The main reasons (besides age) that Thomas ranks higher on this list than Bush are: 1) I feel he is simply a better one-cut runner as Miami transitions into a zone-blocking team and 2) while Thomas appeared to be the bigger injury risk in 2011, Bush has done little in my mind to prove he is ever going to be a durable, week-in-and-week-out running back. I also tend to believe the Dolphins would prefer Thomas become the workhorse, so they could use Bush all over the field to create mismatches in the same kind of way Sean Payton did in New Orleans.
After the buzz Darren Sproles created in Bush's old role as a Saint, it's a good bet more teams will attempt to secure "satellite" players like him. And following the hiring of HC Joe Philbin and OC Mike Sherman to run the West Coast offense in Miami, it's a pretty good bet that Bush will see more work in the passing game after catching 43 passes last season. In fact, with Brandon Marshall no longer in town, it would not surprise me in the least if Bush led the team in receptions in 2012. What I don't expect, however, is that Bush will approach 200 carries again. Call it what you want, but I don't like the chances of Bush – who had missed an average of five games over his four previous seasons before 2011 – putting together another 15-game campaign in an offense that is a poor fit for his running style. So either Steve Slaton will blossom once again behind the new zone-blocking scheme (which is a possibility) or Thomas will claim the starting job that would have likely been his early last season had he been a bit more physical right off the bat.
After Trent Richardson finds his new home for the next few years on draft day, fantasy owners should quickly turn their attention to where Doug Martin lands. The Boise State standout isn't likely to create much of a stir among the general population, but he faces some of the same concerns Matt Forte (lack of breakaway speed) and Maurice Jones-Drew (too short) did as rookies. I mention those two players as much for the aforementioned "weaknesses" in Martin's game as I do the positives (Forte's vision and MJD's ability to run inside). Some draft analysts have made Ray Rice comparisons lately and, while those comparisons aren't totally off-base – especially in terms of their builds – Rice is slightly more explosive and Martin is slightly more powerful. Obviously, where Martin is drafted will ultimately determine where he should fall on this list, but his ideal fantasy situation – at least initially – could be in Cleveland if the Browns want to roll the dice – filling their receiver need first with Justin Blackmon with their No. 4 overall pick, thereby eschewing Richardson – and gamble on Martin lasting until No. 22. (It'd be hard to find fault with that strategy if it happens and might be better a better combination than a Richardson-Stephen Hill/Kendall Wright pairing.) Martin is clearly the second-best running back in this draft in my opinion, so if Martin ends up in Cleveland, I would have no problem moving him up an entire tier, right behind Marshawn Lynch.
It's rare that a runner likely to be his team's featured RB would find himself this low on a dynasty list, especially if he is just entering what should be his prime athletic years. However, with Green-Ellis, one could easily make the case that while the "Law Firm" will see more carries than he ever did in New England, he did very little to help his fantasy value by signing with the Bengals. HC Marvin Lewis can talk all he wants about Green-Ellis' ability to play all three downs, but his usage in the passing game over four years in New England tells a different story. The upside is that BJGE has yet to fumble in his career and is the kind of physical runner Cincinnati loves to use. Additionally, he will be the unquestioned goal-line back. The downside is that Bernard Scott could easily surpass him in PPR leagues if manages to stay healthy for an entire season since the Bengals are highly unlikely to match the Patriots in terms of goal-line scoring opportunities (24 TDs over his last two seasons in New England). He's a slight upgrade over Cedric Benson, but the Bengals could (and should) have found a better fit for their West Coast offense than a running back with 26 total receptions in 53 regular-season games.

Young Back-End Committee Backs/Extreme Risk Lead Backs
Rk
Player
TM
Age
Pos Rk '11
% Yrs Top 12
% Yrs Top 24
Three-Year
Consistency Score
28
C.J. Spiller
BUF
25
27
0 (0/2)
0 (0/2)
-1.26
29
Kendall Hunter
SF
23
45
0 (0/1)
0 (0/1)
-6.32
30
Jahvid Best
DET
23
42
0 (0/2)
50 (1/2)
19.66
Now we have reached the point where the part of our rankings in which we begin consistently ranking running backs who are pretty much the younger member of a committee. Spiller took full advantage of what many would consider his second opportunity to seize his share of the backfield workload pie in Buffalo. The question now becomes whether or not the Bills were impressed enough by Spiller's second half that they are willing to let the 31-year-old Fred Jackson walk at the end of the 2012 season. Early indications suggest the answer is no as Jackson's agent expects extension talks to take place before the start of training camp. But common sense would seem to dictate that Spiller will emerge as the lead back at some point during 2013 at the latest despite the fact Jackson is a young back in regards to his career workload (992 offensive touches). In an ideal world, I believe HC Chan Gailey would like to use Jackson and Spiller in the same way Kansas City used Thomas Jones and Jamaal Charles back in 2010, which leaves both players as possible low-end fantasy RB2 or solid flex options. The problem with that comparison, however, is that Jackson is still the clear starter and could easily sign a two-year deal, which would push back any shot Spiller had of being featured back to 2014 when he is 27. That possibility is enough reason to set your long-term expectations for Spiller low.
Much like Spiller, Hunter is a running back who has substantial yet aging obstacles in between him and an appetizing fantasy role. Both Frank Gore (29) and Brandon Jacobs (30) will enter the 2012 season at an age in which running backs begin to decline – something we have already seen evidence of in both players already. However, unlike Spiller, Hunter can only really be considered a long-term investment since Gore still has a firm grasp on the starting job and Jacobs will likely command most of the short-yardage scoring opportunities. In short, Hunter is basically a high-upside handcuff to Gore for now with a shot at real playing time a moderate possibility in 2013. As this relatively high ranking for an undersized young RB suggests, he's too talented not to take a chance on; his owners just need to understand that he may not provide substantial fantasy returns until 2014.
Were it not for his propensity to suffer concussions, Best could easily be a top 10-12 RB in dynasty formats. With that in mind, Best stands a very good chance at beginning the 2012 season in much the same fashion he did 2011 – as the clear lead RB on a pass-happy team that loves throwing him the ball. It wasn't supposed to be this way, but since 2011 second-rounder Mikel Leshoure is attacking the legal system with more vigor recently than his rehab from his Achilles' injury and Kevin Smith is a huge injury risk himself, the Lions may not have any other choice than to put Best on a snap count and draft yet another RB to share the load. Ironically, I doubt a first- or second-day selection this month would affect Best's role all that much since he will likely be a part-time back only for the foreseeable future anyway. When he is healthy, he will lead whatever committee Detroit sets up because his style fits this offense to a tee. Thus, the question is (and will remain) how long can he hold up? The risk of owning Best in dynasty leagues still figures to be fairly high, but owners would be hard-pressed to find another 23-year-old RB with his fantasy ceiling at this kind of discounted price.

Based solely on his final year-end numbers, Greene enjoyed a breakout year of sorts in 2011. But as his 2.0 yards-after-contact (30th in the league) and his 42.8% (3-of-7) success rate inside the 3-yard-line last season will attest, he's a power back who isn't running with enough power for a Jets' offense that wants to run with…wait for it…power. On the upside, his 30 receptions last year nearly doubled his career total entering the season, so he has made a significant improvement in that area over his first two years in New York. He also doesn't seem to have an immediate threat to his workload either since LaDainian Tomlinson was allowed to walk following the season. Joe McKnight is the next in line, but he has struggled to see the field on a consistent basis in his two years as a Jet. Bilal Powell was unimpressive in his limited opportunities as a rookie, meaning New York could be in the market for a second-day RB in the draft. This is even more of a possibility considering the fact that Greene is entering the final year of his rookie contract with no talks of an extension on the horizon. New OC Tony Sparano was hired in large part because he favors a run-heavy approach, but how much of Greene's potential fantasy thunder will be stolen by Tim Tebow? And can Greene function as the likely decoy in the "Wildcat" when New York uses it? There is a glimmer of hope for Greene in dynasty leagues since he will command the most work of the Jets' RBs and should be entering his prime, but there is also plenty of evidence to suggest he will become a committee back for some other team at the end of the 2012 season.
I'm not sure how much the average dynasty owner considers the length of a player's contract when ranking players, but I'm not fond of players on one-year deals due to the obvious uncertainty about his future role. (Their current role is sometimes hard enough to figure out as it is.) Hillis signed a one-year, prove-you-are-committed-to-the-team contract last month with Kansas City, most likely with an eye on finding a wider market for his services next year after facing questions about being less than a stellar teammate in 2011. This year, he's probably stuck on the wrong end of 55-45 workload split with a healthy Jamaal Charles, but he's already proven he is all-around RB. He is also a much more palatable play for fantasy owners in a flex spot than Thomas Jones was as a Chief. I expect that Hillis will show more than enough this season to land a lead or feature-back role somewhere next season as a player entering his age-27 season with minimal wear-and-tear on his body. If that happens, it is not unthinkable that Hillis has three or maybe even four productive fantasy seasons left in him.
At some point, we had to get to our first 30-year-old runner on this list. It hardly seems right (or fair) to place Turner this low on any RB list, especially after consecutive 1,300-yard seasons. But, in all likelihood, Turner will produce just one more notable fantasy season this year in a reduced role before becoming a true committee back in 2013 – if he's not released by then. In 2012, Turner still figures to be among the few backs that will eclipse 250 carries. The problem with that is he possesses very little of the explosion he had in his "Burner" days and still offers next to nothing as a receiver. Granted, Atlanta's desire to bring back the vertical passing game with new OC Dirk Koetter should help Turner maintain a respectable yards-per-carry average and keep defenses from crowding the line of scrimmage, but he is a player clearly in decline that is helped immensely by the talent around him. The team has already admitted the inevitable by giving Jason Snelling a three-year deal this offseason and drafting Jacquizz Rodgers last April, so fantasy owners would be wise to make similar moves and prepare for life after Turner.
One of the stunners of the short 2011 offseason was the mega-contract signed by DeAngelo Williams. Fewer people would have questioned a five-year, $43 M deal to a player that rushed for over 1,500 yards and scored 20 touchdowns as a 25-year-old RB for Carolina in 2008, but the Panthers agreed to do the deal for a 27-year-old back coming of an injury-shortened season. Furthermore, they left him in a true committee attack with Jonathan Stewart. Worse yet (for both players' fantasy stocks) their rookie QB scored most of the team's rushing touchdowns in 2011. In my opinion, there's very little chance Williams remains in Carolina through the end of the 2015 season – when he becomes a free agent again - and based on his contract structure, there's a strong possibility he'll be gone before that when his salary is set to increase to $5.75 M (in 2014, as a 31-year-old) and then again in 2015 ($6.75 M). Therefore, I see two years at most for Williams to get the most out of his talents, but he figures to be only moderately effective in a backfield where Stewart should be entering his prime and Cam Newton will still be stealing a few short-yardage scores.
It's hard to believe the offense that allowed Drew Brees to break Dan Marino's single-season passing yardage mark could also have three running backs average double-digit touches over an entire season. Somehow, though, that is exactly what happened in 2011. While some would question whether or not Pierre Thomas (10.0) or Mark Ingram (13.3) left much of a regular footprint in fantasy boxscores, the truth is that both players were often used as flex options in leagues of 12 teams or more while Darren Sproles (10.8) was remarkably consistent considering the relative lack of touches he received. But despite the fact the New Orleans' backfield will probably remain a committee attack for the foreseeable future, there is a strong chance that Ingram's role will only grow and Sproles' role will not change in the coming years, which makes Thomas a poor dynasty league choice despite the fact he should be entering his prime in a very potent offense. Further consider that Thomas also played in all 16 games for the first time in his career in 2011. If his track record leading up to last year tells us anything, it should be that he'll likely be missing at least a game or two due to injury at some point this season.
It pains me to put Jackson this low. All the Coe College product has done over his career is overcome obstacles and show the kind of determination that endears him to those people who embrace the human-interest element of sports. But Jackson turned 31 in February, is coming off a broken leg that ended his career season in 2011 and stands to lose touches to C.J. Spiller over the final 2-3 years of his career almost regardless of how he performs – and that's assuming the Bills and Jackson come to an agreement on an extension at some point this season since his contract expires after the season. Buffalo also knows no matter how productive Jackson is in 2012, the market for a 32-year-old back next year will be small (although Bill Belichick has long admired him). Either way, it's highly unlikely Jackson will give his fantasy owners more than two productive fantasy seasons before NFL teams simply deem him to be too old to employ despite a relatively low reading on his career odometer.
Yet another player entering his prime athletic years with minimal wear and tear, Bush turned his career year in 2011 into a short-yardage specialist/backup RB role in Chicago as Matt Forte insurance. (One can only assume Cleveland and Cincinnati weren't as interested as they should have been or the Bears hinted to Bush's people their doubts they can get Matt Forte signed long-term, which would make the most sense.) According to HC Lovie Smith, Bush's role will be very similar to that of Marion Barber's in 2011. Bush is also a better receiver out of the backfield than Barber, which could mean that Forte could wind up in a more of a split backfield than someone of his caliber has business being involved in at this point of his career. But for now, fantasy owners have to assume Chicago won't let Forte get away, which naturally means Bush will never have a chance to become a feature back over the course of his four-year deal with the team. By the time his new contract is up, Bush will be 31. Thus, if you choose to bet on Bush in a dynasty league, you are essentially hoping that Forte will become so disenchanted with team management over the Bush signing and his long-term contract talks that he simply refuses to play until he is traded.
On one hand, the arrival of Peyton Manning should work wonders for any running back in Denver when it comes to a PPR scoring format in any fantasy league. The problem for McGahee, however, is that he isn't likely going to be around long enough to enjoy the benefits that come along with playing with one of the all-time best quarterbacks. McGahee will turn 31 during this season and HC John Fox is already talking about finding a physical and durable complement in the draft. Fortunately for the vet, he has a chance to stick around until the end of his contract (2014) since he will not make more than $2.5 M over the remaining three years of the deal. However, he is a poor bet to see 261 touches again – like he did in 2011 – and making matters worse, McGahee has caught more than 28 passes in a season just once in his career. This alone could force him into the lesser fantasy complement of a committee attack pretty fast in a Manning-run offense. For what it is worth, this is one of the first likely spots that Boise State's Doug Martin could land – a development that would be ironic since some compare Martin to Ray Rice – but would probably be enough to knock McGahee out of this top 40.
This is a low ranking for Redman if you believe the rumors that Rashard Mendenhall will miss most of this season and unlikely to re-sign with the Steelers. On the other hand, it is probably a fairly high ranking if you believe neither one of those possibilities are likely to happen. Since I believe Mendenhall will be hard-pressed to operate at anything close to his normal level in 2012, I think Pittsburgh will move on with Redman and a second- or third-day pick from this draft. If this scenario ends up playing out like I believe it will, it should be noted that Redman – who will turn 28 during this season and is hardly a special talent – will probably enjoy two years of quasi-feature back status until the team opts to feature the aforementioned younger running back. Thus, "Red Zone" will have much more value in redraft leagues this year than he should have in keeper or dynasty formats.
A close analysis of the back end of my dynasty rankings will reveal that most of the players located in the bottom 20 are either aging by running back standards, locked into committee backfields with more talented RBs or significant injury risks. Blount currently has none of those issues, but his almost guaranteed to be much less relevant in about a month than he is right now. New HC Greg Schiano has put a premium on taking care of the football, so either Blount will correct his fumbling problem (five in 184 carries in 2011, three of which were lost) or he will be replaced. Because Blount is a one-dimensional running back – and not exactly a team leader – he will be forced to fight for his job with a top rookie RB that is a better receiver and more explosive. Since it is virtually a given this same running back will have a solid ball-handling track record and will be Schiano's "guy", Blount stands of being relegated to a handcuff for fantasy purposes in short order.
The Next 10
41. James Starks, GB
For now, he is the injury-prone, low-upside starter on a pass-heavy offense. Despite being at a good age for dynasty owners, he ranks so low due to the likelihood he will share the workload with one of the draft's better RB prospects until he suffers yet another injury.
42. Mike Goodson, OAK
There's a good chance causal fantasy owners forgot about Goodson after he missed most of last year with a serious hamstring injury, but leaving Carolina for the backup job in Oakland behind the injury-prone Darren McFadden means his stock is on its way back up.
43. Felix Jones, DAL
It should be interesting to see how HC Jason Garrett decides to split up the workload between DeMarco Murray and Jones since both players have struggled with injuries during their brief NFL careers. My best guess is that Jones will average 6-8 touches and fill in for an injured Murray in 2-4 games in 2012, making him a valuable Murray handcuff.
44. Jacquizz Rodgers, ATL
It's unlikely that Rodgers will ever see anything more than a Darren Sproles-like 10.8 touches-per-game, but as Atlanta begins to change its offensive identity to that of a passing team, a Sproles-like role may be exactly the role his team needs from him.
45. Chris Polk, TBD
The likely second-round pick from the University of Washington got off to a bad start in the early part of the draft evaluation process, but has since righted the ship. The all-around game is there, so the only thing that is a mystery now is whether or not he will land in a situation that will allow him to be fantasy-relevant in 2012…or 2013.
46. Shane Vereen, NE
I'm sure it comes as a slight surprise that he gets the nod over Stevan Ridley, but the Patriots thought more of him in the draft last April and he was a better all-purpose back at the time than his fellow 2011 draft classmate before injuries basically ruined his rookie season.
47. David Wilson, TBD
The Virginia Tech standout receives a low ranking despite his skill set because of his lack of ball security and limited experience/effectiveness in pass protection – two traits that could lead to a rocky start for the rookie. However, if/when he gets those corrected, look out!

48. Stevan Ridley, NE
Ridley flashed when given the chance in New England during the 2011 season, but it's a pretty good bet that he'll be locked into a committee attack with Shane Vereen, Danny Woodhead and whatever other veteran RB the Pats want to add. The preseason will likely tell us whether or not he assumes the same role once occupied by BenJarvus Green-Ellis.
49. Toby Gerhart, MIN
Gerhart's stock gets a short-term boost in 2012 because Adrian Peterson's workload will need to be lightened following major knee surgery. Although AP is an incredible physical specimen and a fast healer, this window may be just enough of an opportunity for Gerhart to prove he has a bit of Peyton Hillis in him before his rookie contract ends following the 2013 season.
50. Jason Snelling, ATL
Despite the fact Snelling would serve as the lead back in the event of a Michael Turner injury, he takes a hit here because he will turn 29 near the end of this season. Because of that, he may never get a real shot to be the featured back since the Falcons will want to expand how they use Jacquizz Rodgers.

Suggestions, comments, musings about the article or fantasy football in general? E-mail me.

---
Doug Orth has written for FF Today since 2006, appeared in USA Today's Fantasy Football Preview magazine in each of the last two seasons and served as a weekly fantasy football analyst for 106.7 The Fan in Washington, D.C. this past season. He is also a member of the Fantasy Sports Writers Association. You can also follow him on Twitter.