4/2/12



As we have learned in recent years, there is no such thing as "down time" in the NFL. If any group of people in the fantasy world can relate to that sentiment, it is probably dynasty- and keeper-league owners. Despite the fact the NFL season runs a shorter season than any other major sport, it is next to impossible to take a long vacation from football. Once the regular season is over, we have a five-week postseason. Shortly after the Super Bowl, there is the NFL Combine and a host of results from individual workouts to track leading up to the draft. You get the picture…

It should stand to reason then if the NFL is constantly in motion, then fantasy owners should be too. The irony of participating in dynasty and keeper leagues is that owners are fans of football – a subset of people typically considered to be impulsive with a win-now mindset. One of many key characteristics in winning in non-redraft leagues is channeling the passion for immediate positive results and combining that with the knowledge that setting your team up for success in the future is every bit as important – if not more so – than winning this season.

In all honesty, everything I have said up to this point should not be new information to the veteran dynasty or keeper league owner. In order to help each of you begin the process of starting your league year – just as the NFL does around this time – on the right foot, I would like to present my thoughts as to what players should appeal to those of us who need to look at each of these players as a long-term investment as opposed to a one-year stock.

Over the next four weeks, I will take each offensive position and rank the players in the order I would value them as long-term assets. In an effort to be as transparent as possible, I will list the different criteria (which will change based on the position being discussed that week) that I most strongly considered in the ranking process. I will attempt to provide some perspective regarding their past performance by attaching a percentage value that corresponds to the number of times that player finished in the top 12 and top 24 at their position when they have been the "regular starter". I will also provide the player's three-year consistency score in order to shed some light on how good he has been in recent years.

Notes:

In regards to the scoring format these rankings are based upon, 25 passing and 10 rushing yards equals one point. All touchdowns are worth six points and turnovers are -2.


The "% Yrs Top 12" and "% Yrs in Top 24" columns simply provide a percentage as to how often that player has enjoyed a finish in that area in his current situation simply because I didn't see a great deal of value in putting significant weight into Michael Vick's time in Atlanta or Jay Cutler's career in Denver, for example, due to any number of reasons.


The age listed will be the player's age on September 1, 2012.


An "*" in any column simply means the player is a rookie or did not play in the NFL last year and therefore has no input to be listed.


Because I feel reasonably good about where the top rookies are headed, I have chosen to include them in the rankings. (Their names and ages will be bolded and italicized.) Rest assured I will be profiling the rookies following the draft, so I will relay any substantial changes of opinion in those columns.
The Criteria

1) Elite production for at least three more years
2) Age (will penalize over 35) – This one warrants a bit of an explanation. Seven QBs over the age of 36 have enjoyed seasons in which they have exceeded 3,500 yards passing and managed to achieve a passer rating of at least 85.0. (All seven threw for at least 26 TDs in the 10 seasons mentioned below.) Here's the list:
Kurt Warner (2008-09)
Brett Favre (2007)
Rich Gannon (2001-02)
Steve Young (1998)
John Elway (1997)
Warren Moon (1995)
Roger Staubach (1979)
Long story short, as great as Peyton Manning and Tom Brady are, history suggests that fantasy owners should expect diminishing returns in the coming years. Manning is entering his age-36 season in 2012 while Brady will join him in 2013.
3) Age/skill of supporting cast
4) Durability/long-term job stability
5) Proven consistency

The Elite
Rk
Player
Tm
Age
Pos Rk '11
% Yrs Top 12
% Yrs Top 24
Three-Year
Consistency Score
1.
Aaron Rodgers
GB
28
1
100 (4/4)
100 (4/4)
76.99
2.
Matthew Stafford
DET
24
4
33.3 (1/3)
33.3 (1/3)
34.53
3.
Drew Brees
NO
33
2
100 (6/6)
100 (6/6)
52.13
4.
Cam Newton
CAR
23
5
100 (1/1)
100 (1/1)
63.23
5.
Tom Brady
NE
35
3
90 (9/10)
100 (10/10)
51.45
6.
Eli Manning
NYG
31
6
67.5 (5/8)
87.5 (7/8)
30.26
Quite simply, Rodgers is the ideal dynasty league quarterback. Since taking over for Brett Favre in 2008, he has increased his completion percentage each year (68.3% in 2011) and never thrown for less than 3.922 yards or accounted for less than 32 touchdowns in a season as the regular starter. He is not a running quarterback per se, but he gives Green Bay and his fantasy owners enough in that area to make his overall numbers even gaudier. He easily checks the boxes next to each of the five criteria listed above. Barring something completely unforeseen, there is little reason to bump Rodgers from this spot for at least another 2-3 years.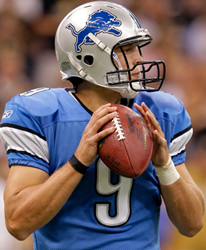 Stafford could produce Brees-like returns over the next 5-10 seasons.
One of three quarterbacks to top the 5,000-yard mark last season, Stafford's injury history and an offensive line needing a talent upgrade are about the only factors that should give dynasty owners pause. With the exception of Nate Burleson, Stafford's supporting cast is either in their prime or about to get there. Detroit has no interest in becoming a balanced offense anytime soon, so it is quite possible that investing in Stafford long-term will provide Drew Brees-like returns over the next 5-10 seasons.
While it will be interesting to see how the events of the offseason (specifically the bounty investigation and Brees' desire to sign a long-term contract) will affect New Orleans in 2012, I rather doubt his overall numbers will suffer that much even as he deals with his coach taking a year-long sabbatical. OC Pete Carmichael showed last season that he might be even more aggressive than Sean Payton, so expecting a huge drop-off from Brees this year – or anytime soon – would be unwise. Entering his age-33 season, Brees is on the brink of being downgraded for his age, but his combination of proven consistency, scheme and supporting cast make him a more desirable long-term asset in my mind than any other QB below him on this list.
There's a lot to discuss with Newton, so let's get right into it. We all know about Newton's incredible physical gifts, but it scares me to put him this high. First of all, Steve Smith is closer to the end of his career than the beginning. Secondly, I expect brilliant OC Rob Chudzinski will be named a head coach soon and I highly doubt Carolina will find another offensive mind of the same quality to replace him. Last but not least, a significant amount of Newton's fantasy value in 2011 came from his 14 rushing scores. Not only is that level of production unsustainable, but one has to believe that once Cam suffers his first major injury as a runner, the team will try to scale back his rushing attempts – if Carolina even waits that long. Nevertheless, the reason he belongs this high is because anyone who can break Peyton Manning's rookie passing yardage records has already proven he is worthy of such status. My only question with him going forward is how quickly Carolina finds Smith's eventual replacement.
Brady may run at the speed of molasses, but his movement inside the pocket and ability to avoid pressure is more important. Given the way his offensive line protects him, it's not hard to believe Brady could play until he's 40. Certainly, no one expects him to remain elite for another five years, but given the talent and age of the bulk of his supporting cast, it wouldn't be an impossible feat. About the only factor dynasty league owners can hold over his head is age. Since Brady doesn't take a lot of shots, he isn't going to "age" in the same way a quarterback like Brett Favre did, so draft him like you would a 32- or 33-year old QB and enjoy the production.
While the New York media has long had a love-hate affair with Eli, it wasn't until the conclusion of the 2011 season I was ready to consider him among the elite quarterbacks in the NFL. For the first time in his career, Manning carried his offense for stretches – if not games at a time – and was able to prosper despite a un-Giant-like running game. Unthinkable just one year ago, Eli probably belongs right where I have him ranked for dynasty purposes, ahead of his brother. As he enters his age-31 season, Eli will have two receivers who should only continue to improve in Hakeem Nicks and Victor Cruz, a tight end who is sure to be undervalued in fantasy drafts this summer (Martellus Bennett) and a running back in Ahmad Bradshaw who is very adept as a receiver. Every single player is a matchup nightmare in his own way and young enough to keep it going for a few more years, so Manning could conceivably match or exceed his production from 2011 if everyone can remain healthy.

A Step Down (Can be elite, but with noticeable flaws)
Rk
Player
Tm
Age
Pos Rk '11
% Yrs Top 12
% Yrs Top 24
Three-Year
Consistency Score
7.
Matt Ryan
ATL
26
8
50 (2/4)
100 (4/4)
21.22
8.
Tony Romo
DAL
32
7
66.6 (4/6)
83.3 (5/6)
30.94
9.
Peyton Manning
DEN
36
*
*
*
39.45
10.
Philip Rivers
SD
30
9
83.3 (5/6)
100 (6/6)
33.30
11.
Michael Vick
PHI
32
11
100 (2/2)
100 (2/2)
22.80
Ryan's supporters will tell you his TD totals and fantasy point-per-game averages have increased every year. His detractors will say he lacks arm strength and comes up short in big games. Fair enough, but I tend to believe that if a NFL quarterback can throw 50 yards down the field as well as hit deep comebacks and out patterns with authority, he has enough arm strength. I also believe former OC Mike Mularkey probably instructed Ryan to be more judicious with his deep throws than most QBs of his ilk, something I expect to change a bit when new OC Dirk Koetter gets to work with him for the first time in 2012. Entering his age-26 season, Ryan still has time to become an elite QB, but I'm going to leave him on the outside looking in for now as Tony Gonzalez nears retirement. As Atlanta continues to move away from Michael Turner as the offensive centerpiece, the time is now for the Falcons to let their QB take the final jump he needs to ascend into elite status, which means Ryan – and not HC Mike Smith – should determine when the team operates the no-huddle attack.
Whether he set the bar too high for himself in 2007 or not, there seems to be very little Romo can do to please the masses. Granted, his penchant for crumbling under pressure has led to some of his negative press, but Romo is coming off the second-best season of his career and is still viewed as a disappointment. Although the loss of Laurent Robinson will hurt, Romo still returns his fearsome threesome of Jason Witten, Miles Austin and Dez Bryant in 2012, with only Witten pushing 30. The healthy return of DeMarco Murray should mean defenses will be forced to respect the run for the first time in years, so Romo has little excuse not to post at least 2-3 more seasons like he did last year. However, Austin, Bryant and Murray haven't exactly proven to be the most durable players, meaning it may come down to simple luck whether or not we've already seen the best Romo has to offer.
I know it is questionable to put a man to put a player this high coming off four neck surgeries (reportedly) in such a short time. However, it seems reasonable to do so in this case because Peyton's track record speaks for itself and moving to Denver doesn't figure to be all that much different from a supporting cast perspective. For example, consider that Reggie Wayne and Dallas Clark were already in decline when Peyton last played. Outside of Willis McGahee, Peyton inherits a wealth of young talent (especially in the passing game), which should allow him to knock on the door of being an elite fantasy quarterback once again. And quite honestly, Denver wouldn't have agreed to pay Manning so handsomely if it felt as if he wasn't going to be vintage Peyton Manning for at least half of his contract. Along with the neck surgeries that kept him from playing last season, age is the only other reason to downgrade Peyton. Like Brady, he does such a good job at moving inside the pocket, getting rid of the ball quickly and avoiding hits that he could remain an elite option for another 3-5 years.
Whereas the majority of the first nine quarterbacks on this list have a young and talented supporting cast, Rivers is moving in the opposite direction. The loss of Darren Sproles last summer was arguably the biggest contributor to Rivers' average 2011 season and the loss of Vincent Jackson robs him of one of the league's biggest big-play threats in a vertical passing attack. Antonio Gates is not aging gracefully, meaning Rivers is more of a high-risk dynasty selection than his age would lead you to believe. Furthermore, HC Norv Turner could be on the way out if he doesn't lead the Chargers on a deep playoff run this season, which would further upset Rivers' ability to dominate in fantasy. Thankfully, Vincent Brown looks like a keeper, Robert Meachem should finally be given a chance to blossom and Eddie Royal should be utilized more for his receiving skills than he has in some time. Malcom Floyd is also a very capable receiver, but he's about the same kind of injury risk Gates is. And let's not even get started about the offensive line, which is in a state of flux. Only Rivers' track record and durability keeps him in the top 10.
By now, the book on Vick is pretty well written. When he is on the field, he is an elite fantasy option. But try as he might to be more of a pocket quarterback, he has still found it nearly impossible to stay healthy for an entire season. And when considering anything long-term, the best ability is often availability. Whether or not Vick completes the transformation into pocket passer in the next year or two, logic would suggest his incredible speed and quickness will soon diminish, sapping him of a lot of fantasy value over the next 2-3 years. Few would argue his supporting cast is among the best in the league, but we simply cannot overlook the fact that Vick a health risk while most of the other fantasy QB options above him on this list are under center week after week, without fail.

Middle Ground (Up-and-comers/above-average veterans)
Rk
Player
TM
Age
Pos Rk '11
% Yrs Top 12
% Yrs Top 24
Three-Year
Consistency Score
12.
Josh Freeman
TB
24
17
50 (1/2)
100 (2/2)
6.96
13.
Ben Roethlisberger
PIT
30
13
25 (2/8)
100 (8/8)
27.05
14.
Robert Griffin III
WAS
22
*
*
*
*
15.
Sam Bradford
STL
24
33
0 (0/2)
50 (1/2)
-4.34
16.
Jake Locker
TEN
24
39
0 (0/1)
0 (0/1)
0
17.
Jay Cutler
CHI
29
25
33.3 (1/3)
66.6 (2/3)
17.76
18.
Andy Dalton
CIN
24
14
0 (0/1)
100 (1/1)
1.93
19.
Andrew Luck
IND
22
*
*
*
*
Most casual observers would tell you that Freeman must have lost his mojo after an unbelievably efficient 2010 campaign. But the ability to play quarterback at a high level in the NFL typically does not come and go in one year. Let's face it, Freeman suffered from a host of problems in 2011: 1) poor offensive line play, 2) a poor defense, which put Freeman into desperation mode regularly and 3) players on his side of the ball played with a surprising lack of urgency, to put it kindly. Another important factor, in my mind anyway, was the play-calling of former OC Greg Olson - a coach who has consistently overseen poor offenses in three different OC stints. Enter new OC Mike Sullivan, free agents Vincent Jackson and OG Carl Nicks, a high-level running back in April's draft and it becomes very possible Freeman enjoys a major bounce-back campaign. Entering his age-24 season, Freeman already will be entering his fourth season with the best supporting cast he has ever had. Pairing Jackson with Mike Williams means this offense wants to lean on the run and hit defenses deep off play-action on a regular basis. While I doubt Sullivan or new HC Greg Schiano wants him running around like Cam Newton, neither coach will hesitate utilizing Freeman as a rushing threat to help slow down backside pursuit in the running game. With Olson's conservative offense likely a thing of the past, expect Freeman to enjoy a career year in 2012. Then look for him to sustain consistency in the years to follow with a higher ranking next season.
For all the mention Roethlisberger receives as being one of the game's elite quarterbacks, he has rarely ever performed at that level in fantasy. Even though he has thrown for over 4,000 yards in two of the last three seasons, those are the only times he has done so in his eight-year career. Furthermore, he has just two seasons in which he has more than 21 passing scores! And let's not forget that pass-happy OC Bruce Arians was essentially jettisoned to Indianapolis in the offseason, paving the way for former Chiefs HC Todd Haley to install what most expect to be a more traditional Steeler offense. So while "Big Ben" may have the deepest receiving corps he's ever had (which obviously depends on whether Pittsburgh can hold on to Mike Wallace or not), it is highly probable that we have already seen Big Ben's fantasy best. In short, we may very well have a situation in which a quarterback's "name value" could easily surpass his "fantasy value" for the next few years.
Up until this point, we've stayed with "proven commodities". In RG3, it's time to break that mold. For those of you who believe this is a bold ranking, you are probably right to think that about a player who has yet to step foot on a field against a NFL defense. Whether we like it or not, Griffin bears a lot of likeness to a young Michael Vick with slightly less open-field elusiveness but better accuracy as a passer. And with the nation's capital likely to be the place where he will call home for the next decade, his running ability will be put to good use in Mike Shanahan's offense. In Shanahan's system, quarterbacks are often asked to bootleg off play-action and throw on the run – a perfect fit for Griffin. The last time Shanahan worked with a gifted strong-armed mobile QB that was at or near his prime was Steve Young from 1992-1994. In those seasons combined, Young ran for 1,237 yards and 14 touchdowns and that was during a time when the idea of a running quarterback wasn't nearly as accepted as it is today. In all likelihood, RG3 will not approach Cam Newton's level of success in his rookie season simply because he isn't entering a situation in which he should be asked to carry his new offense. But I am fairly convinced with a supporting cast that will surprise and Griffin's incredible talent that he has a real chance to be a top 10 QB option in dynasty leagues as early as 2013.
Note: If Indianapolis pulls a stunner and drafts Griffin over Luck – thereby leaving Luck for Washington – then Luck will take this spot in the rankings.
In fantasy, it's easy to forget about a player after one poor or injury-plagued season, especially when he is still a relatively young and/or unproven quantity. By the end of his rookie season, some personnel evaluators already had Bradford listed as a top 10 quarterback in the league. As we all know now, Bradford's development hit an unexpected speed bump in 2011 when the offensive line and lack of receiver depth behind Danny Amendola was exposed, ultimately leading to Bradford's own injury woes. Regardless of what talent the draft brings in, I suspect the Rams with improve at receiver simply because Amendola will return. Austin Pettis, Greg Salas and Lance Kendricks will all be one year wiser after less-than-stellar rookie campaigns while the addition of Steve Smith is a smart low-risk/high-reward signing for the Rams. I also have little doubt the offensive line will stay healthier and play better as well. While I suspect St. Louis will advertise itself as a power-running team in HC Jeff Fisher's first season, Steven Jackson is already starting to wear down. Therefore, I doubt the team will hesitate placing its fate in the hands of Bradford once it feels like it can adequately protect him again. I'm not sold on the idea that OC Brian Schottenheimer is the man to help Bradford become an elite QB, but if he can guide Mark Sanchez to a top 10 finish among fantasy QBs (like he did in 2011), then Bradford could easily become an elite fantasy option sooner than later.
Suggesting that a player without a clear path to a starting job and limited NFL experience should be considered this high is probably blasphemous, but I'll place my money on Locker's raw talent, youth and supporting cast before every other QB listed below him. I'll admit his accuracy will continue to be a concern going forward, but I'll chalk some of those issues last season up to the fact that he hardly ever had a chance to play with Kenny Britt, no offseason workouts and limited consistent snaps during the regular season as well as Chris Johnson's holdout, which affected the entire offense as a whole. I expect Locker's starting nod to come as soon as this fall, so when he is able to push Matt Hasselbeck into a reserve role, I suspect owners will realize what a valuable fantasy asset he is. In fact, about the only factor that concerns me about Locker long-term is the presence of OC Chris Palmer. With that said, it isn't enough of an obstacle to keep me from recommending Locker, who I feel will open up the entire Tennessee playbook once he takes over the starting job for good.
How odd is it that a quarterback loses Mike Martz as his play-caller and could actually be a better fantasy option as a result?( Let's be clear about one thing before proceeding: Martz's actual impact on fantasy players diminished greatly after his "Greatest Show on Turf" days.) I don't think anyone should expect Cutler to recapture the production he had in his final year in Denver (4,526 passing yards and 25 TDs), but the addition of Brandon Marshall should allow him to regain the good graces of fantasy owners in the coming years since it is hard to believe that a true No. 1 receiving option and more emphasis on pass protection won't help the passing game. Because I expect OC Mike Tice will run a balanced offense – particularly now with the addition of Michael Bush – Cutler doesn't possess great fantasy upside, but he probably deserves to be considered among the final QB1 candidates in 12-team leagues.
It's hard not to like Dalton going forward under the criteria from which I am using to build this list. He is entering his second season with a young talented supporting cast (A.J. Green, Jermaine Gresham) with little chance he will lose his job at any point over the next 5-10 years. However, I can't exactly say I'm buying him as the next Drew Brees. Cincinnati appears to have landed itself a bright offensive mind in OC Jay Gruden, but given his background (as well as his last name), he figures to pursue a head-coaching job with more conviction going forward than he did this past offseason. Until that point, Dalton will probably be somewhat limited by the same offense that saw fit in giving Cedric Benson 19.2 touches/game last year and refuses to go after an all-purpose feature back. Dalton should be expected to build upon his success as a rookie in 2012, but I don't feel as if any part of his game will ever be elite, which makes it hard for me to rank him any higher than I have him here. Perhaps my opinion will change if the Bengals find another top-level talent to pair with Green, but until that time, he's an above-average QB option and nothing more.
It probably goes without saying that a lot of factors need to come together all at once for a quarterback to have success in the NFL. For the sake of our fantasy discussion here, let's simplify it to skill meets supporting cast meets scheme. Most, if not all, NFL personnel people believe Luck is one of the best and most NFL-ready QB prospects to come out in years, so his skill is not in question. However, new HC Chuck Pagano suggests Indy will be a physical running team in the coming years, which flies a bit in the face of what new OC Bruce Arians built his reputation on in Pittsburgh. And there is also the issue of his likely supporting cast, which will feature a declining Reggie Wayne, injury-prone Donnie Avery and Austin Collie with no viable threat at TE. Now, Collie has proven he can be a lead receiver at times, but the Colts' offense is in the midst of a massive rebuilding job nonetheless. Luck's upside is so high that he is probably worth over-drafting now in order to get elite fantasy production from him in 2-3 years, but understand that his immediate success is far from guaranteed as the Colts restock the shelves. If Luck somehow enters the discussion for fantasy Rookie of the Year status in 2012, it will likely be due to his underrated running ability as much as his passing exploits.

Victims of Circumstance (QBs caught in run-heavy offenses)
Rk
Player
TM
Age
Pos Rk '11
% Yrs Top 12
% Yrs Top 24
Three-Year
Consistency Score
20.
Matt Schaub
HOU
31
22
50 (2/4)
100 (4/4)
26.83
21.
Joe Flacco
BAL
27
16
25 (1/4)
100 (4/4)
9.39
22.
Matt Flynn
SEA
27
40
*
*
-1.95
23.
Matt Cassel
KC
30
31
33.3 (1/3)
66.6 (2/3)
9.37
24.
Christian Ponder
MIN
24
27
0 (0/1)
0 (0/1)
2.38
Like Roethlisberger, Schaub finds himself in a situation where his potential for elite fantasy numbers will be somewhat limited by the team's desire to run the ball and play defense. His supporting cast is top-notch – even if Andre Johnson and Owen Daniels can't seem to play a full 16-game schedule together – and should get a bit better with the likely addition of a first- or second-day receiver in April's draft. However, it seems unlikely that Houston will ditch the philosophy anytime soon that led to its first division title, especially with so many key pieces just entering their prime. Of course, there is also the foot injury that ended Schaub's 2011 season that makes him something of a question mark for this season. Thus, the days of Schaub throwing for 4,200 yards AND 25 touchdowns are probably over for the immediate future. Still, any reasonably young QB with weapons like Johnson and Daniels around, no immediate threat to his starting job and in a solid offense needs to be considered as a consistent high-end QB2 option.
Even though he is noticeably younger than Schaub, Flacco appears to be headed down a similar career path – good enough to not worry about his starting job but limited in what he can do in fantasy due to his role in a run-based offense. Certainly, with Flacco entering his age-27 season, there is more than enough time for him to convince OC Cam Cameron that he deserves the opportunity to carry the offense as much as Ray Rice does, but I just don't get the sense Baltimore will let that happen anytime in the near future. As a result, Flacco is probably destined for several more seasons in which he throws for around 3,500 yards and 20-25 touchdowns – numbers that, while very good, pretty much lock him in as a fantasy QB2 option going forward.
In early March, Aaron Rodgers suggested that whichever team landed Flynn was getting itself "a top 15 QB". While he was speaking from a biased perspective for his friend and former teammate, the fact of the matter is that he probably isn't too far off either. Certainly, two impressive career starts does not exactly guarantee career success, but there is also enough reason to believe that Seattle may have found its next long-term QB. In his limited opportunities as a Packer, you'd be hard-pressed to say Flynn wasn't making all the throws a NFL quarterback is expected to make. And while he wasn't facing elite defenses in either start, he certainly took advantage of the time he had when he was given the stage to perform. Other positives: his "new" offense doesn't figure to be all that much different than his old one. Also, he signed a relatively reasonable contract and the Seahawks are likely to remain a power-running team for as long as Marshawn Lynch can handle a heavy workload, meaning Flynn shouldn't have to meet the same kind of "franchise-savior" expectations that other starting-caliber quarterbacks sometimes face when they leave for another team. Last but not least, the fact is that he has a group of capable receivers (Sidney Rice, Doug Baldwin, Golden Tate and Zach Miller) to work with, so it's not unreasonable to think he could move into the next tier of quarterbacks in 2013.
Although Cassel has never been an elite option, he's certainly had more moments of glory than your typical "average quarterback". I also think that while most of us believe that he peaked in 2010, last season was probably not a very good representation of the long-time backup either. But let's step back for a second and remember what Kansas City has quietly assembled at the skill positions when everyone is healthy. RBs Jamaal Charles and Peyton Hillis are each very good in the passing game; WRs Dwayne Bowe, Steve Breaston and Jonathan Baldwin form a talented trio and should comprise a very capable receiving corps while TE Tony Moeaki is just one year removed from an impressive rookie campaign. The additions of RT Eric Winston and OC Brian Daboll, who worked with Cassel for two years in New England, also should serve to benefit the QB as he attempts to rebound. While Cassel is not an elite signal-caller in any area, he has shown that he can operate at a very high level when surrounded by the kind of talent he has going into this season.
Ponder isn't all that dissimilar from most of the 5-10 quarterbacks ranked just above him. In Percy Harvin and Kyle Rudolph, the second-year QB has one of the league's better slot receivers and a very talented pass-catching tight end who could have very well proved to be a top 15 fantasy option at his position already this season if it wasn't for the questionable free-agent signing of John Carlson. Ponder also has enough scrambling ability to offset some of the poor passing numbers he is likely to post as he continues his NFL education. On the other hand, Ponder is really hard to like for a couple of reasons: 1) his OC is Bill Musgrave, who showed again last season why he ranks so low on my list of NFL play-callers and 2) outside of Harvin, his other options at receiver are incredibly limited. Perhaps the Vikings will shock the masses and select Justin Blackmon with the third pick in April's draft, but even then, as long as Adrian Peterson is in his prime (and obviously not injured), he will be the offensive focus. Thus, it's hard to consider Ponder as anything more than a low-end QB2 with youth on his side for now.

Shaky Ground (Uncertain job status, short and/or long-term)
Rk
Player
TM
Age
Pos Rk '11
% Yrs Top 12
% Yrs Top 24
Three-Year
Consistency Score
25.
Ryan Fitzpatrick
BUF
29
12
33.3 (1/3)
66.6 (2/3)
10.99
26.
Carson Palmer
OAK
33
26
0 (0/1)
100 (1/1)
9.29
27.
Alex Smith
SF
28
15
0 (0/5)
60 (3/5)
8.52
28.
Ryan Tannehill
MIA
24
*
*
*
*
29.
Kevin Kolb
ARI
28
30
0 (0/1)
0 (0/1)
4.75
30.
Mark Sanchez
NYJ
25
10
33.3 (1/3)
66.6 (2/3)
6.06
Widely regarded as a "first-half-of-the-season" quarterback, Fitzpatrick has the long-term security (signed a seven-year deal last October) of a "franchise QB" but lacks the full-season stats to back it up. Quite often, the harsh northern New York winters serve as a convenient excuse as to why the Harvard alum fades as the season progresses, but the fact of the matter is that he is one of many NFL quarterbacks that needs to be "supported" by his supporting cast. In other words, having Steve Johnson and David Nelson is a good start, but in order for Fitzpatrick to play at the elite fantasy level that a quarterback in a Chan Gailey offense can play at, he probably needs at least one more above-average to elite receiver or tight end. On the other hand, it has been revealed since the end of the season that Fitzpatrick played with a rib injury (from about Week 8 on) that was more serious than the one Tony Romo suffered, leading to a decided drop-off in production from his first-half numbers. With all that being said, it is still hard to take Fitzpatrick seriously as a long-term investment, which ultimately leads to his low ranking here despite relatively good short-term job security and a favorable offensive scheme.
Considering he was "ready" to retire at this point last season, it's probably not such a bad thing for Palmer to be ranked here. The ex-Bengal has a lot of young potential playmakers to work with in Oakland, so writing him off completely would be foolish. However, Palmer is a poor bet to ever recapture the fantasy glory he enjoyed early in Cincinnati because he now works for a run-loving OC (Greg Knapp) that isn't the same kind of creative offensive mind as the man he is replacing (ex-HC Hue Jackson). Combine that with the fact the Raiders will eventually try to work Terrelle Pryor into the mix – especially if Oakland cannot repeat last year's resurgence in 2012. Certainly, Denarius Moore and Darrius Heyward-Bey blossomed enough last year to make us believe the Raiders may finally have a pair of fantasy-worthy receivers, but even if it just takes two years for each to reach their prime, Palmer will already be 35.
All things considered, placing Smith this low probably seems awfully harsh for a player coming off a career year. But despite landing a three-year deal with San Francisco, Smith is not guaranteed any money in 2013 if he is not on the roster after April 1 of next year, meaning the Niners decided to allow themselves a considerable amount of wiggle room if Smith falls flat this season or if Colin Kaepernick proves himself ready of a starting opportunity at any point over the next 12 months. For those looking for the positives with Smith, San Francisco is providing him with more weapons than it ever has. With a (hopefully) rejuvenated Randy Moss to go along with Mario Manningham on the outside, Michael Crabtree could be on his way to a career year working out of the slot. Obviously, all of this bodes well for Vernon Davis, who could be headed toward a career year as he is almost certain to receive less defensive attention as a result. In the end, however, one has to believe that as long as HC Jim Harbaugh is in control, this will be a running team first. While Smith proved last season that he can take advantage of a stable situation and is still young enough to do something about it, anything less than another career year probably gives the Niners enough reason to turn to Kaepernick, making Smith a risky one-year option at best right now.
Obviously a major projection pick at this point because he could end up in a few different landing spots, Tannehill might as well be this year's Jake Locker and Christian Ponder – a quarterback currently better outside the pocket than inside (Locker) that gets pushed up in the draft because of the position he plays (Ponder). (For the sake of this exercise, we'll place him in Miami since I believe Cleveland will settle on Trent Richardson at No. 4 before considering Brandon Weeden at No.22.) As a Dolphin, Tannehill would most likely be given at least half the season to "watch" David Garrard or Matt Moore even though OC Mike Sherman served as his head coach at Texas A&M. However, whichever place Tannehill lands (Cleveland or Miami), he is going to be an undesirable fantasy situation absent of proven and consistent passing-game playmakers. In short, significant fantasy production cannot really be expected from Tannehill until at least 2014 as the Dolphins attempt to find their own version of Greg Jennings while also furthering the rookie quarterback's education after just 19 college starts.
It's hardly fair to close the book on Kolb after one injury-shortened year in Arizona, but the fact that John Skelton was able to lead the Cardinals to a 5-2 record in his seven starts last season hardly bodes well for Kolb as he enters the 2012 season likely fighting for his job. Kolb seems likely to emerge from any quarterback competition as the starter this summer, but the fact it is even in question means he needs to be ranked pretty low on any dynasty board. Still, if there is any player in the 21-30 range of this list who has a chance to move up about 10 spots over the next year, it might be Kolb. First and foremost, being able to stay healthy all season would obviously be a big plus. But beyond that, even an average quarterback has a fighting chance to be fantasy relevant with Larry Fitzgerald as his WR1. If Arizona can address some of its offensive line shortcomings in the draft, it should allow the Cardinals to be a better running team. If/when that happens, Kolb's job obviously becomes easier as teams focus more energy on stopping Beanie Wells. In theory, whatever attention Wells receives should make Kolb's job easier as he does have an above-average collection of talent at receiver.
Although I have long been a Sanchez critic, I'm not sure he deserved the fate he was dealt in March when one Tim Tebow was acquired via trade. While Tebow is a poor bet to hit the 20-snap mark that Jets' coaches think he could reach as the "Wildcat" quarterback on a consistent basis, taking 10-15 snaps per game away from Sanchez is akin to sitting your quarterback for an entire quarter. Furthermore, it almost goes without saying that Sanchez could dominate September but would be on the hot seat almost immediately if he comes up short during a game in October. Needless to say, I'll take four quarters from an average QB with solid job security over three quarters from a QB who has a nice supporting cast but is basically trapped in a no-win situation.
The Next Five
31. Blaine Gabbert, JAC
There is hope here, but he must rediscover the confidence he showed in the 2011 preseason. Adding rookie Michael Floyd to free agent signee Laurent Robinson would be a step in the right direction.
32. Colt McCoy, CLE
Mike Holmgren keeps throwing his support behind McCoy, but it sure seems the end is coming sooner than later for him. Could the Browns trade for low-cost veteran like Brian Hoyer or Chase Daniel instead of drafting a rookie?
33. Brandon Weeden, TBD
Even though his future employer has yet to be determined, it's a good bet he'll be viewed by that team as its starter no later than the start of the 2013 season.
34. Tim Tebow, NYJ
A backup QB with a defined regular role already? This should be interesting.
35. Colin Kaepernick, SF
As reference earlier, barring another career year from Alex Smith, Kaepernick likely emerges as the starter in 2013.

Suggestions, comments, musings about the article or fantasy football in general? E-mail me.

---
Doug Orth has written for FF Today since 2006, appeared in USA Today's Fantasy Football Preview magazine in each of the last two seasons and served as a weekly fantasy football analyst for 106.7 The Fan in Washington, D.C. this past season. He is also a member of the Fantasy Sports Writers Association. You can also follow him on Twitter.