Preseason Matchup Analysis




5/29/12



Even as the NFL logs more billable hours in the courtroom than practical time in the classroom for the second consecutive offseason, it seems we have reached a crossroads of sorts when it comes to the future of the game of football. Will the game we love eventually crumble under all the lawsuits and the threat of concussions? Will the talent pool eventually dry up as parents steer their children towards safer sports?

Certainly, these are neither the kind of questions football people want to answer at the moment nor the forum in which to answer them. But make no mistake: this is a critical time for the NFL as it attempts to remain "America's passion" and maintain its hold on our consciousness. And as long as the NFL is threatened, fantasy football is as well.

Fortunately, the NFL product as we know it should not change dramatically anytime in the immediate future, which allows us to make the ever-so-gentle transition to the official start of another fantasy football season. For some owners in dynasty and keeper leagues, preparations for the 2012 season are well under way. (Please check out my pre-NFL Draft dynasty rankings if you haven't already. Next week's article will feature my rankings for dynasty owners preparing for their rookie drafts.) For the majority of serious redraft fantasy owners, however, the start of summer is a pretty good time to begin the process of winning another fantasy championship.

A good part of the preparation process at the beginning of each season is trying to ascertain the floor and ceiling of each newcomer. In most cases, running backs steal the show when it comes to immediate contributions, although a number of players at other offensive skill positions have stolen the show in recent years. Last season alone, Cam Newton, A.J. Green and Julio Jones quickly made their presence felt in fantasy, matching – if not exceeding – the high bar set by players such as Sam Bradford and Rob Gronkowski in 2010. While we can only speculate on which rookies will deliver the most impact this season, there are some guidelines we can follow and questions we can ask in order to help us identify the players who have the best shot at becoming the next big thing. The following questions give us a good starting point:


Is he in a position to succeed? For a RB, does he have a good line to run behind and an OC that likes to run the ball? For a QB, does he have a good pass-blocking line and 2-3 quality options in the passing game? For a WR or TE, does he have a good QB throwing him the ball? Does he operate opposite a star WR or is he being counted on to carry the passing game?


What are his most obvious obstacles? This question goes hand-in-hand with the first question, but the successful fantasy owner cares just as much about why a player will likely fail as he/she does about how/why a player will thrive. For example, how much do we penalize Brandon Weeden or Trent Richardson – one of the best RB prospects to come out of the draft in recent memory – because they will play five fantasy games each year against Pittsburgh, Baltimore and Cincinnati? Is natural talent along with a huge void for a playmaker at receiver going to be enough for Brian Quick to overcome a huge step up in competition and make an immediate impact in St. Louis?


Is he an offensive building block, complementary piece or role player?


How is the "fit" with his new team and does his style mesh with what the team is trying to accomplish or is the offense going to cater to his talents? (Unfortunately, we can't take for granted that personnel departments always do this for themselves – need can be a terrible evaluator of talent.) Can we really expect Justin Blackmon to adequately fulfill the Roddy White role in new HC Mike Mularkey's offense for Jacksonville? How much of a boon is it for Alshon Jeffery and Michael Floyd that both players will have established Pro Bowl receivers opposite them…or will it stunt their development? How quickly can we really expect significant contributions from Andrew Luck and Robert Griffin III and will each team make good use of their incredible athletic ability?
Certainly, there are more questions that can be asked, but to establish a baseline for a rookie, I think this gives us a pretty good start. Over the next two weeks, I will evaluate the likely top rookies from this class – covering the back half of my top 20 this week and the top half next week – and present a compelling case as to whether or not they are worthy of your consideration in fantasy. At the very least, I hope to provide each of you with my early assessments on each player (complete with player strengths and weaknesses) before I really buckle down on player evaluations in July and August, courtesy of the newly renamed method I use for my fantasy predictions – Preseason Matchup Analysis.

Note: The rankings below are for the 2012 season only and are ranked in order of likelihood of fantasy impact. (For example, QBs like Brandon Weeden or Ryan Tannehill may accrue more fantasy points given the nature of their position, but the chances of them impacting a fantasy team are slimmer than say, a potential fantasy WR3 in a three-WR league, because the WR may end becoming an every-week fantasy starter.)
Players who just missed the cut (in no particular order):
Kendall Wright, WR Tennessee – The difference between Wright's fantasy floor and ceiling this season is about as wide as it is for any rookie. Obviously, if Kenny Britt has another injury-plagued season, Wright probably belongs among the top 10 redraft rookies since he'll like assume Britt's role in the offense. Since he's outside of my top 20, I'm expecting Britt to play the majority of the season, likely making Wright a slot receiver in an offense that also has to find catches for Nate Washington, Jared Cook and Chris Johnson. Furthermore, as much as I like Jake Locker long-term, his accuracy in the pocket is still in question and Matt Hasselbeck is unlikely to enjoy a full season like the first half he put together in 2011. Therefore, as nice of an addition as Wright was to what is becoming a very talented offensive core in Tennessee, I'm not sure he can be considered anything more than Britt insurance in fantasy right now.
Chris Givens, WR St. Louis – Don't let the fact that Givens slipped into the third day of the draft fool you. The Rams have every reason to believe he is a future starter. Initially, they hope he will lift the lid off the defense as a vertical threat and I suspect he'll make a few notable big plays as a rookie since he is better than your average fourth-round receiver. The bigger questions – and why he didn't crack the top 20: 1) can St. Louis actually start two rookies at receiver? and 2) will there be enough opportunities for him to make a fantasy impact with Brian Quick and Danny Amendola commanding most of Sam Bradford's attention?
Bryce Brown / Chris Polk, RB Philadelphia – Perhaps I'm taking the easy way out here, but I am torn as to which talented running back will win the RB3 job in Philly, so I'm going to list both since I can't imagine how the Eagles part ways with either player. HC Andy Reid said Philadelphia had a fourth-round grade on the undrafted Polk – who fell out of the draft due to a degenerative shoulder issue – while Brown is a former No. 1 overall recruit in the nation who has some maturity (and entitlement) issues. The chances either RB sees much time behind LeSean McCoy aren't all that great, but I imagine the team has a pretty good sense that RB2 Dion Lewis would not hold up as a feature back should McCoy be forced to miss significant time.
B.J. Cunningham, WR Miami – On a team that will likely start Brian Hartline and Davone Bess to open the season, the door is wide open for a big-bodied possession receiver to emerge as a de facto WR1 in this offense so Hartline can resume being a deep threat and Bess can operate in the slot – where each player should actually be. While Bess should lead the receivers in catches and Hartline in receiving yards, it would come as little surprise if Cunningham quickly emerged as the most consistent receiver and top red-zone receiving threat for this team.
Jeff Fuller, WR Miami – Much like Bryce Brown above, Fuller is the ultimate wild-card with first-round ability that enters the league with more questions than answers. If he's focused and plays more to the level of his junior season and less to his drop-filled senior film, Fuller could quickly vault past Cunningham and everybody else on the depth chart into fantasy prominence. He has great size (6-4, 220 pounds) for Miami's new West Coast offense and is the most talented receiver of the bunch. And don't forget: for an undrafted free agent, Fuller couldn't ask for a much better situation – he joins his former head coach (new OC Mike Sherman) on a team where his college quarterback (first-round pick Ryan Tannehill) will likely be starting sooner than later.
Lamar Miller, RB Miami – If there was one offensive position the Dolphins didn't have a pressing need at, it was probably running back. And it is quite possible the University of Miami product does little more than return kicks and play sparingly this year as Reggie Bush enters the walk year of his contract. However, Miami is already fascinated with Miller's versatility, so don't put it past new HC Joe Philbin to find a way to get him and Bush on the field at the same time a few times a game. The Dolphins are already suggesting Miller could see time in the slot and praising the speed at which he is learning the plays, so perhaps the team hopes he can evolve into the same all-purpose role that Percy Harvin has embraced in Minnesota.
Randol Bullock, K Houston – Although the Texans brought in veteran Shayne Graham to compete with him, Houston very much wants their fifth-round selection to win the job. Special teams coach Joe Marciano told the team's website in mid-May that Bullock is "almost unflappable" and "almost unbreakable", two necessary qualities for a team expected to make a Super Bowl run this season. It would come as little surprise if he finishes the season as a top-ten fantasy kicker.
LaMichael James, RB San Francisco – At what point during Darren Sproles' 15-catch playoff performance against the Niners did the coaching staff ask themselves if they wanted their own "pocketful of dynamite"? James isn't quite Sproles in terms of elusiveness, but he is plenty fast and someone who HC Jim Harbaugh will find plays for immediately as a change-of-pace in his power-based running attack. Working in James' favor is the direction San Francisco's offense appears to be headed with all of its offseason additions, suggesting it is ready to hand Alex Smith more offensive responsibility. As a result, James may be more of a necessary player than most people expected initially. Frank Gore and Brandon Jacobs both qualify as poor bets to remain healthy and/or productive for the entire season, which could easily mean bigger roles for Kendall Hunter and James as 2012 comes to a close.
Juron Criner, WR Oakland – Although he lacks the speed that is usually associated with Raiders' wideouts, new GM Reggie McKenzie likely envisions the big-bodied Arizona standout as a Marques Colston-like slot receiver minus the long injury history. His game complements the track team Oakland had assembled under the late Al Davis, with speed demons such as Denarius Moore, Darrius Heyward-Bey and Jacoby Ford playing key roles. It's highly likely that Criner's biggest impact in 2012 will be felt in the red zone, where his 6-3, 224-pound frame, soft hands and 38-inch vertical jump will serve as a boon to Carson Palmer's bottom line.
Greg Childs, WR Minnesota – Childs is saying now that he is 100% healthy now after a disappointing senior year at Arkansas thanks in large part to the torn patella tendon he suffered in October 2010. With free-agent signing Jerome Simpson serving a three-game suspension to begin the season, Childs could have a small window to prove to the Vikings they don't need the ex-Bengal for more than a year. Minnesota desperately needs an outside receiver upgrade from Michael Jenkins and Devin Aromashodu to complement Percy Harvin on the inside and take some pressure off the running game, so if Childs is truly all the way back from his injury, he can do just that.
Russell Wilson, QB Seattle – Facing seemingly long odds to contribute as a rookie, I feel obligated to put Wilson on this honorable mention list simply because the only quality he lacks that NFL evaluators want from their quarterbacks is height. Like most observers, I'd be stunned if Matt Flynn doesn't run away with the starting job in 2012, but Seahawks' management is convinced Wilson has the same qualities that allowed Drew Brees and Jeff Garcia to thrive in spite of their size. Because of that, he'll be given an opportunity to prove he can start right away. And if he somehow pulls off that upset in 2012, he'll have some value in fantasy because he is an accurate passer who can also pick up a few yards on the ground each game.

And now, the bottom half of my top 20 impact rookies for 2012:
20. Dwayne Allen, TE Indianapolis
2012 Projected Role: Complementary piece.
Positives: Allen was widely regarded as this draft's most complete tight end. At 6-3 and 255 pounds, last season's Mackey Award winner enters the league with a good NFL build and the knowledge of how to create separation by running good routes and using his body to shield defenders. Allen also has the strength, athleticism and body control to avoid and get through jams off the line of scrimmage, which means he won't be limited to just short-area routes despite the presence of second-round TE selection Coby Fleener – who will likely make most of his plays 10+ yards down the field. And although Indianapolis is in full-rebuild mode at the moment, Allen has enough talent around him that defenses will not focus solely on him. That supporting cast includes No. 1 overall pick Andrew Luck – who threw as often to his tight ends at Stanford as any blue-chip college quarterback in recent memory – and Reggie Wayne, who is in obvious decline but still a good bet to post 60+ catches, even in what figures to be a run-based offense.
Negatives: Some Combine numbers – especially 40 times – mean very little in the overall scheme of things, but Allen's 4.89-second time was somewhat alarming given the fact he played much faster on the field. Like many of the tight ends selected in recent years, Allen is more pass-catcher than run-blocker, although he is further along in the latter category than most of his draft classmates and has the physical strength to be a good blocker down the road if he wants to be one. Through no fault of his own, Allen may struggle to produce quality receiving numbers immediately considering the Colts will do everything in their power to allow Fleener to thrive first – the Stanford TE was drafted earlier and already has a solid rapport with Luck, after all.
Fantasy Assessment: Were it not for the Colts' selection of Fleener one round earlier, Allen could have pushed for low-end fantasy TE1 status in redraft leagues this summer, especially given Luck's fondness for tight ends. As it stands now, Allen will spend plenty of time on the field – maybe more than Fleener will – because he is not a liability as a blocker, unlike his second-round teammate. However, for fantasy purposes, it's hard to imagine a scenario in which both rookie TEs are healthy that Fleener won't outproduce Allen in fantasy simply because the former will be a "move" TE that may see time in the slot. On the other hand, most of Allen's early contributions in the passing game figure to come as a result of passing plays on running downs and third-and-short opportunities. As a result, he should be considered a low-end TE2 for now.
Fearless late-May prediction (14 starts): 30 receptions for 310 yards and three TDs
19. Marvin Jones, WR Cincinnati
2012 Projected Role: Complementary piece/possible starter.
Positives: Although he took a back seat to a likely future first-rounder in Keenan Allen during his final season and suffered from shaky (to be kind) quarterback play at Cal, Jones started to open more eyes after the regular season ended. He is wiry strong, knows how to get corners on their heels, possesses great body control and a wide catch radius for someone his size. While he's not a devastating blocker in the run game by any stretch, he is certainly not a liability in that regard either, a trait that will go over well with a Bengals' offense that wants to run the ball. And while he isn't incredibly explosive, it is quite possible he is already the best playmaking receiver (after A.J. Green) on the Cincinnati roster. Fellow rookie and third-round draft choice Mohamed Sanu was drafted two rounds higher and will likely enter training camp as the most likely player to start opposite Green, but Jones certainly has the goods to leap him on the depth chart before Week 1.
Negatives: While comparisons to Chad Ochocinco in his prime are somewhat appropriate, where those comparisons begin to fall off a bit is that Jones doesn't play nearly as fast as the former Bengal and lacks his superior separation skills, relying more on his big hands and jumping ability to create big plays as opposed to speed or quickness. Certainly, many receivers have been able to overcome speed/quickness deficiencies at the NFL level, but it forces the quarterback to be that much more accurate and the receiver to be that much more precise. To his credit, Jones projects to be a better outside receiver initially than Sanu (because of his ability to get off the line of scrimmage), but the Rutgers standout is a stronger player after the catch. Despite his weight-room strength (tied for the best at his position on the bench with 22 reps), he has much work to do countering physical cornerback play.
Fantasy Assessment: The Bengals have to make a choice: Sanu's slight size advantage and fearlessness over the middle or Jones' slight speed advantage and ability to get deep due to his leaping ability and ball skills. In an offense that talks about how much it wants to run the ball – and yet fails to add a big-play running back year after year – it would sure seem Cincinnati would benefit more from starting the player who gives them another big-play receiver to take the pressure (and coverage) off Green a bit. Combine that with Sanu's size being a mismatch for most nickel cornerbacks in the slot and it makes sense that a training-camp "tie" for the WR2 opening should go to Jones. However, early indications suggest that Sanu is already showing why he will be "special", so perhaps Jones will be nothing more than the Bengals' second outside receiver and will see the bulk of his playing time come in three-receiver formations. There is fantasy upside to be had here, but at this point, Cincinnati may be eyeing an Andre Caldwell-like role for Jones instead of staging a training-camp competition with Sanu.
Fearless late-May prediction (two starts): 33 receptions for 420 yards and three TDs
2012 Projected Role: Complementary piece/role player.
Positives: Electricity and elusiveness are probably the two traits Pead possesses more than just about any running back from this draft class. On a team that has lacked big-play ability for a few years now, the Rams hope that two second-rounders – Pead and second-round WR Brian Quick (and perhaps even fourth-round WR Chris Givens) – will give it to them in 2012 and beyond. Pead will be asked to contribute on quick hitters and outside runs right away in hopes that defenses will think twice before coming after Sam Bradford like they did last season. The speed and quickness the University of Cincinnati alum has should also play well indoors, where he should play at least nine games a season (eight at Edward Jones Dome and one at University of Phoenix Stadium in Arizona). Although Steven Jackson is locked into the feature-back role for at least another season or two, Pead will almost definitely make an immediate impact in the return game. By midseason, he should be sharing passing-game duties with Jackson as the coaching staff will look for ways to reduce their reliance on their offensive centerpiece without sacrificing big-play ability.
Negatives: While his explosion and elusiveness have drawn comparisons to Jamaal Charles and Chris Johnson, Pead is not quite at their level. Like Charles and Johnson, he is a handful once he gets to the perimeter of the defense. Unlike the two veteran RBs, he isn't as willing to run inside – usually bouncing his runs – and doesn't run with much power to boot. He also isn't the most adept at picking up the blitz, the latter of which may mean Jackson sees more than half the work on passing downs (at least early on). While Pead will almost certainly add "man muscle" between now and the start of the season, he's going to need to spend the summer in the weight room if he hopes to withstand the rigors of a NFL season. And for what it is worth, most of Pead's runs came out of the shotgun and his maturity has been questioned on multiple occasions. Both "problems" should be solved in time, but there are noteworthy nonetheless.
Fantasy Assessment: Whether fans want to look at it like this or not, Pead was essentially the "bonus" St. Louis received by trading down eight spots to select DT Michael Brockers (instead of staying at No. 6 and grabbing CB Morris Claiborne). However, it is quite telling the Rams traded up to get him, suggesting they have big plans for him above and beyond being an explosive short-term complement to Jackson. Given his ability as a receiver, Pead will have more value in PPR than non-PPR leagues as a rookie, but he should be considered a talented yet low-upside handcuff for Jackson in St. Louis in 2012. In dynasty and keeper leagues, however, he should have substantial value as the Rams clearly believe he will be no worse than a lead committee back once Jackson begins his inevitable decline.
Fearless late-May prediction (zero starts): 70 rushes for 305 yards and two TDs; 36 receptions for 275 yards and one TD
2012 Projected Role: Role player.
Positives: Insanely productive at San Diego State, Hillman should become fast friends with new QB Peyton Manning because of his ability to contribute as a receiver. Hillman is essentially the perfect complement to Willis McGahee in the sense that he excels in most of the areas his veteran counterpart does not. While McGahee is more of a straight-line power back that hasn't seen a lot of action in the passing game throughout his NFL career, Hillman has a bit of elusiveness in his game. The first-team All-Mountain West selection's draft spot suggests that Knowshon Moreno is likely on his way out, which should – in theory – open the door for the rookie to contribute immediately. And if that does happen, Hillman becomes the most gifted pass-catching running back on the roster, meaning he could essentially play his way into a near 50:50 split of the backfield touches with McGahee since this year's offense will be much more pass-oriented than it was in 2011.
Negatives: At 5-9 and 200 pounds, Hillman lacks ideal size and doesn't stand a great chance of seeing short-yardage work despite the fact he visited the end zone with regularity as an Aztec. Although he did time well at the Combine (4.45-40) and broke some long runs during his college playing days, he doesn't possess game-breaking speed nor did he display enough power on a consistent basis to make scouts/front office personnel believe he could be a feature back at any point in the near future. And even if an injury to McGahee made a feature-back role a possibility for Hillman, HC John Fox has been a strong proponent of a split backfield (although he was willing to lean on McGahee last season even when Moreno was healthy last season) and has consistently favored veterans over rookies throughout his coaching career. Last but not least, even though Lance Ball is not a special back by any means, he is also no slouch as a runner. And should Moreno enter this camp with a fair amount of urgency, the possibility exists that Hillman may not play much at all.
Fantasy Assessment: Whereas his talents would have been wasted in Denver's run-heavy attack last season, Hillman could legitimately catch 40-50 balls in his rookie season with Manning around if he can shore up his shortcomings as a blocker. Assuming Moreno has worn out his welcome in Denver, it is certainly possible that Hillman steps right into his role and becomes another short-yardage passing-game weapon for Manning. Given Fox's aforementioned deference to veterans, Hillman's ceiling is around 100 touches in 2012 regardless of whether McGahee stays healthy all season or not since Ball would likely handle the running-down chores if McGahee were to miss significant time.
Fearless late-May prediction (zero starts): 85 rushes for 350 yards and one TD; 43 receptions for 245 yards and one TD
16. Vick Ballard, RB Indianapolis
2012 Projected Role: Complementary piece/possible lead back.
Positives: Ballard was dependable and very productive (29 touchdowns and a 5.7 YPC in two seasons at Mississippi State) in college football's best conference, although most of his production came against the Bulldogs' non-conference schedule. While Ballard isn't going to wow many people with a particular skill or Combine number, he is a big back (5-10, 219) who possesses good running instincts and vision. He is also adept as a receiver, which combined with his size may give him a leg up on his veteran competition (Donald Brown and Delone Carter). Although Brown did enjoy his best season as a pro in 2011, he is not the best scheme fit for the overall team approach HC Chuck Pagano wants from his new charges. As for Ballard vs. Carter, the rookie has better ball-security fundamentals and is more elusive than last year's trendy fantasy sleeper pick. As a result, Ballard should compete for regular playing time immediately.
Negatives: Despite being a big back that runs well inside, Ballard goes down too easily more often than he should. He also isn't particularly fast or explosive (although Wake Forest made him look that way in the Music City Bowl), meaning he will probably be a committee back for the foreseeable future (like he was in college), giving way to a more explosive back (Brown?) when the Colts are looking for a big play out of the backfield. Although Ballard is not afraid of contact, he seems to be more willing than able as a pass blocker at this point.
Fantasy Assessment: I imagine this high ranking will surprise some, but I feel rather confident that I'm more right than wrong here. The new coaching regime in Indianapolis wants a bigger, more physical team, but currently has a running back in Brown who does his best work on the outside and another in Carter who is the big back Pagano desires, but he has struggled with fumbles and didn't show much elusiveness as a rookie. Therefore, the selection of Ballard probably means Carter will have to fight for any relevancy this season – a battle he is unlikely to win. As a result, Brown and Ballard will probably split carries, with the latter becoming the logical fantasy favorite since he fits Pagano's profile and more likely to see regular work in the passing game.
Fearless late-May prediction (five starts): 150 rushes for 620 yards and four TDs; 18 receptions for 120 yards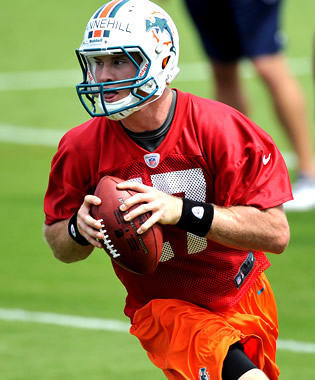 A questionable o-line and a medicore receiving corps doesn't bode well for Tannehill's fantasy prospects.
2012 Projected Role: Complementary piece/likely starter by midseason.
Positives: There is little doubt Tannehill fits the new NFL quarterback mold. At 6-4 and 220 pounds with plus-athleticism and one of the stronger arms in this draft class, Tannehill could have easily been a top-five pick with another year as a college quarterback on his resume. His conversion from quarterback to receiver and back again to quarterback not only displayed his intelligence and team-first attitude, but also speaks to the kind of athletic ability that new HC Joe Philbin probably got used to seeing from his quarterback during his final years in Green Bay. David Garrard and Matt Moore represent the two veteran quarterbacks who will battle the rookie for the starting job initially, but it is quite clear the Tannehill era in Miami has a good chance at starting before the end of the 2012 season.
Negatives: Most of the qualities that Tannehill lacks at this point stem from the fact he started just 19 games as a college quarterback, although he was attending QB meetings the entire time. (He led the Aggies in receiving in his first two full seasons at College Station, which means he wasn't carrying a clipboard the entire time and was gaining a unique perspective that few quarterbacks ever have the chance to experience.) Despite playing for then-HC Mike Sherman – now the Dolphins' OC – Tannehill has some work to do on his mechanics and must improve his ability to read defenses and work through his progressions, two absolute musts in the West Coast offense. It is also worth noting that Tannehill missed the early part of draft season with a foot injury and struggled late in games in 2011, leading to a number of heartbreaking losses for Texas A&M that eventually led to Sherman's dismissal from the school. And let's not forget one of the main reasons Tannehill is rated this low – his projected starting receivers are Brian Hartline and Davone Bess.
Fantasy Assessment: The Dolphins are kidding themselves if they attempt to try to rush the development of Tannehill. The rookie will have the benefit of a head start over Garrard and Moore given his familiarity with Sherman and his offense, but Miami is playing with fire if tries to rush a raw quarterback into the starting lineup with a questionable offensive line and average talent at receiver. With that said, it is hard to believe in today's NFL that a team as starved for an elite QB as the Dolphins are will take their time in developing him before feeding him to the wolves. As a result, don't be too surprised to see Tannehill starting sometime around Miami's Week 7 be, where he would hold low-end fantasy QB2 appeal in 12-team leagues because of his running ability.
Fearless late-May prediction (10 starts): 230-of-400 for 2480 yards, 11 TD and 17 INT; 45 rushes for 240 yards and one rushing TD
14. Stephen Hill, WR New York Jets
2012 Projected Role: Complementary piece/likely starter.
Positives: Say what you want about college numbers not translating at the next level, but any receiver who can average nearly 30 yards/catch over the course of the season warrants a second look. Although he appears to be more "track guy" than football player at times, Hill was arguably the most freakishly-talented receiver in this draft. In New York, he will see the field right away not only because he is a solid blocker – a quality that will carry even more weight on a run-oriented team like the 2012 Jets – but also because he offers, by far, the best combination of size, speed and big-play ability on this team. If there is one current NFL team which doesn't need Hill to be much more than what he was in his final year at Georgia Tech, it is probably New York – a team that may try to run the ball almost 60% of the time this season. It is also worth noting his primary competition for a starting job figures to be the injury-prone Chaz Schilens and Jeremy Kerley.
Negatives: Hill's "shortcomings" have already been well-documented. Like other receivers coming from college option offenses, Hill hasn't been asked to do much more than catch screens, run reverses, block and – most importantly for the Jets – go deep. As a result, he faces a steep learning curve in order to truly become a well-rounded NFL receiver. This includes everything from wrapping his mind around his new playbook to the complexity of NFL defenses to getting off jams and reading coverage on the fly. (None of this is to say he cannot he is not a smart kid who cannot pick all of this up quickly, it is simply to say he hasn't had to do it on a consistent basis yet.) His new quarterback situation is also far from ideal – Mark Sanchez and Tim Tebow – which may only serve to stunt his development and ability to change his reputation as a receiver who dropped as many big balls as he caught in college.
Fantasy Assessment: While it is obvious that rookie success often depends on how wisely a coaching staff uses their new toy, it is particularly true with a raw player like Hill. If new OC Tony Sparano tries to force the rookie into digesting all of his offensive concepts in one offseason after his days in Georgia Tech's option offense, Hill may get frustrated quickly and contribute very little. But if Sparano simply asks Hill to focus on what he excelled at doing in college – stretching the defense – in Year 1, there's a small chance he could match Plaxico Burress' catch and TD totals from 2011. In my mind, Hill couldn't have asked for a better fit in his rookie season. He is certainly as capable as Demaryius Thomas, so if Hill shows he is more durable than his fellow Yellow Jacket alum, he could easily make an instant impact despite being a "one-trick pony".
Fearless late-May prediction (15 starts): 35 receptions for 560 yards and four TDs
13. Rueben Randle, WR New York Giants
2012 Projected Role: Role player.
Positives: This draft featured a number of bigger receivers and it is not a stretch to say Randle could end up being the best of the bunch. For a receiver who is 6-4 and 210 pounds, Randle does a fine job of catching poorly-thrown balls and showed vast improvement in his final year at LSU at reading the defense on the fly and finding the hole in zone coverage. Randle's 33-inch arms and 37-inch vertical jump should help him continue to create big plays at the next level despite his lack of "track speed" and make him an instant red-zone weapon. It just so happens that Randle – the final pick of the second round – enters a situation where will not be fast-tracked to start, but has the supporting cast and scheme that could allow him to contribute immediately.
Negatives: The Giants didn't exactly need another starting-caliber receiver, so it is hard to believe Randle will take the league by storm in 2012 when Hakeem Nicks and Victor Cruz are clearly Manning's first and second option in the passing game. Randle also enters the league with a bit of an "underachiever" tag, although that may be unfair given the quality of quarterback play at LSU. While youth is rarely a bad thing for an athlete, Randle just turned 21 in early May, making him one of the younger players in the league. It is this youth that may explain some of the concerns about his work ethic and inconsistency. Perhaps a solid offseason with pro coaching will help Randle improve in the few areas where scouts were less than thrilled, most notably his ability to sell routes and a lack of physicality.
Fantasy Assessment: The departure of Mario Manningham opened up a spot for Randle to serve as the team's second outside receiver when the Giants use three-WR sets this season. Combined with Nicks' offseason foot surgery, Eli Manning at quarterback and a lack of solid veteran competition behind him on the depth chart, Randle could easily match or eclipse Manningham's 2011 production. Although Nicks played through a number of injuries last season, he hasn't exactly been the model of perfect health in his three years in the league. As a result, the chances are relatively high that Randle will be asked to start at least a game or two this season. It is also not unthinkable to believe that Randle's physical dimensions will help him secure 1-2 more touchdowns than Manningham did in 2011 simply because his size should allow him to thrive more in the red zone than Manningham.
Fearless late-May prediction (three starts): 44 receptions for 520 yards and five TDs
12. Mohamed Sanu, WR Cincinnati
2012 Projected Role: Complementary piece/possible starter.
Positives: Even in a league that values explosive pass plays more than ever, there will always be room for a physical possession receiver who is fearless over the middle. Despite lacking deep speed and playing with three freshman quarterbacks while at Rutgers, Sanu was still able to gain enough separation on a fairly regular basis and will likely play a long time in the NFL because he is durable and dependable, often turning third downs into first downs. Sanu was also insanely productive in his final collegiate season, finishing fourth in the nation with 115 catches, nearly 45% of the team's reception total. There's also a pretty good chance he'll spend most of his time in the slot in Cincinnati, which suits his skill set the best since the position allows him to naturally escape the initial jam from the defensive back and because he is unafraid of the big hit. Additionally, Sanu will have the benefit of working opposite A.J. Green, who figures to be the focus of just about every defensive gameplan for the next 5-10 years.
Negatives: Although he showed an incredible amount of versatility and was his team's best playmaker in college, Sanu is not an explosive player with the ball in his hands – only four of his 210 career catches ended up going for more than 20 yards. Understandably, some of that blame can probably be put on the shoulders of all the young quarterbacks he was forced to catch passes from at Rutgers, but many of those catches were made more difficult by the fact that he doesn't consistently pull away from his defender. While grabbing the majority of contested passes speaks well to his ability to win against a cornerback, it reflects poorly on any draft-worthy receiver if has trouble separating from college defensive backs since their NFL brethren are several times more skilled at mirroring a receiver. In short, Sanu isn't going to alter too many gameplans anytime soon with his ability to get behind the defense.
Fantasy Assessment: For about an 18-hour period between during the second and third days of draft weekend, Sanu appeared to be a lock as the Bengals' next rookie receiver starter, playing the T.J. Houshmandzadeh role in this offense to Green's Chad Ochocinco. That still might eventually become the case, but he's going to have his hands full trying to beat out draft classmate Marvin Jones – Cincinnati's fifth-round pick – for a starting spot and may wind up splitting time in the slot with Jordan Shipley, who is recovering from ACL surgery – when the Bengals go three-wide. My initial thought was that Jones and Sanu would split snaps, but a number of Bengals' coaches and personnel are already sold on Sanu. As the higher-drafted player of the two, it would seem the Bengals would also give Sanu the tiebreaker should their camp battle be declared a draw. If this scenario actually plays out, there is 40-50 catch upside in 2012 simply because he has many of the same traits that made Houshmandzadeh such a high-volume target.
Fearless late-May prediction (15 starts): 51 receptions for 580 yards and five TDs
11. Brandon Weeden, QB Cleveland
2012 Projected Role: Complementary piece/likely starter.
Positives: Were it not for the Drew Henson-like sabbatical that he took en route to the NFL, Weeden could have easily been considered the third-best quarterback prospect in this draft. Unlike a number of college "spread quarterbacks", it's not a stretch to believe Weeden can succeed in the NFL because he has displayed the requisite accuracy, arm strength and decision-making skills that are necessary to perform at the next level. In addition to being one of the most prolific quarterbacks in Oklahoma State history, Weeden instantly steps into a situation where he is the odds-on favorite to claim a starting job early in camp, with only Colt McCoy and Seneca Wallace to beat out. And while his new supporting cast isn't the stuff of legends, HC Pat Shurmur was able to coax a lot of production out of Sam Bradford in 2010 with a similarly talented group.
Negatives: Let's get right back to that supporting cast. For most of the second half of the season, the Browns acknowledged Greg Little was the team's top receiver. While he did post 61 catches in his rookie campaign, he also tied Dwayne Bowe and Brandon Marshall for the AFC lead in drops (12). After that, what other receiver does Cleveland have that can consistently create separation? Obviously, Weeden's age (will turn 29 during the season) could be forgiven if he were "experienced", but despite the maturity he claims is one of his strong points, he is well behind his competition in terms of actual football experience. Unlike the three QBs drafted before him, Weeden isn't all that great of an athlete and suffers when he is asked to run. While he is poised and calm for the most part, he doesn't respond well to pressure in the pocket and will lock onto targets and force throws (which should not have been much of an issue considering the talent he had to work with in Stillwater).
Fantasy Assessment: The argument has been made – and it is a fair one – that Cleveland's current collection of receiving talent has been handicapped by McCoy's inability to throw the deep ball. With that said, it is hard to imagine any single Browns receiver starting for or serving as a major contributor for the majority of offenses around the league. While Shurmur's presence shouldn't be underestimated, Weeden is not the same kind of talent Bradford is either. However, in much the same way Bradford benefited from Steven Jackson in his rookie season, Weeden will receive much less attention from defenses than McCoy ever did due to the presence of Trent Richardson. The arrival of Weeden will also give Cleveland the ability to stretch the field a bit more, but I have my doubts that he will be anything more than a bye-week fantasy option at best this season.
Fearless late-May prediction (15 starts): 312-of-520 for 3290 yards, 16 TD and 15 INT; 22 rushes for 60 yards

Suggestions, comments, musings about the article or fantasy football in general? E-mail me or follow me on Twitter.

---
Doug Orth has written for FF Today since 2006, appeared in USA Today's Fantasy Football Preview magazine in each of the last two seasons and served as a weekly fantasy football analyst for 106.7 The Fan (WJFK – Washington, D.C). He is also a member of the Fantasy Sports Writers Association.