Anyone that has played fantasy football for any length of time understands there is a certain level of anguish we are willing to put ourselves through each fall and winter. On one hand, a person trying to attain something they want should expect some level of adversity. On the other hand, attempting to set a competitive lineup each week around midseason becomes a real challenge when bye weeks compromise a third of your roster and injuries strike at the worst possible time, leaving a team operating with limited bench space even weaker than you could have anticipated.

Injuries are a part of every sport and football is easily the worst offender of the major sports, so it goes without saying that winning a fantasy title is sometimes as much about being the owner who handled adversity the best as it is about being one who drafted the best team. In a season that seems to have delivered enough high-profile injuries, Week 7 was particularly bad for some significant fantasy players and likely affected at least one – if not several – of your teams.

Jay Cutler (torn groin, out at least four weeks) – This was supposed to be the year when Cutler put it all together. New HC Marc Trestman's quick-hitting offense combined with offensive line and skill-position upgrades was working wonders for Cutler, who had been sacked only nine times through the first six games. He was on pace for one of the best seasons of his career in a contract year. Josh McCown cannot be expected to pick up where Cutler left off, but owners shouldn't be surprised if Trestman is able to coax steady QB2 numbers out of him. Owners of Matt Forte or any of the main receivers/tight ends (Brandon Marshall, Alshon Jeffery and Martellus Bennett) should expect to take a slight hit to their players' fantasy numbers, but not so much so where owners should bail.

Sam Bradford (torn ACL, out for the season) – Owners were lukewarm in regards to Bradford prior to his injury, probably due in part to his injury history as well as the Rams' move to a balanced offensive attack over the last month. Unlike some of the other players I will mention in this section, Bradford's loss figures to close the book on whatever value was left in the passing game. New starter Kellen Clemens has enjoyed a moment or two of success in the NFL, but he's easily one of the worst quarterbacks in the league. (In my opinion, there's no doubt recent signee Austin Davis is a much better option.) Perhaps he latches onto Austin Pettis or Tavon Austin as his go-to receiver, but most owners should be able to part ways with Pettis, Austin, Chris Givens and/or Jared Cook in the coming weeks if they haven't done so already in redraft leagues.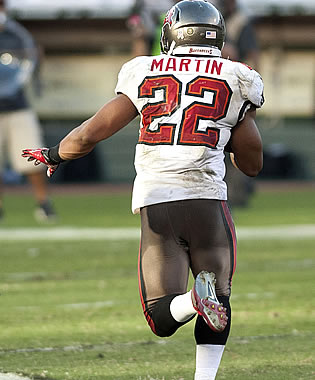 Doug Martin: A return to the field is possible but a return to RB1 status is unlikely.

Doug Martin (torn labrum, out indefinitely – although a 4-6 week return is likely) – A victim of the sinking Bucs' ship, Martin insists he will return at some point this season. And based on some research I've done, the 4-6 week timetable is very possible because his injury is not as devastating to a running back as it would be for a quarterback. While Martin hasn't been nearly as disappointing as some would suggest, there's no arguing the Bucs never found a way to make defenses pay for showing too much attention to him. It probably goes without saying if/when Martin comes back, owners should not expect him to return to the heavy workload he had through his first five full games. Some potential positives as a result of this situation: 1) his dynasty value figures to come down and 2) HC Greg Schiano will likely be fired and the new coach will inherit an offense with a boatload of talent. Mike James, who will replace Martin, is probably capable of matching Martin's 2013 production, if only because defenses will probably spend less time worrying about the run and more time containing Vincent Jackson.

Reggie Wayne (torn ACL, out for the season) – Wayne is probably the toughest player on this list for his PPR owners to replace because he has delivered consistent WR2 numbers all season long; his loss was particularly shocking because he hasn't missed a game since 2001. Wayne's absence obviously drives Andrew Luck's fantasy stock down a bit, but it could open the door for Darrius Heyward-Bey to fulfill his vast potential. While Wayne's injury cannot be viewed as a blessing in disguise, the Colts now have ample opportunity this season to prepare for life after Wayne while also competing for an AFC South title. They also have enough in-house talent at receiver to stabilize Luck's fantasy value, even if it is immature and needs to be developed. GM Ryan Grigson has also established himself as an aggressive executive, so a trade cannot be ruled out even though the Colts have already dealt some of their 2014 draft picks. For now, T.Y. Hilton should become a much more dependable fantasy WR2, DHB has a shot at WR3 value and LaVon Brazill or a couple of practice-squad candidates I'll discuss below will have a golden opportunity to become a second-half star.

Jermichael Finley (bruised spinal cord, out indefinitely) – Few injuries require a visit to the intensive care unit, so "out indefinitely" in this case could mean he is back before the end of the season or could force him to retire in a worst-case scenario. (Ravens LB Jameel McClain suffered a similar injury last December and did not return to the field until this past week.) The Packers will move forward with blocking TE Andrew Quarless and former basketball player Brandon Bostick, but they will likely lean even more heavily on the running game than they were already. With Jordy Nelson and James Jones (when he returns from his own injury) basically locked into starting roles for the foreseeable future, they should be in fantasy lineups every week. The same can probably be said for Jarrett Boykin as well.

Unlike the daily news, there is some good news to report:

- The extra time off from last Thursday's game has reportedly been very good for Larry Fitzgerald's ailing hamstring. With a bye coming up in Week 9, the Cardinals could choose to manage his snaps this week in order to let him come back as healthy as possible for the second half. We are all well aware of his fantasy upside when healthy, so I'd be more willing to buy at 75-80 cents on the dollar rather than sell at that amount with a handful of solid upcoming matchups.

- Percy Harvin's recovery from hip surgery has been swift and remarkable, which basically sums up how he reportedly looked on the practice field earlier this week. He could be back in time for Monday Night Football this week, but owners should watch him first, count their blessings that he made it back so quickly and hope he is ready to recapture top-20 WR form over the next 2-3 weeks.

- Jonathan Stewart admitted to "discomfort" in one of his surgically-repaired ankles as recently as a week ago, but he's on track for a Week 9 return. As one should expect with a player that has been out so long, Carolina will ease him into game action. With that said, he is the most-talented back in the Panthers' backfield and could eventually assume the value DeAngelo Williams currently has in time for the fantasy playoffs.

______________________


This week, I chose to revisit the past. After taking a year off from targets and touches, it is back by popular demand – at least for one week.

The cutoff at each position below is five touches/targets per game. I chose to leave in some noteworthy players who failed to miss the cut to provide some context (such as the void Wayne leaves in the Colts' offense) or because the player should qualify in relatively short order.



Steven Jackson's owners – especially those in PPR leagues – who have been tracking the usage numbers for Jacquizz Rodgers since the ex-Ram suffered his hamstring injury in Week 2 have to be thrilled about his likely return to the field this week. After the Falcons ease Jackson back in this week, he should be expected to step back into 61.5% of the snaps that Rodgers assumed during the four full games he missed. With Atlanta in desperate need of players to take attention away from the injury-ravaged receiving corps, Rodgers collected 24 catches in the four-plus games Jackson missed. Rodgers actually thrived a bit in fantasy during his absence and probably earned himself a more substantial role in the offense, but also proved at the same time he is not a viable long-term replacement for Jackson. While both are very capable receivers, Jackson is a legitimate red-zone threat as a runner as well. Jackson has a string of four particularly daunting fantasy matchups coming up, but is set up for success for the remainder of the fantasy season – particularly if he steps back into a 20-touch capacity and can stay healthy.

Ryan Mathews has gone over 100 total yards in three of his last four games (with the exception being the Week 5 game against Oakland in which he left with a concussion after three carries). If ever there was a time to move Mathews in a trade, now may be that time. Why? For the most part, he has become a situational back who will see the majority of his snaps on running downs and, to a lesser extent, end-of-game situations in which the Chargers are trying to hold a late lead. While he converted a 3-yard touchdown in last week's win, he has been vultured three times by Danny Woodhead and Ronnie Brown inside the 5 and has seven receptions all season long, which means his current level of production probably isn't sustainable. Assuming he remains in the coaching staff's good graces and avoids the mind-numbing mistakes he made in Week 6 against the Colts (running out-of-bounds twice late in the game as San Diego was trying to run clock), Mathews should be a viable flex play going forward. However, one look at the upcoming schedule suggests San Diego may need to throw a lot and that obviously favors Woodhead. Move Mathews along to a running back-needy owner while you still can; there should be at least one or two owners in your league that desperately need a warm body at that position.

Part of the "fun" with fantasy football is tracking the odd usage patterns of running backs. Chris Ivory and Andre Ellington were probably the two backs that epitomized that better than anyone else last week. Ivory's 35 touches against the Patriots were one more than he had over his first five games combined. It is not a surprise that Ivory found a way to cut into Bilal Powell's snaps – it has been stated many times and in many places that Powell is an average talent – but there's little to no evidence to support the notion that a "rusty" Ivory is: 1) better on his 30th carry than Powell would be on his fifth or 10th carry and 2) more likely to hold up for an entire season when his 35-touch day followed three straight games of four touches. As far as Ellington is concerned, it is understandable why HC Bruce Arians views him as a 30-32 snap/game back. What doesn't make a lot of sense, however, is how the rookie managed only five touches in a Week 7 game against Seattle in which Arizona could not run the ball and had Larry Fitzgerald operating at far less than 100%. In fact, it could be argued Ellington was the one matchup advantage the Cardinals enjoyed against the Seahawks.

After watching each of his touches in last week's relief effort against the Falcons, it became clear why Mike James is a backup running back. While that statement is dripping with negativity, the only reason I make the comment is because he lacks explosiveness. He can make a move or two, showed the vision and decisiveness necessary to get what was blocked and caught every pass thrown in his direction, which is about as much as coaches can ask for out of a rookie running back drafted in the sixth round. As most of us already know, any back with access to 15-20 touches per week is worthy of a spot on a fantasy roster. However, it is difficult to imagine James enjoying much success against Carolina (Week 8), at Seattle (Week 9) or versus Miami (Week 10). Based on the research I mentioned above, there is reason to believe he could return after that unenviable three-game set. In short, if you land James and don't own Martin, do it so you can leverage a trade with the Martin owner in your league. James is a sustaining kind of back, not one that should be expected to put up anything more than low-end flex production.



I think it is particularly noteworthy that Vincent Jackson is tied with A.J. Green for the league lead in targets despite having played one less game. Perhaps more impressively, Jackson has 47 targets in the three games Mike Glennon has been his quarterback – three more than the combined total of the four Tampa Bay players who ranks second through fifth on that list.

Whether some people want to recognize buy-low or sell-high opportunities over the course of the season is their prerogative, but savvy owners in competitive leagues owe it to themselves to test the market. "Playing the game" – as I like to call it – has led to my ability to acquire Brandon Marshall and Drew Brees in separate leagues and has greatly contributed to my ability to stay in contention despite some poor luck in terms of the schedule and injuries. Another player that may come cheaper than he did two weeks ago is Torrey Smith, who has posted back-to-back single-digit fantasy point efforts and is heading into a bye this week. As I outlined during my PMA series, Smith didn't figure to take the world by storm with a brutal first-half slate. While he did post 629 yards, he only scored once in Baltimore's first seven games. That knowledge – along with his fantasy totals against "cloud" coverage versus Green Bay and Pittsburgh's Ike Taylor last week – may have his owners a bit frightened that defenses have "caught up" with Smith. Just like any investment, there is some risk involved because Baltimore's running game has been so pathetic that more teams may opt to use cloud coverage against Smith. The fact of the matter, however, is that Smith's second half should be even better than his first. Primary matchups against Joe Haden, Taylor, Charles Tillman and Aqib Talib await Smith over the final eight games of his fantasy season, but he has proved his ability to post solid numbers against Haden already. Tillman has battled injuries all season and Talib is more physical than fast, which plays into Smith's hands if Baltimore simply chooses to send him in motion or use him in bunch formations to avoid press coverage.

Many people expect T.Y. Hilton to become an every-down player in the wake of the season-ending injury to Reggie Wayne. While there is a strong possibility that will be the case, a closer look at Hilton's target numbers reveals he was already receiving Wayne-like opportunities over the last month (36-34) and the Colts have been hesitant to overwork their 5-10, 183-pound wideout. Heyward-Bey saw a season-high seven targets last week, but can we really count on the coaching staff to draw up a gameplan that revolves around his strengths (such as run-after-catch) and less to the team's desire to be a ground-and-pound offense when the offensive line lacks the horses to make it happen? Or does the team get rewarded for sticking with LaVon Brazill through his season-opening four-game suspension? Brazill has the speed to make splash plays like Hilton, although it is a stretch to say he could come anywhere close to emulating his success. Another wild-card is undrafted rookie free agent Da'Rick Rogers (who was let go by Buffalo earlier this summer) and Griff Whalen (who played with Andrew Luck at Stanford). Of the three, Whalen probably has the most going for him given his familiarity with Luck and the offensive system, not to mention reliability (hands as well as no character red flags). Rogers' talent belongs in the league, but teams have been justifiably cool on trusting him given his background. All we know for now is that Brazill has the inside track for significantly more snaps and – as we saw last week with Jarrett Boykin – when a receiver has an opportunity to garner playing time, he is very capable of posting solid fantasy numbers when operating with a top-of-the-line NFL starting quarterback.

Kendall Wright may be the most underrated PPR receiver in fantasy. Since Week 1, Wright has managed at least five catches and 54 yards in every game. It was understandable why he was available on waivers when he entered the season behind Kenny Britt and Nate Washington and even more so after an Opening Week dud, but receivers that consistently post double-digit fantasy totals – even if they aren't eye-popping – are hard to come by; his consistency explains why he currently ranks 23rd at his position. At this point, it is hard to tell if substantial improvement by the running game – which is likely given the Titans' remaining schedule – will lead to more touchdown opportunities for him or not. Either way, it is notable whenever a receiver on any team – much less a running team – draws eight or more targets in four consecutive weeks. Further consider that Tennessee's last three opponents were Kansas City, Seattle and San Francisco – a pretty long stretch of formidable pass defenses – and Wright still managed 20 catches for 241 yards. The Titans won't pass the ball enough down the stretch for Wright to become the 2013 version of Cecil Shorts, but he is set up for a lot of success after this week's bye with no opponents that compare to the defenses he has seen lately. As a fearless receiver with deep speed and an increasing number of targets, he warrants a spot in every league regardless of format and should be considered a strong WR3 with WR2 upside.

One of the harder-to-believe contracts handed out to a free agent last spring was the one Miami gave Brandon Gibson. But while Mike Wallace (50 percent catch rate) and Brian Hartline (60.8%) draw the majority of defensive attention on the outside, few receivers boast the catch rate of Gibson, who has receptions on 70.7% (29-of-41) of his targets. (For some perspective, Wes Welker's catch rate stands at 71%.) Gibson is hardly a special talent, but he's doing enough to warrant a bench spot in most leagues. While a repeat of his two-score effort last week is highly unlikely, he has eight targets in three of his last four games and is typically one of the two receivers closest to Ryan Tannehill. It is something to remember because Tannehill operates behind a line that has surrendered 26 sacks. In other words, Gibson is working in some prime real estate until Miami solves its pass-protection issues.


Jimmy Graham (9.8) and Jordan Cameron (9.0) are the only two consistently healthy tight ends averaging at least nine targets, but I have a bad feeling Cameron is about to take a bit of a hit when it comes to fantasy value. For those of you who have tracked Cameron's production (or watched Browns' games since Brandon Weeden "reclaimed" the starting job), it will come as no surprise that Cameron mustered most of his production in garbage time over the last two games. While fantasy points are created equal regardless of when they are scored, it is a bit concerning that was the only time he was truly a big part of the offensive attack. I suppose the argument can be made the switch to Jason Campbell can't hurt an offense whose quarterback was completing only 52.8% of his passes, but my lasting image of Campbell was basically rendering every one of the Bears' offensive players ineffective last season. I suppose Campbell could one-up Weeden by starting garbage time a bit earlier and make his living by hitting Cameron on the same five-yard drag patterns that helped boost the tight end's fantasy numbers last week, but I can't imagine Campbell's presence being a good thing for Cameron. Either way, it's been a while since I've seen Campbell push the ball down the field with any sort of effectiveness, which takes away the strengths of both Josh Gordon and Cameron. In the one money league in which I have played Cameron all season, I will now turn to Jordan Reed for the foreseeable future.

For those of you who took the Tim Wright plunge last week, it wasn't a one-week recommendation. The undrafted rookie free agent saw a season-high 45 (out of 86) snaps last week, staying right in line with the same percentage of snaps (52%) that he has seen since he began to see regular playing time in Week 3. Obviously, the two-catch, three-target performance wasn't what I (or anyone else that rolled with him) expected, but he is clearly the passing-down tight end on a team that will be airing it out quite a bit. Although Tampa Bay's next two opponents have defended the tight end well, it is important to remember Wright is essentially a receiver masquerading as a tight end. Over the next two weeks against defensive-minded Carolina and Seattle, it will be important for Mike Glennon to get the ball out quickly. I wouldn't recommend starting him against the Panthers when athletic OLB Thomas Davis figures to see a lot of him in coverage, but Glennon may have no choice but to go his way against the Seahawks with their standout cornerbacks defending Vincent Jackson and Mike Williams. After that two-game run, each of the Bucs' next three opponents appears to be a plus-matchup for opposing tight ends.


Suggestions, comments, about the article or fantasy football in general? E-mail me or follow me on Twitter.

---
Doug Orth has written for FF Today since 2006 and appeared in USA Today's Fantasy Football Preview magazine in 2010 and 2011. He is also the host of USA Today's hour-long, pre-kickoff fantasy football internet chat every Sunday. Doug regularly appears as a fantasy football analyst on Sirius XM's "Fantasy Drive" and for 106.7 The Fan (WJFK – Washington, D.C). He is also a member of the Fantasy Sports Writers Association.