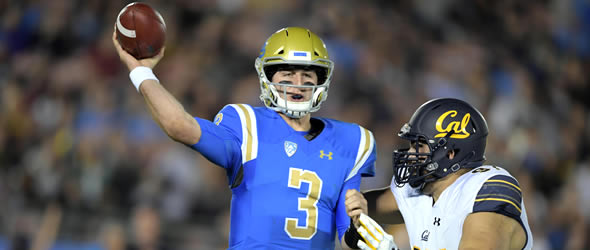 Josh Rosen is the most ready of this year's crop of quarterbacks to start right away.




Vitals



College: UCLA
Height/Weight: 6'4"/226
Hands: 9 7/8"



Important NFL Combine Numbers



40-Yard Dash: 4.92
Vertical Jump: 31"
Broad Jump: 9'3"
20-Yard Shuttle: 7.09
3-Cone: 4.28



Bio/Background

(College Stats)

Father was once a nationally ranked ice skater and mother was once the captain of the Princeton lacrosse team.


Made the change from tennis to football right before high school, leaving the former despite being ranked as the No. 1 player for his age group at 12.


First true freshman to start at quarterback for the Bruins in a season opener.


Won Pac-12 Freshman of the Year in 2015 after setting at least 11 school records (game or season), finishing with 3,668 yards passing and 23 touchdowns.


Underwent right shoulder surgery after his sophomore season and suffered two concussions in 2017, causing him to miss a total of eight games over his college career.


Led the Pac-12 in passing yards per game (341.5) and total offense per game (332.6) in 2017.
High-end NFL Player Comp(s): Matt Ryan
Low-end NFL Player Comp(s): Nick Foles
Best Scheme Fit: Rhythm/timing-based offense willing to use a lot of play-action; Rosen executes the play-action pass better than most college prospects.

Note: All times listed in parentheses in strengths/weaknesses section reflect the start time on video - via Draft Breakdown - that displays that skill/trait.
Strengths
Effortless throwing motion and excellent mechanics; displays exceptional balance and generally moves around in the pocket on a need-to basis without drifting into pressure.


Seamlessly moves through his progressions inside the pocket.


Throws with anticipation and has a very good feel for how much touch he needs to put on every throw. (0:58, 2:14, 2:19, 2:32, 9:56, 10:56, 14:13)


Possesses the accuracy to throw his receiver open/understands the importance of ball placement; throws the back-shoulder as well as any quarterback in this class. (0:11, 0:41, 2:19, 5:38, 6:32, 9:10, 9:55)


More than serviceable arm strength from the pocket. (0:58, 2:14, 2:25, 3:11, 4:07, 4:52, 5:53, 6:32)


Seems to love throwing over the middle of the field and typically threads the needle on those passes when comfortable inside the pocket. (2:32, 3:13, 8:47, 10:11, 10:34)


Executes the play-action fake at a high level and has plenty of experience working in pro-style offense (under center over 30 percent of the time in 2017).
Concerns
Forces the action too often; needs to be able to come off the primary receiver on shot plays and/or throw the ball away more often when the rush closes in. (4:46, 6:48, 7:29, 8:16, 9:38, 12:15, 13:29)


Shows a tendency to throw late over the middle of the field, sometimes even after buying more time following an escape from the pocket. (2:41, 4:46, 8:06, 9:38, 13:36)


Can move the chains with his feet but will not scare defenses with his running ability. (7:33, 7:49, 11:30, 13:04)


Durability.


How many of his "bad decisions" and injury issues were a result of the situations UCLA's poor running game and miserable defense put him in?
Bottom Line

While there appears to be no problems with him off the field per se, Rosen could supposedly be difficult to coach, may lack passion for the game and/or may lack leadership qualities. Some NFL decision-makers reportedly also don't like the fact he comes from an upper-class family and doesn't "need" football. What seems hard to believe is that any "spoiled brat" would have worked at his craft long enough to master tedious fundamentals such as footwork, put the necessary work in to come back from season-ending shoulder surgery or return from the first of his two concussions in 2017 after one week if he didn't love the game. The fact Rosen is so fundamentally sound despite his late transition from tennis to football tells me pretty much everything I need to know about his work ethic. As far as "leadership qualities" and passion are concerned, he seemed to have plenty of both leading UCLA back from a 44-10 deficit late in the third quarter in the season opener. On more than one occasion, Rosen has spoken his mind about something he was passionate about … is that what will make him hard to coach? Part of the responsibility of being a quarterback (or a good leader, for that matter) is having the guts to say the unpopular/uncomfortable thing and speak your mind. That is a quality talent evaluators should want in quarterback prospects.
Evaluating Rosen solely on his 2017 tape may not be fair to him either. He was pressured on 30 percent of his drop-backs and receivers were charged with 43 drops, per Pro Football Focus. While he may not have a cannon attached to his right shoulder, his arm strength woes have been vastly overstated. His arm strength (which is an overrated quarterback trait anyway) is easily good enough when his feet are set, as NFL teams rarely need their quarterback to throw more than 50 yards in the air anyway. If there is one time when arm strength is an issue for him, it is when he is asked to throw intermediate to deep passes on the run. Unlike some of the other top-flight quarterback prospects in this draft, Rosen operates best within the structure of the play and suffers once it breaks down.
Rosen lacks the upside of some of his other highly ranked classmates since he is so refined in most of the areas he needs to succeed at the next level and doesn't have a lot of control over improving the areas that are his biggest weaknesses (mobility, off-platform throws, etc.). Like most young quarterbacks entering the league, he needs to understand the defense is going to win on occasion and live to fight another down. He appears to be a student of the game, so if he simply cuts down the number of times he forces the action, he is going to be a solid NFL starter at the very least and the least likely quarterback prospect to bust. To what degree he can become a top-flight signal-caller will obviously depend on scheme fit and how quickly he can correct/mask his aforementioned issues. Find an offense/scheme that can protect him and give him two capable pass-catchers, and he should light it up. Put it all together and Rosen can be considered a plug-and-play quarterback; he is the most ready of this year's crop of quarterbacks to start right away.

---
Doug Orth has written for FF Today since 2006 and been featured in USA Today's Fantasy Football Preview magazine since 2010. He hosted USA Today's hour-long, pre-kickoff fantasy football internet chat every Sunday in 2012-13 and appears as a guest analyst on a number of national sports radio shows, including Sirius XM's "Fantasy Drive". Doug is also a member of the Fantasy Sports Writers Association.