We have reached the final leg of our journey. With my NFL.com Playoff Challenge biting the dust thanks to a weekend tainted by one memorable no-call in the Saints-Rams game and an inability by the Chiefs to solve the riddle of the Patriots, we'll get right into the pick-your-studs portion of my final column of the season.



NFL.com Playoff Challenge



NFL.com Playoff Challenge Roster
QB: Tom Brady (x1)
RB: Todd Gurley (x4)
RB: James White (x1)
WR: Julian Edelman (x1)
WR: Brandin Cooks (x1)
TE: Rob Gronkowski (x1)
K: Greg Zuerlein (x1)
D/ST: Patriots (x1)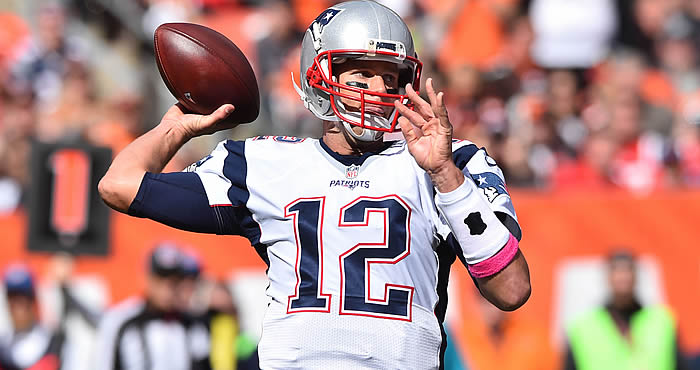 DraftKings/Fuzzy's
With DraftKings bowing out (with the exception of its "Showdown" offering), we are left with only the traditional playoff pick-your-studs leagues that are wrapping up this weekend.
Because there is only one game this week, I want to use the rest of my time to provide my readers with the kind of analysis one should expect in advance of the biggest game of the year. Enjoy.
Key for quarterbacks, running backs, receivers and tight ends:
P Yds - Passing Yards
P TD - Passing Touchdowns
INT - Interceptions
Ru Yds - Rushing Yards
Ru TD - Rushing Touchdowns
Rec Yds - Receiving Yards
Rec TD - Receiving Touchdowns
Rec - Receptions
Quarterbacks
Player
Fuzzy
P Yds
P TD
INT
Ru Yds
Ru TD
Tom Brady
23.2
330
2
1
0
0
Jared Goff
13.8
270
1
2
10
0

Tom Brady - Perhaps the most frustrating part of watching the Patriots make another Super Bowl run this season - for those of us tired of seeing New England in the Super Bowl year after year - is the fact no skill-position player strikes much fear into opposing defenses anymore. Despite Brady's gaudy attempt (90) and yardage (345.5) totals through two playoff games, the Patriots have evolved into a team much more reliant on a power running game than one solely dependent on his right arm. When New England turns to the pass, it is methodically picking apart defenses with chain-moving throws as opposed to getting "chunk plays." Phillip Dorsett is the closest thing the team has to a field-stretching threat, while defenses consistently show an inability to understand the Patriots will pass roughly 75 percent of the time when James White is in the game and run about 75 percent of the time Sony Michel is on the field.

The sight of White coming onto the field in particular should make coaches want to shift immediately to nickel or dime personnel in order to make sure their defense has either at least a safety (or better yet, a cornerback) whose sole responsibility is to take away White. (This doesn't happen as often as it should.) Especially in light of how quickly Brady gets rid of the ball, opponents should at the very least use a defensive end to bump White off of his course during the pass rush - a strategy the Patriots made famous in 2001 when they executed it against Marshall Faulk. (I don't recall ever seeing White having to adjust his route because a lineman "chipped" him.) Julian Edelman is the only receiver New England has that consistently gets open quickly, yet opponents continue to give him free releases at the line. Think about it: if Brady is consistently getting the ball out of his hands in about two seconds, it means the offense is based on timing. Even if a defense only slows down a player such as Edelman and White for a half-second, they stand a much better chance of lowering Brady's success rate while increasing their odds of putting pressure on him. Even at 41 years of age with little mobility and virtually no field-stretchers at his disposal, the aura of Brady still scares defensive coordinators to the point where they are afraid to get burned by him, so they play it safe and get picked apart instead.

The Rams present an interesting matchup for the Patriots in that Brady has struggled this season when he was deemed to be "under pressure" by Pro Football Focus, ranking 16th in the league among quarterbacks who played at least 10 games with a 72.2 QB rating (including playoffs). Fortunately for Brady & Co., Rams DC Wade Phillips hasn't shown much of a propensity to switch up potential matchups in order to gain an advantage. As a result, his defense can be had at slot corner (Nickell Robey-Coleman) and linebacker (Cory Littleton). To be fair, Littleton was very solid in coverage in 2018, but the Saints repeatedly used Alvin Kamara on option routes against him in the NFC title game. Expect Pats OC Josh McDaniels to do the same thing with White. Los Angeles also struggled to contain good tight ends this season, so Rob Gronkowski should be able to have an impact as well.

Jared Goff - While Goff made some nice throws in the NFC Championship and was able to find a way to deal with the raucous Superdome crowd, he still has much to prove in terms of being a good, much less great, quarterback. It's important to remember it took the Rams making New Orleans settle for two first-quarter field goals on short fields on the Saints' first two possessions as well as a fake punt to work from the LA 30 for the infamous blown pass interference call to matter. Goff survived the NFC Championship after riding the ground game the week before. In other words, he really hasn't been asked to do much (and certainly hasn't carried the offense) since the 54-51 shootout win versus the Chiefs in Week 11. As much as his supporters believe he is already a stud, the fact of the matter is that Goff has completed 58.6 percent of his passes, averaged 232 yards and posted a 7:8 TD-to-INT ratio (with four of those touchdowns coming in Week 17) in the seven games since the Rams played Kansas City. While his overall 2018 numbers say Goff has taken a step forward, it's pretty clear he certainly hasn't improved over the last two months. In my opinion, he's actually regressed quite a bit.

The fact the Rams are still playing is a reflection of HC Sean McVay being able to create offense. Goff should have access to the entire playbook again in the Super Bowl after the noise in the Superdome effectively eliminated the jet sweep (and all the action Los Angeles runs off of it), but McVay will need to be at his creative best in order to give his quarterback a running game after the Patriots have squashed the likes of Melvin Gordon and Damien Williams in consecutive weeks. If there is one thing working in Goff's favor, it is that McVay's offense uses many of the same principles of one of his mentor's (Mike Shanahan), utilizing the quarterback on a deep rollout after play-action in an effort to buy more time. HC Bill Belichick's teams often struggled against Shanahan's offenses in part because they could always run the ball and find a way to hit big plays off of play-action. If the Rams are going to win, it will almost certainly be in part due to their ability to replicate the formula.




Patriots running backs -

For anyone who needed the statistical proof that New England's offense is keyed by a physical running game, Sony Michel has attempted an NFL-high 53 runs through two playoff games. If he was only used in the passing game a bit more - he caught his only target for nine yards against the Chargers in the Division Round - his fantasy production would likely dwarf everyone else at his position. White's 19 catches also pace the league, regardless of position. These gaudy numbers are due in part to the ridiculous number of offensive plays the Patriots have executed this postseason (78 versus the Chargers, 94 against the Chiefs), but they are also indicative of the team New England is this season. Until defenses start committing the resources necessary to hold Michel to three yards or fewer on early downs and enlisting the help of a safety/cornerback on James White when he enters the game, opponents of the Patriots will continue to get pounded into submission by Michel or picked apart by White. Michel has touched the ball on 31.4 percent of the team's offensive plays in the postseason and barely plays on known passing downs. White has logged a total of 71 snaps in the two games and been targeted or carried the ball 25 times (35.2 percent).

In short, there's not a ton of mystery who is getting the ball when either player is on the field. The problem: New England is executing at a high level and getting exceptional line play. It helps the cause the Patriots have faced one defense who refused to play anything but zone (Chargers) and another defense that seemingly appeared to be in shock that the Patriots would dial up run after run on a cold winter day in an effort to keep the league's most explosive offense off the field (Chiefs). Teams also continue to live in fear of Tom Brady even as most of the NFL world has acknowledged he doesn't have the playmakers at his disposal he once did.

Rams running backs - The biggest mystery of the postseason to this point might be how Todd Gurley could be "sorry" one week after appearing to be mostly in pre-injury form versus the Cowboys. C.J. Anderson has been much more active and productive than anyone could have imagined a month ago, but it should be noted he only has 42 more rushing yards than Gurley despite 19 more carries and sports a dramatically lower yards-per-carry average (4.3) than Gurley (6.3). In other words, Anderson hasn't outplayed Gurley so much as he has greatly surpassed expectations and not committed a critical error.

So why hasn't Gurley been better and/or utilized more often since he is clearly the better player? First and foremost, the Rams haven't been near as reliant on the passing game since Week 11 - one area in which Gurley holds a clear advantage over Anderson - and leaning more heavily on the ground game, presumably in an effort to make Jared Goff as comfortable as possible (or hide him). Secondly, Anderson possesses "fresh legs" and has given the offense a physical presence in between the tackles. Last but not least, it is entirely possible the Rams simply don't feel compelled to tell the media Gurley suffered some kind of minor setback with his left knee.

Whatever the reason, there's almost no chance Los Angeles can win this Super Bowl unless Gurley is the kind of factor fantasy owners have become accustomed over the last two seasons. Not only does he have a great matchup as a receiver out of the backfield, but the Patriots also don't have the kind of athleticism necessary to stay with him when he lines up out wide. And while New England didn't give up much to Damien Williams on the ground in the AFC Championship, the Patriots had no answer for him as a receiver. If McVay is the tactical offensive genius many believe he is, it would only make sense if the Rams used Gurley in a similar fashion.


Julian Edelman vs. Nickell Robey-Coleman/Aqib Talib - Just like every non-quarterback offensive position in New England, all hands on deck contribute to the cause. Receivers tend to cycle through the various receiver spots, much like they do for the Rams. Edelman has actually lined out wide 85 times and in the slot 84 times through two playoff games, so it's a pretty fair bet he'll see about an equal amount of slot CB Robey-Coleman and LCB Talib, who doesn't shadow in Wade Phillips' defense. Robey-Coleman graded out well in coverage early in the season but has been more miss than hit since the memorable shootout on Monday Night Football against Kansas City. Talib has been pretty solid since his Week 13 return, although the NFC Championship coverage grade was well below his season average. Still, the Patriots will likely be more inclined to see if Robey-Coleman can stick with Edelman first before testing Talib or Marcus Peters. One thing should be for certain: New England will find what it believes is the weak link and make sure Edelman gets a few cracks at him. For that reason, it wouldn't be a surprise if Peters ends up being the primary defender against Edelman. No matter what the Rams do from a matchup standpoint, it's hard seeing Edelman being anything but the primary option for Brady.

Phillip Dorsett vs. Aqib Talib - Dorsett is riding a three-game touchdown streak but has posted middling yardage totals in those contests, so he's definitely still a boom-or-bust option. The smartest move the Patriots can make here is sacrificing Dorsett by giving him the most snaps on the right side and take advantage of Talib not moving from the left side of the defense. Dorsett will also see quite a few snaps in Marcus Peters' coverage if only because New England moves all of its receivers around the formation on a regular basis. If Dorsett scores for a fourth straight time, it will likely happen on one of those 20 or so snaps he's lined up on the left side of the formation. That possibility is not enough of a reason to get excited about using him in fantasy, however.

Chris Hogan vs. Marcus Peters/Nickell Robey-Coleman - Hogan has been the lite version of Edelman from a usage and playing time perspective during the playoffs, logging an average of 27.5 snaps in the slot and 46 snaps out wide. As has been the case for the bulk of the season, playing time hasn't been Hogan's problem; getting Brady to target him consistently has. Seeing as how Peters has been Los Angeles' lowest-graded starting corner this season, perhaps it is time for Hogan to make his presence felt. The 6-1, 210-pounder also enjoys a five-inch and 30-pound advantage over Robey-Coleman (5-8, 180), so he has that working in his favor as well when he lines up inside. Another feather in Hogan's hat is his recent involvement; Week 17 (11 targets) and the AFC Championship (seven) are two of the three games in which his target totals were at their highest this season. With that said, he's only scored in two games this year and been unable to top 78 yards receiving in any of them, so the odds are that he will need a touchdown to be worth using in fantasy.

Robert Woods vs. Stephon Gilmore - Ever since Cooper Kupp was lost for the season in Week 10, there has only been one game in which Woods logged fewer than 30 snaps in the slot. Only twice in that span did he see more time out wide than he did than inside. The Rams move their receivers across the formation as much as any team and utilize three-wide formations as much as any team, but the concern here is that New England is moving its defensive backs inside and out recently as well. For example, Gilmore spent about as much time in the slot versus the Chargers in the Division Round as he did on the outside, meaning he followed Keenan Allen pretty much the entire game. Tyreek Hill was not targeted in his coverage during the AFC Championship either. Usual slot CB Jason McCourty saw only seven snaps inside in the AFC Championship, whereas Jonathan Jones (21 times), Gilmore (18) and J.C. Jackson (15) were in there more often. Does it mean McCourty got benched in favor of Jones? Is Gilmore now more of a shadow in the form of the Broncos' Chris Harris Jr. - the rare elite cornerback who travels inside? Both are possibilities.

Regardless, the recent development of Gilmore playing more often in the slot figures to be bad news for Woods. The Patriots have long used their top corner against the supposed No. 2 receiver and given their No. 2 cornerback safety help against the other team's top wideout. While Cooks may not necessarily be the No. 1 with the Rams, he is their big-play threat, making him the most likely to draw safety help. A case can be made that Gilmore will line up across from Cooks more often given the fact they practiced against each other in Cooks' only season with the Patriots in 2017, but HC Bill Belichick's history suggests that won't be the case. At any rate, owners hoping for a big game from Woods should be betting on McVay's scheming and Woods' talent over the matchup if they plan on starting him this week.

Brandin Cooks vs. J.C. Jackson - Whether this projected matchup actually happens depends almost entirely on whether Belichick and defensive play-caller Brian Flores agree with the logic I presented above about keeping Cooks in front of them and using their top corner to shut down Woods as much as possible. The difference between Cooks and the majority of NFL receivers with his kind of blazing speed is that he is also a fine route-runner, so McVay and Goff need to take advantage of this if the Patriots force them to use a steady diet of Cooks underneath. Jackson played well for the bulk of his rookie campaign, but he turned in his worst performance of the season against the Chiefs, giving up four catches, 89 yards and a touchdown on seven targets. While he held up well the week before against the Chargers, the combination of Tyrell Williams, Mike Williams and Travis Benjamin accounted for five receptions and 67 scoreless yards on 12 targets in Jackson's coverage.

The Chargers' game seems like a pretty obvious nod that my matchup prediction is accurate. This much appears to be clear: owners who correctly which receiver will see the most of Jackson's coverage will probably also correctly predict the Rams' most valuable fantasy receiver. Why? Giving Jackson safety help over the top isn't going to help him nearly as much against Woods because that not typically where Woods does his damage, whereas Cooks is liable to strike for a 40-yard play the one time he gets a step or two on his man downfield.

Josh Reynolds vs. Jason McCourty/Jonathan Jones - My initial projection had Gilmore lining up against Reynolds, but there's not a lot of recent evidence from the New England side to support that possibility. Contrary to popular belief that he has been strictly an outside receiver since Kupp's injury, Reynold's inside snaps have ranged from 12-22 since the Week 12 bye. With all due respect to Reynolds - he's established himself as a more than serviceable outside threat - he's not Cooks or Woods, so New England would essentially be wasting Gilmore by using him in primary coverage against the second-year wideout. To that end, Reynolds amassed all four of his catches (for 74 yards) against safeties and linebackers in the NFC title game, so it would be premature to say his production in that game may have been the start of something or sustainable versus a team that likes to play press coverage as much as the Patriots.

Regardless if he sees more of McCourty or Jones, it goes without saying Reynolds has the best matchup among Los Angeles' receivers. However, he is clearly still fourth in the pecking order behind Woods, Cooks and Gurley. Given the lack of speed the Patriots have at linebacker, it is possible Reynolds could be the surprise fantasy star from this receiving corps should New England find itself with a bad matchup when the Rams motion Woods or Cooks across the formation. However, since the Patriots rarely beat themselves, counting on such an occurrence and playing him over one of his two more esteemed teammates would be a low-percentage roll of the dice at best.


Rob Gronkowski - Will Super Bowl LIII be the last we see of Gronkowski before he heads off into the sunset? Only time will tell. He showed he still had something left against the Chiefs, most notably his 15-yard catch in Eric Berry's coverage on a third-and-10 on the overtime drive that led to Patriots' game-winning score. Gronkowski finished with six catches on 11 targets for 79 yards in the victory, leaving him to face a Rams defense that ranked 10th during the regular season in terms of allowing the most fantasy points to tight ends. Considering Los Angeles has the advantage on the outside receiver matchups (Dorsett-Talib, Hogan-Peters), it would be foolish for New England to let that potential advantage go to waste. Can we expect the 9-116-2 line Gronk posted in last year's Super Bowl? Of course not. However, he's the best bet at his position in this game, especially since Higbee splits time with Everett at a position which doesn't get a lot of love at the moment in McVay's offense.

Gerald Everett/Tyler Higbee - Higbee owns roughly a 2:1 edge in terms of snaps for the season, although it should be noted Everett played more against the Saints (46-38). With that said, the usage of this duo figures to be determined during the course of the game, as Higbee is the stronger blocker and Everett is the more dynamic receiver. In theory, Everett could be a savvy fantasy play if McVay can scheme up some plays which force 1-on-1 opportunities against New England's linebackers. He would also be the most likely standout of the Rams' tight ends should Los Angeles be forced into negative game script. On the other hand, if the Rams enjoy success running the ball, it would figure that Higbee will own a substantial snap advantage. His upside is limited, however. Only once all season has he topped 40 yards, and Higbee has only scored a touchdown in three of 16 games.

Key for kickers and defense/special teams units:
XP - Extra point
FG - Field goal
PA - Points allowed
TD - Defensive/return touchdowns
TO - Total turnovers
Bonus - Points allowed bonus



Defense / Special Teams
Team
Fuzzy
PA
Sacks
TD
TO
Bonus
Patriots
7.0
23
3
0
2
0
Rams
3.0
27
1
0
1
0



Coaching -

Here is exactly what I said in regards to Belichick in this space last season (and I obviously think all of it still applies): "Belichick's coaching resume and prowess cannot be overstated. During the Patriots' most recent run of postseason success, they are rarely the most talented team in the playoff field. They are, however, the one who typically makes the fewest mistakes while also winning the battle of "hidden yards." Using a boxing analogy to sum up their offensive and defensive approach, they make teams who wait for 8-10 rounds to deliver an uppercut try to win on jabs and body blows and force the light hitters to try and go for the uppercut." With that said, the Rams are the rare fighter that can win on points or by TKO, making them a difficult offense to defend - even for Belichick and Flores.

Two years into his head coaching career, McVay already has a coaching tree. Team owners and fans will soon learn simply being in his presence isn't enough to make his assistants head-coaching material, but that's a topic for another day. (Hint: McVay is a football guy who also learned how to be a leader of men early in life.) Although it is much too early to say for sure (and irresponsible for anyone to say with any degree of certainty in 2019), it would not surprise me if McVay is revered in the same way for his impact on the offensive side of the ball in much the same way Belichick is on defense now in about five or six years. The Rams have been quite aggressive under McVay, and it will take that to topple the Patriots in this game. Los Angeles is bound to make more mistakes during the game than New England, so the Rams must be able to compensate by converting on third down and be unafraid of forcing the issue on fourth down. DC Wade Phillips could help the cause by mixing things up a bit more than he has to this point. The biggest thing, however, is that neither McVay nor Phillips lives in fear of Brady.

Summary

New England enters this Super Bowl with a strong secondary, so the Patriots' relative lack of a pass rush (36 total sacks, including six in the playoffs) is not as big of a deal as it was last year when the Patriots had substantial questions at cornerback even before Malcolm Butler's benching. Belichick and OC Josh McDaniels will almost certainly stick with the same formula that got the Patriots to this point: run Michel relentlessly, use tempo to wear down the defense and chew clock. Conversely, the Rams must show the same kind of determination to stuff the running game they did against the Cowboys and Saints and be willing to go toe-to-toe with Brady in a shootout.

On Los Angeles' side, Gurley needs to recapture the form he showed before his knee injury because the odds the Rams are going to win will be long if Anderson is forced to carry the running game. It would also behoove Phillips to take a page out of the Patriots' playbook when it comes to playing press coverage. As for the front seven, the answer is not necessarily to blitz more, but rush more creatively (i.e. run more defensive line stunts on likely passing downs). Opponent after opponent tries to rush four against Brady while playing off coverage. Safe and conservative doesn't work versus a player as smart and sharp as Brady who has been in the same offense for nearly two decades.

The key to beating this year's Patriots is doing what they want to do better than they do it. Run early and often. Start fast. Chew clock. Make New England uncomfortable inside the red zone and force the Patriots to settle for field goals when they get there. Make Brady beat you late but doing everything in your power to build a two-score lead so your defense doesn't fall into the "here-goes-Brady-again" mentality. The 2019 Patriots are not a great team by any means, just one who plays smarter and play to their strengths longer than their opponents - just like many of the recent editions.

Super Bowl Prediction: Patriots 27, Rams 23

---
Doug Orth has written for FF Today since 2006 and been featured in USA Today's Fantasy Football Preview magazine since 2010. He hosted USA Today's hour-long, pre-kickoff fantasy football internet chat every Sunday in 2012-13 and appears as a guest analyst on a number of national sports radio shows, including Sirius XM's "Fantasy Drive". Doug is also a member of the Fantasy Sports Writers Association.