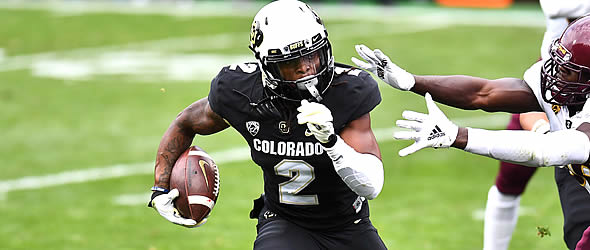 Predict the top ten picks of the NFL Draft for a chance to win FFToday prizes. Enter our NFL Draft Contest.
Vitals
College: Colorado
Height/Weight: 6' 1"/ 227
Hands: 9"
Important NFL Combine Numbers
40-Yard Dash: 4.58*
Vertical Jump: DNP
Broad Jump: DNP
20-Yard Shuttle: DNP
3-Cone: DNP
* - Barely trained for NFL Combine due to a core muscle surgery that bothered him throughout 2019. He opted for surgery shortly after the combine.

College Production (Stats)

High-end NFL Player Comp(s): Sammy Watkins
Low-end NFL Player Comp(s): A more athletic Mohamed Sanu
Best Scheme Fit: As an X/slot in a West Coast offense to accentuate his run-after-catch ability.
Strengths
Built like a linebacker and offers extraordinary mismatch potential with the ability to line up at receiver, running back, Wildcat quarterback or H-back.


Generally seems unfazed by contact after the catch and often transforms into a big running back with the ball in his hands. (0:00, 0:36, 0:47, 0:55, 1:32, 2:16, 2:47, 10:00)


A natural hands-catcher who plucks the ball easily on throws outside of his frame. (0:57, 1:44, 1:54, 5:28, 8:49, 12:18)


Appears to track the contested ball almost effortlessly at times. (0:00, 0:43, 2:07, 5:28, 8:49, 13:19)


NFL Combine speed does not do him justice (1:32, 2:04, 2:05, 8:49, 13:19); eats up a defender's cushion quickly and rarely gets caught from behind once he gets into the open.


Possesses the field awareness to work back in "scramble mode" and ability to make his quarterback look good on a bad throw. (0:00, 0:09, 2:50, 6:50)


Plays with power when asked to run inside or serve as a Wildcat quarterback. (0:08, 0:43, 2:16, 8:22, 9:44, 10:12)


Football IQ repeatedly displayed in his versatility and awareness to sit down against zone coverage.
Concerns
Durability (missed four games over the last two years) and injury history; a turf toe and torn labrum in his shoulder needed surgery in 2018, his aforementioned core muscle injury also required surgery.


Route tree very underdeveloped; ran mostly go, screen, hitch and flat routes.


Hasn't learned (or been taught) to maximize his strength throughout the route and can be inefficient with the economy of his steps. (1:24, 6:50, 9:21, 10:57)


Bottom Line

Because Shenault was used in such a gimmicky way during his breakout 2018 season, he is generally regarded as a gadget player. He was used more traditionally in 2019, but Colorado utilized him much less frequently in the slot as a junior, robbing him of the free releases and push-pass opportunities that highlighted his sophomore campaign. It's fair to wonder if he had been asked to focus primarily on being a running back if he could have been a top-five prospect at that position. Had he been used primarily as a wideout and sprinkled in everywhere else, perhaps his route-running would have been refined enough to make evaluators drool about the possibility of him becoming an alpha NFL receiver as a rookie. Instead, he became more of a jack of a lot of trades and a master of none. So, was he schemed because the Buffalos' coaching staff believed Shenault's biggest contribution to the offense was being "eye candy"? Was the coaching staff trying to hide a shortcoming of his? Or was his usage coaching incompetence (i.e. they had no idea how to help him maximize his wide array of physical gifts)?
Shenault has the same kind of physical dimensions now that Dez Bryant and Larry Fitzgerald had entered the league with, yet Colorado regularly used him as a space player in between the 20s and as a Wildcat quarterback in short yardage. Despite this, he was anything but overmatched. Think about that for a second: a receiver powerful enough to be a preferred goal-line option as a runner and a 230-pound "space" player winning in contested-catch situations much more often than he lost (14 of 22 over the last two seasons, per Pro Football Focus). Perhaps the only thing that is clear at the moment is that it is almost impossible to evaluate Shenault as a typical receiver prospect.
Fit and situation will be more critical to Shenault than most prospects in terms of whether he comes anywhere close to realizing his potential. The case can be made his production dropped in 2019 because he was used more traditionally, but isn't it more likely his September core muscle injury and a lack of refinement of playing the receiver position had a much bigger effect? If it wasn't already clear, Shenault is in the odd position of needing a lot more time to develop while also being such an obvious talent that it would be a waste to treat him merely as a gadget player - he is so much more than that - just so his next team can get some kind of immediate offensive contribution. A coach capable of or willing to invest into him long-term could have himself a true matchup nightmare that could serve as a goal-line back in the Wildcat, a deep threat, a red zone maven, a run-after-catch monster in between the 20s and maybe even an "F" tight end on a rare occasion if his new team really wants to tax the defense. A coach needing a receiver now to potentially save his job will likely be disappointed. Again, fit and situation are going to be huge. The right situation could result in Shenault being a poor man's Julio Jones (or at least a reasonable facsimile of Watkins) five years down the road. The wrong one could give the league another Cordarrelle Patterson.

---
Doug Orth has written for FF Today since 2006 and been featured in USA Today's Fantasy Football Preview magazine since 2010. He hosted USA Today's hour-long, pre-kickoff fantasy football internet chat every Sunday in 2012-13 and appears as a guest analyst on a number of national sports radio shows, including Sirius XM's "Fantasy Drive". Doug is also a member of the Fantasy Sports Writers Association.