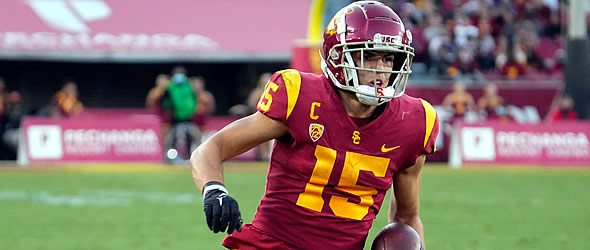 Vitals

College: USC
Height/Weight: 6'4"/213
Hands: 9 3/8"
Age: 21 (at the time of the 2022 season opener)



Important NFL Combine Numbers



40-Yard Dash: N/A
Vertical Jump: N/A
Broad Jump: N/A
20-Yard Shuttle: N/A
3-Cone: N/A



College Production

(Stats)


High-end NFL Player Comp(s): Courtland Sutton (with a hint of Michael Thomas' feistiness in contested-catch situations)
Low-end NFL Player Comp(s): Allen Lazard

Best Scheme Fit: Initially as a big-bodied red zone target and chain-moving possession receiver. He has eventual alpha upside if he can improve his speed a bit.

Best Team Fit(s): Bears, Browns, Colts, Commanders, Eagles, Falcons, Giants, Jets, Packers, Saints

Non-bolded times - Good examples of attribute
Bolded times - Average/poor examples of attribute
Position-Specific Attributes and Grades
Attribute
Att Grade
Scale
Examples
Ball Tracking
8.5
10.0
1:15, 1:28, 3:02, 3:45
Contested Catch/Body Control
9.5
10.0
0:05 , 0:51, 3:01, 3:02, 3:07, 3:45, 6:35
Hands
7.5
10.0
0:00, 2:23, 3:01, 3:45
0:38, 1:49, 2:01, 2:16, 5:17
Release
8.5
10.0
1:35, 4:43
Route-Running
7.5
10.0
0:20, 1:02, 1:08, 2:14, 4:09
1:50, 2:32
Run After Catch
9.0
10.0
1:35, 1:18, 1:32, 4:21, 9:14
Physicality/Competitiveness
9.5
8.0
3:07, 3:28, 4:43, 6:35
Separation
3.0
6.0
0:16, 0:20, 4:09
0:43, 0:50, 2:50, 3:15
Speed
1.5
4.0
Blocking
2.0
2.0
0:19, 2:00, 3:16, 3:28
Film Grade
66.5
80.0
Pre-Draft Fantasy Prospect Grade* (out of 50): 41.5
* - How well does his skill set carry over to the fantasy game? For receivers, a player needs to be a realistic threat for 70 catches and 1,000 receiving yards at some point early in their career to be a candidate for a perfect grade. Positional scarcity at the pro level is also a part of the equation.
Positives
London knows what his biggest strengths are and takes advantage of them regularly. He is a former prodigious high school basketball player who often maximizes his 6-4 frame in contested-catch situations. (He ranked first in FBS with 19 such receptions in 2021, per Pro Football Focus.) He is more than just a tall 50/50 downfield guy, however. The Trojans regularly used him on screens because he can shake defenders in space and seems to embrace contact when the situation calls for it - a combination that allows him to excel after the catch. To that end, he ranked inside the top 15 receivers in screen catches (27, 14th) and screen yards (185, 15th) in 2021, per Pro Football Focus. London also often shows off his basketball background by exhibiting excellent body control on sideline throws and understanding how to cut off a defender's angle to the ball while it is still in the air. Three other traits that figure to endear him to any coaching staff: his willingness to block, the awareness he shows when his quarterback is in trouble and his versatility (slot and perimeter). There is also more room for growth in London's game; he is the youngest receiver prospect in this draft class and will not turn 21 until the training camp rolls around.
Negatives
Two issues continually showed up on London's 2021 film: drops and lack of separation. Pro Football Focus charted London with eight drops on 96 catchable targets. It is a startling number for a player that does such a good job in contested-catch situations. The lack of separation is more of a multilayered problem. His 6-4 frame makes it hard for him to sink his hips at the top of his route, but the bigger problem is that even college corners do not seem overly threatened by his speed. While London can overcome that by outmuscling cornerbacks downfield, he may have a problem turning big plays into touchdowns unless those same targets are coming in the end zone. London also struggles to separate on the short stuff, forcing him to be as reliant on his size on a slant as he is on a go route. He suffered a season-ending broken ankle in late October and did not feel comfortable enough to participate in the NFL Combine despite telling the media in Indianapolis that his ankle was "doing great." (He held a pro day on April 15 to participate in a handful of cone drills and situational passing routes with several NFL scouts on hand but opted not to run.
Bottom Line
While it is easy to see why some compare him to Mike Evans, London is not as big (230-ish pounds), does not appear to be as fast (4.53 speed at the 2014 combine) and lacks the same ability to separate down the field. The same can theoretically be said about Michael Thomas, who is probably the best comp (from an athletic testing perspective) of all the pro prospects mentioned on this page, but the difference is the Saints' standout is much more refined as a route-runner. Can the Moorpark High School product get there someday? Perhaps, but he may not need to (or be given much of a chance to prove he can be a force in the short and intermediate passing game). London profiles as a dominant contested-catch wideout who should be his team's primary target in the red zone. That profile is not one that typically lends itself to a player who eventually becomes his team's alpha receiver and more of a volatile Kenny Golladay-like receiver who is dependent on touchdown efficiency. Can London eventually become his team's go-to guy? He certainly has the size, football IQ and competitive nature. Whether he does will likely depend on if his new quarterback is as comfortable throwing into tight windows as Matthew Stafford was with Golladay or Drew Brees was with Thomas (as opposed to Justin Fields with Allen Robinson last year).

---



Predict the top ten picks of the NFL Draft for a chance to win FFToday prizes. Enter our NFL Draft Contest now.
---
Doug Orth has written for FF Today since 2006 and been featured in USA TODAY's Fantasy Football Preview magazine since 2010. He is also a high-stakes player who often appears as a guest analyst on a number of national sports radio shows, such as Sirius XM's "Fantasy Drive." Doug is also a member of the Fantasy Sports Writers Association.