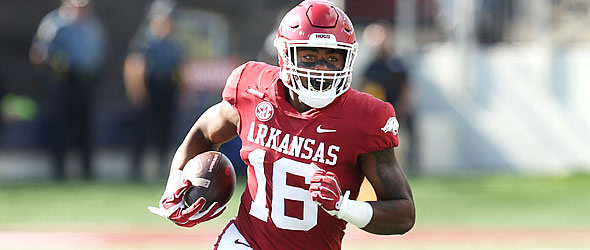 Vitals

College: Arkansas
Height/Weight: 6'2"/225
Hands: 9 7/8"
Age: 22 (at the time of the 2022 season opener)



Important NFL Combine Numbers



40-Yard Dash: 4.55
Vertical Jump: 33"
Broad Jump: 10'2"
20-Yard Shuttle: 4.40 (pro day)
3-Cone: 7.28



College Production

(Stats)


High-end NFL Player Comp(s): A poor man's A.J. Brown
Low-end NFL Player Comp(s): A more versatile N'Keal Harry

Best Scheme Fit: Overall mismatch weapon.

Best Team Fit(s): Bears, Browns, Cardinals, Cowboys, Eagles, Falcons, Giants, Jets, Packers, Saints

Non-bolded times - Good examples of attribute
Bolded times - Average/poor examples of attribute
Position-Specific Attributes and Grades
Attribute
Att Grade
Scale
Examples
Ball Tracking
8.5
10.0
2:35, 2:52, 5:57, 7:51
Contested Catch/Body Control
9.5
10.0
1:49, 2:35, 2:52, 4:01, 4:57, 7:51
Hands
8.5
10.0
2:35, 2:52, 4:01, 4:57
Release
8.5
10.0
1:18, 5:11, 6:39, 7:18
Route-Running
7.5
10.0
0:22, 2:16, 5:11, 5:55, 7:18
2:55, 6:39
Run After Catch
9.5
10.0
0:13, 0:22, 1:02, 3:39, 4:41, 5:17, 5:57
Physicality/Competitiveness
7.0
8.0
0:22, 1:02, 1:49, 4:13
Separation
4.0
6.0
0:22, 1:15, 1:18, 5:11, 6:39, 7:18
2:48, 2:55, 6:39
Speed
3.5
4.0
0:00, 1:18, 2:28, 5:57
Blocking
1.0
2.0
4:13, 5:49, 8:55
0:27, 3:38
Film Grade
67.5
80.0
Pre-Draft Fantasy Prospect Grade* (out of 50): 42.0
* - How well does his skill set carry over to the fantasy game? For receivers, a player needs to be a realistic threat for 70 catches and 1,000 receiving yards at some point early in their career to be a candidate for a perfect grade. Positional scarcity at the pro level is also a part of the equation.
Positives
The first thing that jumps out about Burks is his size (6-2, 225). Unsurprisingly, he is a headache for defenses after the catch. His 9.2 yards after catch per reception is among the best in the draft class, which only speaks to how difficult he can be to bring down and how much he seems to enjoy creating contact. Perhaps the best part of his game is that he is more than just a big receiver who wins with physicality; he is also a big-play receiver who can beat defenses vertically. In short, he boasts unusual athleticism for a receiver of his size. This shows up repeatedly on the rare occasion that a cornerback attempts to press him at the line of scrimmage (something that happened only 39 times in 2021, per Pro Football Focus). Arkansas was not shy about moving him all over the formation either. While he was used primarily out of the slot (82.9 percent of his career snaps came inside), he logged time on the outside, in the backfield and even occasionally as an H-back. As a result of this usage, it is reasonable to assume his football IQ is high even if the Razorbacks did not ask him to run a full route tree.
Negatives
As is often the case in today's college game, evaluators have little choice but to guess on a wide receiver prospect's route-running skills. Burks showed the aptitude to be solid in this area, but he ran an inordinate number of bubble screens and go routes with the occasional slant and scramble-drill catch mixed in. Pro Football Focus data backs this up, as he ranked 37th in college football with 18 catches on screen passes for 219 yards (ninth) and 25th in deep catches (12) for 456 yards (24th). Making his evaluation even more difficult is that NFL teams would rather not be forced to put a player with X receiver size (like Burks has) in the slot. (Did Razorbacks OC Kendal Briles line him up inside so much because he wanted to guarantee easy touches for his best receiver? Or was it because Briles didn't think Burks had the route-running nuance to win outside consistently?) Between the lack of physical coverage he saw in college and how often he lined up inside in college, his ability to be a potentially dominant outside receiver in the NFL is more of a projection than it might be for most receivers with his size and athleticism. Burks obviously possesses the size to be a very good blocker in the NFL, but his effort in this area was inconsistent at best.
Bottom Line
A player with Burks' demonstrated versatility and size will likely draw lazy comparisons to Cordarrelle Patterson, but that is not what he is - at least not right now. While he certainly has the size to handle a carry or two out of the backfield, it is hard to imagine him being a true Swiss Army knife kind of player at the next level. Creating separation could be an issue early on for the former three-sport athlete, as there is minimal proof that his route-running is refined enough to get open consistently. His performances in high-profile games this season against Alabama (8-179-2) and Texas A&M (6-167-1) provide hope that he could be the next A.J. Brown, but duds against Texas (5-37-0), Georgia (3-10-0) and LSU (4-16-0) suggest that his ceiling may not be that high. While Burks figures to be a favorite of many given his combination of size and athleticism, he profiles much more as a high-upside complementary receiver who may end up being a long-term big slot. He has alpha wideout traits, however, and could eventually grow into that role early in his career if he is blessed with a strong position coach who drills him tirelessly on the importance of route-running. A poor position coach could cause him to begin his career in the same way Laviska Shenault has.

---



Predict the top ten picks of the NFL Draft for a chance to win FFToday prizes. Enter our NFL Draft Contest now.
---
Doug Orth has written for FF Today since 2006 and been featured in USA TODAY's Fantasy Football Preview magazine since 2010. He is also a high-stakes player who often appears as a guest analyst on a number of national sports radio shows, such as Sirius XM's "Fantasy Drive." Doug is also a member of the Fantasy Sports Writers Association.