Dating back to the first decade or so of the NFL, the running back position was held in the highest regard. It was generally considered the most important position on the field. Beattie Feathers (1934) ran for 1,000 yards in a season long before Johnny Unitas became the first quarterback to throw for at least 3,000 yards (1960) or Joe Namath became the first to top 4,000 (1967).

One of the few constants about life is change. Things evolve, for better or worse. Passing the ball is more efficient than running it and has been for years. However, it does not make what has happened to the running back position in recent years any less sad. Virtually every starting running back in today's game is considered expendable. Of course, that assumes they can make it through a full season and avoid a major injury along the way.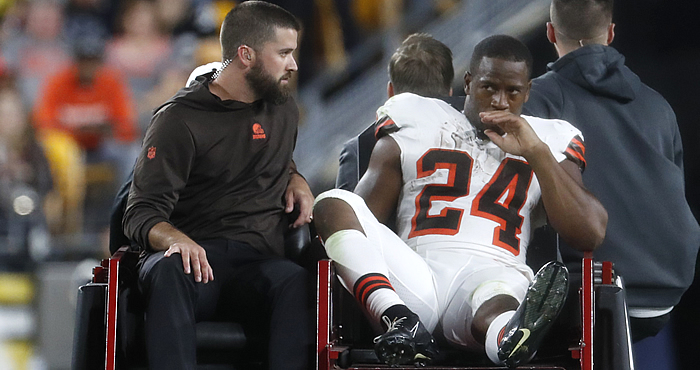 This brings us to what has occurred over the first two weeks of the 2023 season. The running back position entered this season in kind of a "prove-it" mode after some offseason events (namely low-ball contract offers) put them on notice. If Week 1 was a bit of a body blow to the position (i.e. J.K. Dobbins lost for the season, Cam Akers effectively benched after he was anointed by HC Sean McVay as a central figure of the offense this summer, etc.), then Week 2 was a knockout blow. Not only is Nick Chubb's horrific knee injury a huge loss for fantasy managers, but it is a huge loss for the NFL and the plight of the running back position as a whole. If anyone was going to change the current thinking of the league regarding running backs, it was going to be a running back like Chubb, who was making a push to challenge Jamaal Charles' NFL record (5.4) for career yards per carry (5.3).
For fantasy managers, the loss of players such as Dobbins and Chubb only hammers home the importance of either landing their high-upside handcuff (Jerome Ford, in Chubb's case) or securing quality depth in the draft when the handcuff isn't clear (perhaps someone like Tyler Allgeier or Raheem Mostert to help replace Dobbins).
Less than a day after Chubb's injury (Sept. 18), I decided I wanted to do a bit of a short (and highly informal) research project on the running back position for fantasy purposes. The results were about what I expected but sobering nonetheless.
Expected Week 1 RB starters
Key:
Red - Currently hurt/has yet to play/out for the season
Underline - Healthy but mostly ineffective for fantasy purposes through two games
Green - Benched/traded

AFC East: James Cook, Raheem Mostert/Jeff Wilson, Rhamondre Stevenson, Dalvin Cook/Breece Hall
AFC North: J.K. Dobbins, Joe Mixon, Nick Chubb, Najee Harris
AFC South: Dameon Pierce, Jonathan Taylor, Travis Etienne, Derrick Henry
AFC West: Javonte Williams, Isiah Pacheco, Josh Jacobs, Austin Ekeler

NFC East: Tony Pollard, Saquon Barkley, Kenneth Gainwell/D'Andre Swift, Brian Robinson
NFC North: Khalil Herbert, David Montgomery, Aaron Jones, Alexander Mattison
NFC South: Bijan Robinson, Miles Sanders, Jamaal Williams/Alvin Kamara, Rachaad White
NFC West: James Conner, Cam Akers, Christian McCaffrey, Kenneth Walker

By my count, 33.3 percent (12) of the players above are hurt already, have yet to play or done for the season. Another 25 percent (nine, if we don't double-count Jamaal Williams) have been either largely ineffective or disappointing relative to where they were usually drafted in fantasy. Let's be honest about something else here: I am erring on the side of forgiveness with players like Etienne and White, each of whom has a nice two-week total but has also already posted a dud.

Understand that a small sample size (two games) makes it difficult to make any pronouncements or definitive calls. I realize I took some liberties with the 36 players listed above, as most late drafters knew they would not have Jonathan Taylor or Jeff Wilson to begin the season. It is also a bit hasty to say a back has been "ineffective" after just two games, especially when those games have come against good defenses. Unfortunately, fantasy managers also do not have the luxury of waiting too long for backs to round into midseason form, so there is some urgency.

************

As if it was not already obvious, the running back position will be the theme of the week. More specifically, I want to lay out the "next man up" scenario for each team to help fantasy managers separate the high-end handcuffs from the potential fools' gold.


RB Depth Charts
Team
Primary RB
Change of Pace
3rd Down RB
Handcuff
Depth
ARI
James Conner
Keaontay Ingram
James Conner
Keaontay Ingram
Emari Demercado
ATL
Bijan Robinson
Tyler Allgeier
Bijan Robinson
Tyler Allgeier
C. Patterson
BAL
Gus Edwards
Justice Hill
Justice Hill
Justice Hill
Melvin Gordon
Kenyan Drake
BUF
James Cook
Latavius Murray
James Cook
Latavius Murray
Damien Harris
CAR
Miles Sanders
Chuba Hubbard
Miles Sanders
Chuba Hubbard
Raheem Blackshear
CHI
Khalil Herbert
Roschon Johnson
Khalil Herbert
Roschon Johnson
D'Onta Foreman
Travis Homer
CIN
Joe Mixon
Chase Brown
Joe Mixon
Chase Brown
Trayveon Williams
Chris Evans
CLE
Jerome Ford
Pierre Strong
Kareem Hunt
Jerome Ford
Strong
Hunt
DAL
Tony Pollard
Rico Dowdle
Tony Pollard
Rico Dowdle
Deuce Vaughn
DEN
Javonte Williams
Samaje Perine
Javonte Williams
Samaje Perine
Jaleel McLaughlin
DET
David Montgomery
Jahmyr Gibbs
Jahmyr Gibbs
Jahmyr Gibbs
Craig Reynolds
Zonovan Knight
GB
Aaron Jones
AJ Dillon
Aaron Jones
AJ Dillon
Patrick Taylor
Emanuel Wilson
HOU
Dameon Pierce
Devin Singletary
Dameon Pierce
Devin Singletary
Mike Boone
Dare Ogunbowale
IND
Jonathan Taylor
Zack Moss
Deon Jackson
Zack Moss
Deon Jackson
Evan Hull
JAX
Travis Etienne
Tank Bigsby
Travis Etienne
Tank Bigsby
D'Ernest Johnson
JaMycal Hasty
KC
Isiah Pacheco
Edwards-Helaire
Jerick McKinnon
Edwards-Helaire
Jerick McKinnon
LV
Josh Jacobs
Zamir White
Josh Jacobs
Zamir White
Ameer Abdullah
Brandon Bolden
LAC
Austin Ekeler
Joshua Kelley
Austin Ekeler
Joshua Kelley
Elijah Dotson
Isaiah Spiller
LAR
Kyren Williams
Ronnie Rivers
Kyren Williams
Ronnie Rivers
Zach Evans
MIA
Raheem Mostert
Jeff Wilson
De'Von Achane
Devon Achane
Raheem Mostert
Jeff Wilson
Chris Brooks
MIN
A. Mattison
Cam Akers
A. Mattison
Cam Akers
Myles Gaskin
Ty Chandler
NE
R. Stevenson
Ezekiel Elliott
R. Stevenson
Ezekiel Elliott
Ty Montgomery
NO
Alvin Kamara
Jamaal Williams
Alvin Kamara
Jamaal Williams
Kendre Miller
Tony Jones
NYG
Saquon Barkley
Matt Breida
Saquon Barkley
Matt Breida
Gary Brightwell
Eric Gray
NYJ
Breece Hall
Dalvin Cook
Dalvin Cook
Breece Hall
Dalvin Cook
Michael Carter
Israel Abanikanda
PHI
Kenneth Gainwell
D'Andre Swift
Gainwell
Swift
Gainwell
Swift
Gainwell/Swift
Boston Scott
Rashaad Penny
PIT
Najee Harris
Jaylen Warren
Jaylen Warren
Jaylen Warren
Godwin Igwebuike
Qadree Ollison
SF
C. McCaffrey
Elijah Mitchell
C. McCaffrey
Elijah Mitchell
Jordan Mason
Tyrion Davis-Price
SEA
Kenneth Walker
Zach Charbonnet
Kenneth Walker
Zach Charbonnet
DeeJay Dallas
TB
Rachaad White
Sean Tucker
Rachaad White
Sean Tucker
Chase Edmonds
Ke'Shawn Vaughn
TEN
Derrick Henry
Tyjae Spears
Derrick Henry
Tyjae Spears
Julius Chestnut
WAS
Brian Robinson
Antonio Gibson
Antonio Gibson
Antonio Gibson
Chris Rodriguez
Potential league-winning stashes
Most backup running backs are backups for a reason: they are good enough to play in the NFL and produce at an average level, but they either lack the talent of the starter or have yet to earn the trust of the coaching staff in an important area (such as pass protection). Being good at pass pro and knowing their assignments helps them get on the field, but it usually takes a combination of talent and a great offensive environment (i.e. great offensive line and overall supporting cast, mobile quarterback, great defense, etc.) for them to take the next step. It happens every year, so finding them is not an impossible task. Another problem for managers is that most fantasy leagues nowadays have enough bench spots that at least 60 or so running backs are not available off waivers. With every starter and most of the primary backups already spoken for, fantasy managers must be able to dig even deeper to find a potential gold mine.
One of the major problems with identifying the next Jerome Ford is the relative lack of players who have those two qualities (talent and a great offensive environment) working in their favor. It is one of the reasons why I ranked Ford in the RB40-45 range last month. He has/had those qualities. Cleveland told us this spring that it loved how he was coming along in the passing game and told us with its lack of action in the draft or free agency that it believed in him. In my mind, he is the epitome of a "one play away" running back - a player capable of being a highly productive fantasy option. These are the backup running backs we want to stash.
While there is more to identifying the next big thing at running back, let's keep it to talent and offensive environment for the sake of simplicity for now. All I care about for this exercise are the names to the right of the "primary RB" above. From that group, I will focus more on the players who have a relatively good chance of being available in most leagues. Understand an exercise like this is typically going to be highly subjective. Also understand that certain (or the right kind of) subjectivity is what separates the good fantasy managers from the average ones. With that said …
Necessary talent: Tyler Allgeier, Roschon Johnson, Chase Brown, Rico Dowdle, Elijah Dotson, Jaylen Warren, Elijah Mitchell, Zach Charbonnet, Sean Tucker, Tyjae Spears, Antonio Gibson, Kendre Miller, Tank Bigsby
Offensive Environment (working from the names in the previous sentence): Allgeier, Brown, Dowdle, Dotson, Mitchell, Charbonnet, Spears
Tyler Allgeier: Allgeier made the case for himself as a rookie when he averaged 4.9 yards per carry and ran for 1,035 yards despite not earning a regular role until midseason. His usage through two weeks this season is making the case for him again, as he is averaging an unthinkable 17 touches despite being the change of pace/breather back for Bijan Robinson. Allgeier would likely see his current workload increase only marginally if Robinson were sidelined, while Cordarrelle Patterson would probably assume a scaled-back version of Robinson's current role. In that scenario, the Falcons would almost certainly introduce a third back into the rotation. The beauty of this situation is that there would still be plenty of opportunity for Allgeier. Atlanta has run 126 offensive plays through two games; 74 of them (an average of 37) have been funneled to the running back position.
Chase Brown: How can a rookie with one touch through two weeks (and is probably the third running back on the depth chart) be a potential league-winner? Answer: I watched enough of his college tape to believe in him. (Furthermore, will the NFL come down on Joe Mixon for his recent legal issue - he was found not guilty on aggravated menacing charges earlier in the summer but the NFL could still be looking into the matter - at some point this season or will his lack of big plays do it first?) Additionally, the purpose of this exercise is not so much to predict who the next Jerome Ford will be as it is to isolate the handful of backs who have the best chance to do it. (Check out my post-draft write-up on Brown for more.) What he lacks in creative running ability, he makes up for with athleticism and physicality.
Third-year pro Chris Evans (hamstring) and fifth-year pro Trayveon Williams have both been around long enough that HC Zac Taylor would have likely decided on a split backfield with Mixon if either of them had proved worthy of it. Evans may walk back into the third-down role he was supposed to have before he got hurt in Week 1 when he gets healthy, but that is not set in stone. Brown probably would not take over the backfield right away if Mixon was forced to miss significant time, but he is the only back on the roster that I have faith in handling 15-plus touches every week.
Rico Dowdle: For most readers, my support of Chase Brown may seem only slightly more ridiculous than my endorsement of Dowdle. However, let us think this through first. The most obvious reason to add Dowdle is that the Cowboys are being slightly irresponsible with Tony Pollard thus far, giving him an average of 24 touches despite the fact Dallas has yet to play in a competitive game. (The Cowboys have led by no fewer than 14 points at any point during the fourth quarter of both of their games.) Pollard's touch count is inflated by the fact Dallas inexplicably gave him 32 last week in a game the Jets were not pushing them. There within lies the problem: if the coaching staff is having trouble managing his workload now when they should be able to monitor it, I doubt anything will change until their hand is forced. Considering how physical of a runner Pollard is at times, their hand could be forced sooner rather than later.
Dowdle is also a physical runner, so make no mistake about it: he is at as much risk of getting hurt as Pollard is if/when he gets his opportunity to handle a heavy workload. The difference for him will be that his opportunity will likely come in a few weeks when he is fresh and defenders are starting to feel the cumulative effects of the season on their bodies. The case for Dowdle is less about talent and more about offensive environment, however, since Dallas largely resembles Cleveland in that respect. We should expect Deuce Vaughn and Hunter Luepke to mix in if Pollard goes down, but it seems as though management has made it clear - again, just as the Browns did - that they are comfortable relying on Dowdle in such a scenario. The 176-pound Vaughn is not built for a featured role in the pros and Luepke is a fullback who was signed as an undrafted free agent to serve in more of a Swiss Army knife role.
Elijah Dotson: I have already started to add Dotson in my dynasty leagues. Not only do I advise you to do likewise with your dynasty teams, but it also makes sense to add him in deeper redraft leagues if your running back room has been ravaged by injury. Dotson was somewhat surprisingly a gamed day active over Isaiah Spiller in Week 1, but that could have been explained by the fact Dotson contributes on special teams and Spiller does not. Week 2 gave us the proof we needed: he is not only ahead of Spiller on offense, but the coaching staff may already have visions of him replacing the 28-year-old Austin Ekeler after his contract expires at the end of this season. (Keep in mind that Ekeler and the team could not agree to terms on an extension this summer.)
Bringing the conversation back to redraft and the 2023 season, the reason Dotson is worth mentioning is that Ekeler is likely dealing with a high-ankle sprain. He has not been given a timetable for return as of yet. Although recovery timelines vary from player to player, there is plenty of evidence to suggest running backs trying to return from high-ankle sprains perform poorly for several weeks after it - and most struggle with it for the rest of that season. While it seems unlikely Ekeler will miss more than another game or two with this injury, Dotson could conceivably pay off in a big way if Ekeler OR Joshua Kelley go down for multiple weeks later in the year. Even though there was not much room to run in Week 2 against Tennessee (four carries for six yards and two catches for 13 yards), Dotson proved his worth in the preseason. Perhaps by the time November or December rolls around, the Chargers could find value in using an Ekeler clone to serve as his breather back as opposed to asking Kelley to be the change-of-pace option.
Elijah Mitchell / Zach Charbonnet: There is not much of a reason to spend a lot of time on this duo. In Mitchell's case, we have seen him be a valuable fantasy option on the rare occasion he has been able to stay healthy. As far as Charbonnet is concerned, the primary reason he was drafted in the second round this spring was to make sure Seattle had a viable alternative if Kenneth Walker was unable to stay healthy. While the rookie does not possess Walker's flash or game-breaking ability, he may be a more complete running back. He may not possess Walker's fantasy ceiling, but he could serve as a viable RB1 option on a fantasy team that went receiver-heavy during the draft if Walker misses multiple games.
Tyjae Spears: As long as "The Big Dog" (Derrick Henry) wants to eat and shows he can handle it, the Titans are going to let him. Spears is not overthrowing this king. What the rookie is providing is valuable, however; he is giving the Titans something they have long desired - someone who can be productive on limited touches and put the coaching staff at ease when they let Henry rest - especially on long down-and-distance situations.
Spears is highly unlikely to ever be asked to handle Henry-like workloads if the 29-year-old bulldozer misses a game or two down the road, but what is already clear through two NFL games is that he looks every bit as explosive now as he did at Tulane. (Take a look at what I said about him pre-draft.) Spears would likely handle two of every three series - while Julius Chestnut serves as the breather back on the third - in the event Henry is unable to play. If that scenario ends up playing out at some point this season, Spears would be my choice as the most likely back - after Ford - to be a potential league-winner. The Titans lack the offensive line the Browns have, but most of the other "offensive environment" qualifications apply to him. It is well worth fantasy managers' time to try to secure Spears' services now whether or not Henry is on your team. As we have seen in the cases of Ford and Kyren Williams recently, waiting for something to happen first usually destroys our FAAB.
---
Doug Orth has written for FF Today since 2006 and been featured in USA Today's Fantasy Football Preview magazine since 2010. He hosted USA Today's hour-long, pre-kickoff fantasy football internet chat every Sunday in 2012-13 and appears as a guest analyst on a number of national sports radio shows, including Sirius XM's "Fantasy Drive". Doug is also a member of the Fantasy Sports Writers Association.