Upset Special: New England over Tampa Bay

Ok, this author has most definitely lost it. Right? But of all the people who might be able to successfully game plan against Tom Brady and Rob Gronkowski, it probably is Bill Belichick. Yes, he is working with a rookie QB in Mac Jones, but his defense is one of the best in the league, and matches up very nicely against the Bucs offense. After looking at the table below, how comfortable do you feel knowing that the building will be electric on Brady's return?
Bucs / Patriots Comparison
TB Off
Rk
Stat
Rk
NE Def
406.0
8
TOT YDS
5
282.3
349.7
2
PASS YDS
2
159.7
56.3
31
RUSH YDS
24
122.7
34.3
2
PTS SCORED
5
17.0
5
28
T OVERS / T AWAYS
10
5
#3: GB over Pittsburgh: (2-1: buf, TB, AZ)
After scoring only three points in Week 1, Aaron Rodgers has thrown six touchdowns and Aaron Jones has four rushing touchdowns in the last two games. That accounts for 60 points. Pretty solid.

Meanwhile, since their opening week shocker in Western NY, the Steelers have failed to mount much of an offense. They have a running game, that is dead last in the NFL and is usually a basis of their gameplan. JuJu Smith-Schuster is questionable with bruised ribs and Ben Roethlisberger looks old and dusty.

If this game was played in Pittsburgh, Roethlisberger might be able to find a miracle to win this. But back in Lambeau field, the Pack wins this after film on how the Bengals and Raiders easily handled this Mike Tomlin team that is still trying to find an identity in 2021.
Steelers / Packers Comparison
PIT Off
Rk
Stat
Rk
GB Def
308.3
25
TOT YDS
9
321.3
255.3
13
PASS YDS
9
206.0
53.0
32
RUSH YDS
16
115.3
16.7
28
PTS SCORED
24
27.7
3
11
T OVERS / T AWAYS
14
4
#2: New Orleans over the NY Giants : (3-0: TB, GB, DEN)

The New Orleans Saints return home for the first time since Hurricane Ida. The good news for the Saints and the local Cajuns, is they have the lowly NY Giants (0-3) coming to town. They lost both Sterling Sheperd and Darius Slayton to hamstring injuries early in week 3 and expect to start rookie Kadarius Toney in the slot.

After living in hotels for the last four weeks, at the Dallas Omni, and then the Four Season in Las Colinas, returning home with the family should help the Saints defense focus against a Giants offense that struggles against even mediocre teams.

It will be a parte' environment in the dome. Take the Saints as they march easily in their return home.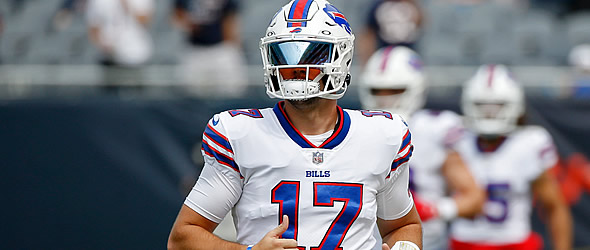 #1: Buffalo over Houston: (3-0: SF, CLE, CAR)

Josh Allen has felt the pressure of repeating his 2020 performance and it showed in the first two weeks. Then, he exploded for five touchdowns (four passing and one rushing) in Week 3. This week, Allen and company get a Houston team that has their best quarterback not dressing (Deshaun Watson), their backup Tyrod Taylor, now on IR, and rookie Davis Mills going up against a 4th ranked defense. Yes, he has had a full week to prepare, but the Bills are starting to get their 2021 team on track. After an opening week "flop" against Pittsburgh, the Buffalo should continue their domination over the NFL with a 30+ point effort. Take the Bills, but don't give the points.


Texans / Bills Comparison
HOU Off
Rk
Stat
Rk
BUF Def
314.7
24
TOT YDS
4
252.7
220,0
24
PASS YDS
4
178.0
94.7
22
RUSH YDS
7
74.7
22.3
20
PTS SCORED
4
14.7
2
5
T OVERS / T AWAYS
9
5