#3: Kansas City over NY Giants: (6-1: buf, TB, AZ, GB, MN, PIT, LAR)

The Giants won last week against a Panthers team that was finally exposed for all of its faults. At the same time, Daniel Jones showed that he is a better athlete than most ever people thought after his one-handed catch, leading his team to victory over this Panthers at home.

This week, those Giants won't be reliving the joy of victory when they visit Arrowhead. While the Chiefs aren't as consistent as in years past, they have too much firepower to lose to a 2-4 Giants team. With an offense that is top five in total yards and passing yards per game, the Giants won't be able to keep up thanks to a banged up receiving corps.

If neither of the options below are available to you, this is a week that the prior Super Bowl champs should win at home.

#2: Cincinnati over NY Jets: (5-2: TB, GB, DEN, no, NE, LAR, bal)

In this spot last week I chose against these very Bengals. I will not do that this week. PS: Don't select games between division rivals. See last week's column for more info.

The Jets quarterback situation went from bad to worse, to impossible all within 7 days. Zach Wilson (ankle) is out 2-4 weeks and the team traded for Joe Flacco who still hasn't reported to New York, in spite of being less than 2 hours away on Amtrak. As such, Mike White gets his first NFL start as Flacco isn't scheduled to arrive until Friday.

Meanwhile, the Bengals attacked their division rival Ravens last week on their home field and made quite the statement. They won't make the look-ahead mistake and let this Jets team win in Week 8.

Joe Burrow and Joe Mixon should have an easy day against a Jets team that has given up the most points this season, while scoring the 3rd least points in the league. Is there any reason to think that the Jets should win with a third string QB against the 6th best offense in the league? No.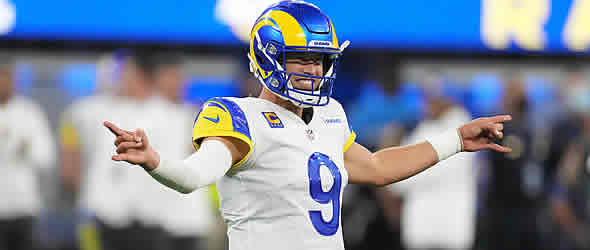 #1: LA Rams over Houston: (7-0: SF, CLE, CAR, BUF, TB, KC, AZ)

Matthew Stafford showed his former team what could've been when his Rams beat the Lions last week. This week they truly are your best option, in spite of how bad the Jets may seem above. Why? Because, part of winning a survival pool is picking the "right" team each week. Sometimes, you need to take the lesser option in an earlier week, to avoid a future week where you have no options, like we did in this column.

The Rams are scoring the 5th most points on average and shutting down offenses weekly as the 6th best defense in the NFL. Houston has not shown much except for a narrow loss to the Patriots in Week 5, and the Rams should easily handle the Texans who are 31st in points allowed. The skill players should be licking their chops and they offer a plethora of daily fantasy options this week. Take the Rams, and slide into Week 9.