#3: San Francisco over LA Chargers
(5-4: BAL, cin, PHL, DAL, kc, tb, LV, ind, NE)
The 49ers are fresh off their bye week and ready to get back into the playoff push with Jimmy Garoppolo back under center. Great things were expected after he emerged from Tom Bradyís shadow but he turned out to be overrated. This year, everyone expected him to be traded as Trey Lance moved into the starting role. Lance seemed to have more skills, talent and youth, and Jimmy G was washed up. Well, he is back under center after an injury to Lance, and is leading this 49ers team and gaining some respect that he has been yearning for.

Justin Herbert however isnít enjoying his season as much. In his third year as the Chargers signal caller, he has been playing through a rib injury that has limited his mobility and reduced his passing motion. Keenan Allen (hamstring) and Mike Williams (ankle) are injured and limiting his passing options. With Allen playing just two games all season, and Williams out the three at least, itís easy to see why Herbert is averaging 281 yards a game this season, down from his 297 average in 2021. Thank goodness for Austin Ekeler.

While Ekeler is probably the top back in PPR leagues, he is this player that the number one rushing defense will key on. Combine this with limited receiving options and this game begins leaning towards the Niners. Expect a balanced attack from San Francisco led by Garoppolo and donít be surprised if Kyle Shanahan completes the back-to-back sweep of the Los Angeles football teams.

#2: Chicago over Detroit
(6-3: NO, BUF, kc, det, PHL, sf, DAL, MN, MIA)

In survival pools, the rule is, donít take games between division rivals. Also, donít pick games that are three points or less and not a lock. And lastly, donít pick games that weather might be a factor.

With thatÖ Da Bears are the team you shouldnít be taking this week. They are a playing a Lions team that has lost five of the last six, stealing their last game against a Packers team that seems lost for the first time in years.

Detroit has averaged 12 points over the last four games. What a contrast to the first four weeks where they were averaging 35 points a game.
Matt Eberflus, the new head coach of the Bears and offensive coordinator for Indianapolis from 2018-2021, has turned Justin Fields loose. Adding Chase Claypool at the tradeline to balance out Darnell Mooney who is a better number two than a number one receiver, has made the passing game more viable. Unfortunately, David Montgomery nor Khalil Herbert are tier one running backs but they are more than serviceable to beat the Lions this week.

The temperatures will be dropping from the high 60ís this week to the mid 30ís with cold wind off the lake. Not the ideal conditions that the Dolphins had to win in a shootout last week, but definitely conditions that favor Da Bears playing a dome team that is struggling to put up points.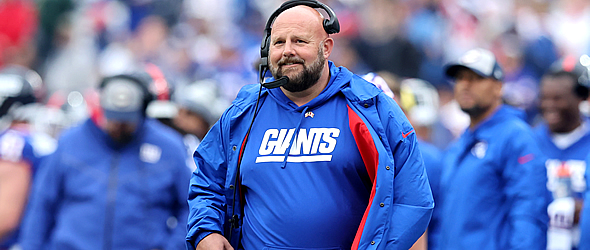 #1: NY Giants over Houston
(5-3: den, lac, GB, BUF, LAR, tb, PHL, KC)

Donít look now, but Brian Daboll has the Giants at 6-2 and in the race for an NFC Playoff spot. They may not catch the high flying, undefeated Eagles for the NFC East Division title, but unless they completely fall apart in the second half, this team should be playing late in January.

The Texans however arenít as fortunate. While Dameon Pierce has been a great rookie addition, and truly the centerpiece of this Houston attack, the team needs to find a QB who can do more than pass the ball an average of 200 yards a game (Davis Mills). Add to that, they need to find a way to get Brandin Cooks on board after he wasnít traded at the deadline. Nico Collins has great talent, but needs to stay on the field (injuries) to provide an alternative to Cooks. All of this disfunction has led to an offense that scores only 16.6 points a game (28th in the NFL) and a team that doesnít move the ball well.

Saquon Barkley has re-emerged as the dominate back that everyone expected when he was drafted out of Penn State. He must be salivating looking at film as he prepares for this last place rushing defense. Yes, the NFL tends to take away your strength and if they do, Darius Slayton and WaníDale Robinson may find themselves on the receiving end of play action pass plays for long gains. Itís the perfect combo for a win at home to gain ground on their division rivals. Take the GMen, especially if it is messy from the remnants of Nicole.