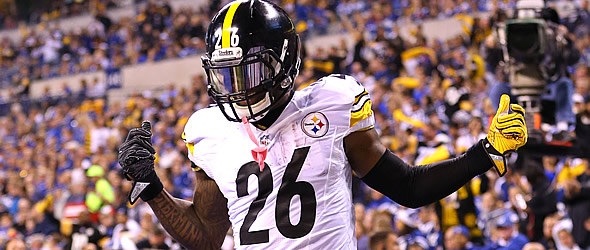 Le'Veon Bell got off to a slow start last season after his holdout but still finished as overall RB2.
Itís another season and another holdout for Pittsburgh Steelersí running back LeíVeon Bell, who wants to be paid just as much as his wide receiver buddy, Antonio Brown.
Nothing new here.
Bell wants to back up the Brinks truck because he believes heís the best running back in the league and his teamís second-best receiver (JuJu Smith-Schuster might argue the second point). He also obviously doesnít like practice or training camp. Who does?
And yet past holdouts certainly havenít impacted Bellís season-long totals (though for DFS players it should be noted that he started slowly in 2017 for three games after the holdout).
What of the rest of the NFL, where ďmere mortalsĒ may try to emulate Bell and sit out training camp (either for a better contract or like the Steelers RB they just donít like hot, sweaty two-a-days where coaches constantly yell at them).
Who might be holdout candidates in 2018?
It was recently reported (by SNYís Ralph Vacchiano) that the Giantsí Odell Beckham Jr. might hold out in New York. Who knows what the mercurial OBJ will do? He and the team have been in some preliminary talks, but they donít seem to be close to the extension the player is seeking.
Atlanta wide receiver Julio Jones didnít go to the Falcons offseason program. A list of wideouts who make more than Jones includes Jarvis Landry, Davante Adams and Sammy Watkins. None of those players have cracked 1,400 receiving yards in a season ó Jones has done it in four consecutive seasons. He signed a big deal in 2015 which made him the second-highest paid wideout behind only Calvin Johnson, but now seven receivers average more than Jones. Iíd be surprised if the team and Jones donít come to an agreement before the season begins.

Arizona running back David Johnson led the NFL with 2,118 yards from scrimmage and 20 touchdowns in 2016. But when a wrist injury sidelined him for 15 games, the Cardinals ranked 28th in the NFL in rushing touchdowns and 31st in yards-per-carry. Iím sure Iím not the only one who understands those results and can interpret them as a favorable time to ask for more ďBenjamins.Ē Arizona and Johnson both seem to be on the same page at this time so a deal should be worked out before Week 1.

Should we blame them for holding out? Absolutely not!

The average lifespan of an NFL player is very short. Likely shorter than your college experience. According to the NFLPA the average career length is about 3.3 years, which is less than the NBA (4.8) or MLB (5.6), although the average length for a rookie who makes his Opening Day roster is six years and a first-round draft choice is 9.3 years.

While holding out may, or may not, work out for the playerís financial future, or be the best thing for his long-term outlook, we fantasy owners only need to know how it will impact his upcoming yearís production.

Below is a chart of 15 famous running backs and wide receivers who held out in the past and the impact the delay in joining their team had on their next yearís game statistics.
Pre- and Post-holdout RB and WR Production
Player
Tm
†Pos
Previous
Scrim Yds
TDs
Holdout
Scrim Yds
TDs
Le'Veon Bell
PIT
RB
2016
1884
9
2017
1946
11
M. Jones-Drew
JAC
RB
2011
1980
11
2012
500
2
Chris Johnson
TEN
RB
2010
1609
12
2011
1465
4
Vincent Jackson
SD
WR
2009
1178
9
2010
262
3
Steven Jackson
STL
RB
2007
1273
6
2008
1421
8
Larry Johnson
KC
RB
2006
2199
19
2007
745
4
Hines Ward
PIT
WR
2004
1029
5
2005
985
11
Corey Dillon
CIN
RB
1999
1490
6
2000
1593
7
Jamal Anderson
ATL
RB
1998
2165
16
1999
93
0
Joey Galloway
SEA
WR
1998
1073
10
1999
334
1
Carl Pickens
CIN
WR
1998
1027
5
1999
737
6
Emmitt Smith
DAL
RB
1992
2048
19
1993
1900
10
Jerry Rice
SF
WR
1991
1208
14
1992
1259
11
Eric Dickerson
IND
RB
1989
1522
8
1990
769
4
Eric Dickerson
LA
RB
1984
2244
14
1985
1360
12
John Riggins *
WAS
RB
1979
1319
12
1981
773
13
Totals
25248
175
16142
107
WR Totals
5515
43
3577
32
RB Totals
19733
132
12565
75
* - Riggins didn't play at all in 1980.
What did we learn from this analysis besides the fact that more running backs hold out than wideouts?
1) Wide receiver scrimmage yards were down 35%.
2) Wide receiver touchdowns were down 25%.
3) Running back scrimmage yards were down 36%.
4) Running back touchdowns were down 43%.
Anybody detecting a pattern here?
In the final analysis, none of these 2018 superstars may hold out in the end, and that would be good for fantasy owners. However, the numbers seems to indicate that for most players, being in training camp matters. Therefore, if a wideout or running back ends up missing a big portion of training camp, it's "caveat emptor" (let the buyer beware). You have been warned!


---
Steve Schwarz served as the fantasy sports editor of The Sports Network and is the 2014 FSWA Football Writer of the Year.