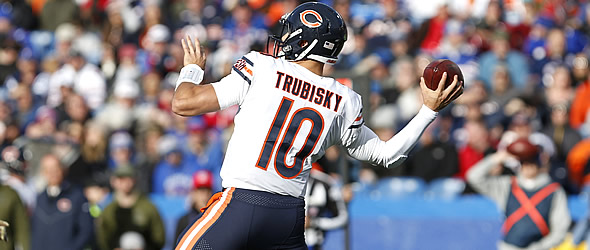 Grab a Helmet
Since being reinstalled as the starter in Week 12, four games ago, Trubisky has averaged 22.1 FPts/G, an increase over his 20.2-point average over the first three games of the season. His completion percentage is up 8.6 percentage points (59.3-to-67.9). And now he faces a Jaguarsí pass defense that ranks 31st this season yielding 26.6 FPts/G to opposing QBs and 28.2 points over the past three games. Darnell Mooney has emerged as a threat opposite underrated Allen Robinson and running back David Montgomery has become a threat forcing linebackers to crowd the line of scrimmage. The Bearsí offense has averaged 33 points per game since Week 13.
Itís not a one-game fluke, Baker Mayfield has been a top-10 fantasy quarterback over the past five games, averaging 24.5 FPts/G. Heís making fewer mistakes (10 TD passes-1 Interception). In Week 16 he gets a shot at the Jets, who rank 30th against opposing QBs this season, yielding 26.6 FPts/G. New York comes into this one after winning its first game of the season and could easily have a letdown.
Brady hasnít been consistent this season, but a chance to beat up on the 28th-ranked Lions is just the elixir to bring out the best in the GOAT. Heís coming off a 390-yards performance against an equally bad Falconsí pass defense so this is a chance to build momentum for the playoff run. The Tampa run game will be without Ronald Jones (180-900-6) due to Covid-19 and a finger injury leaving only Leonard Fournette who is averaging just 3.9 ypc. Brady should end up throwing more than 40 times and when that happens he averages 27.5 FPts/G.

Grab an iPad
No fantasy owners wants to have his quarterback facing the Saintsí defense. They have been a top-10 defense all season and just held Patrick Mahomes under 255 passing yards. Cousins is certainly no Mahomes. The Vikings game plan will be to try and ride Dalvin Cook, who has run for over 100 yards in four of the last five games. Unfortunately, the Saintsí defense is strongest against the run and Cousins will face a negative game script with a hard pass rush forcing him into errors.
Whether it is Carr (groin) or Mariota has yet to be determined, but neither quarterback is a play against the Dolphins strong defense. For the season Miami is allowing 21.6 FPts/G, but over the past five games that number drops significantly to 16.7 points, which if fourth-best in the league. They have forced a league-leading 26 turnovers, including 16 interceptions. Other than Mahomes, the Miami pass defense hasnít allowed a 300-yard passer since Week 8. There are better options.
Rivers has been a steady contributor of late with a high floor having produced 19 points or more in six straight games. But the Steelers are a tough nut to crack even with a number of key defenders sidelined by injury. They have yielded just 17.2 FPts/G over the past five contests which is below their season-long 19.1-point average. That number is second only to the Rams. The Steelers lead the league in interceptions and have at least one sack in 71 consecutive games. Avoid this defense.

Quarterbacks | Running Backs | Wide Receivers