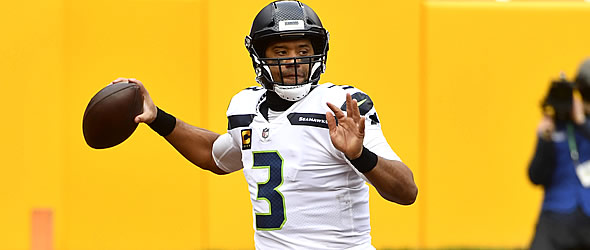 Grab a Helmet
In most "normal" seasons we wouldn't have to tell you to start Wilson, but this isn't a normal season. For one, Wilson missed a game this season (actually three) which had never happened in his first nine seasons. So perhaps not knowing how to return from an injury is part of the reason for his two lackluster efforts in Weeks 10 and 11. Also his opponents, the Rams and Cardinals, are top-eight against opposing QBs. But this weekend he faces Washington, who is ranked No. 32 (a.k.a. last) allowing 28.1 FPts/G and Wilson should be able to produce a big game.
While Jones has led his Patriots back into playoff contention, he hasn't produced much in the way of fantasy points. However, a pattern is emerging which shows he's a much better quarterback in front of the hometown fans. Although his team is just 2-4 at home (versus 5-0 on the road) he's thrown for an average of 260 yards with 11 touchdown passes at Gillette Stadium (versus 196 and just three touchdown passes on the road). He's averaged 21.6 FPts/G and this week faces a Tennessee pass defense which allows 24.1 FPts/G (ranked 29th). He could be a nice fill in for Patrick Mahomes or Kyler Murray (on byes).
In his first full game, Newton exploded for 28.1 fantasy points, throwing two touchdown passes and running for another. He's already produced three touchdown passes in a game and a half. Last season in New England it took him until Week 10 to throw his third TD pass. The Dolphins rank 28th against opposing fantasy QBs allowing 24 FPts/G.

Grab a Clipboard
Although Siemian is averaging a respectable 21.5 FPts/G in his four starts, including 30.3 fantasy points last week in Philadelphia (mostly in garbage time), this might be his last start at quarterback because he's 1-3 as a starter and the Saints still think they have a shot at the playoffs. Facing the top-ranked defense, on a short work week, makes it twice as hard for him to succeed.
The Patriots defense is ranked No. 2 against opposing QBs and No. 1 since Week 7 as Belichick's defense has led the team into playoff contention. They have more INTs (18) than TD passes allowed (13). They have allowed just 17.7 FPts/G to opposing QBs in Gillette Stadium. Tannehill has not played well in November averaging just 226.3 passing yards and one TD pass per game. Look elsewhere.
Tagovailoa has improved his production from 16.4 FPts/G as a rookie to 19.2 this season, but the Panthers are a tough team to go big against. They rank No. 3 against opposing QBs allowing just 18.8 FPts/G and even less since Week 7 (14.5). Tagovailoa is still likely missing wideouts DeVante Parker and Will Fuller.

Quarterbacks | Running Backs | Wide Receivers