In the past, Week 14 would be the beginning of the fantasy playoffs, but with the extension of the NFL season to 17 games, you have one more week to grab your ticket to the postseason. Don't waste this chance.

Byes: Indianapolis, Miami, New England and Philadelphia (this is the final "bye week" of the 2021 season).

Truths

"If you would be a real seeker after truth, it is necessary that at least once in your life you doubt, as far as possible, all things." – Rene Descartes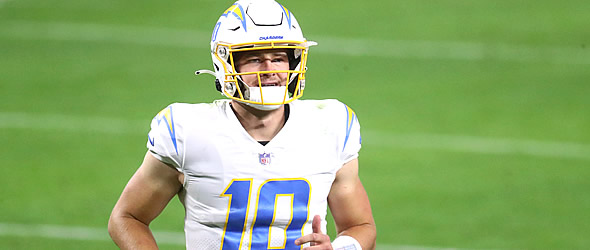 1) The start to Justin Herbert's career ranks above the all-time greats.
True. Just look at the chart below which tracks 300-yard passing games. Herbert has a higher percentage than anyone Ö including everyoneís favorite Patrick Mahomes. The second thing you will notice is how you can certainly see we are in the era of passing, when rules were changed to help quarterbacks and coaches emphasized throwing the ball over running the ball. For dynasty leagues, the question is whether Herbert and Mahomes can continue at this more than 50% level. Also donít ignore Joe Burrow who without much fanfare is among the top-five. Finally, appreciate the two forerunners who brought the passing game into vogue Ė Dan Fouts (1973-1987) and Dan Marino (1983-1999).
300-Yard Passing Games
QB
Starts
300+ yards
%
Justin Herbert
27
15
55.6
Patrick Mahomes
58
30
51.7
Drew Brees
287
123
42.9
Joe Burrow
22
8
36.4
Peyton Manning
265
92
34.7
Tom Brady
311
105
33.8
Aaron Rodgers
202
68
33.7
Matt Ryan
217
73
33.6
Matthew Stafford
177
55
31.1
Dan Fouts
172
51
29.7
B. Roethlisberger
243
67
28.8
Dan Marino
242
63
26.0
Kyler Murray
41
10
24.4
Warren Moon
203
49
24.1
Dak Prescott
80
19
23.8
Joe Montana
165
39
23.6
Josh Allen
55
12
21.8
John Elway
231
36
15.6
2) DK Metcalf has produced a troubling trend for fantasy owners the past two seasons.
Heís produces very well from Week 1-8 and fallen off significantly in the second half of the season. Iíll give him a bit of a break for having to deal with Geno Smith for three games this season, but if he doesnít get back on track over the final five games, Iíll have to consider a new strategy for next season. I would still draft him, but with the idea of trading him mid-season while his fantasy value is at its peak.
DK Splits
DK Metcalf
1st Half
2nd Half
2021
18.1
6.5
2020
20.9
14.1
3) Not starting Lamar Jackson when he plays against Pittsburgh seems to be the right play in DFS and perhaps also in season-long leagues.
They face each other again in Week 18 if your league goes to the final weekend. In three starts versus their most hated division rival (he missed one on the Covid-19 list and was inactive for one in Week 17 of 2019) heís averaged just 207 passing yards with four touchdown passes and six interceptions. Meanwhile, heís run for 63 yards a game, but has never run for a touchdown against the Steelers. Heís also fumbled six times, losing two. Thatís a mediocre 22.1 FPts/G which is borderline QB1 (would rank 13th in 2021).
4) Jonathan Taylor season has been so good, heís scored as many touchdowns as the entire New York Giants offense (18). Also, the Houston Texans.
Taylor isnít Christian McCaffrey version 2019 good (29.3 FPts/G), but he leads all running backs in 2021 and over the last five games as fantasy owners maneuver into position for the playoffs, heís averaged 31.6 FPts/G. His fantasy owners will have to survive this weekend without him (bye) before facing the Patriots, Cardinals and Raiders in the fantasy playoffs. The Patriots have allowed the fewest touchdowns to opposing running backs (just four) and the Cardinals are second-best in fewest TDs allowed to opposing RBs (five). Taylor will have his work cut out for him.
5) This Kansas City five-game winning streak is ďkillingĒ Mahomesí fantasy value.
True. Another win, another sub 19-point fantasy performance. Thatís four times in the five-game winning streak and five times in the last six games. Whatís worse, their next three opponents all rank in the top 13 against opposing fantasy quarterbacks. Drafting Mahomes early has turned into a wrong move and we canít count on him in the fantasy playoffs.

Lies

"I never guess. It is a capital mistake to theorize before one has data. Insensibly one begins to twist facts to suit theories, instead of theories to suit facts." – Sir Arthur Conan Doyle
1) Tom Brady is too old to play in the NFL.
False. At age 44, TB12 leads all fantasy quarterbacks with 335.8 fantasy points and a 28.0 FPts/G average. He also leads the league with 3771 passing yards and 34 touchdown passes. And that is despite missing his all-time favorite tight end Rob Gronkowski for almost half the season and Antonio Brown for seven games.
2) Tom Brady is too old to play in the NFL. (Part 2)
Again false. Brady is also on pace (719) for the second-most passing attempts in a single season behind a 24-year-old Matthew Stafford (727 in 2012). Itís a little misleading because, barring injury, Brady should play in 17 games, but adjusted for 16 games heís still likely to throw the fourth-most passes in a single season all-time. After 11,106 passes, 82,975 yards and 615 touchdowns passes, his arm is still first-rate.
3) Tom Brady is too old to play in the NFL. (Part 3)
Still false. Since arriving in Tampa Bay, Brady has thrown 52 touchdown passes in the red zone and ZERO interceptions. Brady is the smartest quarterback in the NFL and when it counts Ö heís mistake-free.
4) As good a season as Cooper Kupp is having (100-1366-11), heíll never catch up to Randy Mossí magnificent 2007 season when he produced a record 385.3 fantasy points.
False. Moss had a great season (98-1493-23), but if Kupp continues what heís doing (25.2 FPts/G) he is on pace for a whopping 428 fantasy points. He needs just 20.8 FPts/G to match Mossí season in 16 games and 16.6 if we include the extra game.
5) I saw a twitter comment yesterday on how the tweeter (obviously a Dolphins fan) was excited that Tua Tagovailoa was completing passes at an 80% clip over the past three games.
Sorry, not excited. Yes, heís 84-of-105, but the key numbers for fantasy owners are an ugly 10.0 Yards-Per-Completion (ranks 30th) and just 19.4 FPts/G. A quarterback who doesnít run and continuously throws short passes and check downs isnít going to be fantasy-worthy.
6) The more explosive Tony Pollard is the Dallas running back to start.
I thought that too, but the numbers still say Ezekiel Elliott is the better fantasy option Ö though not by a big margin. Over the past four games, ďZekeĒ has produced 57 fantasy points on 62 touches while Pollard has produced 51 points on 51 touches. Therefore, while Pollard is producing more points-per-touch than Elliott (1.00-to-.895), as long as Elliott continues to see more touches heís still the better option.
7) Steelers rookie Pat Freiermuth is a nice fantasy tight end, but heís no Heath Miller.
In fact, his 9.5 FPts/G average is better than Miller when he came into the league in 2005. Since Week 9 Freiermuth is averaging 12 FPts/G on just six targets per game. That has him ranked No. 5 in the league over that span. As to his future fantasy value, it will depend on who the starting quarterback is next season as most assume Ben Roethlisberger will retire at the end of the year.