Grab a Helmet
Barkley looked quick and healthy. The second part is the key and you should continue to write his name in as long as he's fit. The Panthers were run over by both Nick Chubb and Kareem Hunt (combined for 38.3 fantasy points) and Barkley has the physical tools to imitate both of them.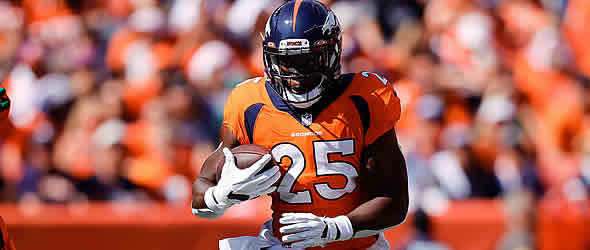 Williams (6.1 ypc) and Gordon (4.8 ypc) both ran well versus the Seahawks last Monday night, but both fumbled at the opponentís 1-yard line to disappoint Broncos fans and fantasy players everywhere. They will find the going easy again this week after the Texans gave up 38.9 fantasy points last weekend to the Colts. Both can be started.
With Elijah Mitchell sidelined, Wilson takes over as the starter, but beware of the possibility that Deebo Samuel will see addition usage out of the backfield, limiting Wilsonís ceiling. Still, the Seahawks allowed the Broncos to rush for over 5.3 yards per carry. In the four games Wilson saw at least 19 rushing attempts since 2020, heís averaged 19.5 fantasy points so heís worth the gamble that Samuel wonít steal too much of his thunder.

Grab some Pine
The Broncos only allowed 62 yards rushing Monday night and Rashad Penny is a better back than the rookie, who disappointed in the opener (11-33-0). Even though the head coach said he wanted to give more opportunities to the rookie in Week 2, the matchup isnít favorable.
Kamara is dealing with bruised ribs and thatís not the time to face the hard-hitting Bucsí run defense which just held Ezekiel Elliott and Tony Pollard in check (combined 60 yards). Additionally, the Saints continue to use Taysom Hill in the Red Zone stealing valuable touchdown opportunities from Kamara (and Jameis Winston). If you have a viable alternative option from Kamara, this might be the week to use it.
The Bengals held Pittsburgh and Najee Harris & Co. to 30 yards rushing on 13 attempts so I'm not excited about Pollard seeing enough of a workload to produce fantasy-worthy numbers. He carried six times for just eight yards in the opener with two receptions for 14 yards (4.2 fantasy points). Elliott was by far the better runner in Week 1.

Quarterbacks | Running Backs | Wide Receivers