If you are still reading fantasy pieces in Week 15, congratulations on making the fantasy playoffs. The bye weeks are over and it's time to produce your best lineup of the year even if that means sitting a guy you would normally never sit. It's now "one-and-done" season and you can't wait for someone to get hot.

Truths
"Love truth, and pardon error." - Voltaire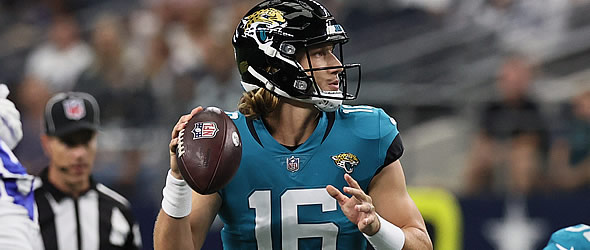 1) Over the past three weeks Geno Smith and Trevor Lawrence are top-three fantasy quarterbacks.
Fact. Only Jalen Hurts (34.0 FPts/G) is better than Smithís 28.2 points and Lawrenceís 27.1. Thatís the good news, that the pair of quarterbacks has unexpectedly brought you to the playoffs, but their path in the playoffs will be a difficult one. Smith faces San Francisco No.3 in fantasy points allowed in Week 15 followed by Kansas City and the Jets (No.8). Meanwhile, Lawrence faces Dallas (No. 4), Jets and Houston (No.1).
2) If you are searching for a streamer in your first-round fantasy playoffs because of a bad quarterback matchup think about Mike White or even Matt Ryan.
Sure, I know it is not 2016, but Ryan faces a Minnesota Vikingsí defense which has been historically bad the past few weeks and doesnít figure to turn it around in Week 15. Since Week 10 they have allowed at least 23.4 QB fantasy points and averaged 26.8 FPts/G. And White, if it turns out he survived that big hit from Matt Milano, will be rewarded with a date against the porous Detroit Lionsí secondary which allows a league-worst 27.2 FPts/G this season and 31.1 over their last five games.
3) J.K. Dobbins posted solid numbers in his first action in seven weeks.
True. He saw 43-percent of the snaps and led the team with 16 carries for 120 yards and a score. I think better days are ahead as he still didnít look 100-percent healthy. The real question will be whether the Ravensí passing game with a question mark at quarterback (until Lamar Jackson returns) can keep defenses from stacking the line of scrimmage. Baltimoreís next opponent, Cleveland, hasnít been able to stop any running game (28.0 FPts/G allowed to RBs) so Dobbins should be locked in as a starter this weekend.
4) James Conner has quietly been a top-five running back for over a month.
True. He doesnít get much hype from the MSM, but heís averaging 20.9 FPts/G since Week 10 which makes him No.3 behind Josh Jacobs (26.5 FPts/G) and Tony Pollard (22.7). Now, with Kyler Murray (ACL) sidelined for the season, the Cardinals are likely to rely on Conner even more than they previously have.
5) I was afraid that Samaje Perineís success the past three weeks would eat into Mixonís fantasy totals when he returned and it happened Sunday.
Unfortunately true. Perine saw 43-percent of the snaps and poached a short touchdown run from Mixon (from six yards out) which left the starter with a below average 12.6 fantasy points, while Perine earned 9.4 points despite just five touches. Perine also saw more targets than Mixon (5-2). Damn the coaches for having so much confidence in their backup.

Lies

"Praise from the common people is generally false, and rather follows the vain, than the virtuous." – Sir Francis Bacon
1) Miles Sanders is the No.2 RB since Week 12, so keep riding him in the playoffs.
This is a tough one for me, an Eagles fan, but after a favorable matchup in Week 15, he is a candidate to sit in Week 16 and 17 against the No.5-ranked Cowboys and No.13 Saints. Also, should the Eagles win their next two games, all starters might be subject to extra rest as they would have clinched the top seed in the NFC. In five games against Dallas, Sanders is averaging just 51 ypg.
2) Minnesota loses when Justin Jefferson doesnít perform.
False. As Week 14 proved, Jefferson can have a huge day (11-223-0) and the Vikings can still lose. The more correct statement is - the Vikings lose when Dalvin Cook doesnít perform. Cook produced 16.9 FPts/G in wins and just 8.5 fantasy points in losses this season. Thatís a 50-percent drop in production while Jeffersonís production drops about 30-percent in losses.
3) Tua Tagovailoa has made the greatest progress year over year than any other starter this season.
False. While Tua has jumped from 17.5 FPts/G in 2021 to 22.2 points in 2022, heís not been the most improved this season. If fact, he has produced the fifth-best improvement. See the chart below. If you donít see your favorite starter on this list itís because his production didnít improve this season.
| | | | |
| --- | --- | --- | --- |
| Quarterback | 2021 | 2022 | Increase |
| Justin Fields | 14.6 | 23.8 | 9.2 |
| Geno Smith | 16.3 | 23.4 | 7.1 |
| Trevor Lawrence | 16.2 | 22.0 | 5.8 |
| Jalen Hurts | 24.0 | 28.8 | 4.8 |
| Tua Tagovailoa | 17.5 | 22.2 | 4.7 |
| Andy Dalton | 14.4 | 17.8 | 3.4 |
| Patrick Mahomes | 25.9 | 29.2 | 3.3 |
| Jared Goff | 17.6 | 20.1 | 2.5 |
| Joe Burrow | 24.4 | 26.6 | 2.2 |
| Matt Ryan | 17.2 | 19.0 | 1.8 |
| Daniel Jones | 18.5 | 20.0 | 1.5 |
| Josh Allen | 28.0 | 29.3 | 1.3 |
4) Nothing can stop the Amon-Ra St. Brown train this season.
Iím not so sure we didnít see the start of a St. Brown fade last weekend. In a big Lionsí offensive explosion where Jared Goff threw for 330 yards, ARSB produced the third-most points in his wide receiver room. His 13.4 points ranked behind a healthy D.J. Chark (21.4), Josh Reynolds (16.1) and was almost equaled by rookie Jameson Williams in his first career game in which he caught just one pass (41-yard touchdown for 11.1 points). Itís likely that this becomes a more balanced receiver room by next season with no clear cut No.1.
5) Justin Herbertís fantasy value peaked in his first two seasons.
False. Herbert has dealt with the following issues in 2022: poor offensive line blocking, injuries to his top-three preseason receivers which cost him 22-of-39 possible games and a rib cartilage injury. His ribs wonít be truly healed until the off-season, but with the return of both Keenan Allen and Mike Williams in recent weeks, Hebert has ranked ninth over the last three games averaging 24.7 FPts/G versus 20.9 for the first 10 games. Those in dynasty league should not be souring on the Chargersí star quarterback.