This could be a tough time for fantasy owners with two of the top-three scoring teams sitting out the week in Buffalo (176 points) and Philadelphia (161). Add in elite receivers like Cooper Kupp and Justin Jefferson and some lineups could be stretched to the limit. It wasnít a horrible week for new injuries with only top-10 wide receiver Marquise Brown likely in for an extended stay on the IL.
Byes: Buffalo, Los Angeles Rams, Minnesota and Philadelphia

Truths
"The truth is more important than facts." – Frank Lloyd Wright
1) It's time to admit that Josh Allen is producing at an unheard of pace.
True. In 2007 when Tom Brady threw for 50 touchdowns he only averaged 28.9 FPts/G. When Peyton Manning threw for 5,477 yards and 55 touchdowns he averaged 31 FPts/G. Lamar Jackson in 2019 produced 30.9 FPts/G. Through the first six games of 2022, Allen is averaging 34.1 FPts/G. Heís got the receivers, heís in an offense that passes 62.7-percent of the time and heís able to leap tall cornerbacks in a single bound.
2) There is no quarterback outside the top-five (Allen, Jackson, Patrick Mahomes, Jalen Hurts and Joe Burrow) capable of stepping up to that tier this season.
Fact. The gap is just too much. Kyler Murray canít seem to get the offense running. Aaron Rodgers and Tom Brady are lost. Meanwhile, my favorite quarterback, Justin Herbert, is missing too many pieces on the OL along with his No.1 target Keenan Allen. Allen will certainly return at some point, but I donít see the line getting fixed before the off-season.
3) Tua Tagovailoa is not a top-five quarterbackÖ yet.
Those enamored by his one monster game against a Baltimore defense missing 75-percent of their secondary need to look at his other two games. Even if he can stay healthy for the remainder of the season (given his history thatís unlikely), he isnít going to raise his game by 25-percent.
4) It is amazing how quickly Kadarius Toney went from the New York Giantsí No.1 receiver in preseason to ďtrade fodderĒ by Week 6.
He has not played since two receptions in Week 2 and has been on the field for just 35 offensive snaps on the season. It seems like Toney, Kenny Golladay and Darius Slayton need a new start with another team whether at the trade deadline or in the offseason as the Giants seem ready to move on with the young guys; WaníDale Robinson, Richie James, David Stills and one wily veteran Sterling Shepard.
5) Of the current top-10 fantasy receivers the most likely to drop out of the top-10 is Amon-Ra St. Brown.
Itís not that I think his play will fall off, itís that I think the addition of No.1 draft choice Jameson Williams (ACL) will take some of his workload. Also, Jared Goff is too inconsistent for my taste and the schedule gets significantly tougher with strong defenses on the horizon. Dallas, Miami, Green Bay, Chicago, the Giants and Buffalo are the Lionsí next six opponents. Five-of-six of those teams rank top-10 against opposing QBs.

Lies

"False words are not only evil in themselves, but they infect the soul with evil." - Plato
1) Those whining that Cooper Kupp isn't producing as he did in 2021 should look at the numbers.
Kupp is on pace for 1,736 yards and 11 touchdowns and is averaging 25.1 FPts/G versus 25.7 last year which is close enough for me. Twenty-five points a game for a receiver is rarified air. In fact, itís only been done twice since 2001 Ė Davante Adams in 2020 and Kupp last season. Not even Randy Mossí great 2007 season reached that mark (98-1,498-23 for just 24.1 FPts/G).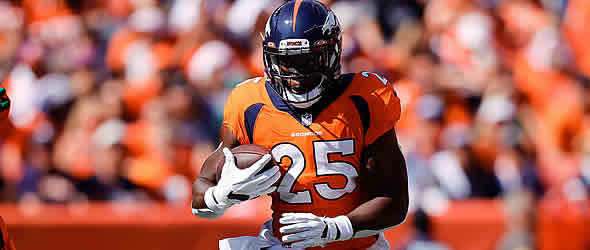 2) Broncos running back Melvin Gordon still has value.
Not in Denver. Preseason, he was thought to be one of the best handcuffs in the league, but since the season-ending injury to Javonte Williams in Week 4, Gordonís rushing production has been ugly (18-62-0). It appears newly-acquired Latavius Murray will be the primary runner and Mike Boone the receiving back moving forward in Denver. Gordonís only chance for having any fantasy value in 2022 seems to be a trade to a new team.
3) One should be excited about Ezekiel Elliottís good second half against Philadelphia last Sunday night.
Sorry, not buying it. Although his 15.6 fantasy points was the best production of the season, heís in a complete timeshare with Tony Pollard, who is quicker, younger and more explosive. Elliott is averaging .598 fantasy points per touch versus .907 for Pollard. Also, with the return of Dak Prescott, the Cowboys will pass the ball more. In 2022 they are throwing 53-percent of the time primarily with Cooper Rush under center. Last season, with Prescott starting 16 games, they threw the ball 57.7-percent of the time. For these reasons, Zekeís value is capped.
4) Jets rookie Breece Hall is getting better as the season progresses.
Actually, Hall is producing about the same as the beginning of the season, heís just getting more work. It certainly helps his cause that the Jets have been winning making their game strategy friendlier to running the ball. In their four wins the Jets have run the ball 46.7-percent of the time versus just 25-percent of the time in two losses.
5) The Clyde Edwards-Helaire of the first four weeks can reappear.
Sorry, no. The running back who averaged 18.9 FPts/G through Week 4 has averaged just 4.9 fantasy points the past two weeks. His 1.4 fantasy points per touch was always unsustainable, boosted by five touchdowns. CEH didnít score the past two weeks and it shows. Over the past two games Jerick McKinnon has seen 15 touches versus 23 touches over the first four games. Isiah Pacheco hasnít been much of a factor since opening day.