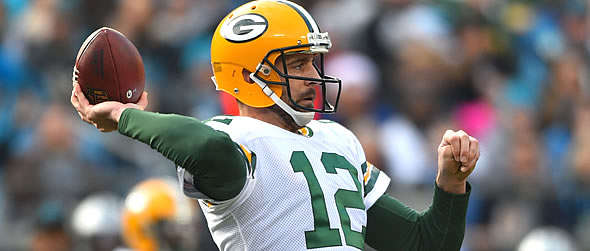 The day has finally arrive… Aaron Rodgers is a New York Jet. Rodgers had been "planning" his escape from Green Bay since 2020 when the Packers drafted a quarterback in the first round instead of a wide receiver. He chose the Jets over many options this off-season and the two teams finally agreed on compensation which was difficult considering there weren't many examples of a four-time MVP being traded to guide them.

Rodgers with Green Bay

Rodgers was a first-round draft choice who sat three seasons before getting a chance to start. That's how long ago his career started. Can you imagine a first-round pick waiting that long these days? Nope.

Once installed, he's racked up so many statistics it would take too long to mention them all. Suffice it to say that he owns a career 147-75-1 record, four MVP awards, ten 4,000-yard passing seasons, 475 touchdown passes against just 105 interceptions and made WR1 receivers out of Davante Adams, Donald Driver, Jordy Nelson, Greg Jennings and probably would have made Christian Watson into one too, if he had stayed in Green Bay. It can't be argued that he was a top-three fantasy quarterback from 2009-2021.

Rodgers in New York

The Jets have assembled a lot of talent recently under head coach Robert Saleh. Starting his third season his offense has talents like Breece Hall and Michael Carter in the backfield. He has budding star, Garrett Wilson and the team signed former Packers wideout Alan Lazard to give Rodgers someone he's comfortable around. Additionally they signed former Chiefs speedster Mecole Hardman. Corey Davis and Braxton Berrios are still around, but no longer in the picture. The Jets seem to be missing just one thing… a quarterback to make the offense go.

They tried drafting one – using the second-overall selection on BYU's Zach Wilson, but so far that hasn't worked out. So with Rodgers unhappy in Green Bay ever since the team used a first-round pick (No. 26) on his replacement, Jordan Love, in 2020, the Jets set about this off-season trying to procure the four-time league MVP.

Rodgers is no longer the best quarterback in the NFL, I think we can all admit that title belongs to Patrick Mahomes, but with the weapons the Jets already have on their roster, he could certain make them go better than the 17.4 ppg they averaged in 2022. It was just two years ago that Rodgers' Packers offense led the league in scoring at 31.8 ppg and although his new roster doesn't include a Davante Adams, "ARod" could certainly help the Jets take a giant step forward for as long as he still wants to play football.

Let's look at a Rodgers-led Jets offense.

Before his injury, rookie Hall was already becoming a fantasy stud averaging 16.7 FPts/G. Carter could also be a solid receiver out of the backfield and Rodgers certainly knows how to use his backs in the passing game. In 2022, Rodgers targeted Aaron Jones and AJ Dillon 115 times.

Meanwhile, 2022 rookie Garrett Wilson (83-1,103-4) finished his first season ranking 21st in fantasy points despite under-performing quarterback play. I can easily see him being a top-10 option with Rodgers under center. Lazard will end up being Rodgers' security blanket during important third- and fourth-down and red zone situations. He should probably be able to reproduce his 2022 statistics (60-788-6). Hardman will end up as the No.3 option, but likely not fantasy-worthy barring an injury. Davis could be cut to save around $10 million and Berrios will end up losing significant production.

Bottom line:

The Jets defense more than held its own in a division with Josh Allen, Tua Tagovailoa and Mac Jones. They ranked fourth in points allowed (316) and had to be that good to stay in games with their unproductive offense. The addition of Rodgers would change that.

The Jets instantly become a threat to win the AFC East. Rodgers would be a top-10 quarterback again, but closer to the bottom than the top. He finished 13th in fantasy points, but 29th in fantasy points-per-game last season. His presence makes Wilson an elite WR1 and Lazard a WR2. Tyler Conklin could even be a low-end fantasy-worthy tight end. The threat of Rodgers under center will make Hall even better when he returns from his ACL injury which appears to be ahead of schedule. Until then Zonovan Knight handles the rushing and Carter the receiving work.

Also expect the Jets to try to protect their $50 million quarterback, who will be 40-years-old on December 12th. They have already signed center Wes Schweitzer and could add more depth on the offensive line through more signings or at the draft.

Rodgers will be a success in New York so don't be afraid of his new mailing address.