Buy Low
As fantasy owners overreact to the weekly ups and downs, I would target these players in trades before their value increases with better performances.

It might not seem like Carsonís value is low right now, but it is lower than it will be if his current usage continues. Carson missed out on scoring a rushing TD this week, despite receiving 27 carries (and rushing for 4.4 yards per carry). If he had scored twice, which is certainly possible in a dynamic offense, his value would be way higher right now. It seems that the coaching staff has recognized that he is simply a superior overall back to Rashaad Penny, and they appear poised to ride Carson for as long as he can stay healthy. He is a good buy candidate for your fantasy stretch run.

He will likely be on the trade block for some owners after a disappointing performance in Week 5 (12-31, 4-7). Since Austin Ekeler was so involved in the passing game, catching 15 passes, many Gordon owners might want to bail, thinking Ekeler is simply the back to own on the Chargers. However, Gordon is being eased into the offense. He only played on 46% of snaps and is not yet in football shape. He is a great buy-low candidate and his role will continue to grow over the next several weeks.

Another Charger who disappointed, Allenís production has fallen sharply over the past couple weeks, and this week he only caught 4 balls for 18 yards. However, he was the focal point for the Broncos defense. As the other pieces of the offense come around, Allen will find more room. He is too good of a route runner to always be held in check, and Rivers will have better days. His value may be as low now as it will be for the rest of the season.

This could be the last chance to buy low on Hill, as he missed another game on Sunday and may return for the Chiefs (who lost some shine after a loss to the Colts) this coming week against the Texans. As soon as he returns he is a locked in WR1, so if you can get him for even a slight discount, you should pull the trigger.

The Packers passing game looked awful without Adams; the wide receivers had 55 total yards against the Cowboys. Although Adams may miss multiple games with his toe injury, when he comes back he should again be among the most productive receivers in the league. He is worth buying low now if an owner is in a bind.

After a zero-catch performance against the Jaguars, owners may be down on Olsen. If an owner will give him up for cheap, that is a great buy since steady tight ends are hard to come by. Olsen has 31 targets on the season, despite only receiving two targets in Week 5. That makes him a very valuable asset.

Recency bias affects most of us. Since Kirk sat out Week 5 with an ankle injury, many owners might be ready to move on, particularly since he wasnít producing like a top receiver early in the year. However, he is a great buy candidate as the offense continues to gel. Kirk received 37 targets (over 9 per game) during the first four weeks and that kind of volume is hard to find. Iíll buy him wherever I can.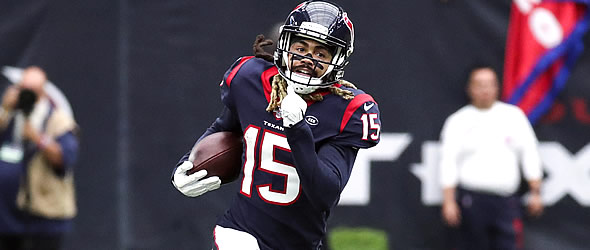 Sell High
These players had a great Week 5, raising their perceived value in the eyes of fantasy owners. If you have an owner in your league willing to overpay, Iíd recommend taking the value.

Fuller is coming off one of the best games in the history of fantasy football, with 14 receptions for 217 yards and 3 touchdowns. He is a good player, with tons of speed, good route running, and good hands in what can be an explosive offense. But remember, he has played virtually every snap this season and in the first four weeks he received 23 targets (16 in Week 5). He recorded 183 receiving yards over the first four weeks, 34 yards shy of his Week 5 output. This kind of week will happen with a speed player like Fuller, playing with a great quarterback. But it isnít the norm. If you can trade him for Tyreek Hill or Mike Evans or a top tier wide receiver, itís a great move. I like Jones a lot and pounded the table for him coming into the 2019 season. However, the value you can sometimes extract when a player scores almost 50 points in a fantasy week is too good to pass up. Further, even without Jamaal Williams available Jones played only 68% of snaps. It is just not in the plans for the Packers coaching staff to play Jones on over 90% of the snaps, which will limit his realistic ceiling. I would not trade him unless I could get very good value, but as mentioned above some will assume after his 15 receptions in Week 5 that he is going to play a central role over Melvin Gordon for the rest of the season. I do not believe that is the case. If you can trade him for a top running back or receiver before Gordon steals more touches, it is a solid move. I like Robinsonís talent but really do not like his situation. Week 5 will happen (7-97-2), when he scores twice and is the centerpiece of the offense. But with the poor quarterback play in Chicago, there will also be weeks when he scores under 10 fantasy points. If someone is willing to pay for his Week 5 production, now is a nice time to capitalize. This is Allen Robinson part 2. Thielen posted a great game in Week 5 (7-130-2), and is an excellent receiver. However, the Vikings are a run-first team, and Kirk Cousins has not played well overall to this point. If you can get great value for Thielen after his breakout performance, I think you will come out ahead over the course of the season.