QB Philip Rivers
2019 QB Rank - No. 13, 20.4 FPts/G
Philip Rivers had a poor season in 2019, with the lowest touchdown percentage of his career (3.9% touchdowns per attempt). He threw for only 23 touchdowns on 591 attempts, and even worse, he threw for 20 interceptions. On a Chargers roster loaded with skill-position talent, many saw this poor season as the dreaded end of the road for Rivers.
However, Rivers seems intent on proving that sentiment wrong. He signed a one-year deal with the Colts this offseason, and stated that the Colts' chances to win a Super Bowl swayed his decision. He also expressed that he was "aggravated" with the whispers around the league that he was done. There may be some signs that the talk of his demise is misguided.
Although his low touchdown rate and high interception rate were disturbing, he did complete 66% of his passes for over 4,600 yards, good for 7.8 yards per attempt. Those are respectable numbers, and do lead one to believe that he has something left in the tank. The biggest negative on Rivers has always been his penchant for throwing the ball up for grabs downfield, which only works when you are throwing to the right spot and when you have players capable of winning such "jump balls." Mistakes in such scenarios are a major chunk of his interceptions, and there is a chance the Colts coaching staff can get Rivers to take what is there instead of going for the home run so often.
Rivers will not have the arsenal of talent he had in Los Angeles last season, but he will have a very capable group of skill players. Both Taylor and Mack will take some pressure off with their ability to run the ball, and the protection Rivers will get from the Colts' offensive line should be an improvement over the Chargers' line. He has T.Y. Hilton as his new Keenan Allen, rookie Michael Pittman Jr. as his new Mike Williams, and Jack Doyle as his new Hunter Henry. His new group certainly has the talent to help Rivers succeed, but the success of the unit will likely come down to whether Rivers can make the right decisions and limit mistakes. His fantasy value will also depend on his ability to turn drives into points, and limit his interceptions.
RB Jonathan Taylor
2019 RB Rank – N/A (Rookie)
Although we do not have any NFL data on Jonathan Taylor, we should assume he will have immediate success running the ball. Not only will he run behind one of the top "power" offensive lines in the league (rated 7th in power run blocking per footballoutsiders.com), but he showed himself to be a very skilled runner between the tackles during his time at Wisconsin.
Taylor averaged over 2,000 rushing yards per season at Wisconsin, averaging 6.7 yards per rush over his career. He also scored 50 rushing touchdowns in three seasons. During the Combine he showed why he produced so well, as he ran the 40-yard-dash in 4.39 seconds (at 228 pounds). He also showed great burst and agility, finishing in the top 11 runners in virtually every drill.
It is unknown how the workload will be split up, and the Colts have emphasized that they intend to split the workload between Taylor and Mack. Both have skill, but over the course of the season Taylor will likely seize more of the early-down and between-the-tackles workload, while Mack is given more opportunities in the passing game and outside of the tackles. Taylor did not catch the ball much in college, and pass protection is difficult for young backs, so I expect he will not be on the field much on clear passing downs.
In addition, Taylor struggled some with fumbling at Wisconsin, coughing the ball up 18 times in his three collegiate seasons. That can be corrected, but keep an eye on his progress on that front in the preseason, as that issue also often limits the touches of young backs.
RB Marlon Mack
2019 RB Rank – No. 23, 12.8 FPts/G
Marlon Mack had a very productive 2019 in his first season as a starter in the NFL. He rushed the ball 247 times for 1,091 yards and 8 touchdowns, and added 14 receptions for 82 yards. He did that in 14 games, missing two weeks due to injury. Had the Colts used him in a major way in the passing game, Mack could have been a top-10 back in the league.
The biggest issue with Mack from a fantasy perspective is that it has been difficult to ascertain when he will have a good game and when he will have a dud. He had seven games last season where he scored over 15 PPR fantasy points, but in the other seven games he played, he scored under 10 points! This made it very difficult to ever start him, since he posted a dud in half of his games. If you guessed right you were happy, but that is not a game most fantasy managers want to play.
Most of his lack of sustainable fantasy scoring is due to his lack of action in the passing game, and that does not seem to be because Mack lacks skill in that area. It seems to have been part of the Colts' coaching staff's desire to keep Nyheim Hines involved. Whether they will continue to use Hines on passing downs now that Taylor is in the fold is up in the air. It would seem to make more sense to use Mack on those downs, as he is certainly the better overall player and has the skill required both to pass protect and to catch the ball.
If Mack and Hines split the scraps left over after Taylor gets the bulk of early-down carries, that will ensure neither of them is usable in fantasy. But if the staff decides to give Mack around 10 touches a game between carries and receptions, as a true complement to Taylor, he will certainly retain flex value in 2020.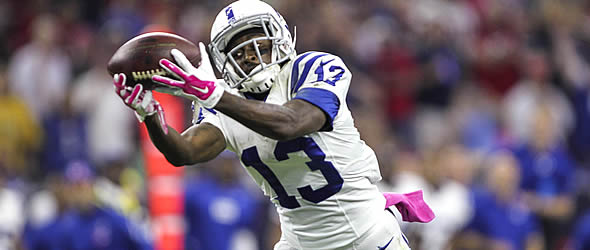 WR T.Y. Hilton
2019 WR Rank – No. 57, 12.5 FPts/G
Without a doubt, T.Y. Hilton had the worst season of his career in 2019. It seems certain that the poor quarterback play had much to do with it, as did his own nagging injuries. But regardless of the cause, it was ugly. He was only targeted 68 times in 10 games, down from 120 times in 14 games in 2018. He had only 45 receptions, his lowest total since he had 50 in his rookie season. And he averaged by far his lowest in yards per reception, at 11.1.
On the positive, he managed 5 touchdowns in those limited opportunities. He now has a much better quarterback, since even a 38-year-old Rivers is a huge upgrade over Jacoby Brissett. The biggest questions surrounding Hilton are whether he still has his trademark speed and whether he can stay healthy. While he has always gotten a bit dinged up over the course of a season, last season was brutal, as he struggled with a severe calf tear that would not heal. Even when he returned, he was out of sync and could not get rolling.
Assuming the Colts season goes better than it did in 2019, and assuming he can establish a rapport with Rivers, Hilton could certainly bounce back. If 2019 is removed, he has averaged over 16 yards per reception over the course of his career. Rivers seems to enjoy throwing the short and intermediate crossers and outs we saw Keenan Allen thrive on, and Hilton is excellent in this area. He is also excellent on deep routes, and Rivers does enjoy chucking it.
What no one can really know is how healthy he will be, and it is always a risky proposition to bet on receivers past 30 years old, particularly those who rely on their speed to win. It is likely that Hilton will post some great games this season, but drafting him as a starter who must be relied on every week is not advisable.
Michael Pittman had a senior season for the ages at USC. After posting 70 receptions in his first three seasons, he exploded for 101 receptions in his senior year, for 1,275 yards and 11 touchdowns. That certainly got the attention of NFL scouts. His 6'4" frame also piqued their interest, but it wasn't until the Combine that his stock really went soaring. He ran the 40-yard-dash in 4.52 seconds, which is excellent for a guy his size. He also had excellent times in the short-area drills, showing he has the quickness and long speed needed to play in the NFL.
It is rare for rookie receivers to post big numbers, but if there was a situation where it is likely to happen, this is it. Pittman has the size Rivers likes to throw deep balls to (think Vincent Jackson, Malcolm Floyd, Antonio Gates), he is experienced for a rookie (having played all four seasons in college), and there is no other receiver with size who is likely to keep him on the bench. It seems likely that Pittman will play 70% of snaps or more from the start of the season. Rivers established a quick rapport with Keenan Allen in his rookie season, when Allen had 105 targets, so there is precedent for Rivers quickly trusting a young player.
The biggest question for Pittman is likely to be a mental one – how quickly can he pick up the playbook, learn the entire route tree, figure out the timing aspect with Rivers, and so forth? If he is a quick learner, he could have a huge rookie season.
WR Parris Campbell
2019 WR Rank – No. 121, 5.7 FPts/G
Parris Campbell might be the clearest representation of disappointment of the Colts' 2019 season. Much was expected of Campbell, but in his rookie campaign he dealt with a nagging hamstring injury, a sports hernia (for which he had surgery), a fractured hand, and a broken foot! Is he prone to injury or just bad luck? That is certainly a question that must be considered when one is considering drafting Campbell.
For now, let's assume he'll be able to stay healthier this season. If so, what should we expect? Campbell certainly showed he has blazing speed at the 2019 Combine, running the 40 in 4.31 seconds. He is also very quick and is likely to be effective in the slot. Although Hilton does play around 35% of his snaps from the slot, he plays a majority of his snaps outside, and Pittman will be outside almost exclusively. That should leave a good opportunity for Campbell, as the Colts ran 11 personnel (3 wide receivers) over 60% of the time last season.
It is incredibly difficult to predict the intricacies of how this offense will look with so many new or nearly-new faces, but I would say Campbell is likely to receive 5 or 6 targets per game, making him a viable late-round PPR draft target.
TE Jack Doyle
2019 TE Rank – No. 15, 7.5 FPts/G
Like the rest of the 2019 Colts, Jack Doyle struggled. On the positive side of the ledger, he stayed healthy and played in all 16 games. But he never got on the same page with Brissett, and produced only 43 receptions for 448 yards and 4 touchdowns.
Now he gets an opportunity to play with Rivers, who may enjoy throwing to tight ends as much as any QB in the league. While Doyle is probably not a special talent, he is steady. He has good hands and typically where he is supposed to be. In this offense and alongside Rivers, I envision him getting around 6 targets per game, which should enable him to catch around around 50 balls for around 600 yards. If he scores a handful of times, that would make him a viable fantasy tight end.
Playing with Rivers will not make him into a young Antonio Gates, but he can provide a steady option who should receive regular targets and score the occasional touchdown. The Colts did add Trey Burton this offseason, who is more dynamic as an athlete. However, Burton has been inconsistent and will likely play a very limited number of snaps, either in special packages or in 12 personnel. Doyle should remain on the field for virtually every snap, since he's a superior blocker and a more consistent player overall.