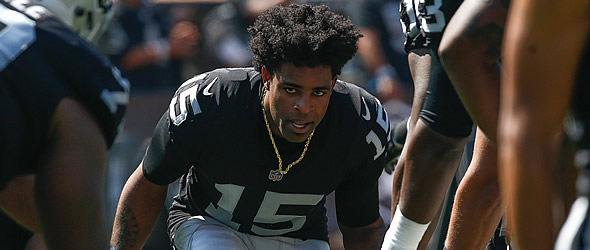 Michael Crabtree should be the main target in Baltimore, making him a solid WR2 in 2018.


The Baltimore Ravens raised a few eyebrows around the league when they terminated a four-year contract with former Redskins wide receiver Ryan Grant due to a failed physical, only to sign veteran former first-round pick Michael Crabtree a day after he was released by the Raiders.

The timing of the transaction was suspicious to say the least, as Grant never missed time with the ankle injury that caused him to allegedly fail the physical, and only after Crabtree became available was Grant failed by team doctors.

Conspiracy theories aside, Crabtree joins a Ravens team drastically in need of wide receiver help after the failed Jeremy Maclin signing and the first round bust of Breshad Perriman. A former first-round pick by the 49ers in the 2009 NFL draft, Crabtree has quietly put together a respectable career after fizzling out in San Francisco.

The former Texas Tech Red Raider averaged eight receiving touchdowns and less than 11 yards per reception in Oakland, with three consecutive seasons over at least 8.4 fantasy points per game. His best season in the silver and black came in 2016 when Crabtree posted his second 1000-yard season with eight touchdowns on 89 receptions.

Crabtree joins fellow free agent signee John Brown as the starting wide receivers for veteran quarterback Joe Flacco, with Chris Moore joining the pair in three wide receiver sets. Brown will likely work mostly out of the slot as the downfield threat, with Crabtree using his excellent hands as the underneath and intermediary route runner.

The area in which Crabtree excelled in Oakland was as a red zone receiver and trusted third-down option for Derek Carr. Crabtree's 26 red zone targets in 2016 tied him with Odell Beckham Jr. for third in the league behind Jordy Nelson and Kyle Rudolph. An injury-shortened 2017 limited Crabtree's targets and catches, and the Raiders made a conscious effort to get Amari Cooper more involved in the offense.

Tight end Ben Watson led the Ravens in red zone targets last season with 14, tied for 37th in the league with fellow tight ends Cameron Brate and Hunter Henry. One of the reasons why the Ravens offense struggled so mightily in 2017 was at the absence of a legit wide receiving threat in the end zone and a reliable downfield threat to stretch the field and put pressure on the defense.

Crabtree solves the issue of a reliable red zone option and Brown will give Flacco a speedster who can catch the ball. If both players can stay healthy, the Ravens should improve from their 29th passing offense ranking from a year ago.

From a fantasy perspective, a 1000-yard, eight touchdown line from Crabtree is not out of the question, making him an attractive high-end No. 2 wide receiver in 12-team standard formats. At just 30 years of age, he should still have more than enough gas left in the tank to be a top 24 wide receiver, with a higher emphasis in TD-heavy leagues, as Crabtree has never topped 90 receptions in his career.