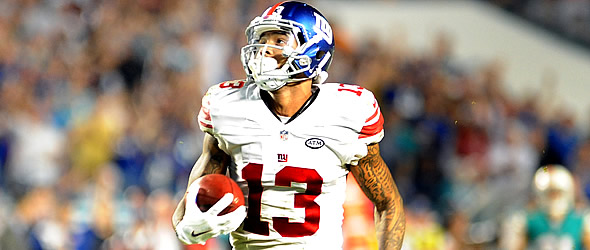 Will more mouths to feed in Cleveland take a bite out of Odell Beckham Jr.'s fantasy value?


The 2019 NFL offseason will go down as one of the more active ones in recent history, as three perennial first-round fantasy picks changed teams. Antonio Brown forced his way out of Pittsburgh to join the Oakland Raiders, while fellow former Steeler Le'Veon Bell sat out all of 2018 before signing a free agent deal with the Jets.

While both the Brown trade and the Bell signing were not a surprise to many after what transpired with Pittsburgh last season, the trade of Odell Beckham Jr. to the Browns for a pair of draft picks, and safety Jabril Peppers was a surprising transaction that sent shockwaves throughout the fantasy community.

There were more than a few rumblings about the Giants possibly sending their high priced wide receiver if they were "wowed" by an offer. The 49ers were mentioned to be a possible landing spot for Beckham, with San Francisco in need of a No.1 WR and the cap space to handle OBJ's contract.

Instead, John Dorsey and the Browns front office came through with an offer that Giants GM Dave Gettelman could not refuse.

From a fantasy perspective, the move for Beckham Jr. from the Giants to the Browns is a catch 22 based on which narrative you choose to believe. With an NFL-record 27 passing touchdowns as a rookie last season, Baker Mayfield is playing at a higher level than Eli Manning, as Manning plays out the final years of his contract. Although Manning was a big reason why Beckham found so much success early in his career, the veteran QB is well past his prime, and the Giants intend on evolving into a run-first offense.

But the Browns have more mouths to feed, so expecting Beckham to garner that amount of targets you would expect of an elite wide receiver (165+) may be a tough ask. Besides, Jarvis Landry is already the alpha dog in the offense and the locker room, and the Browns still have tight end David Njoku who will soak up targets from Mayfield.

Perhaps the biggest question mark surrounding Beckham's fantasy outlook in Cleveland is the fact that like the Giants, the Browns are a run-heavy team who intend on leaning on Nick Chubb, Duke Johnson (if he doesn't get traded), and Kareem Hunt when he returns from suspension.

In the final seven games with Freddie Kitchens running the offense and the team, the Browns averaged just over 31 pass attempts per game. If you extrapolate that over a full 16-game season, Mayfield would have thrown the ball only 505 times, which would have tied for the fifth-fewest attempts by a team. In addition to adding Beckham and Hunt to the offense, Cleveland added defensive linemen Sheldon Richardson and Olivier Vernon, with the intention of being a stout defense and a run-heavy offense.

Assuming that the Browns throw the ball a similar amount as they did under Kitchens last year, it would be a safe estimate that the wide receiving group of Beckham Jr., Landry, Antonio Calloway, and the remaining wide receivers will have around 350 targets to split between them (a league average of 65% of the team's total targets). Landry will command a ton of those, as will Beckham, but I doubt either will push the 170 target mark of an elite WR1 for fantasy.

Does that mean Beckham Jr. will be a bust in Cleveland? Absolutely not. In fact, I anticipate he will have one of his better years as a professional based on the logic that the targets he will see will be much more valuable than what he experienced last season with the Giants. Teams will not be afforded the ability to continually roll safety coverage to OBJ with the other options on the team.

An 85/1400/12 line for Beckham Jr. is well within reach, making him an excellent value in the middle to early picks of the second round. Another thing to consider is the boost that Beckham Jr. gives to Baker Mayfield, as I would not be shocked to see Mayfield finish as a top-7 QB this season.