QB Daniel Jones
(2019 QB Rank - No.12, 22.1 FPts/G)
General manager Dave Gettleman received a ton of criticism for using the sixth overall pick in the 2019 NFL draft on Duke QB Daniel Jones, a player many NFL writers and analysts felt was taken way too high. Say what you want about Gettleman - and there is a ton of negative things to say - Jones looked every bit of the franchise quarterback as a rookie last season.
Jones completed just under 62 percent of his passes, for 3027 yards and 24 touchdowns in only 13 games. His 22.1 points per game were higher than Kyler Murray and Josh Allen, two fellow young signal-callers going much earlier than him in drafts.
Jonesí 16-game pace would have shattered the rookie touchdown passing record at 33, and he quietly added value on the ground with 279 rushing yards and two rushing touchdowns. He is relatively athletic for a player his size, giving more value on the ground that other QBs ranked around him like Philip Rivers, Kirk Cousins, or Jared Goff.
With three games against the Steelers, Bears, and 49ers to kick off the season, Jones is not someone streaming owners would like to draft and start. However, he will continue to have sneaky upside based on matchups, including weeks late in the season against the Bengals, Browns, and Cardinals.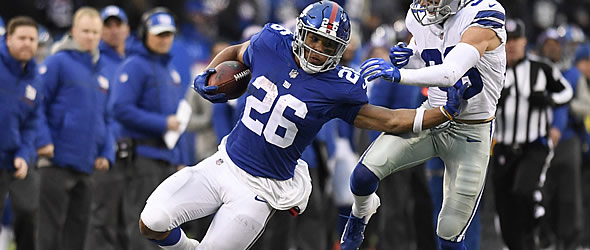 RB Saquon Barkley
(2019 RB Rank - No.6, 14.8 FPts/G)
Injuries limited Barkley to just 13 games in 2019, including games in which Barkley played but was not entirely healthy. Despite this fact, the former first-round pick from Penn State posted nearly 1500 total yards and eight total touchdowns. His 14.8 fantasy points per game placed him just outside the top five at the position.
Like Christian McCaffrey, the thing that separates Barkley from other top running backs and the reason why he should be considered a top-3 pick is his volume in the passing game. Barkley was on pace for 90 targets after posting a ridiculous 91 receptions for 721 yards and four touchdowns on 121 targets as a rookie. Owning a back like Barkley is, in essence, like owning two players in one, especially in leagues that provide points per receptions.
According to FootballOutsiders.com, the Giants were plagued by subpar offensive line play, especially in the run-blocking department (ranked 25th out of 32 teams). The front office addressed this issue with the selection of tackle Andrew Thomas in the first round and tackle Matt Peart in the third.
When healthy, Barkley is one of the most physically talented backs in the league and has the ability to provide massive value on the ground and in the passing game. You could make the argument that he could be the No.1 overall player in drafts this summer, especially if Jones and the rest of the offense build on what they did last year.
WR Golden Tate
(2019 WR Rank - No.27, 9.6 FPts/G)
It may surprise many to learn that Golden Tate quietly averaged the same number of fantasy points per game as Tyler Lockett, and more than Robert Woods, John Brown, Courtland Sutton, Adam Thielen, DK Metcalf, and the player who vacated a spot in the NY Giants passing game, Odell Beckham Jr.
In just 11 games with the Giants, Tate posted 49 catches for 676 yards and six touchdowns. That would give him a 16-game pace of 71/985/9 on 130 targets, making him a strong No.3 WR in all formats.
Injuries to Sterling Shepard and Evan Engram certainly boosted Tateís volume, and Tate will likely struggle to reach 130 targets should those two players play a full season. But it should be noted that Engram has never played a full 16-game schedule in his career, and Shepard also has been unable to stay healthy. Another benefit for Tate is the fact that the Giants once again project to be one of the worst defenses in the league, which could mean chasing points and high passing attempts for Daniel Jones.
WR Sterling Shepard
(2019 WR Rank - No.39, 8.3 FPts/G)
Shepard received no fewer than six targets in any game last season, finishing the year with an impressive average of 8.3 targets per game. Unfortunately, he did not do a whole lot with that volume, with only 575 receding yards and three touchdowns. His 10.1 yard per reception was the worst of his four-year NFL career, and he managed to play in just 10 of the teamís 16 games.
On a positive note, 11 of those 83 targets did come in the red zone, giving him the second-most on the team behind Evan Engram. Two of his three receiving touchdowns came in the red zone.
Shepard is slated to be the starting outside wide receiver in what could be a high scoring offense. The Giants bolstered their offensive line, but they once again project to be a defense ranked in the bottom half.

Should he stay healthy and play a full 16-game slate, both Shepard and Tate look to be locks as low-cost receivers who will receive at least 100 targets. The problem, though, is neither one is a massive threat to score double-digit touchdowns, which limits their value significantly in non-ppr formats.
WR Darius Slayton
(2019 WR Rank - No.34, 8.7 FPts/G)
Slayton was a monster free agent play last season who delivered three games of at least 50 receiving yards and two touchdowns, including a career-best 5/154/2 line against the Eagles with Sterling Sheppard and Evan Engram nursing injuries.
It was an impressive debut for the fifth-round rookie from Auburn, who made the most of his opportunity. Both Sheppard and Engram enter the 2020 season healthy and should limit the volume Slayton will receive in the offense. Veterans Golden Tate and Shepard will be the two primary wide receivers, while Engram, a hybrid tight end who plays more like a large WR, will be the favorite target of Daniel Jones over the middle.
Owners who remember Slaytonís breakout games and not the fact that he is buried on the depth chart may overpay for him in drafts this summer. Donít bet that guy (or gal).
TE Evan Engram
(2019 TE Rank - No.9, 8.2 FPts/G)
Evan Engram officially has taken over the role left by Jordan Reed as the talented tight end everybody loves, but who cannot stay healthy.
The former first-round pick from Ole Miss managed to play in just half of the team's games in 2019, the third season in a row in which he has failed to play a full slate since entering the league in 2017.
The talent is there, but he cannot stay on the field. If you take him, you need to have other options in mind as an injury replacement.
On a positive note, Engram did lead the team in red zone targets despite playing in only eight games, which is a huge indication of the value he has near the end zone for quarterback Daniel Jones.