QB Dak Prescott
(2020 QB Rank - No.1, 31.2 FPts/G)
A season-ending broken leg against the Giants in Week 5 cut short what could have been a monster fantasy season for Dak Prescott. Before his gruesome leg injury, Dak was on pace to be the number one fantasy quarterback, with three consecutive games of over 400 passing yards as the Dallas defense continued to for Prescott and the offense to throw heavily to stay in games.

In addition to the season-ending injury to Dak, the Cowboys lost three starting pro-bowl offensive linemen, leaving the remaining skill position players to suffer with a backup quarterback in Andy Dalton and a rag-tag group of backup linemen in what proved to be a massively disappointing first year under head coach Mike McCarthy.
Dak is back, and it appears that Zack Martin, Tyron Smith, and La'el Collins are back and will be ready for the season opener. With an elite offensive line and a deep collection of skill potion players, Dak is primed to build off 2020 and ascend to elite status among fantasy quarterbacks.

The one negative to keep in mind is the improved defensive moves made by Jerry Jones, and the front office should limit the need for Dak to pass and the ridiculous levels we saw in 2020. This does not mean that Dak cannot be a top-5 QB, but it does mean a likely reduction in pass attempts.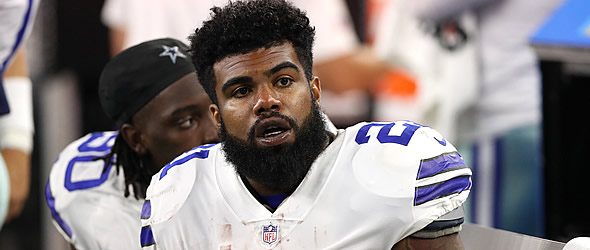 RB Ezekiel Elliott
(2020 RB Rank - No.18, 10.2 FPts/G)
Injuries to Dak Prescott and three starting offensive linemen killed Zekeís fantasy value and all but torpedoed his fantasy managers who used an early-round pick on former fantasy stud.

Zekeís 4.0 yard per carry average was the worst of his career and his paltry six rushing touchdowns were half of what he produced back in 2019.
While some fantasy managers might stay away from Zeke because of what happened last season, it should be noted that he is still just 25 years old, and those four key players who missed last season, including stud QB Dak Prescott, are all on pace to be ready for Week 1.

Instead of having to use a top-4 pick on Zeke as in previous years, managers drafting in the second half of the first round can benefit from the perceived demise of Zeke and secure a stud running back to pair with a top WR in round two. If I had to bet on an RB ranked outside of the top-5 who could finish this year in the top-5, Zeke would be on the shortlist.
RB Tony Pollard
(2020 RB Rank - No.59, 6.7 FPts/G)
Pollard played well in a reserve role and chance of pace back for the Cowboys last season, with five total touchdowns and over 600 total yards.
Zeke Elliott continues to be the lead dog and will get the majority of carries for head coach Mike McCarthy and offensive coordinator Kellen Moore. But donít sleep on Pollard late in drafts, as he proved last year he is deserving of touches in the offense even when Zeke is healthy, and he is a possible league-winner should Zeke go down.
WR Amari Cooper
(2020 WR Rank - No.17, 11.8 FPts/G)
For the second straight season, Cooper started off the 2020 year red hot, with an average of 12.75 targets in each of his first four games. Yet, unlike in 2019, Cooper did not turn that elite target volume into touchdowns, with just one TD reception in those four games and only five total on the year.
Cooperís five receiving touchdowns equaled the lowest output of his career, despite the six-year veteran posting his career-best 92 catches.

His decline in yards per reception and touchdown rate can be attributed to the loss of quarterback Dak Prescott and numerous injuries across the offensive line. With Dak returning to the field along with Zach Martin, Tyron Smith, and La'el Collins, look for the offense to push the ball downfield more and be far more efficient than in 2020.

Cooper may not be in consideration as a WR1 this season like in years past, but he is a high-end No.2 WR who has the ability to put up monster games. If you go RB-RB in your first two picks, Cooper is a solid option in the third or fourth round.
WR Michael Gallup
(2020 WR Rank - No.52, 9.0 FPts/G)
We have Gallup listed as the No.2 wide receiver in Dallas, and the Cowboys may list him as the No.2 WR on their depth chart. But based on last yearís stats and the hype surrounding second-year player CeeDee Lamb, Gallup is not the No.2 WR when it comes to expectations and fantasy production.
Gallup played in two more games last year compared to 2019, yet he scored 36 fewer points and saw eight fewer targets. The emergence of Lamb attributed to the decrease in targets, and the reduction in efficiency can be attributed to the loss of Dak Prescott.

Although Prescott is on pace to return along with the starters on the offensive line, Lamb is not going away, and Gallup appears poised to slip into the No.3 option at WR.

He will have value as a low-end WR 3 with the ability to post a big game here or there, making him a better best ball option than one for redraft.
WR CeeDee Lamb
(2020 WR Rank - No.34, 10.9 FPts/G)
Lamb lived up to his first-round draft pedigree with an impressive 74/935/5 receiving line as a rookie for Dallas in 2020. When you consider he did that without Dak Prescott for most of the season, it makes his performance even more impressive.

When you add in the fact that Lamb was tied with fellow rookie Jerry Jeudy for the second-most drops (9), Lamb could have easily finished with over 1000 yards and closer to ten total touchdowns.

The 2021 prospects for Lamb and the passing game for Dallas appear to be great, with Dak Prescott returning from injury along with three starters on the offensive line. One aspect that could reduce the overall performance of Lamb and Prescott is the improvement of the defensive unit in Dallas. Prescott and the offense were forced to pass at a ridiculous pace last year because the Cowboy defense could not stop anyone. Jerry Jones and the Dallas from office addressed this deficiency in the draft and via free agency, which could lead to lower scoring games and less volume in the passing game.
Regardless, Lamb is an ascending star who could be in line for a monster year. Should Amari Cooper or Michael Gallup get injured, Lambís ceiling could be huge.
Jarwin was on a shortlist of breakout tight end options heading into last yearís draft before a knee injury cost him all of 2020.

In his place, Dalton Schultz posted a respectable 63/615/4 line to sneak in as the No.12 tight end in total points scored.

Although Schultz is still on the roster and could eat into the workload for Jarwin, keep in mind Jarwin signed a four-year, $22 million contract before last season, making him too expensive of a player not to heavily utilize.

If you miss out on one of the big five tight ends and want an upside option late in the draft, Jarwin may be your guy.