QB Daniel Jones
2020 QB Rank - No.31, 15.0 FPts/G
2021 is a make-it-or-break-it year for the former first-round pick from Duke after a disappointing injury-riddled sophomore campaign in which Jones ranked 31st at the position in fantasy points per game.
Jones has all of the skill weapons he needs to succeed, with the addition of big-money WR Kenny Golladay and the drafting of Kadarius Toney in the first round of the 2021 NFL draft. The question is can the offensive line hold up, and can Jones stay healthy.
From a fantasy perspective, there is a lot to like for a guy who threw 24 touchdowns in just 13 games as a rookie while adding an impressive 702 rushing yards and three rushing touchdowns in his first 27 NFL games. Jones rushed for more yards than Josh Allen last season, despite the fact that he was limited with leg injuries and played in just 14 games.
Turnovers continue to be an issue for Jones, with six lost fumbles and ten interceptions in 14 games in 2020. While those numbers are alarming, Kirk Cousins and Russell Wilson had more turnovers (albeit in two more games).
As our No.20 ranked QB, Jones is an upside streaming option and someone you can target in super-flex leagues as a player with boom or bust value. If he returns to his rookie form and blossoms with Golladay and Toney, Jones could be a great value in drafts. If he continues to be limited with injuries and a poor TD rate, he could be benched mid-season.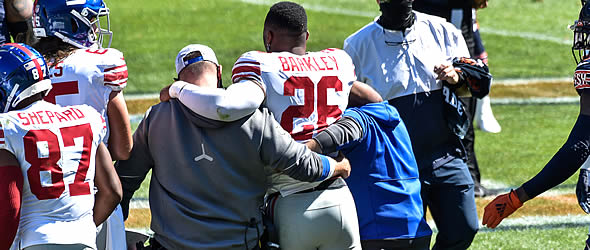 RB Saquon Barkley
2020 RB Rank - No.119, 6.2 FPts/G
Fantasy managers who used a top-3 pick on Barkley last season were treated to a dreadful 9.6 point game against the Steelers before Barkley suffered a season-ending knee injury against the Bears. 2020 was an unmitigated disaster for the former Penn State star. Yet, his generational talent and ability to post ridiculous rushing and receiving numbers make him a first-round pick again in 2021.
Talent aside, there are some questions surrounding the health of his knee and if he will be a full-go at the start of the season when the Giants take on the Broncos. The Giants could ease him into action, with Devontae Booker sharing some of the workload.
Another question mark is the Giants offensive line, a unit that enters 2021 as the No.32-ranked unit according to ProFootballFocus.com. If second-round pick Andrew Thomas does not make a substantial improvement protecting Jones's blindside and guarded Nick Gates and Will Hernandez improve on their run blocking, Barkley and all of the skill portion players on the Giants could be in for a long year.
On a positive note, Barkley's skill set as an elite runner and pass catcher make him a solid first-round pick and a foundation pick for owners in 2021. If he plays a full 17-game season, he is a lock for at least 250 carries and close to 100 targets.
WR Kenny Golladay
2020 WR Rank - No.31, 11.2 FPts/G
Golladay signed a lucrative 4-year, $72 million contract in the off-season, making him the 6th-highest-paid wide receiver in the NFL. Dave Gettleman and the Giants front office were looking for a big-play receiver to be the number one WR for Daniel Jones, and they fulfilled that need with Golladay.
The NFL and fantasy community responded with mixed reviews at best, with many questioning whether or not Golladay was worth that type of money and if Jones would be able to take advantage of Golladay's skill set. There is also the concern with volume, as the Giants already have a deep receiving corps and a tight end that led the team in targets in 2020.
Will Golladay get the volume needed to be a WR1 for fantasy? The answer is no, but that should not keep you away from drafting him, as he has never been a volume guy. In his best season with Detroit, in which he finished as WR9, Golladay saw just 116 targets from a combination of Matthew Stafford (8 games), David Blough, and Jeff Driskel.
Say what you want about Daniel Jones, but it is hard to argue that he is an upgrade over Blough and Driskel. Another thing to consider is the fact that Golladay is one of the best deep receivers in the league and is skilled at contested catches. Jones is subpar in most metrics, but according to NFL Next Gen Stats, he was the best deep-ball passer in 2020.
While we don't anticipate Golladay turning into the 2021 version of Stefon Diggs, he is an excellent value as a low-end WR 2 or high-end WR3 as managers continue to doubt his move to New York.
WR Sterling Shepard
2020 WR Rank - No. 38, 10.6 FPts/G
Injuries limited Shepard to just 12 games in 2020, with 66 catches for 653 yards and three scores. Although the production was less than ideal, he was quietly on pace for 120 targets and nearly 900 yards, and five touchdowns.
The Kenny Golladay signing will drastically change the outlook for Shepard. On the one hand, he will likely be the No.3 target on a team that is not a great passing offense with a quarterback who ranked 31st in fantasy points a game. On another, Shepard will be running primarily in the slot, where he is at his best.

Shepard appears to be headed for the dreadful "he is a better real-life player than a fantasy option" label unless there is an injury to Golladay or Evan Ingram.
WR Darius Slayton
2020 WR Rank - No. 74, 7.4 FPts/G
Slayton enters 2021 as the likely starting outside receiver for the Giants opposite Kenny Golladay, with Sterling Shepard in the slot and Evan Ingram as tight end. Slaton should see a ton of single coverage and the No.2 or No.3 cornerback from opposing defenses, which could lead to some big plays and sporadic monster games.
Yet as the No.3 or No.4 option based on volume in a poor passing game, it is hard to envision him being anything more than a best-ball play and someone who you can use if Golladay or Engram get hurt.
Another knock on the value of Slayton and Shepard is the addition of first-round WR Kadarius Toney, who will be used in a multitude of ways, and will eat into the upside of both players.
Toney posted 1145 total scrimmage yards and 11 touchdowns in 11 games for the Gators in 2020, resulting in a first-round selection by the Giants front office. At 6-0, 193 lbs, Toney does not have the size of a prototypical No.1 WR like Kenny Golladay, but he makes up for his slight stature with elite speed and elusiveness.
The Giants will likely move him around the formation and design multiple bubble screens and quick passes to get him the ball in space. He will also likely lead the WR corps in rushing attempts and could see more than a few touch-passes similar to how the Chiefs use Tyreek Hill.
From a volume perspective, he could be anywhere from the second to the fifth on the team in targets, making him more of an upside player to target late in redraft.
TE Evan Engram
2020 TE Rank - No. 22, 7.0 FPts/G
It is hard to imagine a player doing less with 109 targets than what Evan Ingram did last season for the Giants. He had six games of at least nine targets yet managed to post just one game of over 70 receiving yards, and his one touchdown was the lowest of his career.
He ranked 4th in drops with eight and was 15th at the position in red-zone targets. His dreadful play led the Giants to sign free agent tight end Kyle Rudolph, a sign that the team does not fully anticipate Ingram being a full-time starter.
The fact that the team signed Kenny Golladay and used a first-round pick in Kadarius Toney, leads us to believe the days of Engram being a focal point of the offense are over.