The unpredictability of fantasy football is, among countless other things, what makes it such an entertaining activity. Every year, there are players that fall short of expectations and players that come from nowhere to put their names on the fantasy map. It's a fascinating process and one that keeps us coming back for more each season. Some will struggle, some will shine. The idea, of course, is to have less of the former and more of the latter. Here's a list of five who I think may shine in 2013 and five who I think may struggle.



Shine



Matthew Stafford, QB – DET: Stafford's second-round ADP from last year has plummeted to the sixth round this year in standard 12-team leagues. Sure, his numbers from last year were putrid, as his touchdowns were sliced to less than half—from 41 to 20. Keep in mind, though, that Calvin Johnson was tackled five times at the one-yard line last year after hauling in a Stafford pass. A half dozen other times, other players were stopped inside the five. Is that poor quarterback play or simply buzzard's luck? You decide. Additionally, the Lions lost all of their complementary receivers, leaving Johnson as the only option last year. Indeed, he's a good 'only option' to have, but at some point the lack of supplemental players on offense takes its toll on the team—and in this case, it was Stafford in particular.

While Stafford may not reach the 41-touchdown plateau from 2012, there's a stronger chance he won't scrape by with just 20 touchdown passes like last year. His production should fall somewhere in the middle, and those kinds of numbers can bring you tremendous value in the sixth round. I expect Stafford to have a nice bounce-back season in 2013.

Andrew Luck, QB – IND: I heard on television recently that fantasy owners should be cautious of Luck this season because his new offensive coordinator, Pep Hamilton, who served in that capacity while Luck was at Stanford, has a tendency to rely more heavily on a balanced attack. They say that the bulk of Luck's production last year came while the Colts trailed in games and had to pass a lot simply to get back in contention. Personally, I believe that's digging way too deep into what a player's fantasy worth is. I just don't think playing with an improved defense should negatively affect a QB's fantasy value the way some are predicting. Can the dude play or can't he? That's the question we should be asking. And Luck can play.

The Colts fortified their receiving weaponry, bringing in Darius Hayward-Bey. He didn't do much in Oakland, but I believe the improvement at quarterback that he will experience, coupled with the fact that he will be more of a secondary option in the passing game, bodes well for his chances to integrate himself into what I think will be a prolific passing offense. Luck is going a full round after Stafford, which to me seems about right. I believe next year at this time we'll be talking about Luck knocking on the door of top 5 fantasy QB status. Get him cheap this year while you can.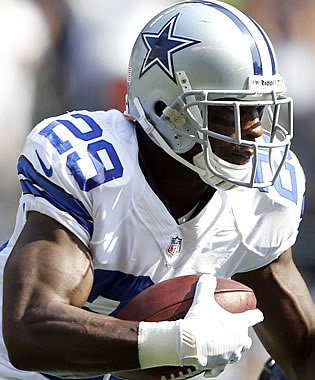 DeMarco Murray is the ideal RB2 with RB1 upside.
DeMarco Murray, RB – DAL: Murray opened last year with a 131-yard outburst against the New York Giants, and everybody rightfully expected a solid season. He didn't crack the century mark the rest of the year, for a variety of reasons. For starters, the offensive line had some struggles, and the team at times put the running game on the shelf for long periods during games. This led to the Cowboys having the second fewest rushing attempts in the league in 2012. In comes new offensive coordinator Bill Callahan, who vows to give the offensive line his undivided attention while focusing more on the rushing game.

These changes are assets to Murray's chances this year. His injury history is well documented, but it can't go unnoticed that the Cowboys' running attack began circling the drain last season when Murray was sidelined. Murray can serve you well as a high-end RB2 or low-end RB1 in the third round.

Dwayne Bowe, WR – KC: After his breakout season of 2010, in which he hauled in 15 touchdowns, Bowe has been a fantasy disappointment. His eight touchdown receptions over the past two seasons have soured many fantasy owners' opinion of the seven-year vet. But with Andy Reid now orchestrating the Chiefs offense—he and his pass-heavy philosophy—Bowe is poised to regain his stature as a productive, consistent fantasy WR.

Reid never met a pass play he didn't like, and we've seen what he can do with a big, physical receiver at his disposal (see Terrell Owens' numbers from 2004-2005). I'm not equating Bowe to T.O., but I believe Reid will take a different approach in the passing game than he did with the fleet-footed, smaller, quick receivers he had in Philly. I expect the passing game to be centered on Bowe, and he should be money in PPR leagues as a result. Leverage Bowe's recent tumble down the cheat sheet during draft day to nab him as your WR2.

Antonio Brown, WR – PIT: Brown has played second fiddle to Mike Wallace each of his first three years in the league. But now with Wallace in Miami, Brown has a chance to be a really productive player at a bargain price on draft day. With Wallace slowing getting acclimated to the team early last year after his holdout, Brown put up solid numbers in the meantime. He had 36 catches in the first six games, and while the touchdown totals where less than desirable (only one during that stretch), he was a solid option in PPRs.

The show is now Brown's. Ben Roethlisberger (who himself can be had on the cheap this year) will rely on Brown to be a valuable component in the passing game. Certainly, Brown doesn't have the long speed that Wallace has, but his crafty route running and courage to go across the middle will endear him to fantasy owners and Steeler fans alike.

Struggle

Josh Freeman, QB – TB: Freeman threw for more yards and touchdowns last year than at any other time in his short career, but sometimes the numbers don't tell the whole story. Yes, his 4,000-plus yards were notable, but keep in mind that 11 quarterbacks topped the 4,000-yard mark in 2012—the most in history. And sometimes applying the simple eye test on players can show you all you need to know. Freeman at times appears skittish in the pocket, and for a 6-6, 240-lbs quarterback, that's not admirable. Further, only three other quarterbacks had a lower completion percentage than Freeman's 54.8. He is, however, getting back several key offensive linemen who missed time last season, and his receivers all came back intact, but I'm not as high on Freeman as others. His 13th-round ADP is about where I'd pick him, but I'd always be extremely hesitant to put him in my lineup. He does nothing for me; maybe he does something for you. If so, take him. I'm staying away at all costs.

Michael Vick, QB – PHI: I think we are seeing the decline of one of the most electric fantasy QBs ever. Vick has struggled mightily since his out-of-nowhere 2010 season, in which he threw for more touchdowns (21) and rushed for more touchdowns (9) than in any other season. Even with the quarterback-friendly offense designed mostly by Andy Reid over the last couple of years, Vick nonetheless struggled with turnovers and overall inconsistent and spotty play.

Now enters supposed Wonder Kid Chip Kelly and his fast-break offense. Vick has won the starting job, beating out Nick Foles, but the fact that the competition was even a competition should be enough to give even the most ardent fan of Vick some pause. Vick's decision-making and his careless protection of the football make him a complete shell of his former self. Those facts, coupled with what may be a season-long quarterback controversy—should Vick play or should Foles play?—puts him on my "Do Not Draft" list.

Mike Wallace, WR – MIA: Wallace was a feast-or-famine player last season; in seven games he tallied 44 yards receiving or fewer while he reached at least 94 in four others. Pittsburgh, of course, has a very capable quarterback that Wallace teamed with to haul in 16 touchdowns over the past two seasons. He now has in Miami…shall we say, a not-so-very-capable quarterback in Ryan Tannehill. How he meshes with Tannehill remains the question, but if last year is any indication, there could be hard times for Wallace in 2013. No Miami wideout or slot receiver had more than a single touchdown reception for the season; in fact, tight end Anthony Fasano's five touchdown catches led the team.

While Wallace is superior to any receiving threat Miami had last season, the dearth of complementary playmakers on the roster should concern Wallace owners. Some may view Wallace as a one-trick pony capable of only running go-routes. Others may see him as a square peg/round hole fit in Miami. Whatever your view of the speedster may be, it should not go unnoticed that he's in a different situation than the previous four years in Pittsburgh, and that ain't a good thing from a fantasy perspective. Let Wallace give someone else a headache this season.

Frank Gore, RB – SF: Imagine how great Gore could have been had he not suffered two blown-out knees in college—injuries, if you remember, that helped pave the way for Clinton Portis and Willis McGahee at the University of Miami. I love Gore's grit and tenacity and I feel he really hasn't gotten the appreciation he deserves. All that being said, Gore turned the dreaded 30 years old in May. While much of what talking heads banter about relative to statistics and their link to performance is speculative, this 30-year-old running back thing is real.

The Niners have done a solid job managing Gore's carries; only once in his career has he gone beyond the 300 mark. Now, with multifaceted quarterback Colin Kaepernick and the young legs of LaMichael James and Kendall Hunter adding additional running threats, Gore may not be asked to carry the same kind of load he was expected to before. Consequently, those limited opportunities will obviously affect his fantasy output.

Rashard Mendenhall, RB – ARZ: Pittsburgh moved on from Mendenhall after his return from injury at the end of the 2011 season was less than exciting. Arizona is now relying on him to ignite a running game that finished last in the league in 2012. The Cardinals' upgrade at quarterback should be an asset to Mendenhall in the running game—at least that's what conventional wisdom suggests. However, since his breakout season of 2010, Mendenhall has done little to prove that he can be the bell cow for a full season. There were even whispers in Pittsburgh about his toughness—about whether or not he can play through the typical NFL bumps and bruises. Mendenhall's lack of game-breaker ability and his often timid style of running between the tackles are signs of an average outlook heading into 2013.