8/9/12
Jonathan Bales is the founder of TheDCTimes.com and writes for the New York Times and Dallas Cowboys. He's the author of Fantasy Football for Smart People: How to Dominate Your Draft.
---

In 2011, a trio of rookie wide receivers—A.J. Green, Julio Jones, and Torrey Smith—finished in the top 23 in fantasy points among all receivers. That doesn't sound too amazing, does it? Well perhaps you should ramp up your excitement level, because the odds of three rookie wide receivers finishing so high are a lot smaller than you might think.

For years, I used to gamble on rookie wide receivers late in drafts because I thought they possessed a ton of upside. I mean, what wasn't to love about Chad Jackson in the 13th round? Oh, now wait, don't answer that.

The truth is that rookie receivers don't have as high of ceilings as you might believe. Last year was a major aberration in the world of fantasy football. Since 2000, only one other rookie receiver has finished as high as 23rd in wide receiver fantasy points. Can you guess who it was?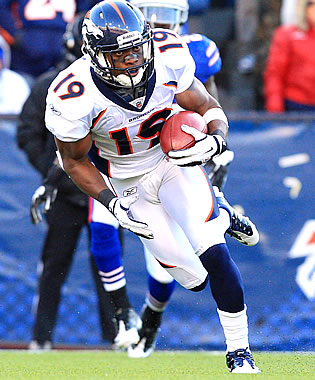 Eddie Royal: A diamond in the rookie rough.

Gotta be Larry Fitzgerald, right? Nope, 26th. What about the great Megatron? 35th among receivers in his rookie season. If you guessed Eddie Royal, though, you'd be correct. He finished 20th among receivers in fantasy points in 2008.

Those four players—Green, Jones, Smith, and Royal—are the only four rookie receivers that could even be considered No. 2 fantasy options in their first years in the NFL. And considering you probably would have been pretty unlikely to start those players in the first few weeks of the season, that doesn't leave you with too many fantasy points.

It isn't as if rookie receivers are drastically underperforming. Over the last half-decade, the average fantasy draft position of the top five rookie receivers (in terms of where they were selected in the NFL Draft) is 61st at the position. Together, those 25 players have combined to finish 68th in their rookie years among all receivers. On average, you basically get what you pay for with a rookie receiver.

The problem is that rookie wide receivers get selected late in drafts. Actually, the ADP of the top rookie receivers in each of the last five fantasy drafts has been only 34th at the position. As I discussed ad nauseam in my book Fantasy Football for Smart People, your goal in the late rounds of fantasy drafts is no longer risk minimization; instead, it should be maximizing upside.

Rookie receivers seem like the natural choice, but they surprisingly don't possess the upside you covet. To show that 2011 was an outlier, take a look at the top rookie wide receiver from previous seasons:

2010: Dez Bryant (49th)
2009: Percy Harvin (25th)
2008: Eddie Royal (20th)
2007: Dwayne Bowe (24th)
2006: Santonio Holmes (41st)

And these are the best of the best. For every Eddie Royal, there are three Devin Thomas-type players.

You might think that all rookies see these kinds of numbers, but you'd be wrong. Since 2006, seven rookie running backs have finished in the top 12 at the position. That's seven running backs ahead of the top rookie receiver in over a decade (Green). Three of those rookie running backs—Chris Johnson, Steve Slaton, and Adrian Peterson—even finished in the top six among all runners.

So while your league-mates are gambling on Stephen Hill, Michael Floyd, and Alshon Jeffery late in drafts this year, do yourself a favor and bypass the youngsters for a player with more upside. Chances are a rookie running back like Lamar Miller or Robert Turbin will provide a whole lot more bang for your buck.