In dynasty leagues, it is critical to keep in touch with the value changes that players experience. Whether those moves in value are real or perceived, a savvy owner remains well aware of the changing tide in order to capitalize on the opportunities that develop. Tracking shifts in player value carefully and making roster adjustments accordingly are key components to your team's long-term success. Consistent contenders in dynasty leagues don't separate from the pack merely by chance or simply by getting "lucky" on a few rookie draft picks. These are the owners that put in the work and find ways to improve their team all year round.

Below, I provide in-depth analysis on two players that have recently experienced a real or perceived value change in dynasty formats. Soak it in, give it some real consideration, and if it rings true for you, use this information to help improve your team.

Greg Little - Despite sitting out all of the 2010 season for NCAA violations, the Browns drafted Little in the second round of the 2011 draft. Some may have seen the pick as risky, but the upside he offered was undeniable. If provided the opportunity to mature and refine his game, Cleveland hoped to hit gold with their newly drafted WR. They badly needed playmakers on offense and Little's raw ability made him a nice fit.

In dynasty circles, Little was not considered one of the top 3 rookie prospects in 2011, but was situated somewhere in the next group of first-year players; a mid-first rounder in rookie drafts. Many had high hopes for him, and after a solid rookie season, there are several good reasons to remain excited about Little.


He turned 23 years old in May and is still developing as a WR. Little has not reached his ceiling yet and despite the lack of elite speed, he has the necessary physical tools to excel in the NFL. Listed at 6'2" and 220 lbs, he has the size and ability to become a real threat making plays across the middle.


Little showed flashes as a rookie and ended up leading the Browns in receptions. Even though he missed all of the 2010 for North Carolina and had only a lockout-shortened preseason as a rookie, he was able to get up to speed quickly in 2011; posting 61 catches for 709 yards and 2 TDs.


The receiving game is wide open in Cleveland, waiting for someone to distance himself from the pack and become the clear primary target. In the long run, it looks like Little could be competing with rookie Josh Gordon for top billing in the air attack. Mohamed Massoquoi and Ben Watson are probably not significant concerns on this front.


The addition of Brandon Weeden may be an upgrade at QB. Colt McCoy wasn't the answer for the Browns, so the franchise is going to roll with Weeden. Only time will tell how effective the 28-year-old rookie will be.


On the flipside, there are legitimate reasons to be concerned about Little going forward.


The Browns added Josh Gordon in the 2012 Supplemental Draft, at the cost of a 2nd round pick in 2013. While he is generally seen as more of threat on the outside, if Gordon can keep his act together, his game could translate nicely to the NFL and potentially limit Little's upside.


Little struggled with drops during his rookie season. If he is going to emerge as the team's go-to WR, he will need to be much more sure-handed than he was in 2011. A QB won't lean on a WR that is inconsistent with catchable passes.


The addition of Trent Richardson may signal that the team will be more run-reliant than many other NFL teams. The Browns paid a heavy price in order to be able to draft the stud RB out of Alabama and it is probable that he will be heavily utilized over the next few years.


While Weeden is potentially an upgrade at QB, he isn't a proven commodity and has been up and down in the preseason. If he fails to have the impact that the Cleveland is hoping for, then the receiving pie could remain small, and it will be that much more difficult for Little to get a big slice going forward. Little's future now seems linked closely to Weeden's.


There are definitely some questions surrounding Little right now, yet I generally like what he brings to the table. If you already own him in your dynasty league, I believe that Little is a firm "hold" at this juncture. He had a nice rookie season and could really build upon that this year. However, for those that do not currently have Little on their roster, I would only recommend targeting him in trades if you are sold on Weeden and do not see Gordon as a significant limiting factor to Little's potential production in the next few years. For the select group that may have a man-crush on Little and desperately want him on their team, Cleveland's addition of Gordon may be a good thing, enabling you to reel in the former Tarheel at a modestly cheaper price than was possible two or three months ago.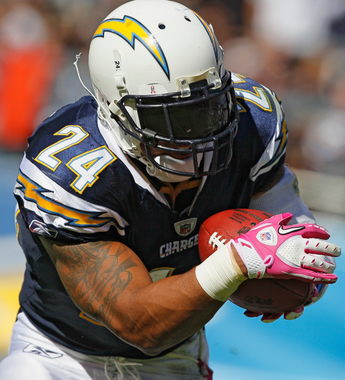 Ryan Mathews: The next "Fragile Fred"?

Ryan Mathews - Most people probably agree that LeSean McCoy, Arian Foster and Ray Rice make up the first tier of dynasty RBs, in one order or another. For some, Trent Richardson might sneak into that that super-elite group as well. The second tier isn't quite so set, but Ryan Mathews has been firmly in that mix for some time now. In 14 games played last year, Mathews amassed 1,091 rushing yards and 6 TDs on the ground along with 50 receptions for 455 yards through the air. It was a very productive second season and something for dynasty owners to be excited about.

The primary knock on Mathews thus far in his career has been his durability, or lack thereof. He missed 4 games as a rookie and 2 games last season. Unfortunately, his recently broken collarbone could cause him to miss some action to start off this year as well. Even if he misses little-to-no time at the beginning of this season, it is possible that his workload will be somewhat limited in order to ease him back into things. The impact of this injury could last longer than it appears on the surface. Mathews owners cannot be thrilled with how their stud RB is starting off his 2012 campaign.

The several injuries that he has sustained in his first three seasons raises some questions. Is Mathews injury prone? Is he fragile? Is he the next Fred Taylor?

It's difficult to address these types of questions. I don't pretend to know why some players get hit with the injury bug far more frequently than others. Is it playing style, training habits, genetics, bad luck, or maybe a mix of all of these things? I just don't know. What I can say though, is that the comparison to Fred Taylor is not a bad thing. Undeniably, Taylor had trouble staying healthy early in his career, missing 24 games in his first four seasons. Yet, it is worth noting that he only missed a total of two games in his next three seasons combined; posting over 1,200 rushing yards in each of them. Not too shabby of a three-year run for a "fragile" RB. On top of that, he had two later seasons in which he posted more than 1,000 yards on the ground. Taylor had a very good career, despite the injuries early on.

I understand the knee-jerk reaction of wanting to write off Mathews as being injury prone or fragile at this point, but I think doing so may be premature. The injuries have been frustrating for his owners to deal with, but none of them have been career-threatening and his recent injury (broken collarbone) isn't even something that should completely derail his 2012 season. Being patient with a very talented player that has difficulty staying on the field is not easy to do, but with RBs it is often a necessity, given the beating that they take on a weekly basis.

Mathews still has a lot going for him.


Age: Mathews is only 24 years old and is nowhere close to being over the hill. If he can get past his injury issues (seemingly a big if right now, I realize), he should still have several good years ahead of him.


Skill set: He has a nice blend of size, speed and maneuverability; desirable traits for a lead RB. Not only has he proven to be effective running the ball, but he has also done well catching passes out of the backfield. Mathews is a very skilled player.


Situation: One of the few things that limited his numbers during his first two seasons was Mike Tolbert vulturing rushing TDs. While Tolbert's rushing yardage was only moderate, the fact he posted 11 rushing TDs in 2010 and 8 in 2011 deeply cut into Mathews' chances of scoring. With Tolbert now in Carolina, Mathews should be in line for increased goal line work and has the potential for double-digit TDs.


If you currently own Mathews in your league, his injury history shouldn't be reason enough to drop your potential asking price in any meaningful way (should you decide to shop him). You likely are heavily invested in the young RB and you know that his upside is among the elite in the league. Long term, Mathews is still a guy that you should view as a cornerstone for your team. On the reverse side of the coin, if you are looking at the broken collarbone as a possible opportunity to buy Mathews, I would simply caution you to avoid any crazy, lowball offers. Those aren't likely to get you anywhere, so don't waste anyone's time. Even with an increasing reputation of being fragile, you likely will not be able to acquire Mathews at much of a discount. If you are interested in him, you'll have to be willing to pony up and then, of course, live with the injury risk if you actually land him.